A short message from Zhao laoshi bought me to Xinchi. The message says "Second Shimenkan- Xinchi School in Ziyun County will celebrate its 60th anniversary. Many Shimenkan old natives and I will be there. Hope you can come."
Zhao laoshi knows about my Shimenkan love knot. And surely this second Shimenkan arouses my curiosity.
August 15th, train from Hangzhou to Guiyang.
August 16th, it was nearly 11pm when I finally found Dongmei's apartment. Dongmei is a active volunteer, we had limited net exchanges before this first time we met face to face, and we came to like each soon. We share in common on quite a lot of topics.
August 17th, early morning, Zhang laoshi got me, we drove to Xinchi, with the company of his wife and a nephew. We picked up Tao laoshi and Yang laoshi when we passed through Anshun city.
2 o'clock, we had lunch in the central town of Ziyun county.
I have heard of Ziyun before, for its mysterious cave world, and story of a school in the cave.
I was quite impressed by the homeliness sense in the Ziyun town, It's much beyond my imagination. I compare Ziyun with Weining; their difference is obvious, like a village town to a county town.
I like Ziyun. The town is small but crowdedly filled with small bargains, mushroom, fruit, meat, even herbal medicine. An old lady traditionally dressed was healing her patient, in an old time very typical way, she used a short stick to measure the patient's arm, looked her hand, touched her impulse, and sang in amazing tone about stories with the word we can't understand at all. I don't know whether the singing will work to drive away the evil disease, but people around them show great serious in their faces. I like this humble noisy real life.
I don't like Weining town, the smell of greedy and corruption flew in the air. I watched the luxurious street lamps which is made up of more than 200 bulbs in each street lamp, when backhander is in someone's purse, he will of course do not mind if Weining is still among one of the last 100 underdeveloped counties in China, and ignoring its people who have still lived in harsh huts and struggling for survival against nature.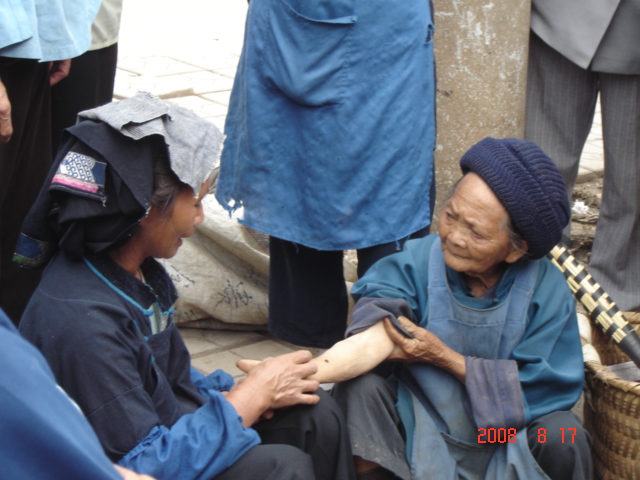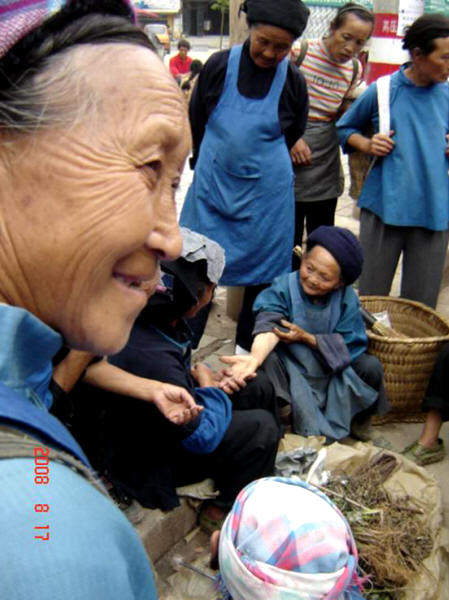 With the comparisons with Ziyun and Xinchi, so the first sight when I saw the second Shimenkan--Xinchi village after long bumpy journey, it was breathtakingly amazing.
History of Xinchi village
In 1905, the Britain pastor Pollard Samuel arrived Shimenkan, he preached the gospel, opened schools, developed rural communities, advocated cultural diversity, and devoted his life to Shimenkan as well . After Pollard and his followers' hard efforts, in early 1900s, Shimenkan reached to its peak as the worldly recognition of Eastern Heaven, the Leading Top of Southwest Minority Culture in China.
Shimenkan, is averagely 2000 meters above sea level, tough weather all year round, and simple soil barely supported populations, Shimenkan Flowery Miao minority bitterly seeking opportunities outward of the deep mountain range.
Ziyun is four side mountains surrounded with rich virgin forests. Where the Xinchi village located was called by native people Lan Mu Chong. Lan Mu meant rotten wood in the forest, and Chong, the lower part between two mountains.
Lan Mu Chong is in the mountains' heart, thought four side tall mountains and deep gorges, its average sea level is only 900 meters, origin forests are still well preserved.
The so called Lan Mu Chong area was once occupied by gangsters, and then they abandoned because of big malaria.
When Flowery Miao hunters occasionally traveled here, they wanted to settle on this land. Since 1947, some families in Shimenkan had migrated here. The migration was a very miserable struggling. More than seventy percent of the early arrivers died because of the big malaria.
Anyway some were survived. They opened abandoned land and gained.
Soon after their settlement, they wanted school for their kids. It's Shimenkan excellent traditions to value education in the very high status. They asked support via Shimenkan Guanghua School.
Mr. Wang Jianguo was resigned to prepare and came to be the first president of Xinchi primary school, he was grandson of Wang Daoyuan, one of the Shimenkan pioneers.
It is memorized by elderly Wang Wenxuan, the 4th grandson of elderly Wang Daoyuan that, Wang Jianguo and Zhu Ming' an had walked on feet 14 days from Shimenkan to Guiyang, and 4 days more from Guiyang to Lan Mu Chong, bearing hardship all the ways.
After they had arrived Guiyang, they had run out of every penny, they wanted to borrow five Yuan to a Yang someone who was from Shimenkan and that time taught in Guizhou University, but were refused.
It was a widow who had just lost husband left her four babies crying to be feed, who spent 21 days "collecting firewood" , thus with big difficulties finally pulling together the expenses , with this aid, Wang and Zhu could reach Xinchi at last.
She "collected firework", the truth was, she stole timbers in the midnight and sold them out secretly. Flowery Miao is very timid and fearful in nature, especially women. This is an outstanding Flowery Miao lady whose name is Wang Liuyang. What she did was nothing but a feat!
This time we met Wang Liuying's grandson, an artless and modest land worker, he also arrived for the celebration. Zhang laoshi purposely mentioned the story, to salute to the widow!
Xinchi Primary School
Shimenkan immigrants expected new life booming in the new place, so they rename Lan Mu Chong(rotten wood gorge) as Xin Chin (new booming), and came the name of Xinchi Primary School.
Xinchi primary school underwent huge difficulties. No classroom, private huts were reading rooms; no blackboard, flatted plant ashes were writing board; no chalk, sticks were pens.
There were 28 students the first year.
The two teachers (Wang and Zhu) volunteered, didn't ask for a penny payment from students. They lived in village leader's home. Their living costs were donated by Shimenkan elderly Wang Mingji.
Later 1949, elderly Zhu Ming' an was killed by gangster, Wang remained and insisted on building school.
After liberation, Xinchi primary school as a private school, once also opened junior middle school, but later cancelled. When policy required all schools to be state-run, teachers in Xinchi School took National Exam and none was left. They all pasted through the exam and be national teacher with stable salary, this was extremely rare among remote isolated rural areas.
Xinchi School well adopted Shimenkan Guanghua school traditions:
l Xinchi school insists on pre-school lesson, they never stop keeping one to two preschool classes even under big pressures. It is the only primary school in rural area that has preschool lesson to local kids in Ziyun county.
l Xinchi School takes care of Miao culture preservation. They train Miao language in the school, basic knowledge for grade two students and standard lessons for grade three. After they graduate from the primary school, they can read and write in Miao Script. This is the only school maintains bilingual education in Ziyun. Flowery Miao traditions are well preserved, we asked some kids, and they all know some bit about their traditional hair styles and cloth.
l Xinchi School values entertainment. We heard girls in choir sing songs in bel canto. The chorus of Xinchi village took part in Colorful Guizhou singing compete, and win the champion of the county, they will on behalf of Anshun district to attend Guizhou province's compete.
Late on my first night when I heard villagers use Miao language sing Singing Song Praise Motherland in their four voices, I am shocked by their amazing sound of nature.
l Xinchi School values physical sports. Xinchi's basketball team is the champion in the county, table tennis team is the runner-up.
I witnessed a 5 year old boy playing basketball, in about one and half hour, he just seriously repeat actions of aiming, sending and gathering ball, in the simple cement playground under the rough basketball frame and the big sun as well. That moment I understood their actual strength to be No.1.
I can't help thinking of Shimenkan story, the football team in isolated Shimenkan unexpectedly defeated Yangsen's strong military team, its actual strength are accumulated through every serious practice, aiming and sending.
l Here, Christian belief is part of their life. From Holy songs to popular music, Hyme for God to praise to motherland, elements in a fantastic harmony, given by them in big passions and sincerity.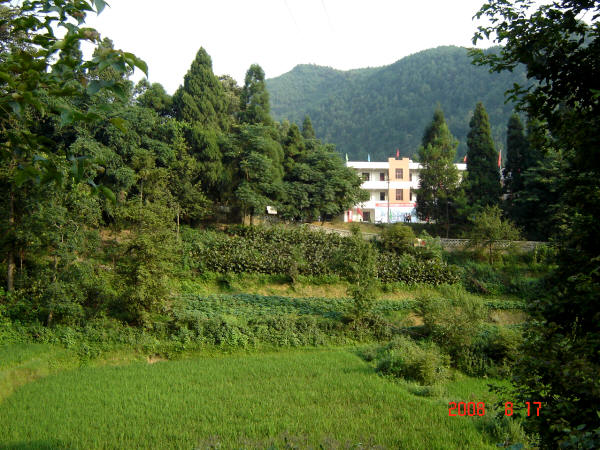 Xinchi School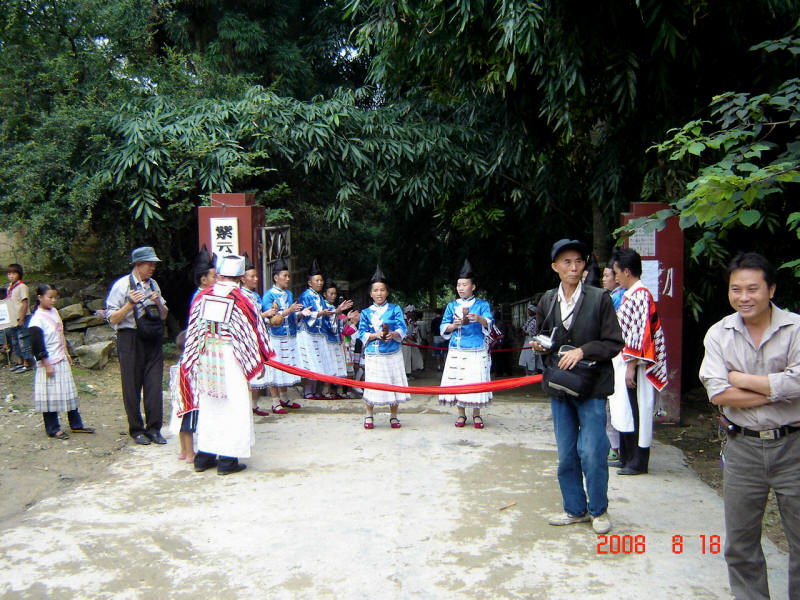 Toast Song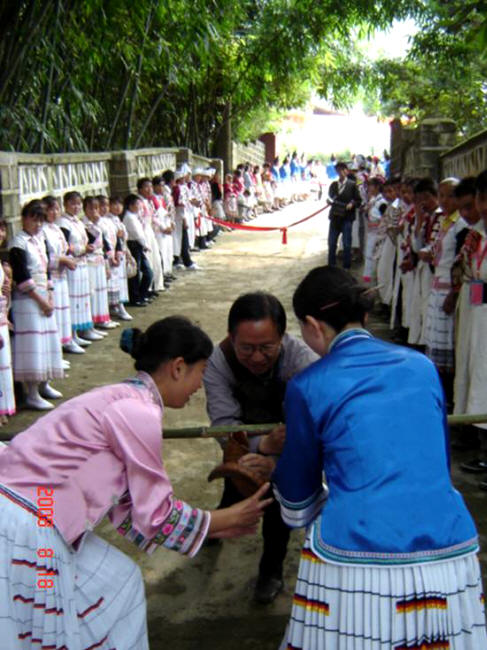 In Shimenkan Guanghua School's centennial celebration, this gentleman left a great message: Chairman Mao and Pollard will always live in hearts of Miao people. Heart word of Hmong.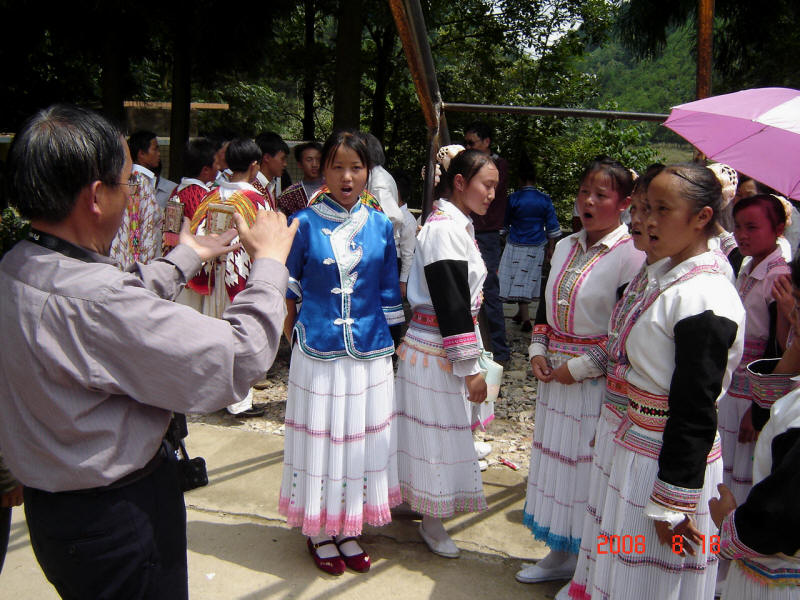 Yang laoshi is tutoring the choir. Yang laoshi is a Flowery Miao from Tianshenqiao village, he is Miao folk musician. Whenever he sees Miao people dancing or singing, he can't help offering his advice to make their dance or singing more pure traditional and get into perfect. Yang laoshi is retired now and has spend all his time and saved money on Flowery Miao culture preservation and Shimenkan development. I have visited his home, though physically simple, while spiritually rich. There are cabinets full of discs and types recording Flowery Miao traditional celebration and rural churches important events and activities, which I am deeply impressed.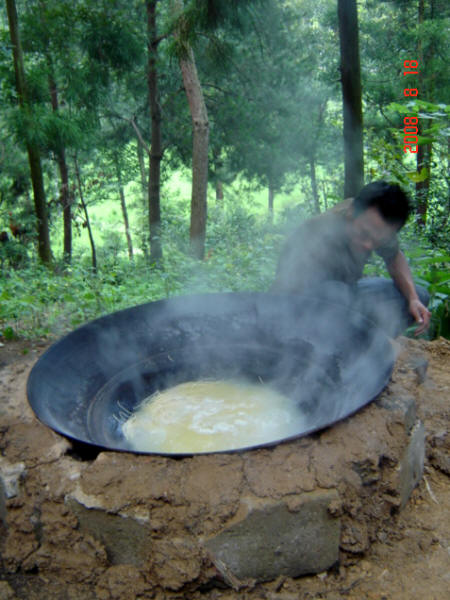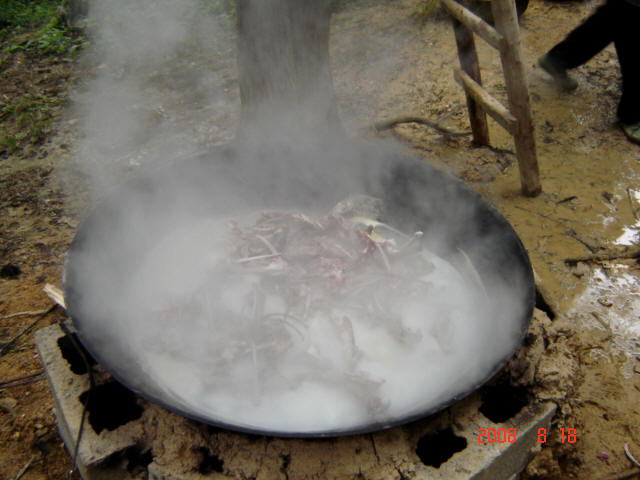 The villagers are busy preparing food, meats and noodles cooked in big pot, very interesting.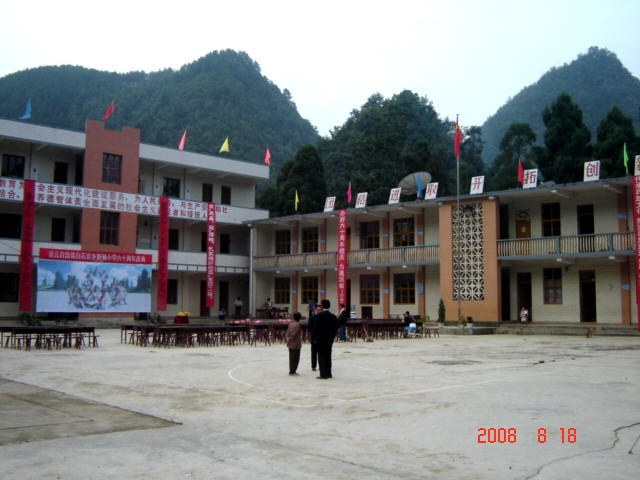 The two floors building in the right side of the picture has 8 classrooms, began in 1989 and finish till 1992, which totally cost only RMB80,000, 30,000 from villagers donation and 50000 by local administrator's support, that's the top sum all they could collect. I heard the story that, school was short of money, they couldn't afford masters' salary, but villager did need the building, so they opened a land near the school, carefully planted vegetables, they saved their food and prepare masters' daily rice and green food. They used their sincerity to keep masters stay and finished the building. Though masters had to see them to the court for the building costs and salary issue, the result was the court reached a mutual satisfied solution that masters quit the case, and the court introduced them another project in which they could earn back their lost profit. In fact everyone heard of the school's story were greatly touched by Xinchi villagers' eagerness and strong desire for a safe school building, the court was of no exception.
When I look at the building, simple but clean, I can hardly image its built only in 80000 Yuan. I saw many school buildings built in cost of ten even a hundred times to this building, but easily collapsed in the storm or earthquake. Besides buildings, what else have collapsed? That's thought provoking.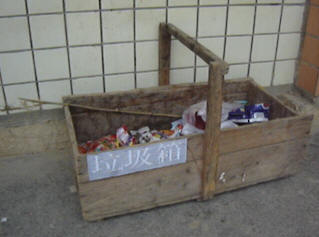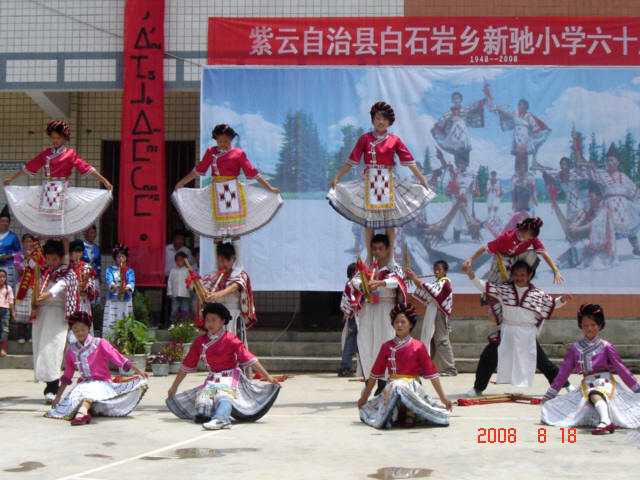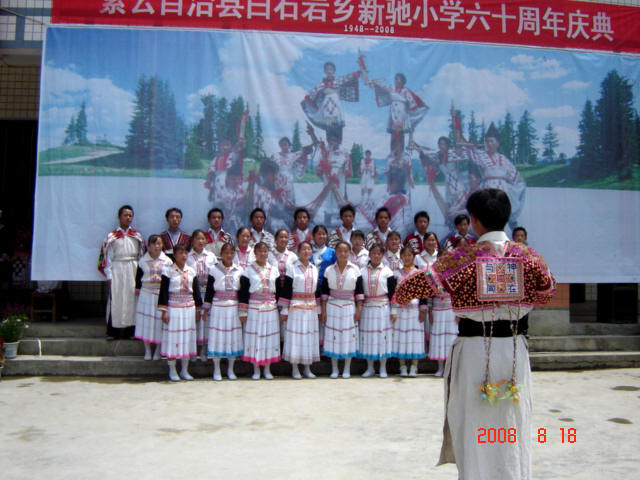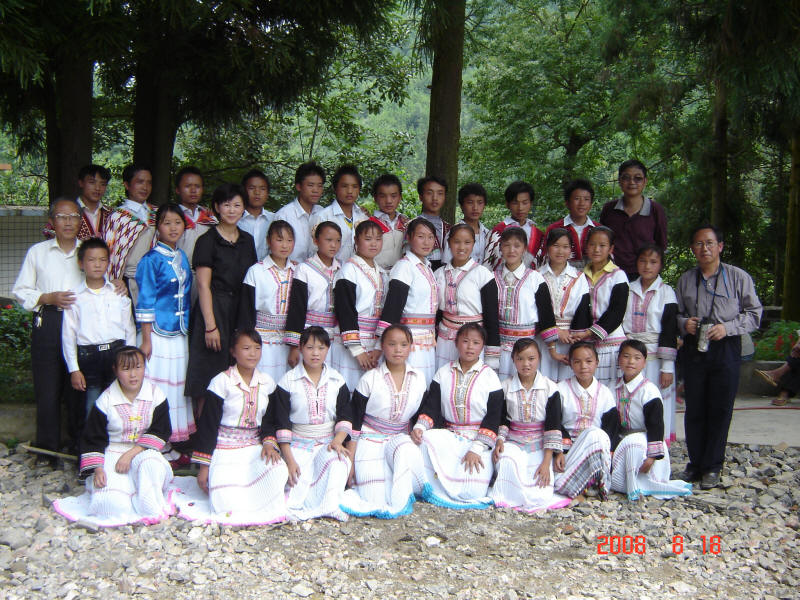 We are with the Xinchi choir. Left on the second line is Mr. Tao Shaohu, right on the second line is Mr. Yang Shiwu, right on the third line is Zhang Tan Laoshi.
Mr. Tao is the fourth son- in- law of Master Zhu Huanzhang, a Miao linguist, translator of Bible New Testament and Old Testament in Miao language, translator of Zhu Huanzhang Thousand Word Text for Miao people.
Tao laoshi received me in his house when I was in Kunming, I saw the Old Testament Miao script version he was editing, thick like a brick; a few months after I returned, I got from Tao laoshi, the Miao Script Text for Beginner he compiled it in hand mould. I aware its weight though I can't read. These Miao people are making painstaking efforts to protect Miao cultural essentiality from extinction. They deserve my deep respect!
Tao Laoshi's father, Tao Kaiqun, once worked in Shimenkan Guanghua School, he came to Xinchi when Xinchi School needed him in beginning. After he retired from city school, he came back to this rural village, and was the 9th leader of the school and English teacher as well.
Tao Laoshi's brother, Tao Shaofei was the 13th leader of the school. That Eighty thousand Yuan School building was built in his period.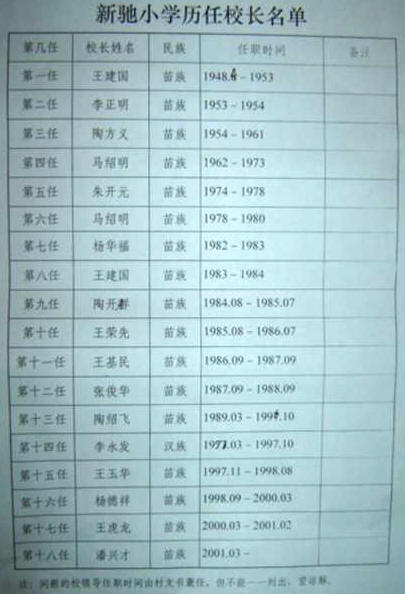 Master Zhu Huangzhang, a talent son of a Flowery Miao slave, he lost his father in early childhood and had to work for the landlord to take care of his herds. With the aid of Pastor Bai Shude, he was able to go to school and got high education in Chengdu Huaxin University Education Department. His school performance was so excellent that he was elected to give speech on behalf of all students on the graduation ceremony. His speech attracted attention from Jiang Gaishi, the president of China who presented the ceremony that day. Jiao Gaishi met him personally and invited him to work in government. Easy city life and foreseeable bright prospects didn't catch him. After graduation, Zhu Huangzhang came back to his hometown Shimenkan, and settled his family also in Shimenkan, hence devoted whole his life to Shimenkan development as well as Flowery Miao awareness. He wrote Thousand Word Text for Civilian and Miao Text for his fellow citizens and Flowery Miao countrymen, opened night schools, and started Shimenkan Middle School.
He met numerous difficulties in opening Shimenkan Middle School, in the days when limited budget couldn't afford all staff's salary, Master Zhu and his family, staff and students ate the same simple food together, even wild plants.
Shimenkan Flowery Miao, from all illiterates to more than 70% being educated who could read and write, from the worst lowly barbarians climbed to "Southwest Minority Culture Peak", wasn't it a spurt process after the awareness of a nationality? Master Zhu Huanzhang was one among these outstanding pioneers.
In the 1945, Master Zhu Huangzhang was elected the Congress Delegation on behalf of Miao nationality. The second time he was received by President Jiang Gaishi, and was promised seat in Jiang's government. Zhu Huanzhang definitely rejected the proposal and returned back hometown Shimenkan.
In the 1955, Master Zhu Huanzhang was persecuted due to his strong Christian background and he chose to end his life in Guiyang Qianling Park.
In the 1982, Zhu's grievance was redressed.
On September 10th in 2008, Zhu's grave was removed back to Shimenkan, and he will always remain here in his beloved hometown.
There definitely will someday, we are aware of Zhu Huanzhang as well as other famous Chinese educators. It is history!
New Miao Script & Old Miao Script
Old Miao Script, also as Pollard Script, is internationally recognized. It was created by Pollard Samuel and his fellows, both Chinese and Miao, after his arrival to Shimenkan. He translated Bible Four Gospels into Miao Script, also Holy Songs and later all the New Testament. Hence Christian rapidly got widespread in whole Flowery Miao area and reached to Yi, Lisuo and other ethnic groups in the heart of Southwest China.
Today, Old Miao Script is still spread among villages in Tian-Qian-Chuan Miao dialect areas, especially well preserved in village churches. I have visited some village churches; I saw their Bible, Holy Song, even music books are all in Old Miao Script.
Old Miao Script adapted Latin linguistic system, and also added sound noted enlightened from Miao clothes, this language combined many images like lines Miao people quite familiar with from their traditional dress. They feel close to this language and believe this is just the script created by their ancestors but lost in this nationality's long miserable immigration march. (A Miao people traditionally believe they have written language but were lost in the long march more than 2000 years ago when their ancestors were defeated and were force to fled cross the Yellow River.) They are very eager to learn their lost-and- found written language. Also, Old Miao Script is very easy for Miao people to learn, anyone who speaks Miao language, if he can remember some basic notes and their corresponding sound and tone, he will easily read out a text or write down his words.
For example, "+" is pronounced "mou", "a" is a tone in Miao language, when "+a" is pronounced, anyone who understands Miao language will know its meaning. Thus, Flowery Miao people in Shimenkan quickly grasped this Script and thoroughly get rid of illiterate. I saw in a report, at that time, more than 70% Shimenkan people could read and write, I don't doubt the figure.
Tao Laoshi affirmatively tells me that, any people, who know Miao spoken language, will know Old Miao Script in 7 days by right teaching.
New Miao Script has been created by the State Ethnic Affairs Commission since 1956. It is Chinese Pinyin based. To those who know Pinyin, it might be a bit easier to learn New Miao Script. In 50s to 60s, the State spent great efforts to spread New Miao Script, but reached little effect. Cause it's more complicated for learners, first to be spelled in Pinyin and then turned to Miao sound. Ethnic Middle Schools were force to implement bilingual education; however, most of them have abandoned Miao language training, because they are thought to be useless in Chinese popularity.
That's the actual situation of Miao written language:
Old Miao Script, widely spread and used in rural villages, mainly through church system.
New Miao Script, in embarrassment pushed by the State from top to bottom.
Another fact makes more serious that, experts who have good knowledge both on Old Miao Script and New Miao Script, are Shimenkan Guanghua School graduates; mostly they are 70s and 80s.
We, Shimenkan Connection, want to do Miao Script training program.
We have Miao Text for Beginner, written by Tao Laoshi.
We have Zhu Huanzhang's Thousand Word Text for Civilian (volume one to four) under translation both in Old Miao Script and New Miao Script.
We hope someday the book will be published, in four language, Old Miao Script, New Miao Script, Chinese and English, with CD text sang in Miao language and traditional sound music.
We'll work hard for the day.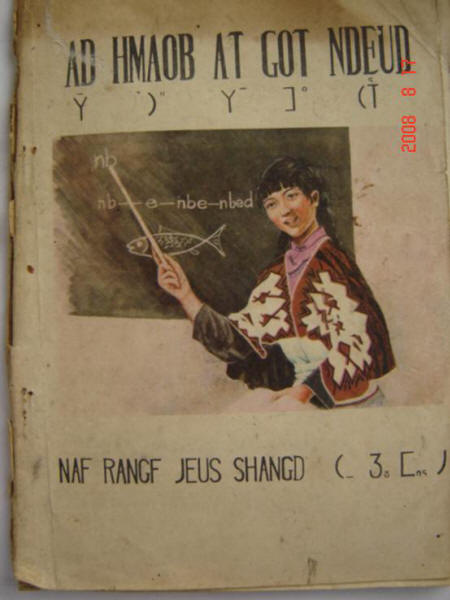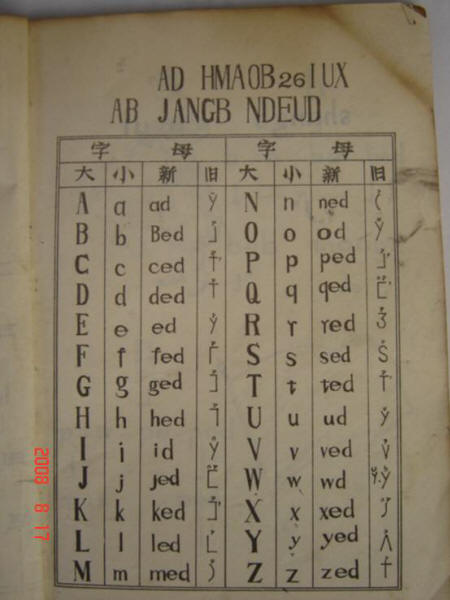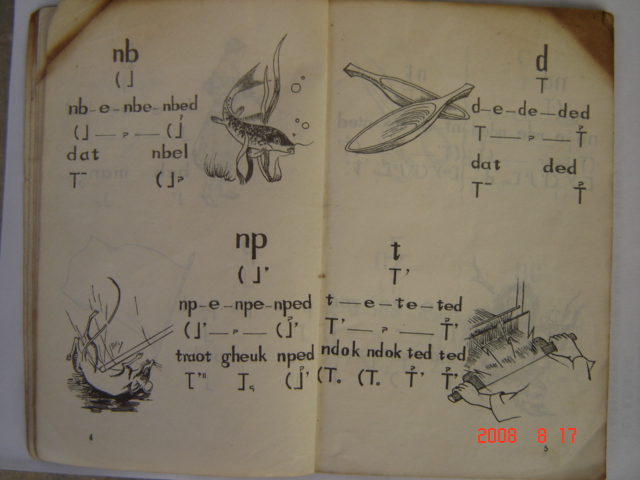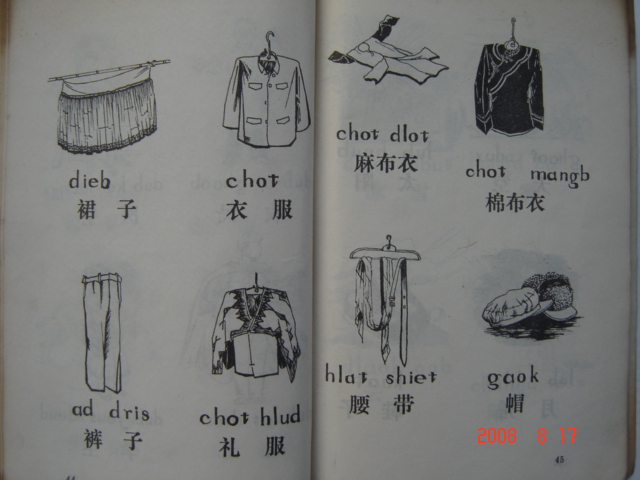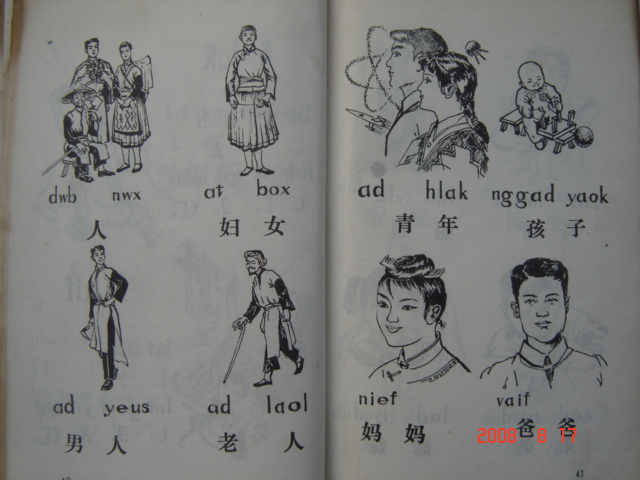 It is the New Miao Script text book used now in Xinchi School. This textbook is compiled in 50s, hard to find now.
In many isolated villages, Flowery Miao people are stilled dressed like that in the book.
Xinchi Village
There are about 260 households in Xinchi village, over 2000 population, in which 95% Flowery Miao and 5% Buyi ethnic group.
People's main food is rice. The sea level in village area is only about 900m, (Shimenkan is 2000m), and two-season rice grows in the limited land enough to feed the villagers.
Herd's main food is corn. (Corn is one of the two main foods in Shimenkan, another is potato) Now the price of piglet rises, average family keeps 2-3 sows to reproduce and 1-2 boars killed in Lunar New Year, salted and saved for next year. This is called prepare Nian Zhu (year herd in word), one of Flowery Miao's traditions.
Pigpen is separated from the house. (In Shimenkan, most families keep piggery in the house.)
Average income per capita a year is around 2000 Yuan. (Shimenkan 500-800 Yuan)
Differently with Shimenkan, potato is not produce in Xinchi. So Xinchi people says when they visit Shimenkan, they can't get used to the food there (potato and corn), vise verse.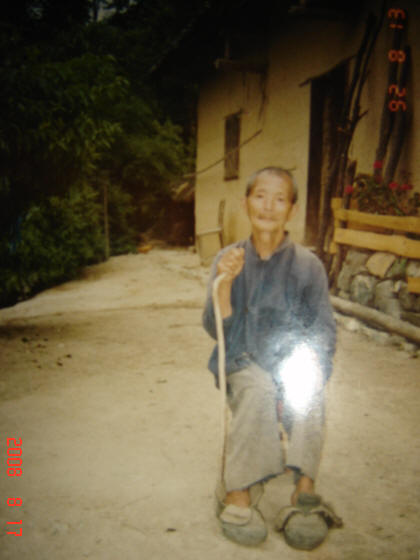 This is a true story given by Tao Laoshi.
Surrounding Xinchi are all virgin forests in high mountains, where tiger visited frequently. Those new migrants from Shimenkan couldn't afford to build even the simplest hut; they had to turn down their cooking pot to sleep inside that so as to avoid tiger attack.
One night a guy was awaked by a strong smell from his deep sleep, there was a tiger! The tiger smelt the food but couldn't find it, just circling round and round outside the covered pot. He was totally scared and dared not make out a slight sound in case the tiger would turn over the pot and ate him. The tiger finally left until day break.
The story happened on this old man.
The old man's son brought us the picture.
When mentioning this story, in our out breaking laughing, there should be impressions of immigration hardship as well as memories of Shimenkan splendors.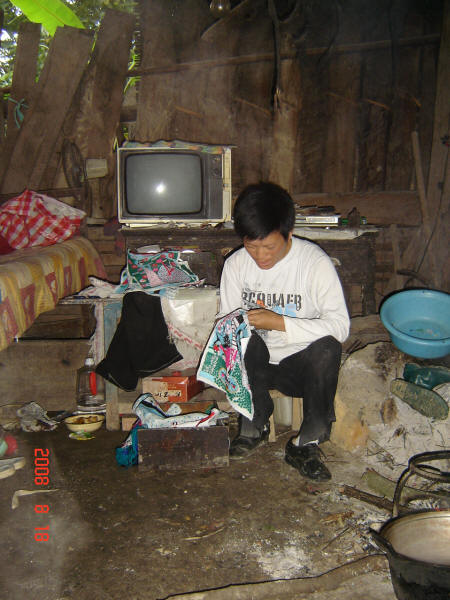 1 Aug 17th, Zhang Laoshi's wife and I passed one night in the car seat.
Aug 18th, waked up early in the morning, and it was the holy song led us to this family.
Condition was tough in the household. Their son was sick and still in the hospital, medicine exhausted the family and deepened their poverty. The daughter's leg was hurt thus unfit for labor work. We ate corns the hostess gave us, Zhang Laoshi asked about daily life of the family with dialect I didn't fully understand. I enjoyed the peace and joy atmosphere all around in this simple room.
Zhang Laoshi is the author of Shimenkan before Narrow Door, the book was written in 80s and published in 90s, till today, it is still the most profound and foreseeing research about Shimenkan. In publishing the book, Zhang Laoshi and the editor of the book had prepared to be imprison. It was never a overstate considering that time's political discrimination in China. Luckily Zhang Laoshi just lost his official work in the government.
I admire from my heart his bravery and courage stepping among Shimenkan villages since 80s.
Zhang Laoshi is a very interesting person with strong personality. If you are arrogant, he will be more arrogant than you; and if you are humble, he will act more humble than you. I like this.
When I got Zhang Laoshi's telephone number from Yang Dade and contacted him, he throw me many questions and obviously my answers got A, I was told I Passed his political test. I was so lucky to own honor passing his test, and this deepens by days.
Zhang Laoshi has a workshop in Guiyang, an ordinary three-room apartment. There he edited and published Wang Anjiang Miao Songs Collection, four volumes heavy in hand, recording remote images of long migration history in Miao ethnic group, and inspire the after followers.
Wang Anjiang, a Miao singer, the China Homer, in order to find out the lost folk songs, records the Miao nationality's history memorized and conveyed by, he, by begging for living, walked around China to every place where Miao people lived, collecting songs, though in the blames of his died in and sick and poverty wife and against hatred from his ignored 3 sons. Till his 70s, texts he has collected filled in dozens of hemp bags. His only dream in life is to publish his collection hence the nationality's memories can continue.
But as a beggar struggling for surviving, it's obviously much beyond him.
When Zhang Laoshi occasionally heard of the story, he decided to do all he can to fulfill this dream. Efforts after sever years come out rich fruits, worthless in price but worth in value. They are back bones of our culture!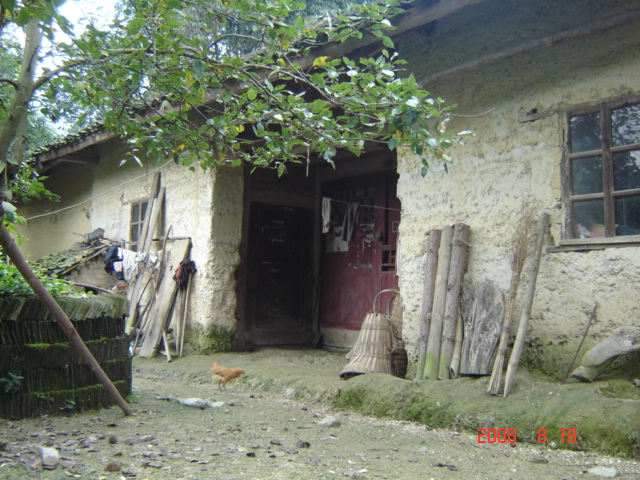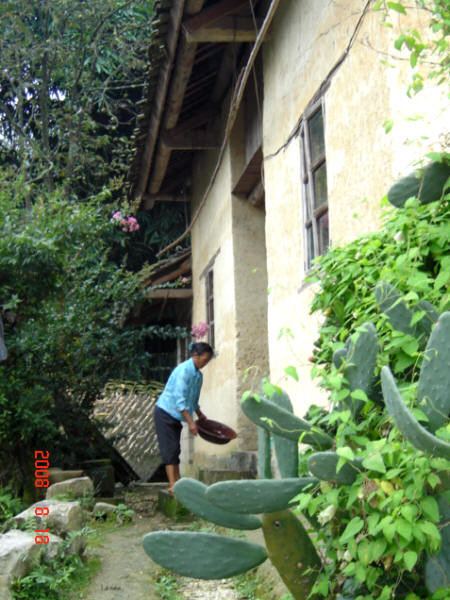 We can view from pictures Xinchi is underdeveloped.
But views are quite different from dirty messy we familiar with in poverty.
In here, every where is tidy and clean, and this tidy clean has little to do with physical but mental.
As we have seen in old photos, Shimenkan were tidy and clean though all simple cottages, comparing with today, conditions should be more than we'll ever image, but why no more the comfortable clean scene?
Xinchi shows me a miracle.
Women in Xinchi still wear the traditional Flowery Miao hair style as which we have seen in old imagines, Shimenkan women can't make it now.
This hair style is for married women only, it tells the story of Flowery MIao ancestors' migration:
Many years ago, when Miao ancestors were forced to leave their homeland, they were not allowed to take anything. They had to hide grain seeds in their hair, escaped from watching eyes to settle down in the new territory. From then on, generation by generation, Flowery Miao women wear this hair style in memory of the miserable migration history of early ancestors.
Process of making the hair style is like this:
First set the mold on the head, then twisted with black yarns to tighten it, and finally covers it by real hair.
The whole process is very complex and takes long time about several hours, so women have made their hair one day ahead for the celebration. I don't know how they sleep and not mess the hair. They looks very beautiful when they are traditionally full dressed.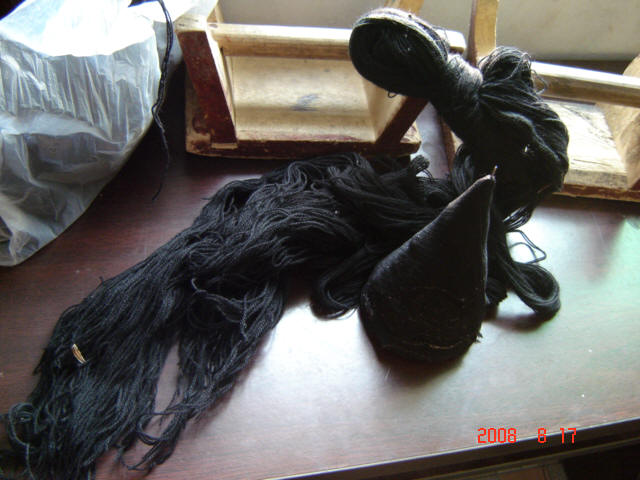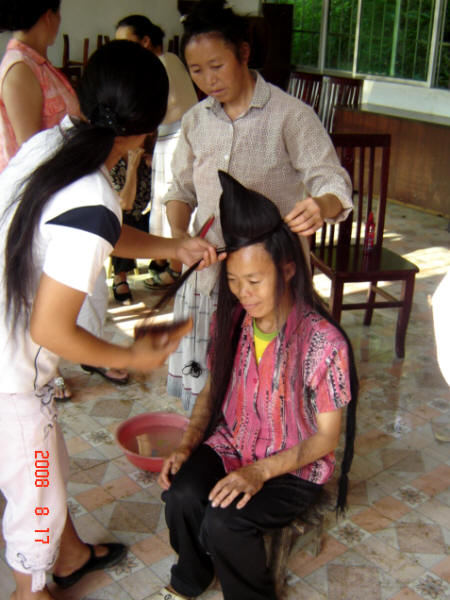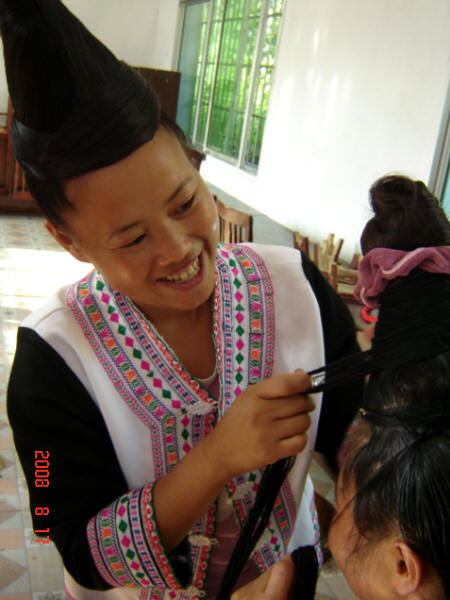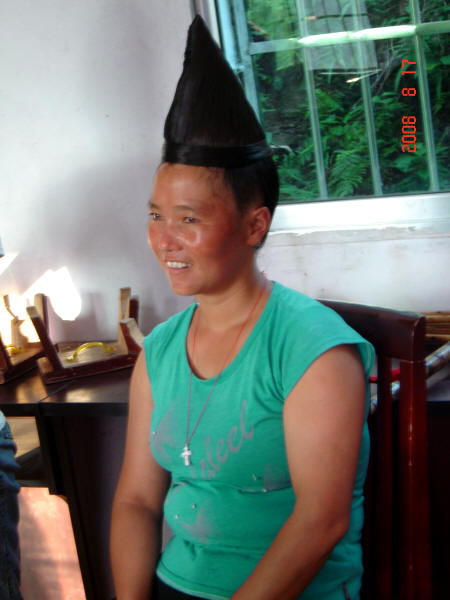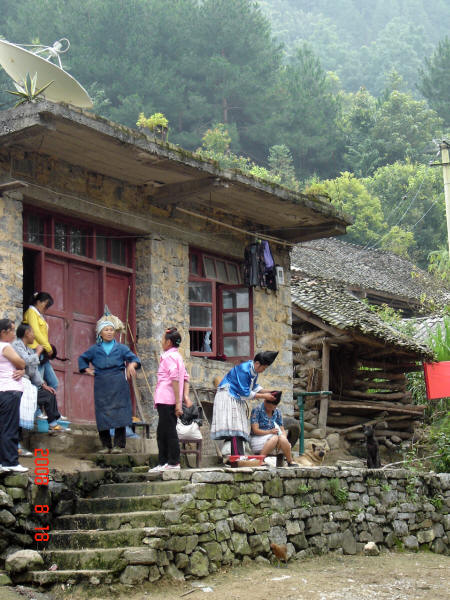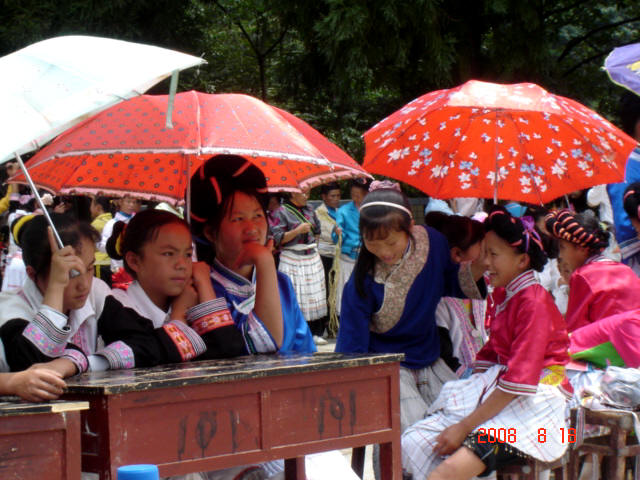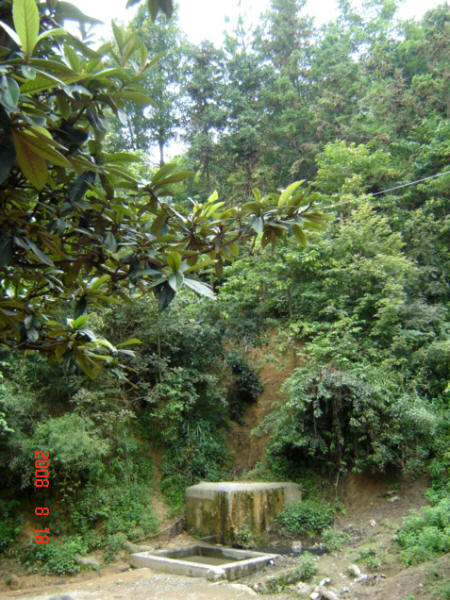 This is a small manmade pond for passed by villagers and cattle. Water from a remote water source site runs down through a plastic pine. It's a good sense of basic facility welfare which is rarely valued in China villages.
On the left of the picture, it is tung oil tree. In China unprivileged rural areas , many children drop out of school because their families can't afford their cost in school. Xinchi is no exception, but kids are lucky. Xinchi School organize students to plant .tung oil trees and take care of the trees. Every year after harvested tree seeds are sold, the money is used to aid those poorer kids to school. It's Xinchi's tradition and is well reserved till today.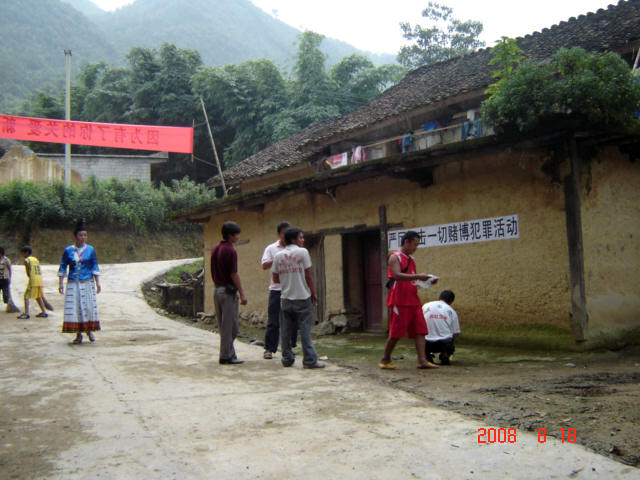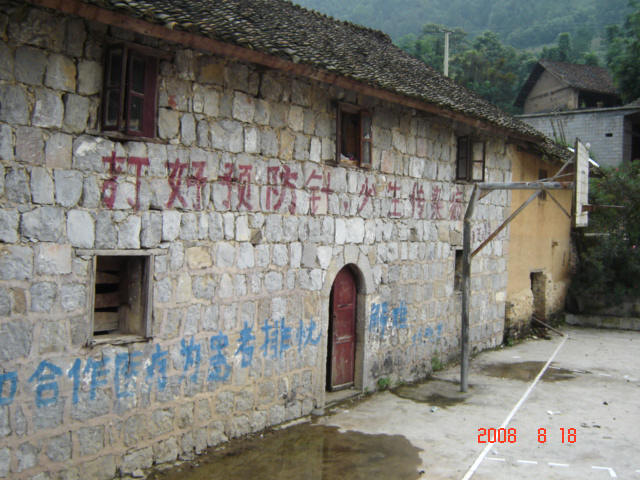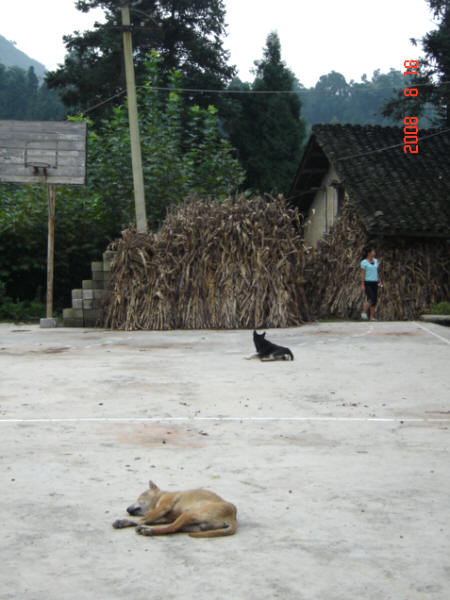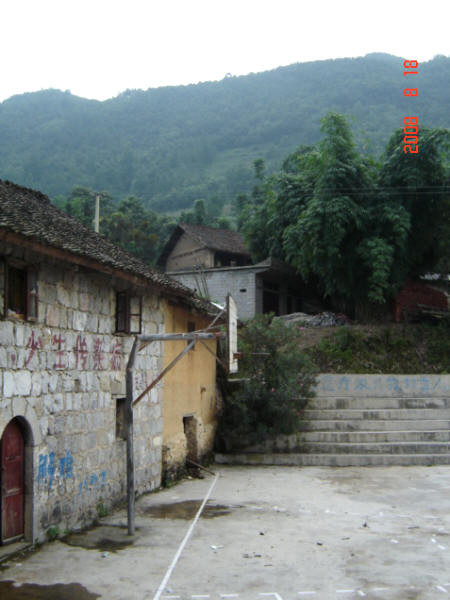 This is the village playground.
There are two basketball fields in this small village of Xinchi. One is in the school and another is here, 5 minutes away from the school. This playground plays an important role in village activities. Please pay attention to the cement watch steps, it was built in 1971.
On that night I followed the sound to the playground, villagers finished their work after 10pm, they came here to practice songs for next day celebration, on the steps, the young and old, male and female, whoever they are on steps, they produced amazing songs, in four voice parts
Could you image?
In 70s' China, where male and female hold hand in hand will be imprisoned as "the crime of hooliganism", seems ridiculous today but it's true. In this isolated Miao village, boys playing basketball, girls watching, love in eyes, will they dating here staring the moon and stars? Will they hand in hand? Will they be punished? ….
I can't help riding imaginations, what a wonderful night!
I asked for the village head. A full dressed, young beautiful lady came out of the people, led us to her home. The village head looked just like a young guy new to society. So when we were told that they had two sons of 20 some-year-old and now as labor worker in cities, and they were more than 40 years old, we could hardly believe it.
Next morning when I saw in front of the family a lady alike thirty or forty years old, I could bet she would be the grandma of the family.
I believe, happy heart will always keep a young life. The people are diligent, hard working, they singing and dancing, they are happy, how won't the life be young?
The village head said, he now kept some 20 hogs. The hog pen was very clean. His biggest desire now was to repair marsh pool.
I asked him whether there were people on shift duty clean the playground and roads in the village, he said no, whoever would clean them when they saw it was dirty.
He told me, the road was divided by parts and every family took one part in charge of its daily maintenance.
Here, mountains are as dense as in Shimenkan, road is crude as well, but in different places results are different.
Why?
When I told people in Shimenkan about Xinchi, showed them Xinchi pictures, they didn't know about this history, they were very exciting about what I have told them. They wish to visit and learn from Xinchi.
I wish I could collect enough travelling expenses so as to arrange core members in Shimenkan communities' development to visit "Second Shimenkan" Xinchi.
From today's Xinchi, we see yesterday's Shimenkan.
From today's Xinchi, we see tomorrow's Shimenkan.
In the recent years, I am lucky to have many opportunities investigating some most backward villages in the most unprivileged areas.
So far from my experience, I will say,
First the basic subsistence problem has been generally solved. China government spent 20 years reached it; completely no easy at all.
Second, the government has invested very great sum of money on rural country poverty alleviation, how much of it is spent on the real needed spot? This question is hard to answer. Doubts spreading in the air are of proofs.
And, the needier the area is, the more corrupt the government is and the more blamed cadres they are.
To the current impoverished situation, main reason is never physical factors as ill nature being or lack of poverty relief fund, but spiritual elements. There's no traditional religious and spiritual dependence to empower villagers, and no devotional leaders to lead them in their communities development.
On the ceremony speech, Tao Laoshi gave words as follows:
"What is Shimenkan spirit?
Giver, be genuine and sincere.
Taker, be spurt with grateful heart."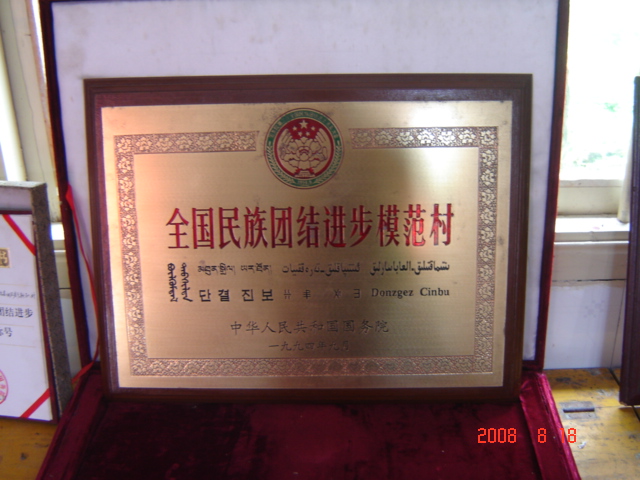 Xinchi wins the medal, " Model village of China nationality unity and progress" awarded by the State council of the People's Republic of China.
Xinchi gives me vision of Shimenkan's past glorious.
Xinchi shows me prospects of Shimenkan's future development.
Before leaving Xinchi, I noticed a hanging slogan right on the road to Xinchi, it says"advocate advanced culture, carry forward ethos, co-create bright future." I find answer in the three sentences, outlet road of impoverished rural minority community development.
To advocate advanced culture, and to carry forward ethos, in aim of co-create bright future. ----This is Shimenkan Spirit in New Era.
When PRC president Hu Jintao was governor of Guizhou Province, he heard about stories of Pollard and Shimenkan, he said,
"Samuel Pollard told people with practice, progress of science culture and hard work, can realize education transnormal development in poor areas. "
Yesterday's Shimenkan Guanghua School and today's Xinchi School are the best supportive examples of Hu's speech.
Know and act then done, how far and hard in between?
Shimenkan Connections
Sijia
2008-9-4