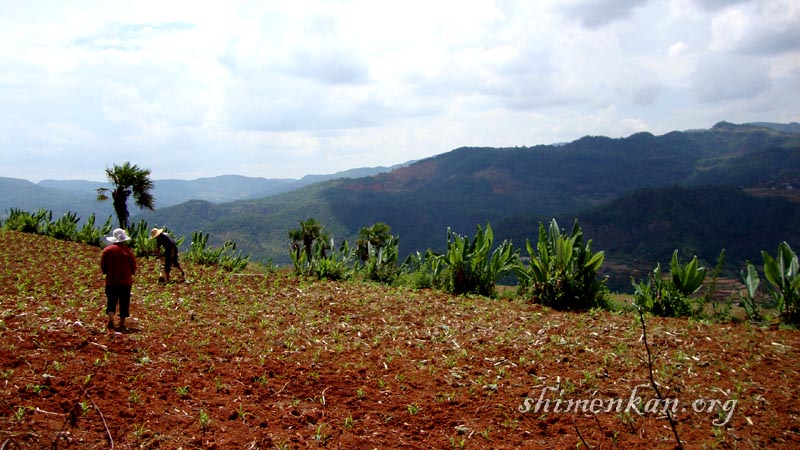 In the Hmong Christianity history, Shimenkan and Sapushan are very important places.
In 1904 and 1905, Samuel Pollard £¨Chinese name Bo Geli£¬ literally means understand inner principles or structure£©and Arthur G.Nicholls (Chinese name Guo Xiufeng, literally means beautiful peaks) visited non-Han north areas in Yunnan Province, they decided to sprinkle the establishment of the church in Sapushan in Wuding County.
Hence Arthur G.Nicholls and a group of Hmong preachersteachers from Shimenkan arrived Sapushan and start their fruitful cultivation. For a period the power of Sapushan infulence covers most minority areas of Hmong, Black Yi, White Yi, Dai and Lisu in north Yunan.
In 1944, Hmong pastor Wang Zhiming was elected the general superior of Sapushan Hmong Church, meanwhile directed the Union of Six Ethnic Group Churches in North-Yunnan.
In 1950, the Union was dismissed. Religious activites were banned, and church went into underground.
In 1969 GOF time, Wang Zhiming was arrested for Christian baptism.
In 1973 GOF time, Wang Zhiming was executed by firing squad, executed when the tongue has been a bayonet ground.
In 1980 GOF fell, China Government hold a public vindication for Wang Zhiming, and construct his tomb.
In 1996, Hmong churches hold a very formal centenary celebration mourn for Wang Zhiming, merely Choir number reached 2000 people.
In 1998, Wang Zhiming was, by the British Westminster Abbey, honored as one of the ten 20th Century Outstanding Christian Martyrs, his sculpture forever on the west gate of the Westminster Abbey in London.
In Westminster Abbey rest in peace Chaucer, Darwin, Dickens, Newton, Winston Churchill and other great figures.
West gate of Westminster Abbey with the top set including China Hmong Wang Zhiming along with the famous black civil rights leader Martin Luther King and other Christian martyrs of the statue.
In China, very few people are aware about Wang Zhiming; However, Wang Zhiming, the statue and the famous Martin Luther King¡¯s statue in Westminster Abbey with establishing the west gate of the top of the world¡¯s admiration accepted.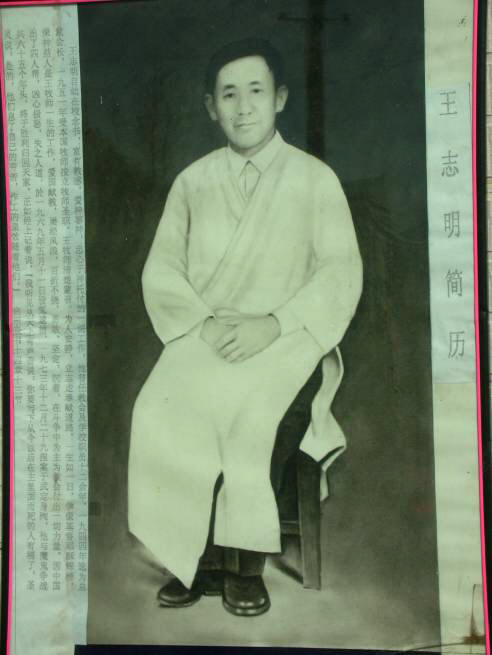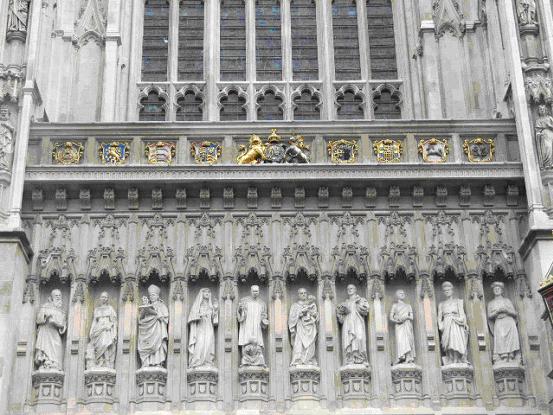 On the West Gate, statues of ten 20th Century Outstanding Christian Martyrs. The first one on the right, Wang Zhiming from China Yunnan, Hmong pastor in Xiachangcong village Wuding County.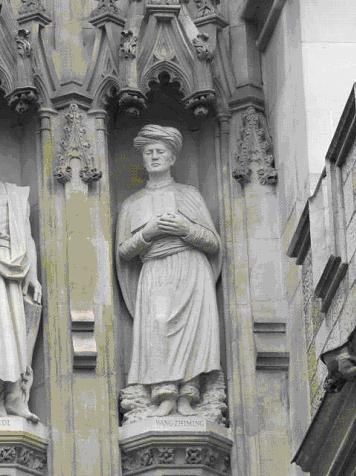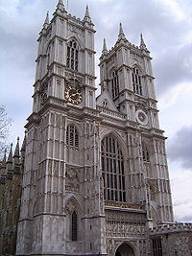 Statue of Wang Zhiming, Hmong pastor from China Xiachangcong village in the West Gate of the Westminster Abbey in London, UK.
I don¡¯t know how Wang Zhiming is from Xiachangcong village to Westminster Abbey. In this trip to Xiaochangcong and Sapushan, I want to explore the answer¡­¡­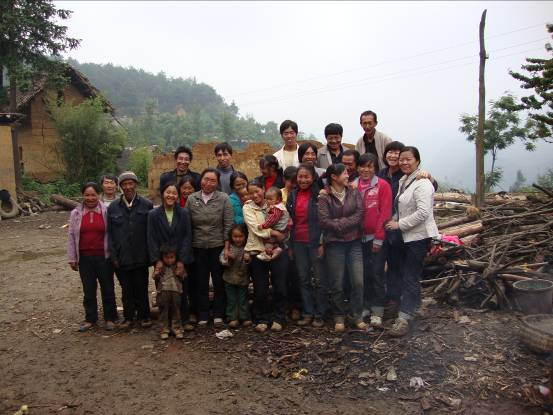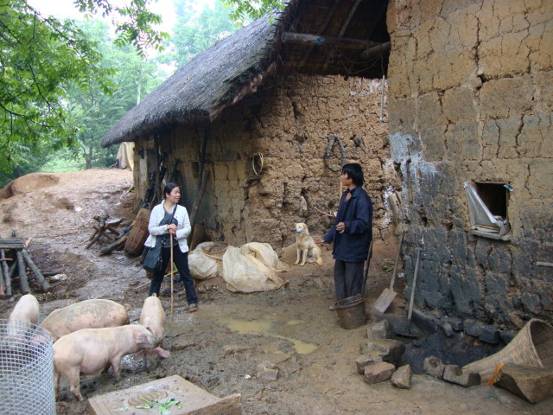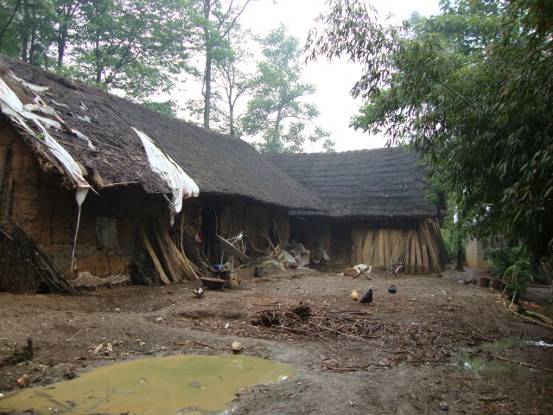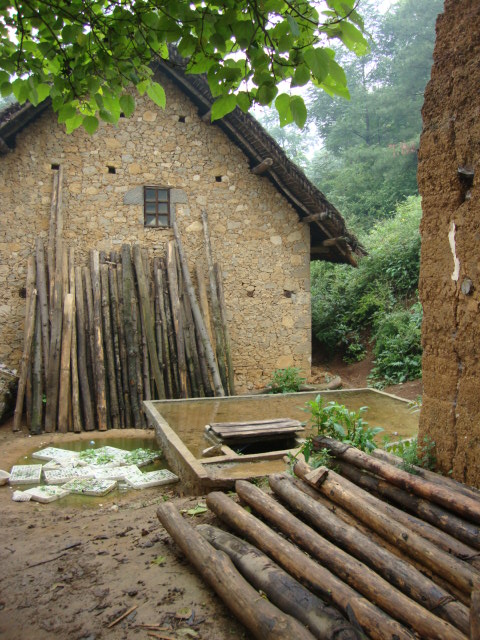 Villagers use rains saved in the cistern.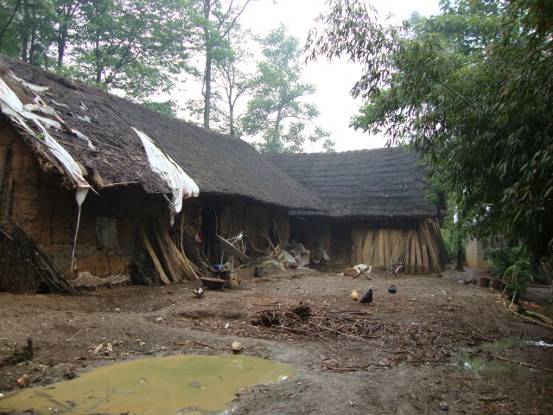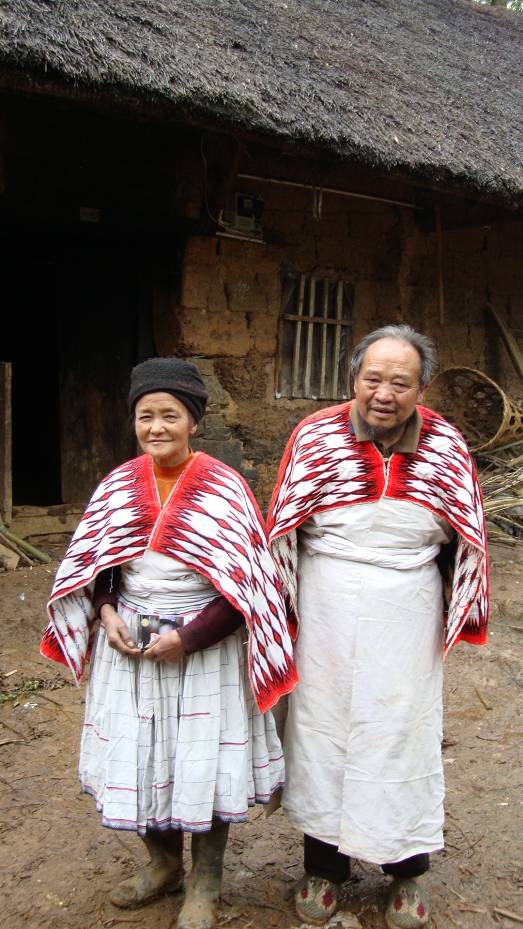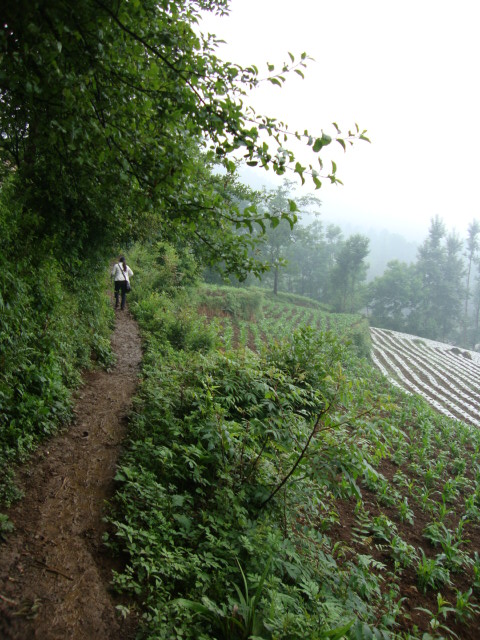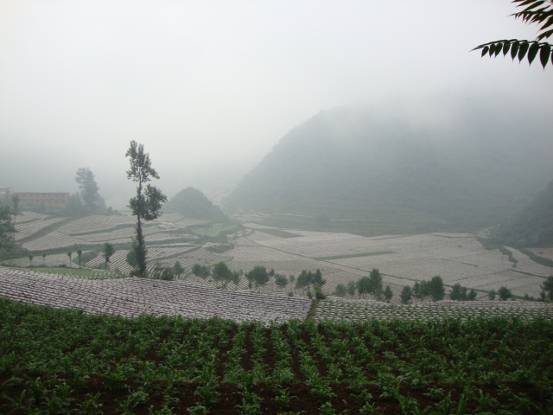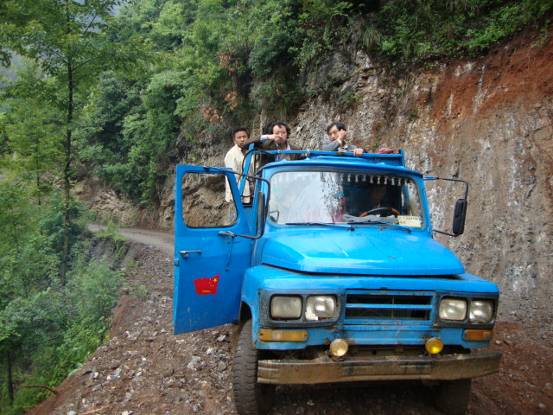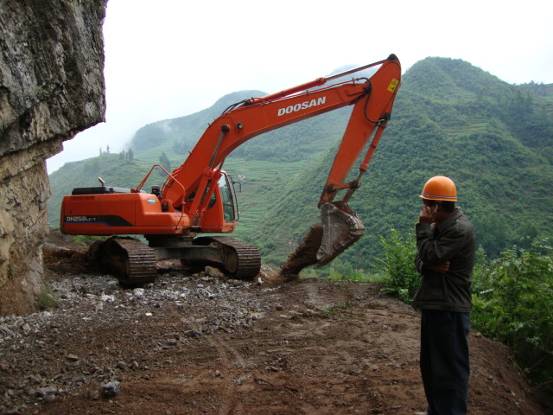 June 16th morning, I left Xinzai in Shimenkan, Guizhou.
From Xinzai to Shimenkan township area, totally about 10 kilometers, and cost us nearly 2 hours. We four people packed in the small cab bumping on the broken road, we don¡¯t mind comfortable or not, surely it¡¯s much relaxed than we riding on our feet.
Han Wenjun is a Xinzai villager, the truck cost him no more then about 8000¡ª10000 Yuan RMB. He is a very good driver of his broken car. Certainly Han Wenjun has no driving licence, as most drivers in Shimenkan, he can¡¯t afford the licence cost usually about some thousand Yuan.
New comers might feel this road so terrible, I don¡¯t, so I am quite relaxed viewing the outside scenery, clouds clustering around in the middle while we driving on the top of the mountain, seems so close to sky, marvelous beautiful land.
¡¡
¡¡
There is about 20 kilometers from Shimenkan township area to Zhongshui town, we got a ride in an officer¡¯s car, took us about 2 hours.
Zhongshui town to Zhaotung city is some twenty kilometers left. Road is good, time on the bus plus time waiting for bus added totally near 2 hours.
So when I arrived in Zhaotung, it¡¯s aready about 6pm.
Friends in Zhaotung run a youth center for Yi minority orphans. Took a quick shower there and had supper with these kids from Butuo Yi villages. Since all thick soils in my cloth, I tried to make myself a bit clean, and took 9pm train to Kunming.
When I arrived Kunming, time¡¯s about 7:30am. One hour took bus number 2 to Huang Tupo bus station, I met Yang Laoshi, and we bought ticket to Wuding County. Ticket 18Yuan, about 3 hours in trip.
Wuding is close to Luquan, another county only half an hour away from Wuding.
Before Luquan is divided to Kunming city couple of years ago, it belonged to Cuxiong city, and was one of the most impoverished counties in Yunnan.
Now Luquan has changed a lot, where we can see obviously from streets and buildings the gap between two counties.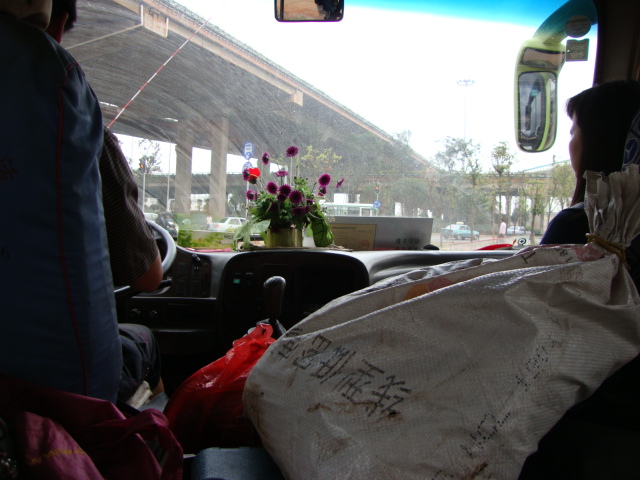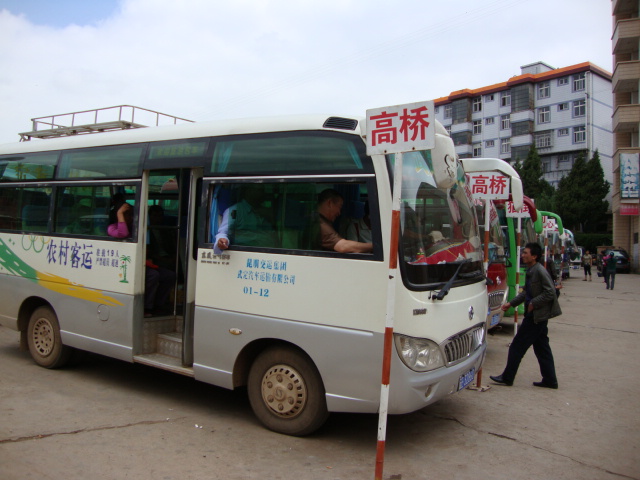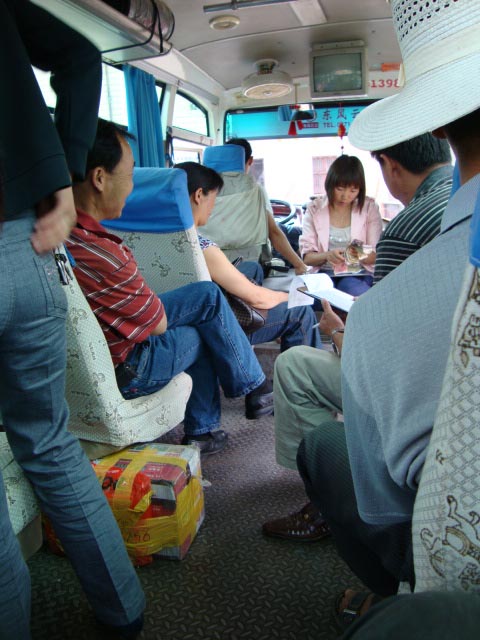 Kunming to Wuding.
Wuding to Xiachangcong.
Xiachangcong is the hometown of Wang Zhiming.
Xiachangcong is by the road side, the Hmong village with around 60 families living on the foot or in the middle of the mountain.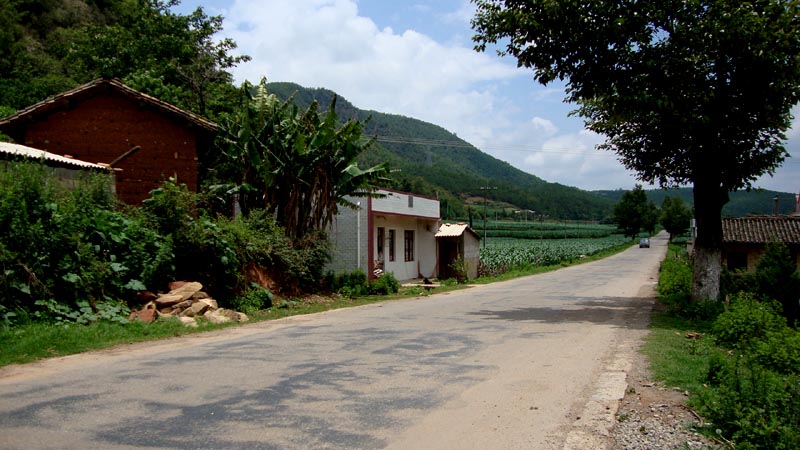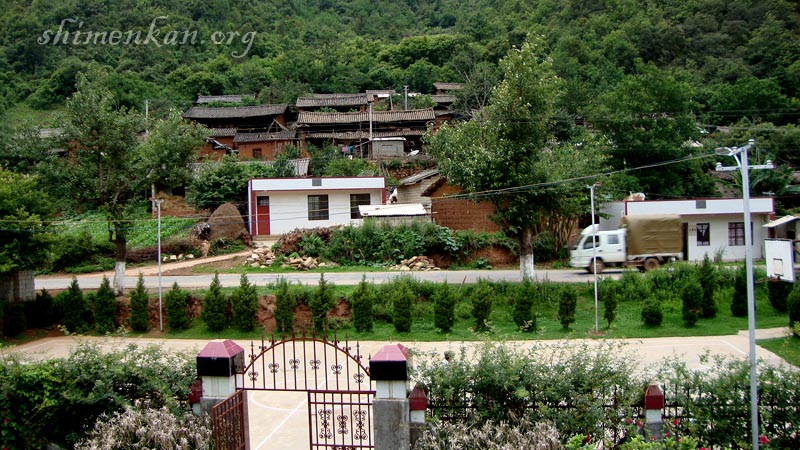 Wang Zhiming has 4 sons, one son Wang Ziqin died just one month ago before we visit; another son has been to Guiyang couple of days ago. We found Wang¡¯s grandson and his wife, they run a small health clinic by the road, and sell some food and goods as well.
They once worked in Wuding factory, and after they were dropped out of work, they were also as migrate workers in other cities, and finally decided to come back. Cause he learnt medicine in school and was doctor in the factory, he decided to run a health clinic in hometown.
They have two children, one in Xiachangcong primary school, another in Gaoqiao middle school.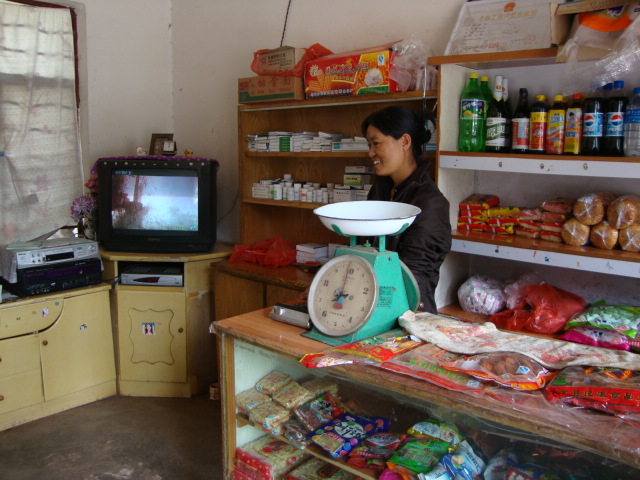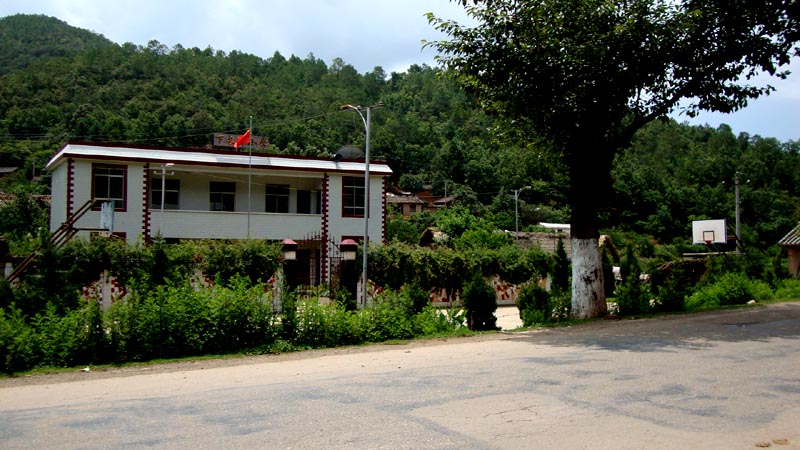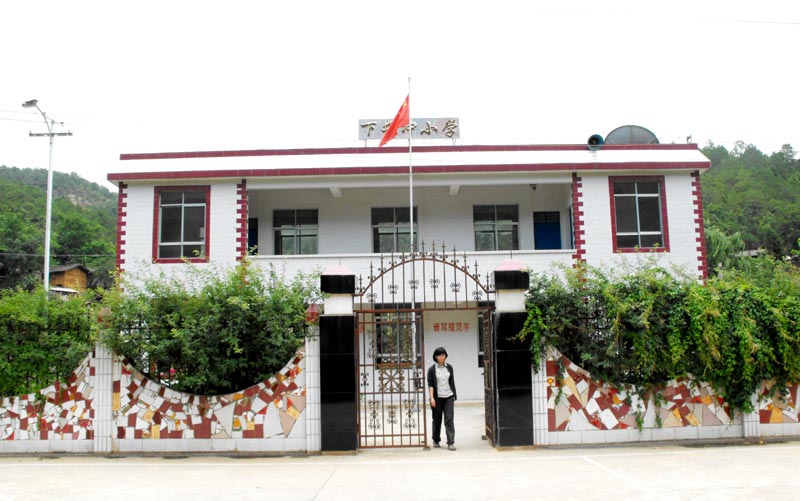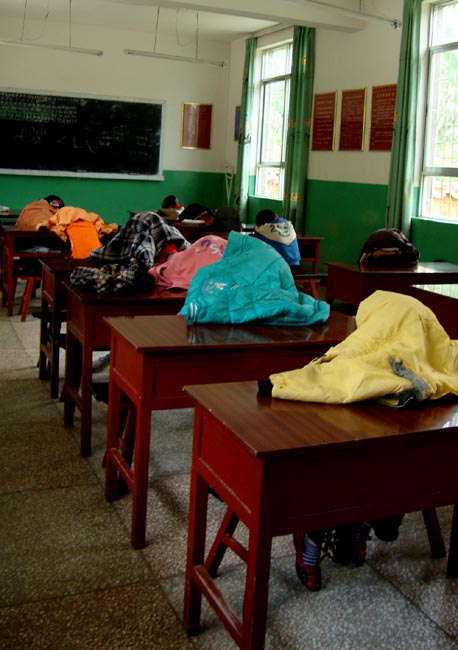 Xiachangcong primary school was donated in 2003, a two-floor building, now has one teacher and some ten students, from grade 1-3, who above grade 4 will study in Gaoqiao town about 5Km away.
It¡¯s nap time when I visit school. Kids are having their nap sleep with cloth covered on their head.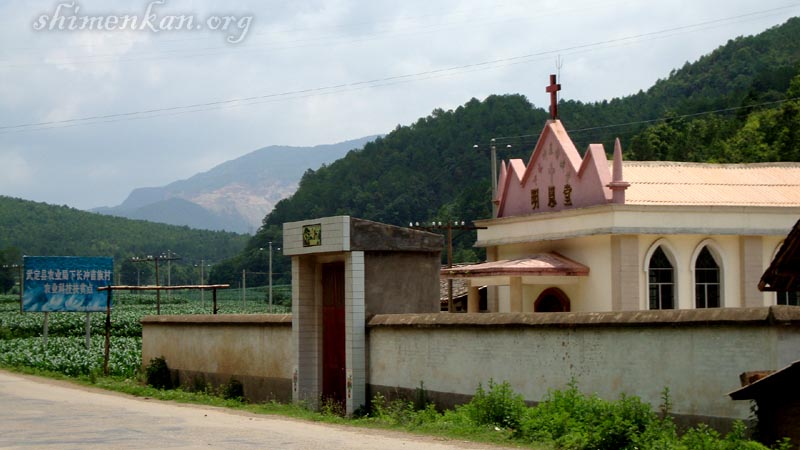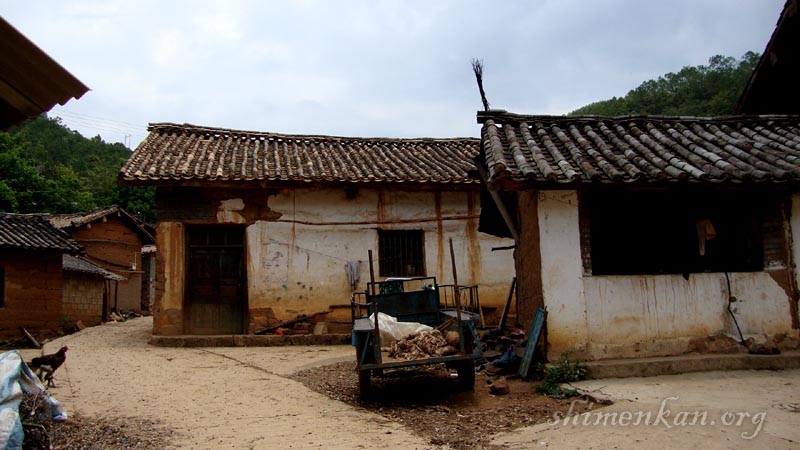 ¡¡
This is the Xiachangcong old church, sold to individual when religious activity was banned.
New church is built in 2003. Church is closed when we visit. I am not aware of how many Christians register in the church. Local people say, normally dozens even to several hundred. One third of Xiachangcong villagers believe in God.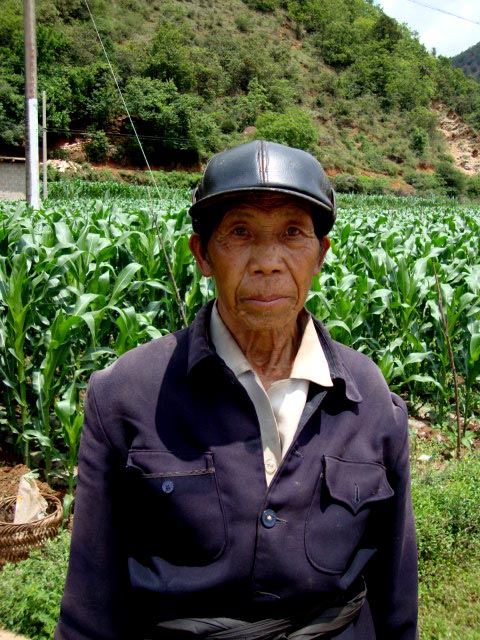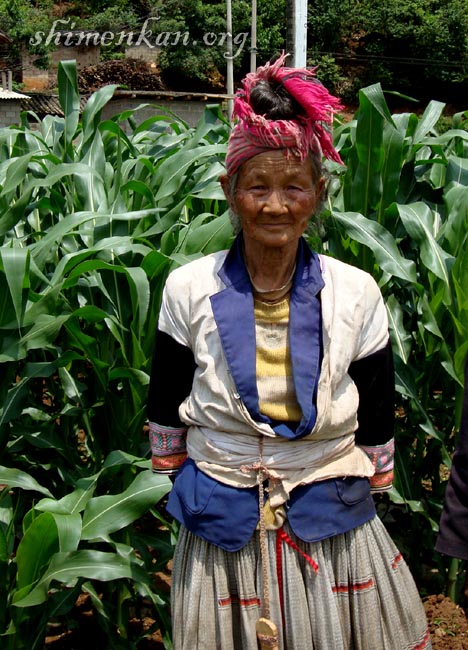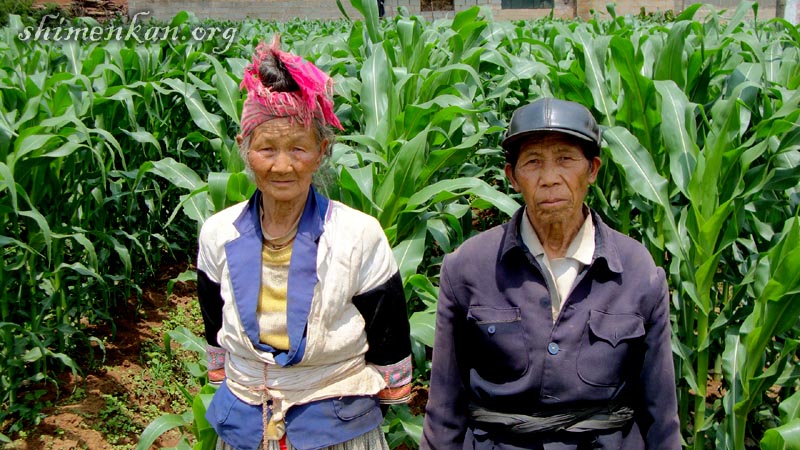 ¡¡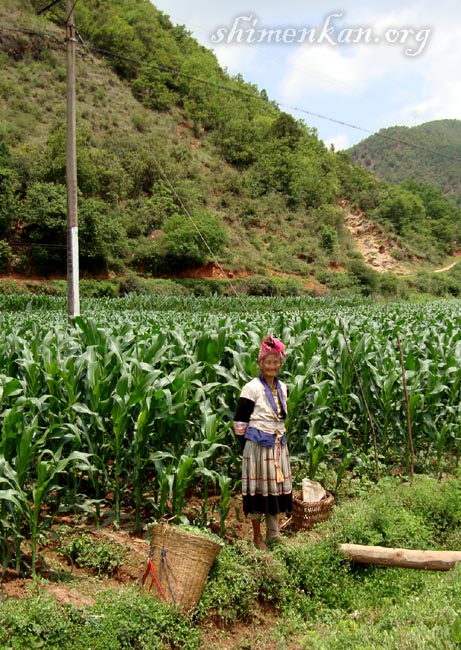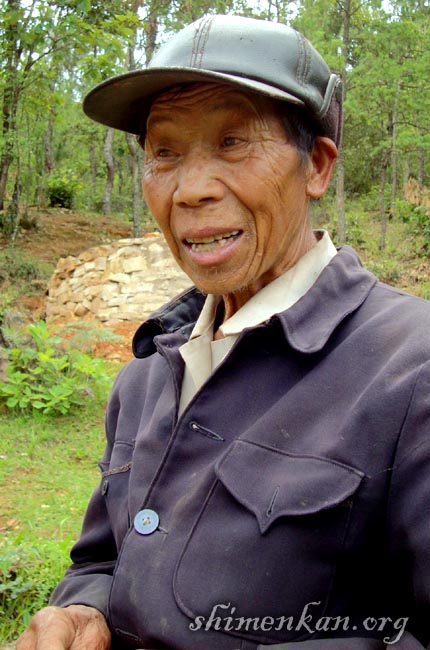 The old man is busy on his corn field. I chat with him. He says he believes in God, and I say me too and show him the cross in neck, he is very exciting and uses his fingers to touch the cross, this makes us close and dear.
The man¡¯s name is Yang Congguan (literally mean follow light), Christian Hmong, he tells me he raises more than hundred sheep, he has sold some two times and get around 10000 yuan, but the land eat money, so little left.
I want to shoot his smile, but every time when camera on him, he is very serious, moves away, he laughs. He wants me to send him photos, of course I will.
This old man and Wang Zhiming¡¯s grandson lead us to Wang Zhiming¡¯s tomb.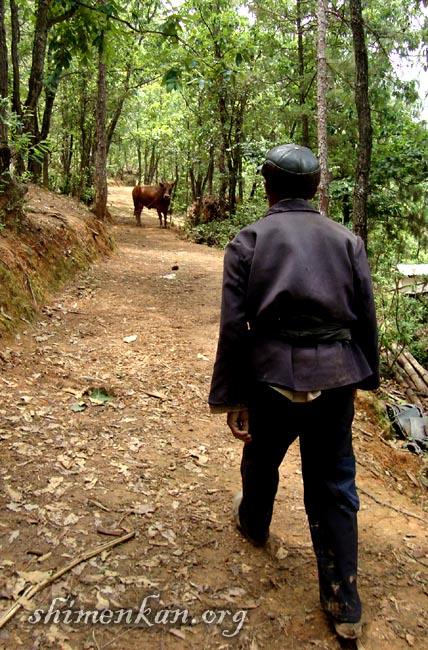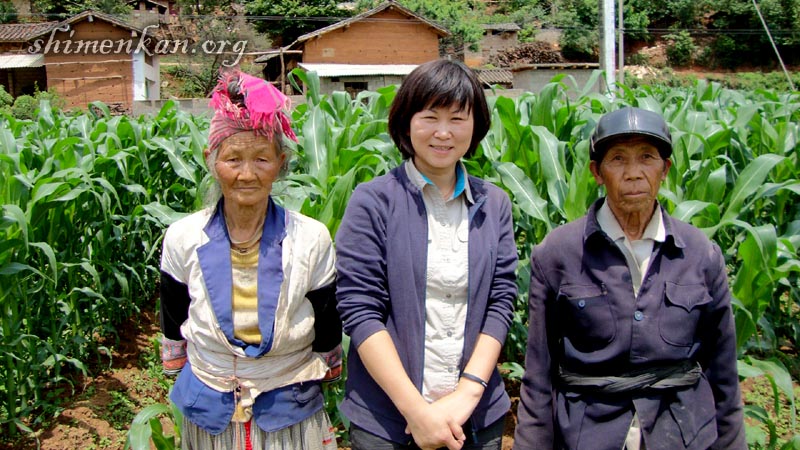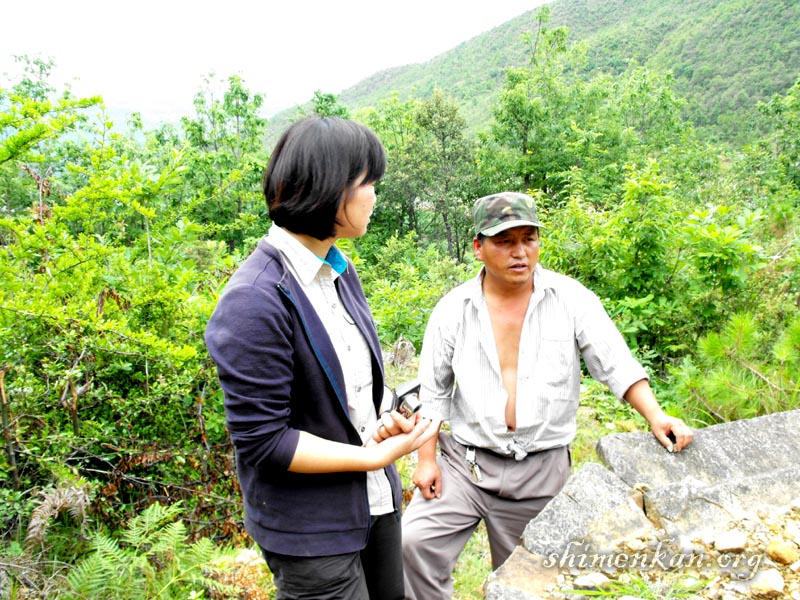 Tomb land is in the middle of a mountain forest. Tomb land is simple, tomb stone is solemn.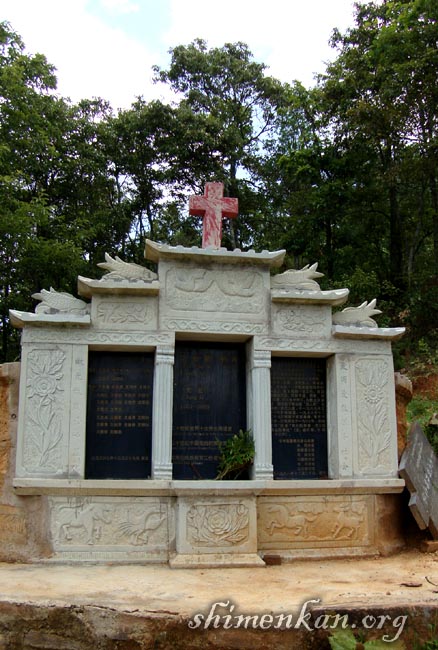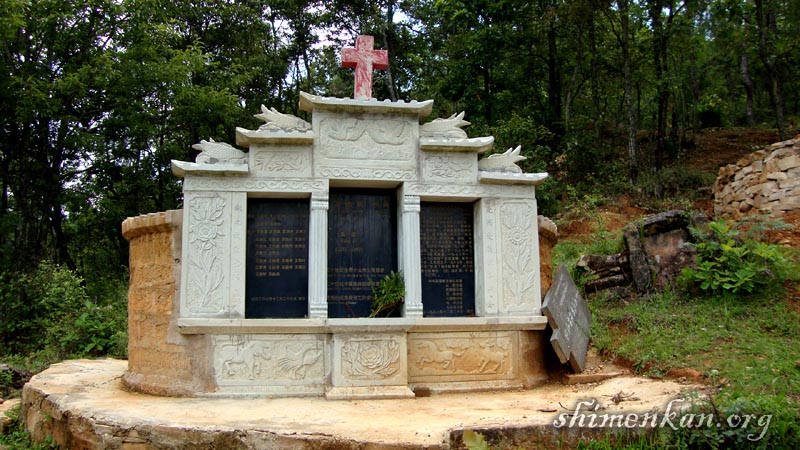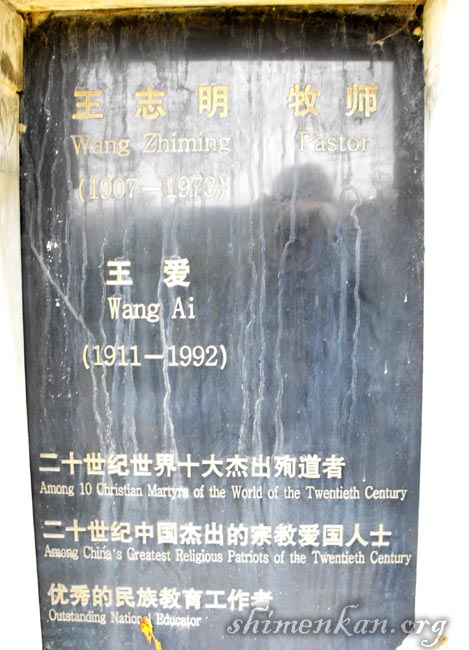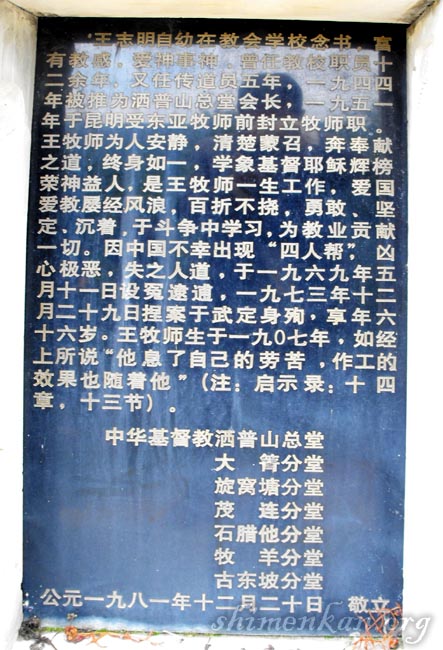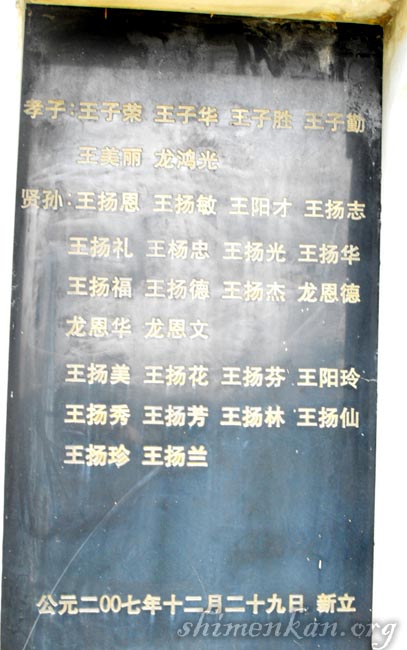 This is a new tomb, Wang Zisheng, son of Wang Zhiming died on 17th May, 2009.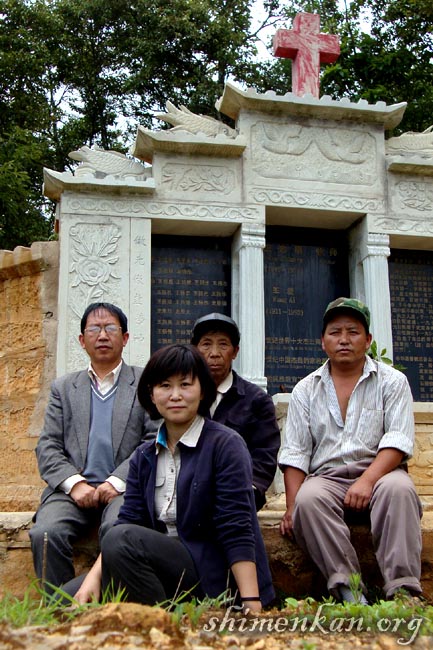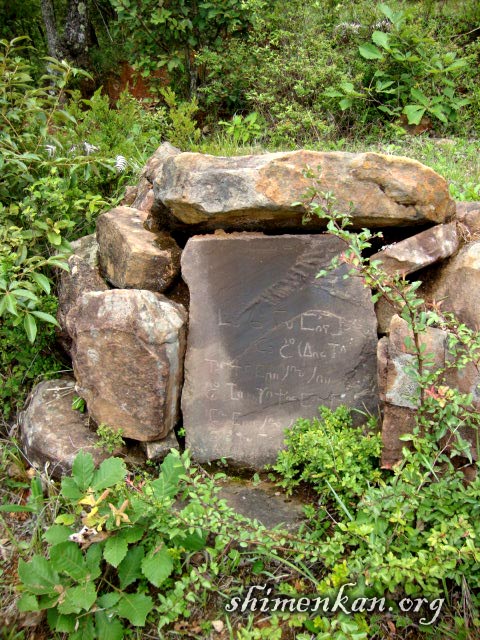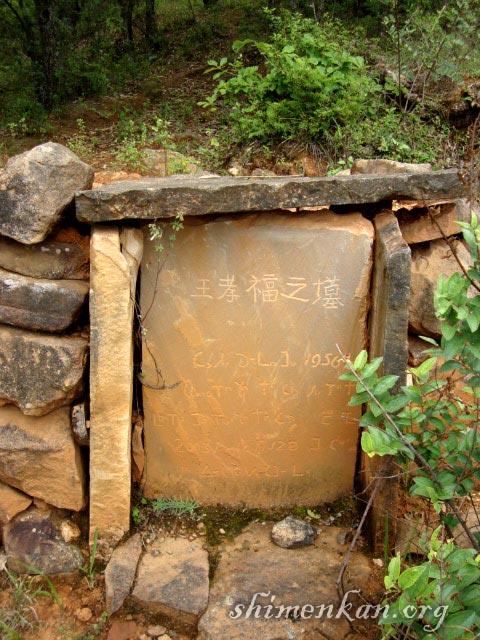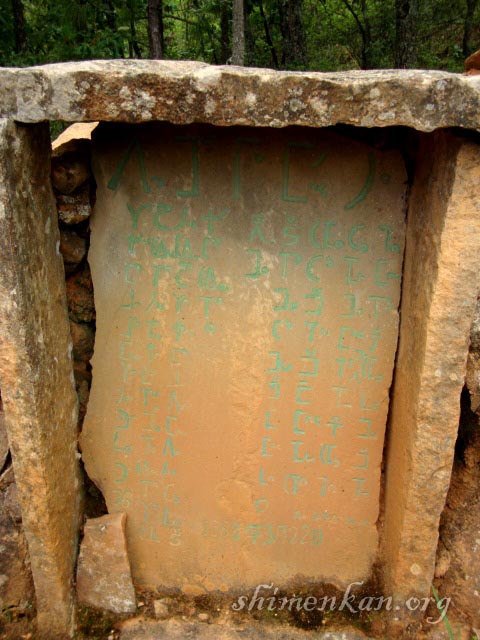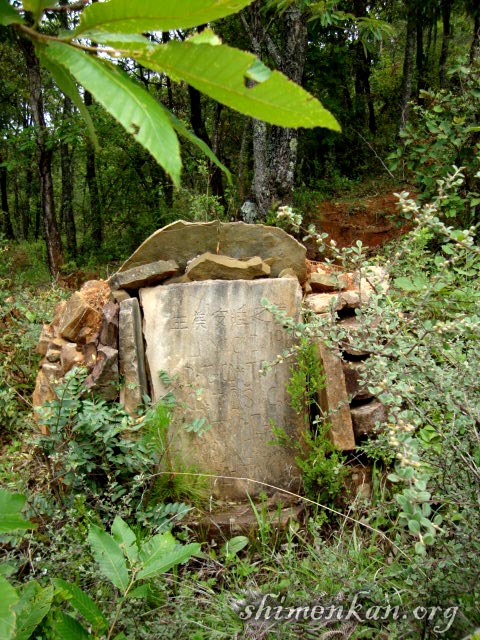 There are many Hmong¡¯s tombs around in trees, characters in steles are Pollard Script.
Simple tombs quitely sit in the forest, they are remembered.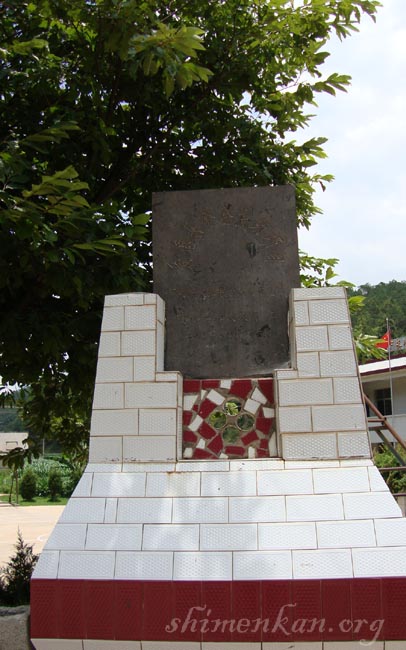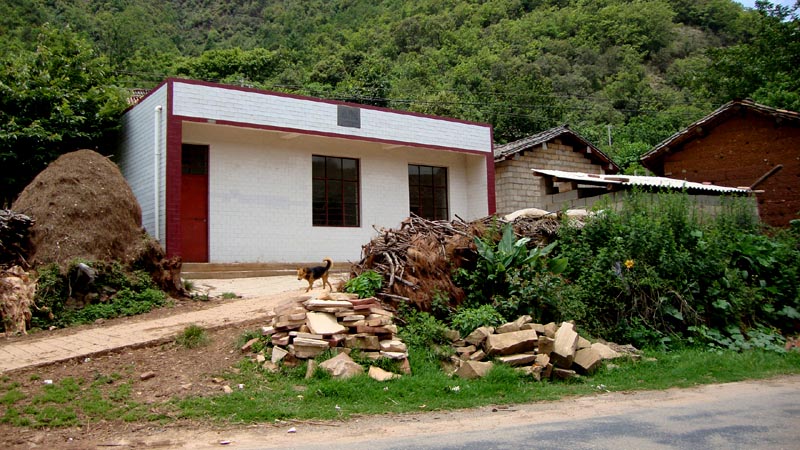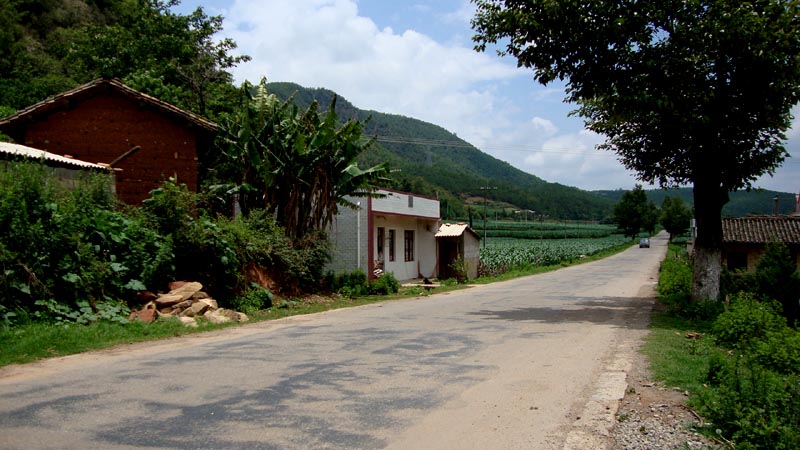 Amity Foundation projected here. They donated a villager center and a clinic room.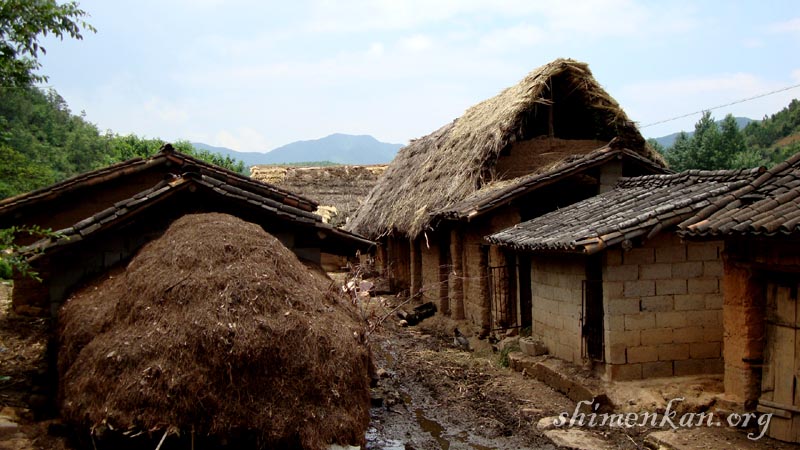 The straw houses are barns for livestock, where in Shimenkan people still live in these kind of houses.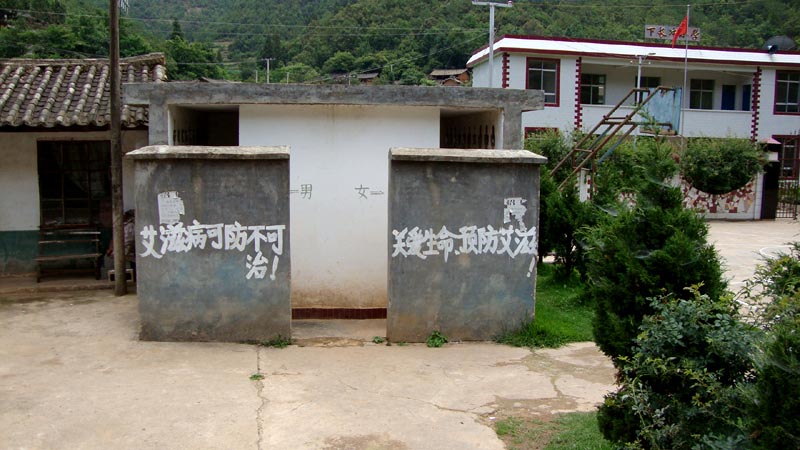 Village toilet, right for female and left for maile.
It¡¯s new vilage construction project encouraged by Government, each family will get 500 yuan subsidy from government after the formal toilet is finished.
New vilage construction projects also inculdes house outwall painting. Government supplies free materials and subsidy to let villagers paint their house walls white. Some villagers don¡¯t like the project, they complain it¡¯s typical Chinese ¡°face project¡±.
White walls in green trees, it looks really beautiful. But life inside walls, who cares?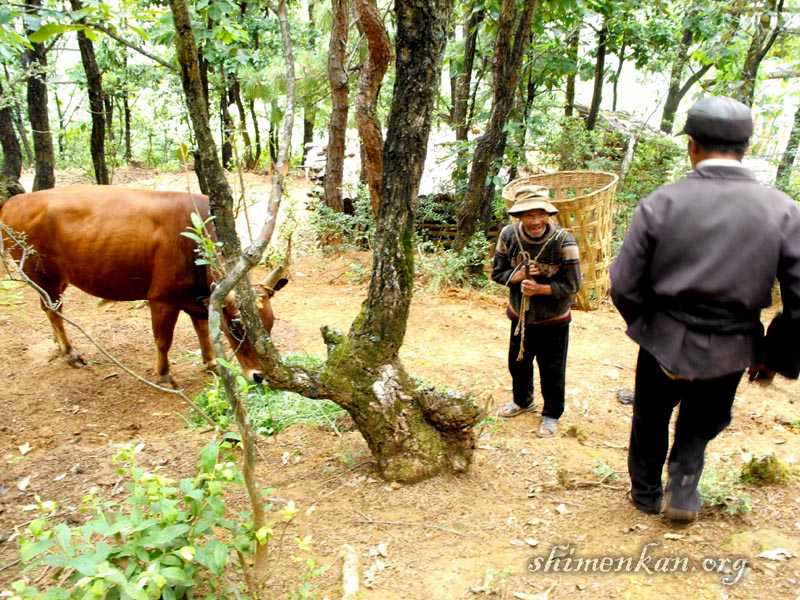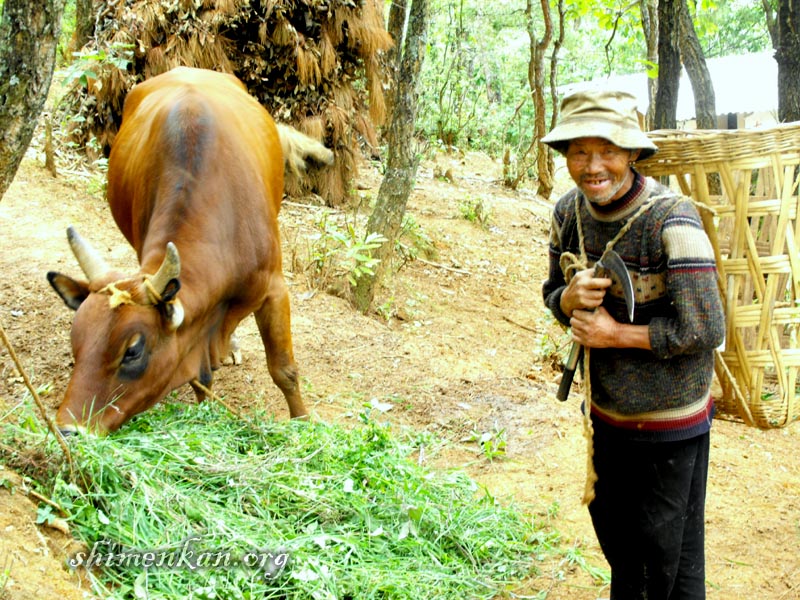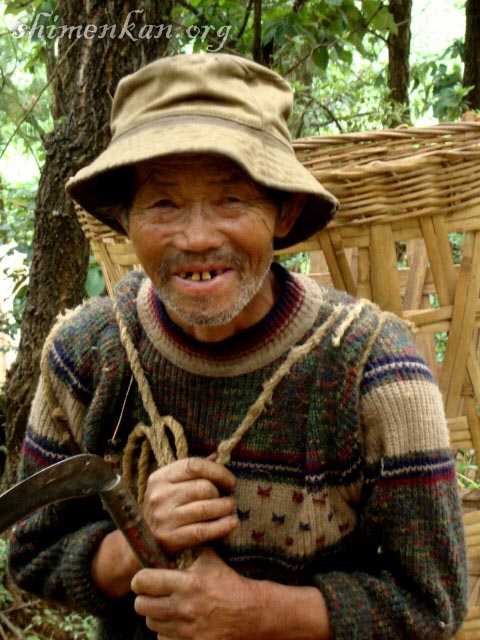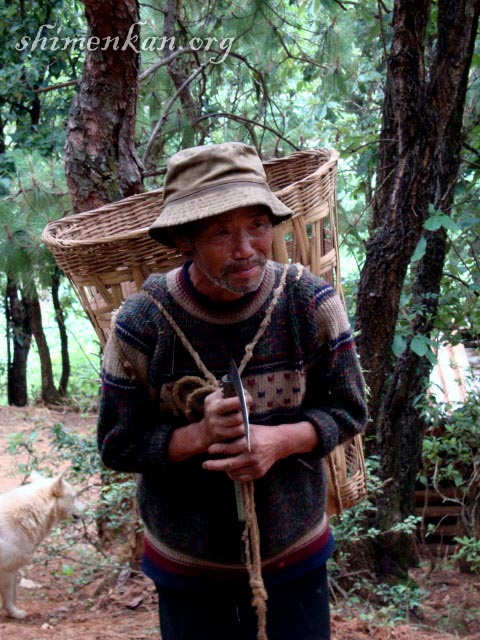 ¡¡
¡¡
We meet an old man feeding his ox, I talk with him.
Late local people tells me he is Judas in persecution of Wang Zhiming. For quite a long period when religious activities were banned, Christians were persecuted and their children be teased.
When people¡¯s minds to Satan, the occurrence of any absurd is possible¡­..
Feel that this photo is meaningful, sickle in hand and basket carried on the back, each person carrying his harvest should take his own content.
What is mine, and what is yours?
Same tall mountains and steepy ridges, but climate, geography and economic conditions in Wuding Sapushan are much better than Weining Shimenkan. No wonder why in history Weining Hmong took all risks migrating here.
Sapushan is not name of mountain, but name of the place on the hill top. Sapushan has two villages, one named big village is Han village, another is small village all Hmong families. Sapushan Church is in Hmong village.
Direct distance from foot to Sapushan is about 5Km, local people walk about 2 hours and I might double the hour. We rent a car circling one hour to the top.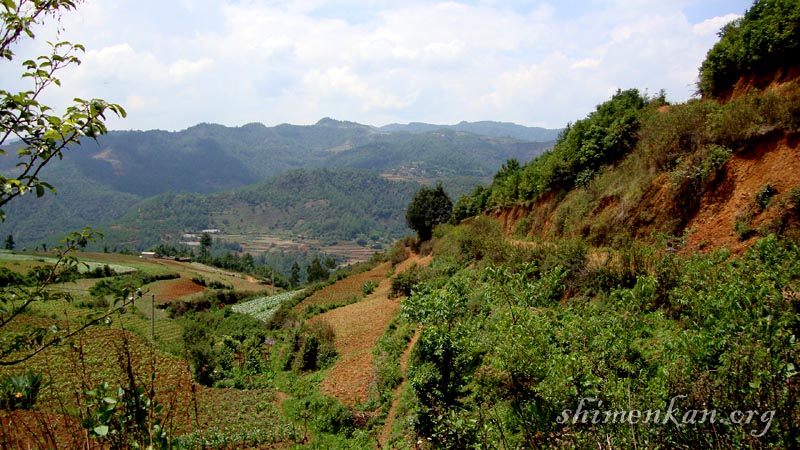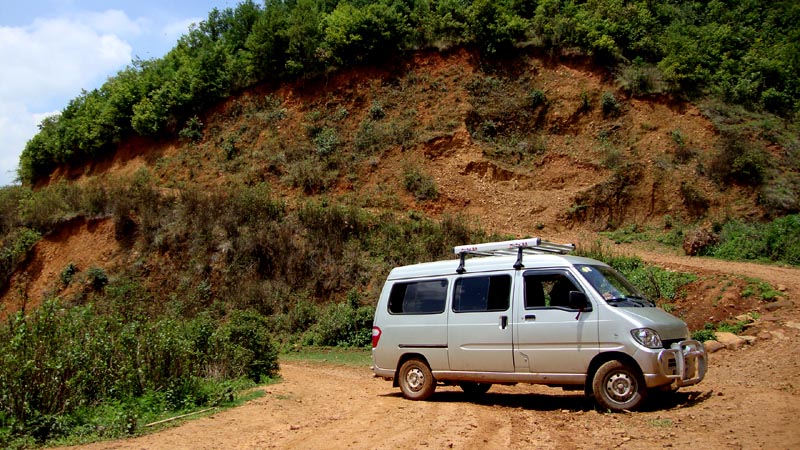 ¡¡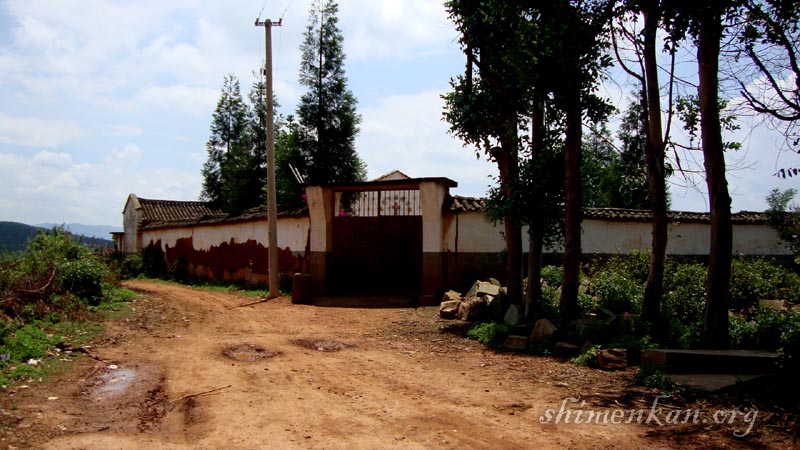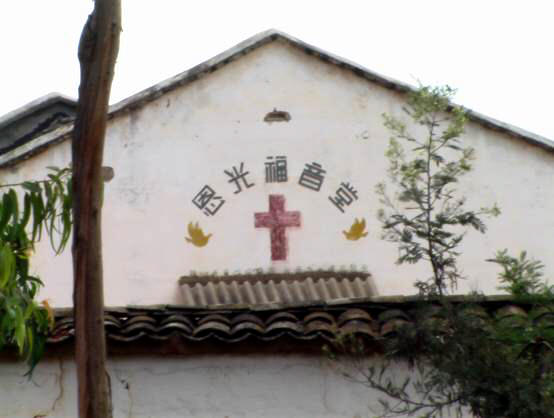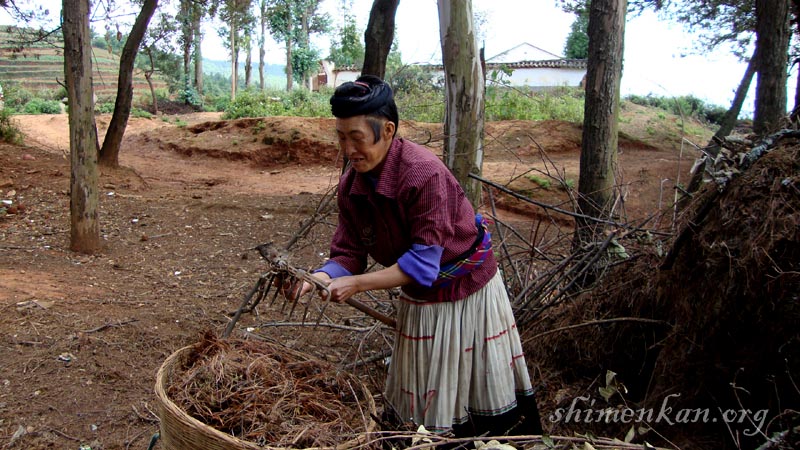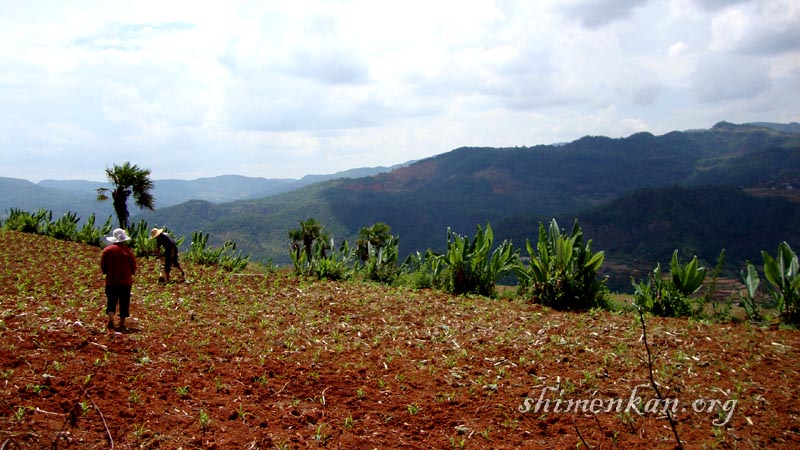 Sapushan church lies quitely on the top flat land.
Old Sapushan church was very big, on the right extend to the cliff, and stretch forward the land where the old lady stood in picture.
Afterwards constructions broken or removed, now only a small church room left.
In order to imagine the past glorious of Sapushan Church, let¡¯s recall the period of our history:
After Samuel Pollard and Arthur G.Nicholls(Australian) vistied north areas in Yunnan in 1904 and 1905,they dicided to sprinkle the establishment of the church in Sapushan. Arthur G.Nicholls and a group of Shimenkan Hmong started their fruitful cultivation in 1906, and from the focus on missionary work in the ten years, Sapushan developed into the church sprinking the total north Yunnan Hmong.
Its infulence covers not only in north Yunnan Hmong area, but also attract various nationalities come for gospel.
In 1923, Nicholls, as the superintendent of China Inland Mission in north Yunnan preach area, directed the establishment of Christian China Inland Mission, Union of Six Ethnic Group Churches in North-Yunnan. The six ethnic group churches were: Sapushan Hmong General Church, Taogu Lisu General Church, Agumi Gan Yi Zu General Church, Laoba Dai Zu General Church, Luquan Salaowu Black Yi Zu General Church and Xundian Xinshao White Yi Zu General Church.
In 1944, Wang Zhiming was elected the general superior of Sapushan Hmong General Church, hence Sapushan Hmong church was under govern of Hmong itself.
--Hmong Christianity Historical Records (internal data)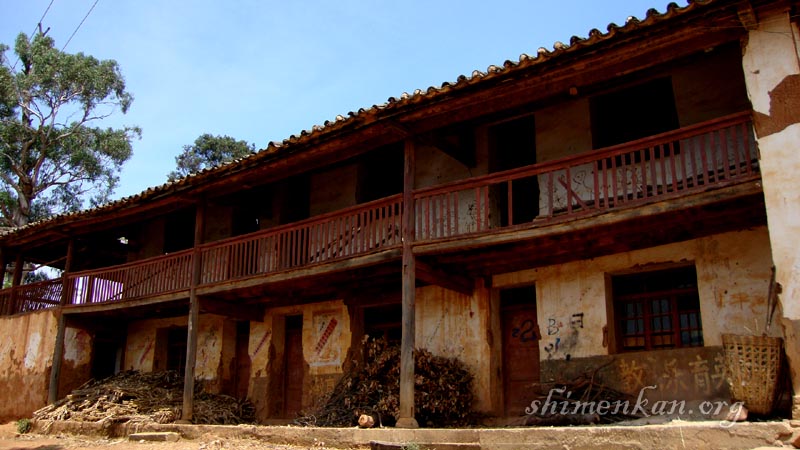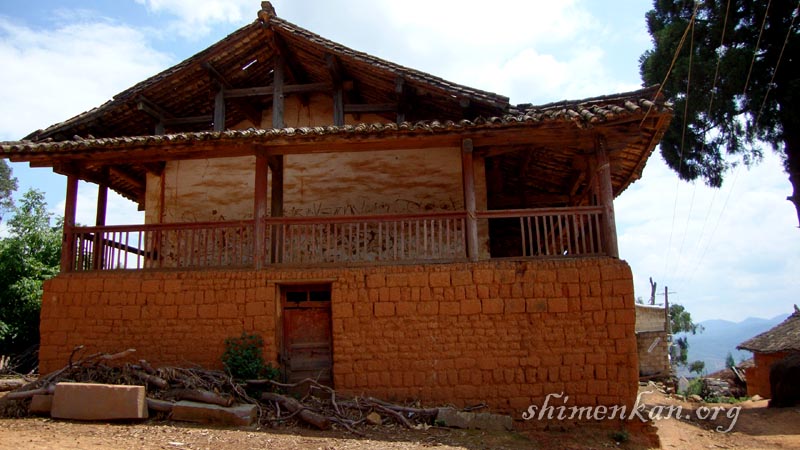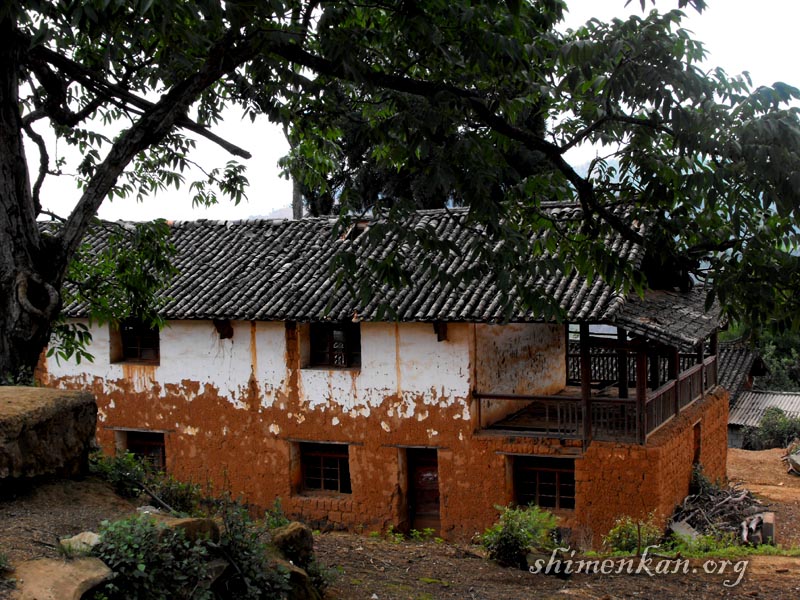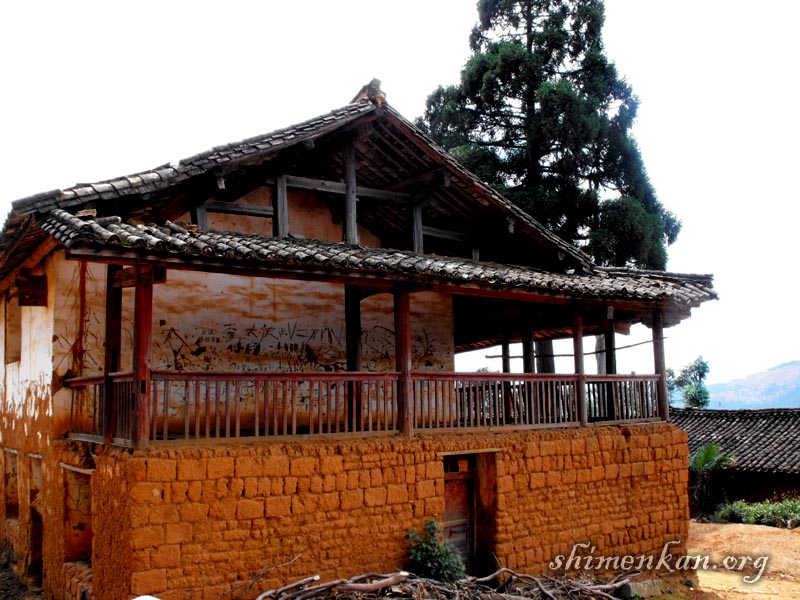 Local people call this ¡°foreigner building¡±, which is the house foreign pasters lived.
1906 Arthur G.Nicholls settled in Sapushan, he and his family lived here till they returned their homeland Australi in 1944.
Another American pastor, Chinese name An Youlin, also lived here. The left part of the building was added after Pastor An arrived.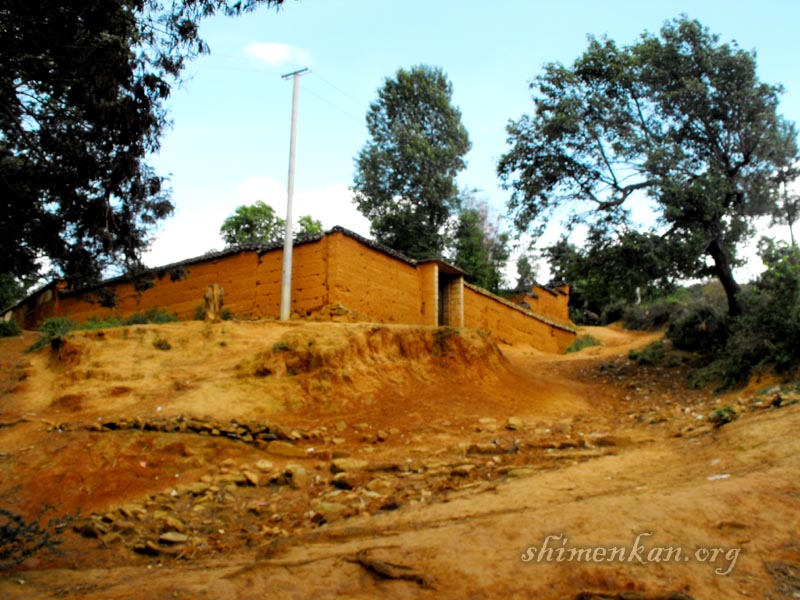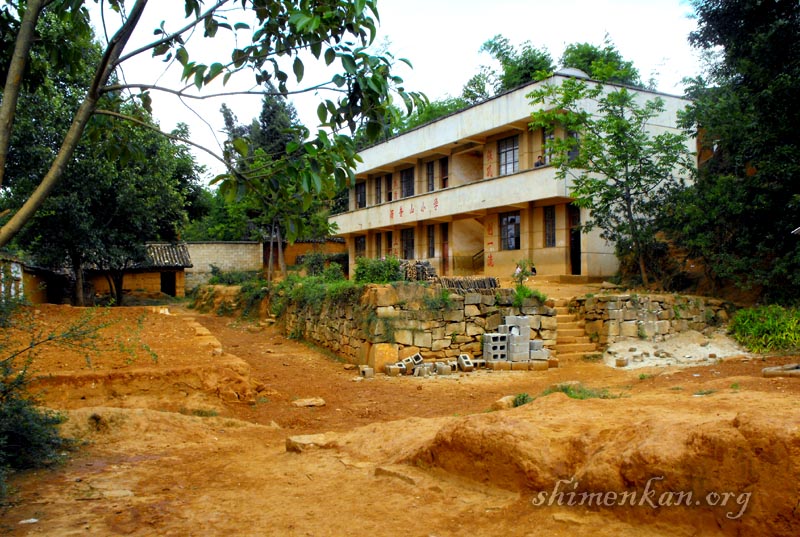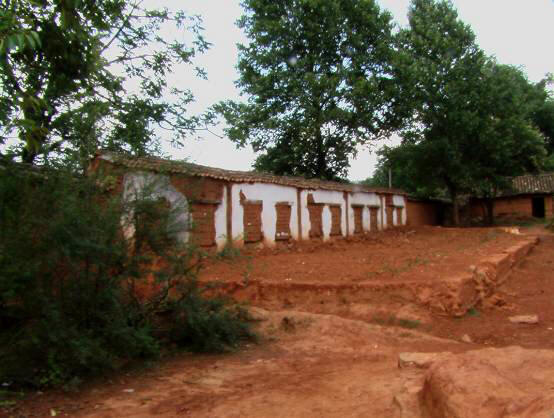 Sapushan School. Walls and part of campus are old remains. Two floor building was rebuilt on the site.
After the approval of Samuel Pollard, Arthur G.Nicholls wrote to China Inland Mission Church in Britain, explained the need to build church and school in north Yunnan minority areas. On the same year, he got support of from the Inland Church and donation of a Britain businessman.
A land was bought in Sapushan and school built around 1910. This school, Sapushan Enguang(literally means glorious light) Private School, is the first school in north Yunnan Hmong history, four classrooms, four dormitories for students and three for teachers, for a total of 660 square meters.
By 1913 to 1922, the total four-year primary school students numbered to 115.
In 1922, Nicholls rent a land and built Enguang Primary School senior department, with five classrooms, five students dormitories and three teachers rooms, also a playground, for a total of 840 square meters.
--Hmong Christianity Historical Records (internal data)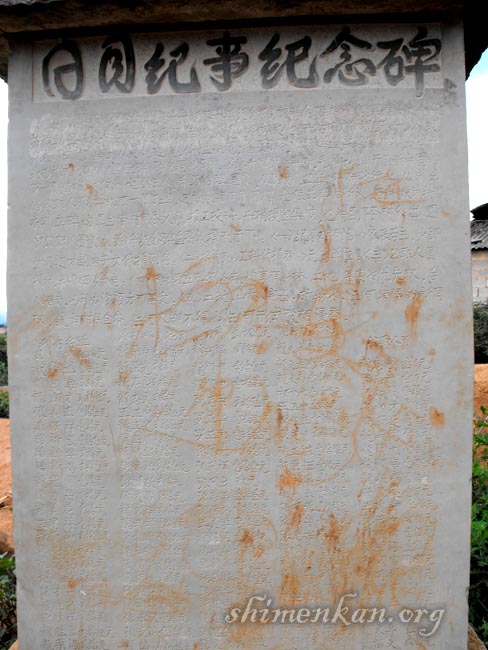 ¡¡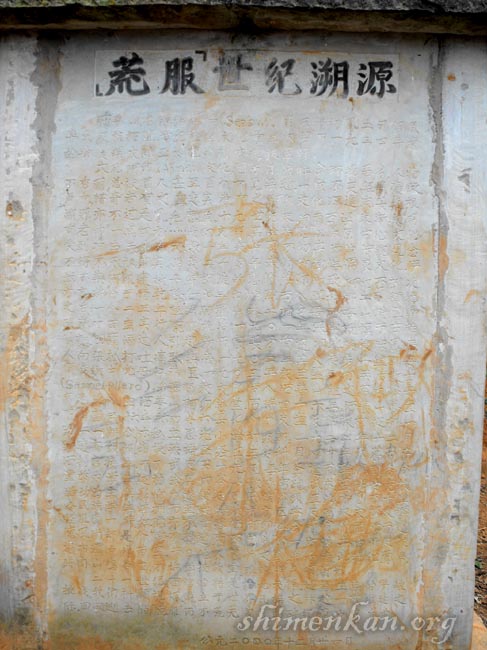 ¡¡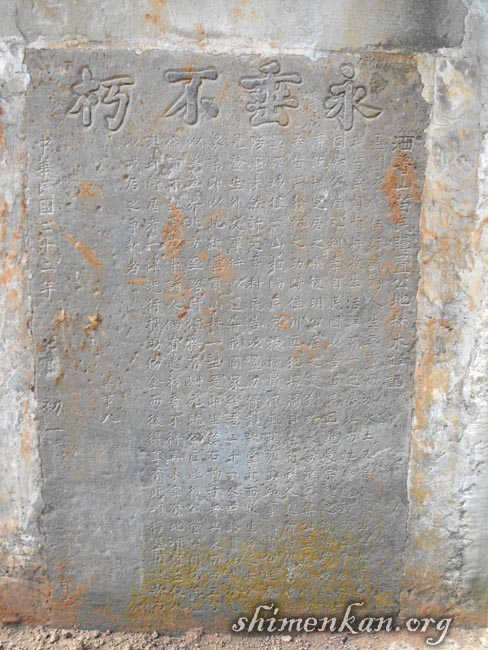 ¡¡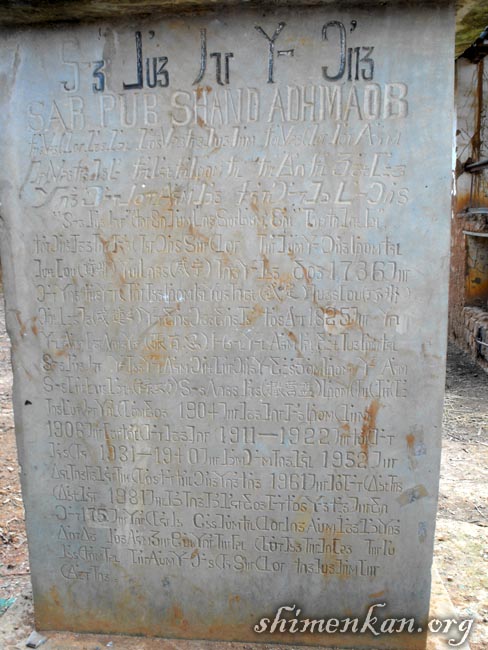 Sapushan Christianity history recorded on the stele.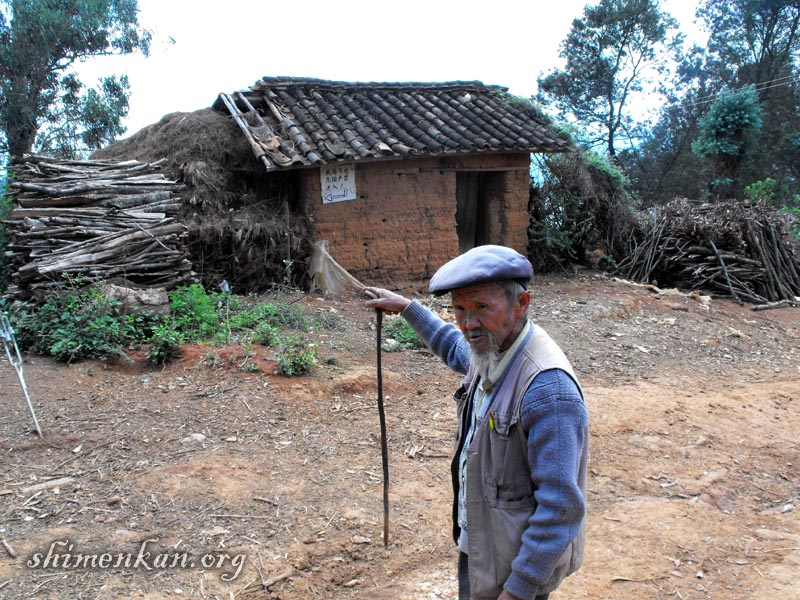 This was the grinding mill used by pastors.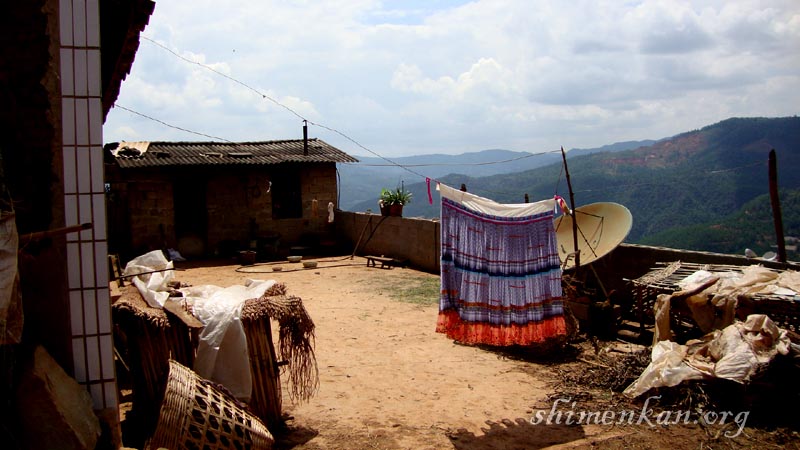 This photo is taken in the yard of a Hmony family in Sapushan.
The yard is built very close to the cliff, downward is a huge valley, and in the opposite mountain top is another village named Malike.
In those days, children in the mountain saw pastors coming, they whistled and whole villages down to meet them home.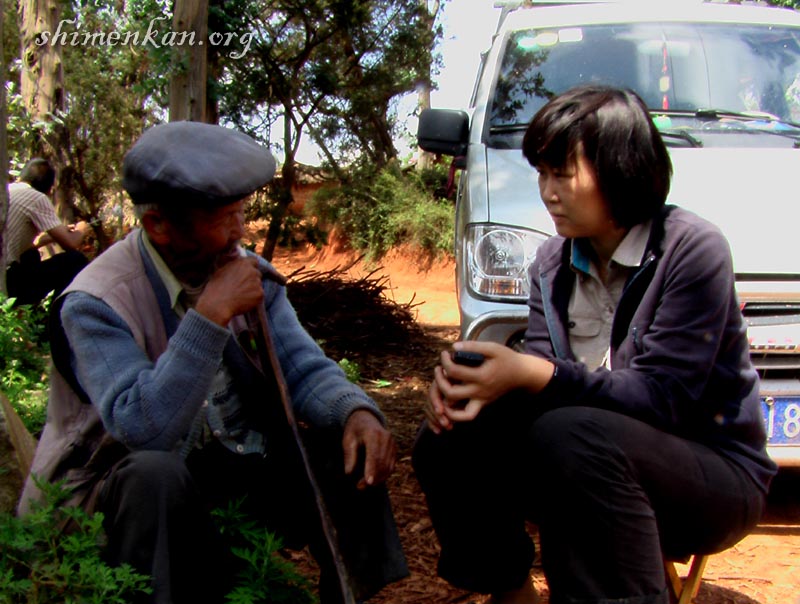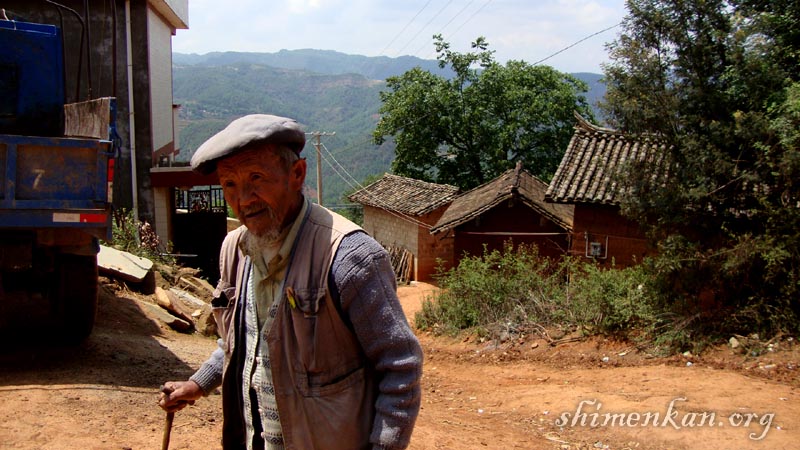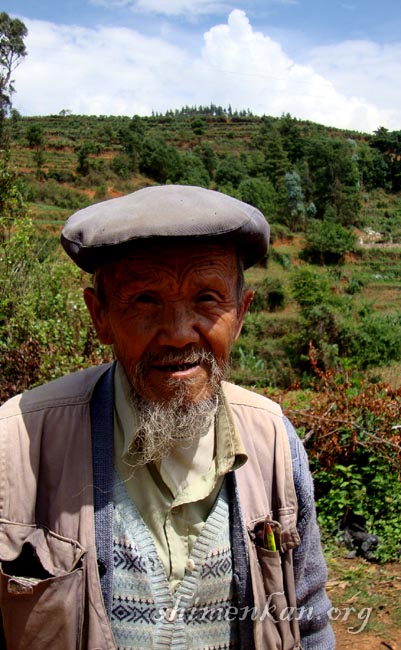 ¡¡
After some hesitation, I decided to put the pictures of the elderly.
His name is Long Fuhua, 86-year-old, his experience is very different. He once worked with Pastor Wang Zhiming in Sapushan church, he has studied in four divinity schools. He is a very talented person. It is said, when Nicholls left China, he had considered of Long manage the general church. Finally Wang Zhiming took the responsibility.
After 1955, when religious activities were legally banned, he didn¡¯t go to church anymore.
In 1970s, he joined the CCP. He tells us it¡¯s of his willing not be made.
He has been farming in Sapushan till now.
I have heard on the elderly¡¯s another version, that he played an evil role in Wang Zhiming¡¯s death, similar to Judas. There is no verification.
In the communication with the elderly, I can feel his strong passion and deep emotion to Sapushan history. He is very urgent look here to receive the protection of cultural sites and attention. He hopes the church open, freedom of belief. ( due to unknown reasons, Sapushan church is not a legally registed church, though China religious policy encourge church registration. )
I believe, that faith can always bring to people the strength and the spirit of joy and peace.
Freedom of each belief are worthy of respect!
In history life, everyone is playing his or her given role, brilliant or dim, beautiful or dull, fair or mean, whatever, life is the same tiny and humble.
I am in awe of history.
I admire all courageous lives who dedicated efforts upholding the faith in the historical progress!
Shimenkan, Sapushan, two holy lands in Hmong history, now down to the dust.
It¡¯s only short visit to Xiachangcong and Sapushan. Compare with Shimenkan, I can only say that I sincerely hope people in Shimenkan will have better life condition as Sapushan people. I know, our endeavor in ten, twenty or longer years, aim at receiving the slow coming of days, people live in peace and not-poverty ¡­¡­.
Sijia
Shimenkan Connection
2009-7-2