Pniuo Bennoun, a leading international NGO CARE International the first representative of China.
CARE International entered China in 1985. And cooperated with Weining in Guizhou, one of the state-level counties in poverty, to carry out poverty alleviation projects such as alpine meadows development and grasslands sheep raising in Xueshan and other places.
CARE International withdrew from China in 1989.
Oxfam Hong Kong into China after positive funding efforts of Pniuo and others, replacing CARE International continue in Weining, Guizhou, Yunnan Luquan and Lancang County, an integrated development of rural poverty alleviation projects. Pniuo Bennoun was appointed the first resident representative of China.
1992, Oxfam HK carried out in Weining projects as piglet loans,plastic mulching corn planting, potato interplanting and micro-credit project, etc. One of the main project areas is Shimenkan.
Pniuo filled with these extremely poor throughout the region, lived with local farmers and established very deep feelings for it.
Because of over exertion and poor working environment and difficult living conditions, July 15, 1994, Pniuo Bennoun, in his hometown of Melbourne, Australia, died of brain tumors when he was only 40 years old.
Pniuo charged last wish of his ashes be divided into four parts, forever stayed with his beloved homeland Melbourne and his second home-China Shimenkan, Luquan and Lancang.
In 1996, Pniuo¡¯s brother accomplished a special trip to China Shimenkan seeing back his ashes.
Shimenkan political environment was extremely poor at that period. The ashes were buried in the hill, in now grave¡¯s location, but no tombing allowed then. Staff made a mark, and outsiders couldn¡¯t detect the distinguish so as for safety concern.
Afterward Oxfam Shimenkan Office reported several times to fight an application for Peniuo¡¯s grave. The report hit the National Security Bureau, and was denied, because "dead also accounted for our land."
In 2001, when Shimenkan political environment was slightly relaxed, local farmers had launched to raise funds to build grave for Pniuo, tombstone set up on behalf of Shimenkan project farmers. Every village had representatives contribute to tomb work. The scene was very touching!
Tombstone reads as follows:
Internationalist
Tomb of Pniuo Bennoun
(1954.10.27---1994.7.15)
Mr.Pniuo Bennoun, 1988-1994 in China¡¯s Guizhou Province Weining County, Luquan County, Yunnan Province and the Lancang County, engaged in intergrated rural development work£¬ and dedicated his last measure of devotion for the extremely poor farmers¡¯ self-development;
July 15, 1994, illness invalid, died in Melbourne, Australia. According to his last wish, his ashes buried in Shimenkan.
¡¡
Shimenkan project farmers
April, 2001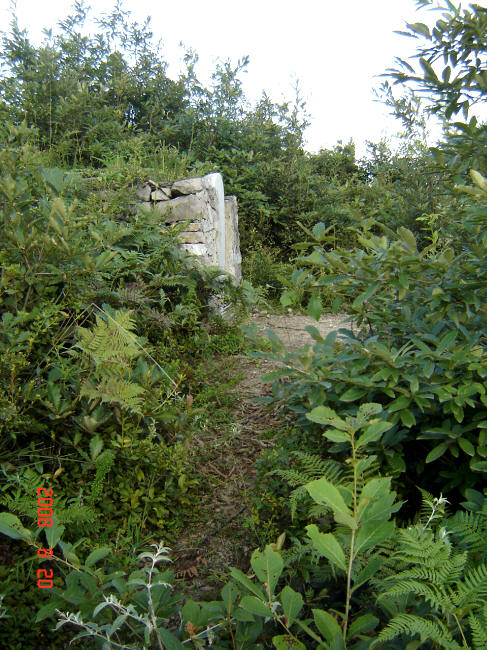 ¡¡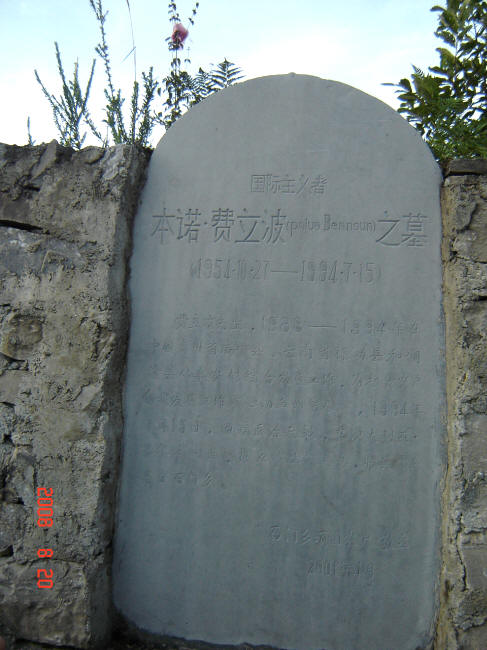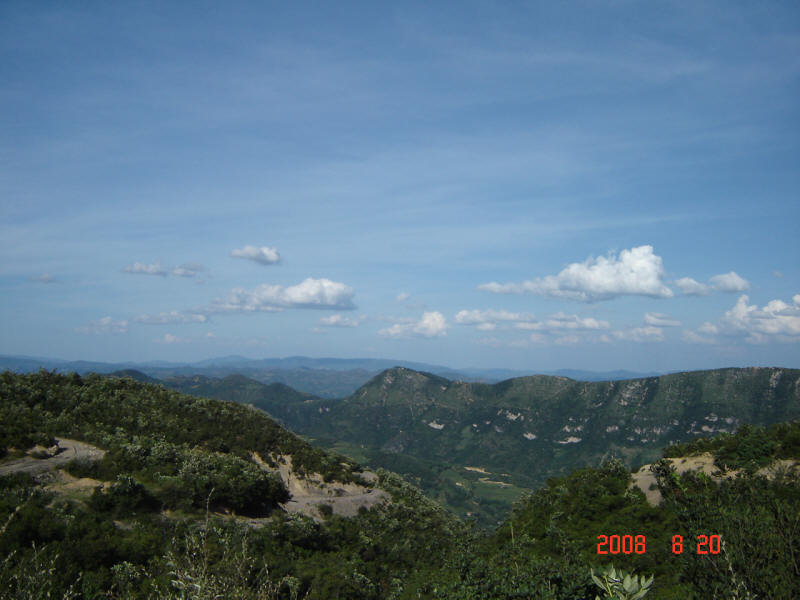 The location of the grave is in the hill behind the former Oxfam office overviewing Shimenkan.
There are 40 steps carved from the foot to the top of the grave. Although extremely simple, people will always remember him; and Shimenkan, in thus 40 steps, forever commemorate Pniuo Bennoun his short while great 40-year-old earth life!
Each time when farmers recalled his days in Shimenkan, they were choked in tears¡­..
Over the years, the community has trying to present information to Pniuo hometown friends and relatives, without success.
Foreign friends familiar with or learn more about Pniuo have left China one after another.
Pniuo Bennoun and his story, quietly goes around Wumeng hinterland in silence.
However, the 40- step-tomb in Shimenkan tells the world:
The value of a life, does not lie in the length, but the significance of his life.
We will always remember Pniuo Bennoun!
Shimenkan Connections
Sijia
2009-1-9