Ajigeng Impression
zheng sisi 2007.09
---
Ajigeng, also say Gao Hua village, is an isolated Christian Miao ethnic group village in Weining, Guizhou, more than 70Km away from Weining town in Dajie country.
Ajigeng, in Miao language means, habitat on the top of mountain where people live.
Ajigeng has more than seventy households, who are all Christian families.
There is a church in Ajigeng which is no more than a great barn of house, functions also as village get-together hall and primary school, where sixty seven kids study here, five grades now absent grade 2, and two substitute teachers work here.
The population in Dajie Country is about 17000, of which 60% or more are Christians. Miao nationality is the second biggest group besides Han nationality.
Local government takes quite an open attitude toward religious. Here thought is taken for granted that Miao Nationality people believe in God just like Han people believe in Buddha and Hui Nationality for Muslim.
Market day in Dajie, which literally means big street, is on every third and eighth figure date. On market day, Ajigeng villagers will walk two hours across the mountain to the market to buy their daily needs.
A French NGO Initial Development (ID) has marsh gas tank project in Ajigeng, which is to build a cement tank to save human and cattle excretions and then decompounds them into marsh gas for cooking, heating and lighting. Zhang Laoshi is the project leader, so we picked his car to take the visit to Ajigeng.
There's about two hours from Weining town to Da Jie, road is fine, and another hour from Dajie to Ajigeng, road is terribly broken and dangerous, although it is a new road and just past official inspection several months ago. Our car can't arrive at the village; we have to walk another half hour climbing up to the top of the hill, where there is the village of Ajigeng.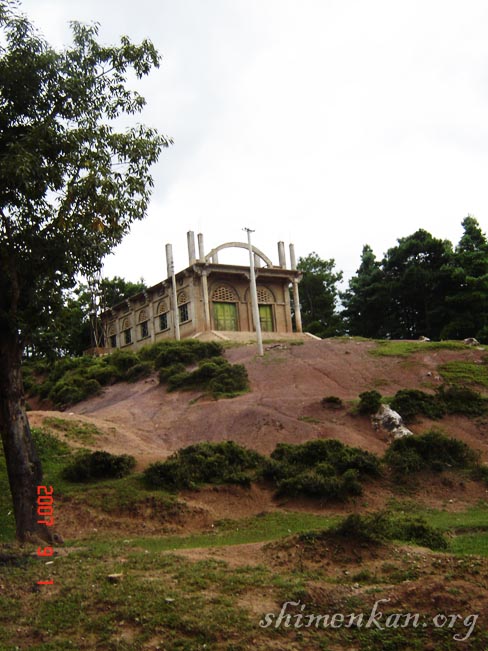 We see a Christian church under the hill. by the way from Weining county town to Dajie.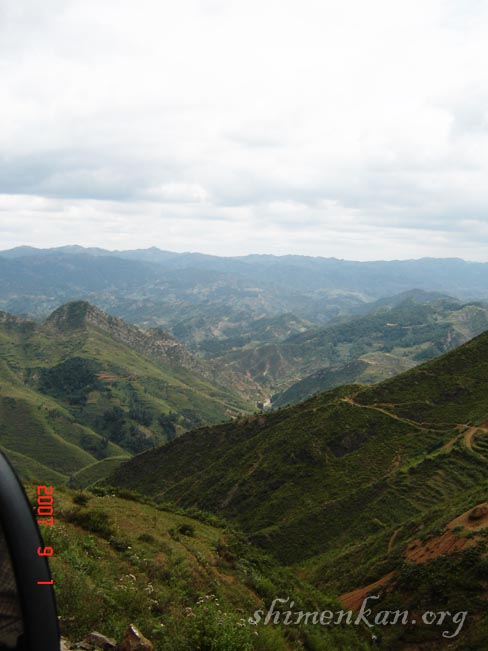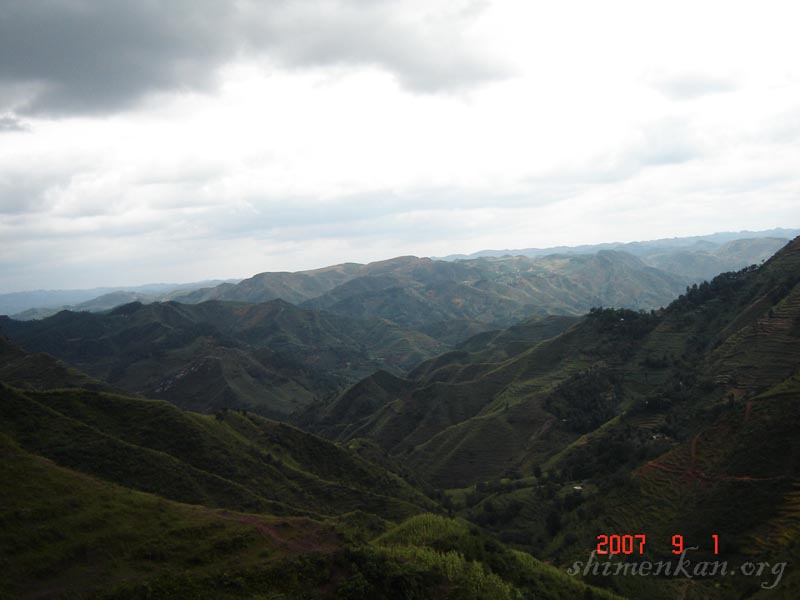 Mountain road zigzagging uphill to the top, where there is the village people habitat----Ajigeng, more than 70 households of Christian Flowery Miao ethnic families.
Now that we peacefully returned, I would like to recall:
The car is a cheap second hand jeep, we have eight people, one driver-Zhang Laoshi, seven passengers: Xiao Pan, Ma Jian, Cammie and I, vice governor , secretary of Dajie, a master experienced in marsh gas tank construction, crowdedly rushing to Ajigeng. They didn't' care the road at all, but I was some bit nervous.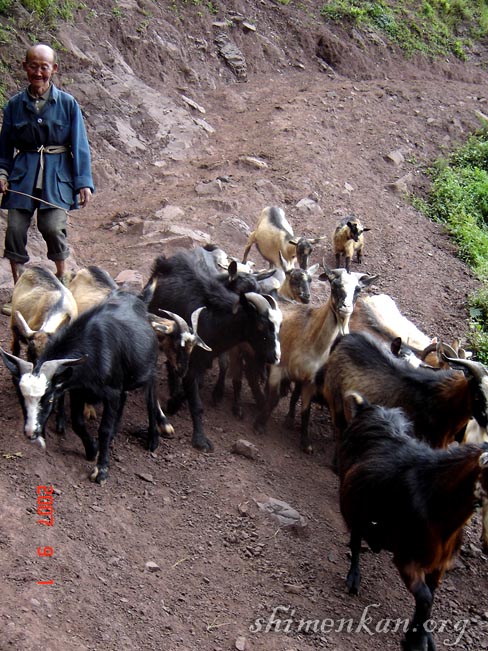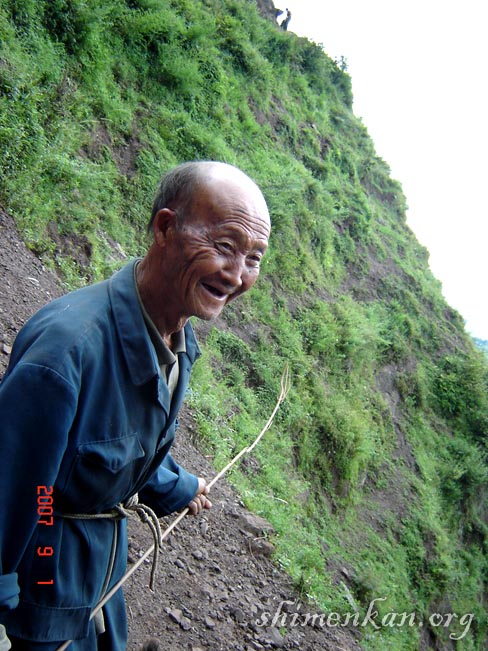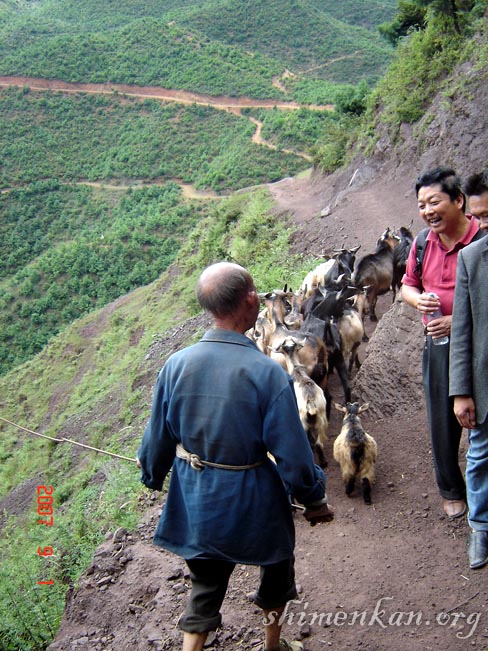 There are some families raise goats, some like twenty or more in their families. An adult goat, I am told, is worth 500 to 700, best one even to 1000 Yuan. However, I can't sense any evidence of being wealthy by goat raising, partly because of the ill transportation, another important reason is that, they are traditionally unaccustomed to animal transaction.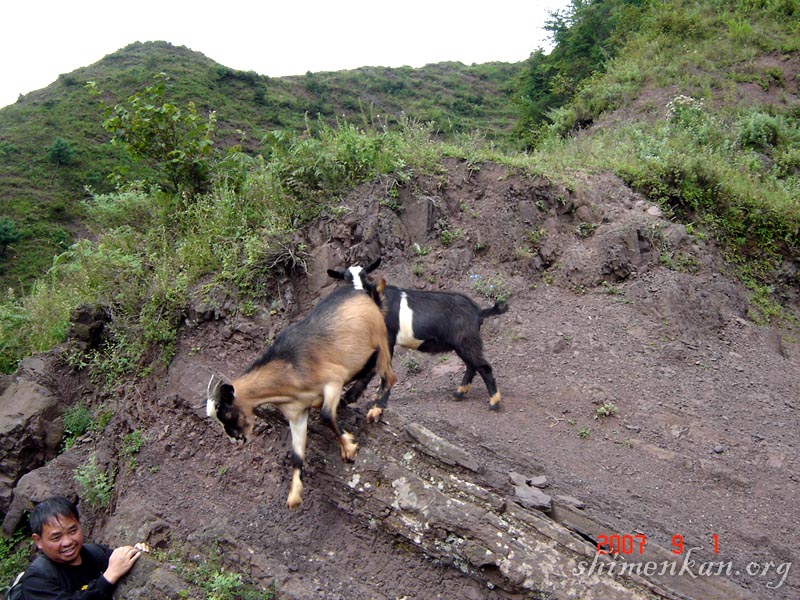 Sometimes, we have to give our way to the goats in the narrow corner.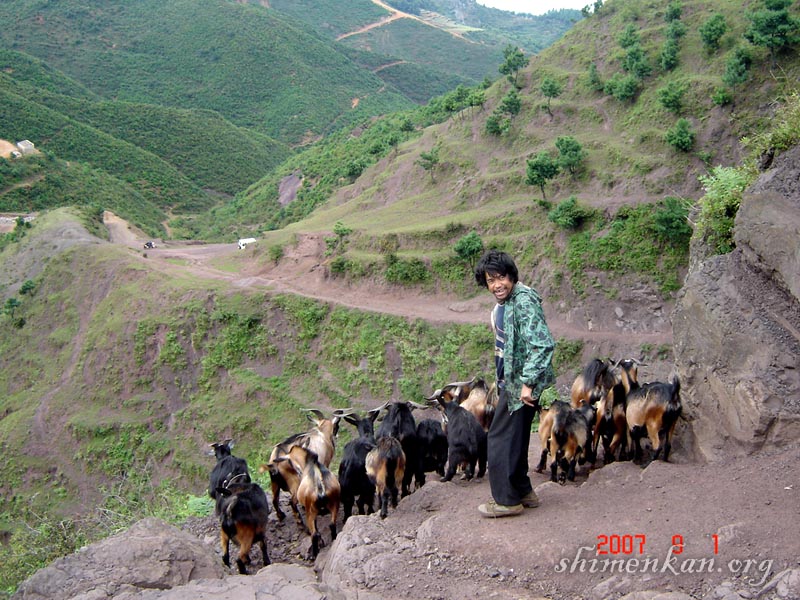 I am really scared of stepping on this kind of dangerous path, road is fairly narrow to about one meter wide cut along the hill on the cliff. If step inside, there's a slight slope with sands skid me thus I can't maintain balance. While step outside, road is even but right along the edge of cliff. I can't help worrying slipping into deep valley. It's a really adventure suffering to me.
These local people, they frequently walk along the road with 50 or more kilogram package on their back baskets, they seem to have nails on their feet.
I read a tragedy in Samuel Pollard's Diary, a family happily back from the market with stuff they got in market, and mother lost her balance and fall into the deep valley, husband wanted to save the wife and got lost in valley, son, wanted to hold mom and also fall away from the road into terrible valley.
Transportation is in harsh condition, where worse more is habitants' life conditions.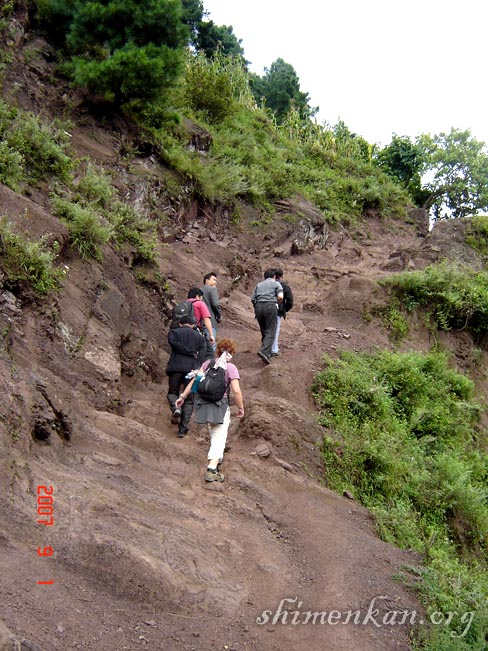 Up and up, high to the top.
Romantically, it's a sky road, road up toward the sky.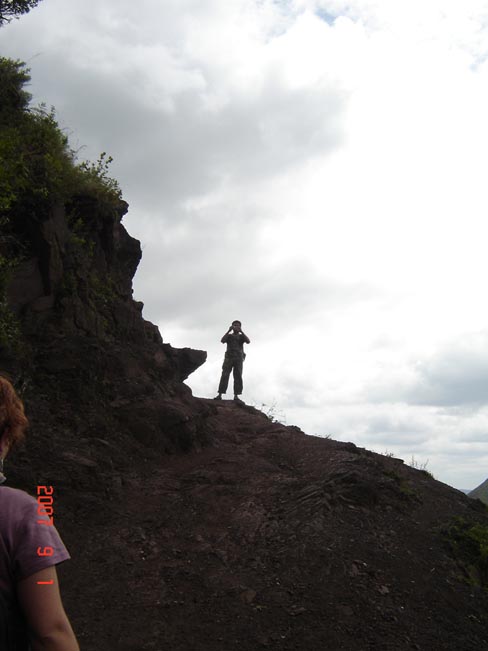 Xiao Pan was taking picture for us. Ajigeng was on his back left ahead.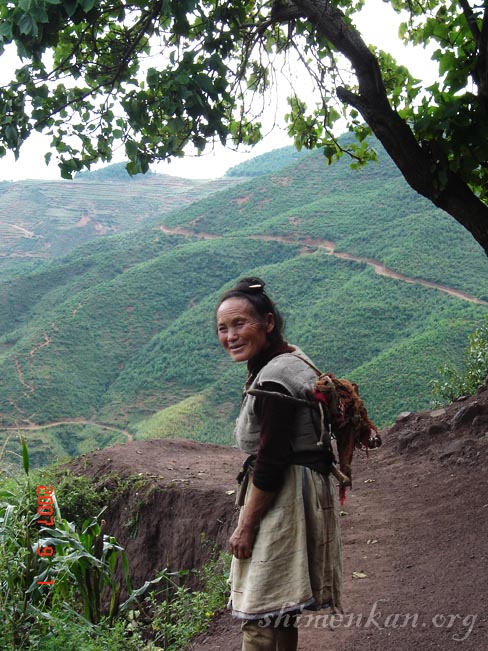 This old lady smiled at us far away when she saw us, held my hands closely as to her own daughter. Xiao Pan told us, she had thought me new teacher work for the kids. Once there was a young girl volunteered to teach in Ajigeng, she only stayed 3 days and left. No water, no power, bad soil and cold weather in the isolated hilltop village, life is insufferable……The girl was brave, at least she had the courage to try.
Then how about ten decades ago those foreigners lived here and devoted themselves to China Christianity?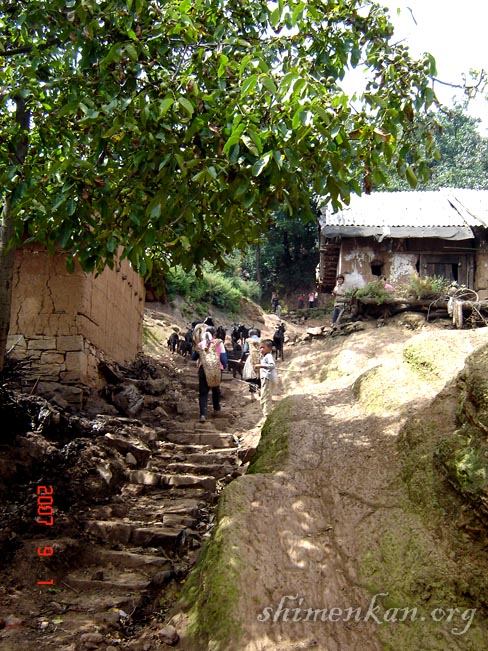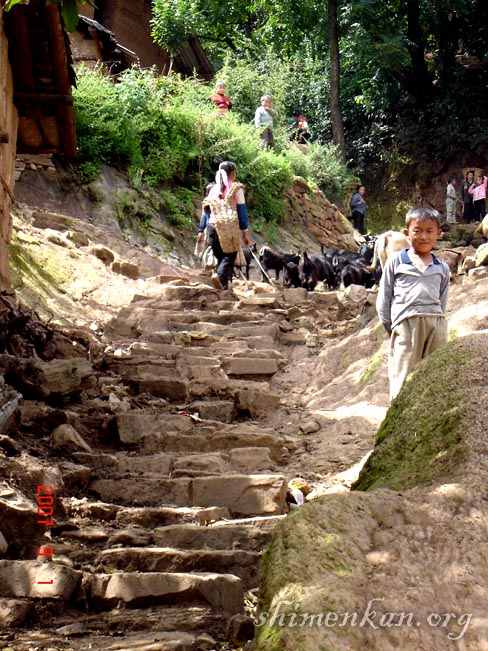 There is no newly built house in the village.
There is rarely furniture in each family we visited, except bed and big pot.
There is an average yearly cash income of RMB200-300 Yuan per capita. This data is likely to what I got from field investigation.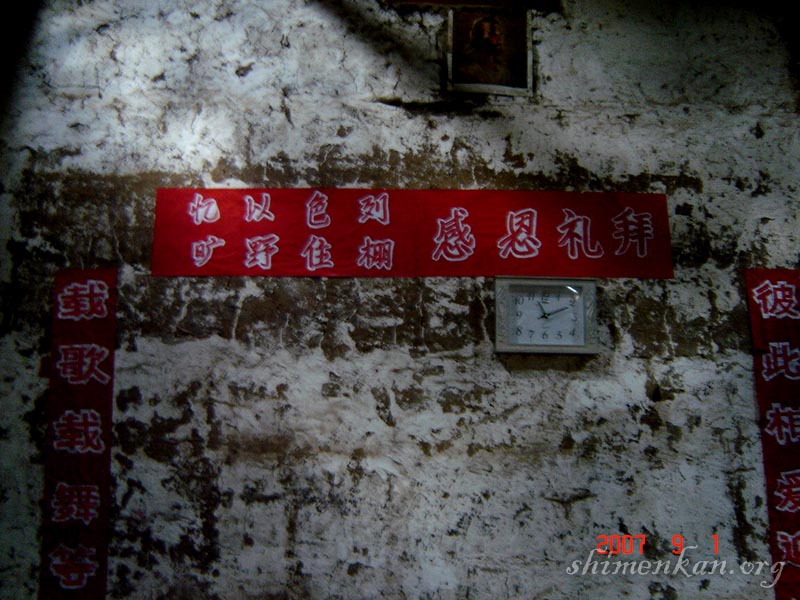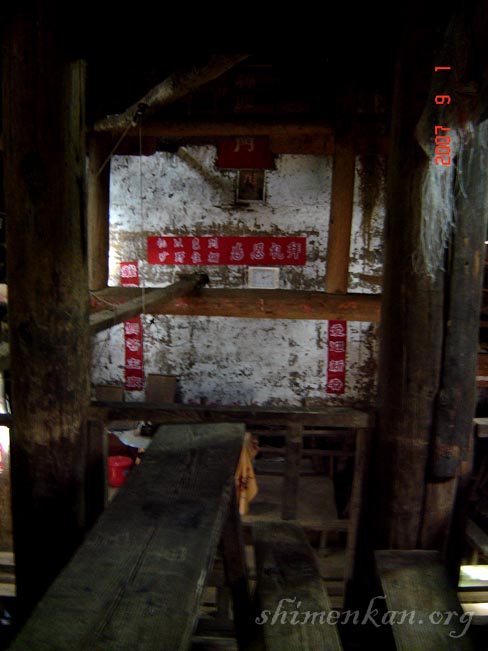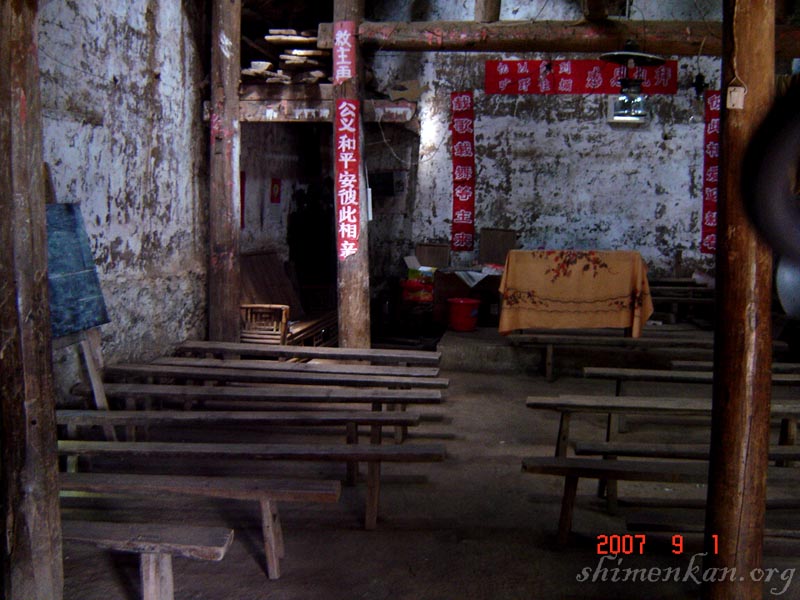 All villagers are Christians in Ajigeng. This is the village church, meeting hall and primary school as well. There are 67 students in Grade 1,3,4,5, 6, and two substitute teachers. Lessons of Grade 1-3 are given in the main floor, where there is no desk, kids will pile two chairs up when they need to write.
Grade 4-6 students will have lessons on the upstairs small attic.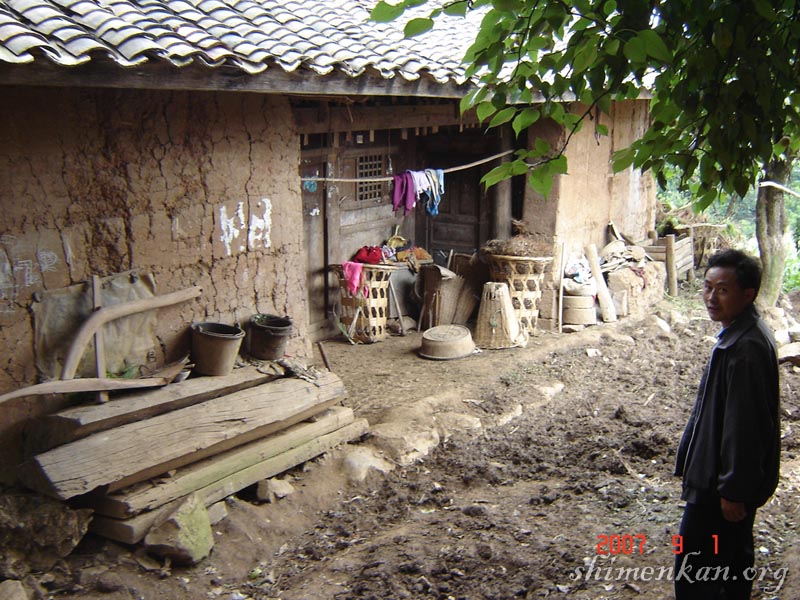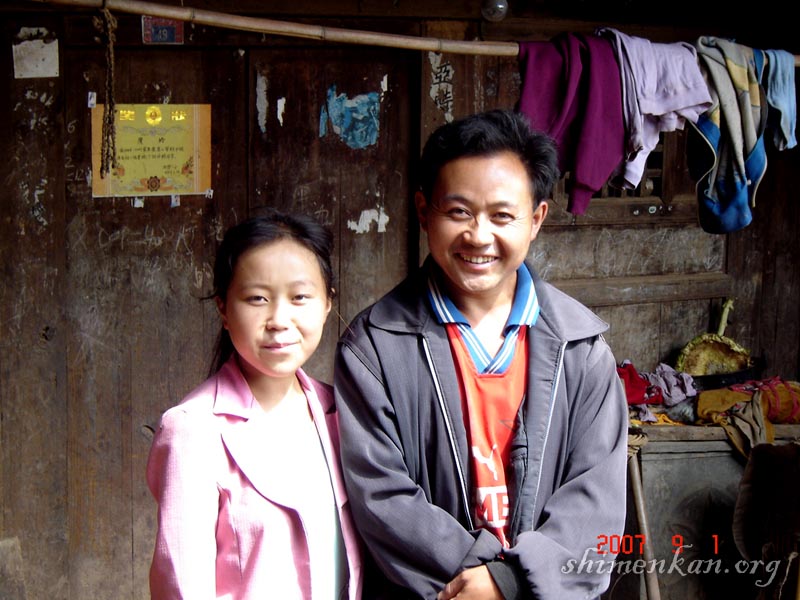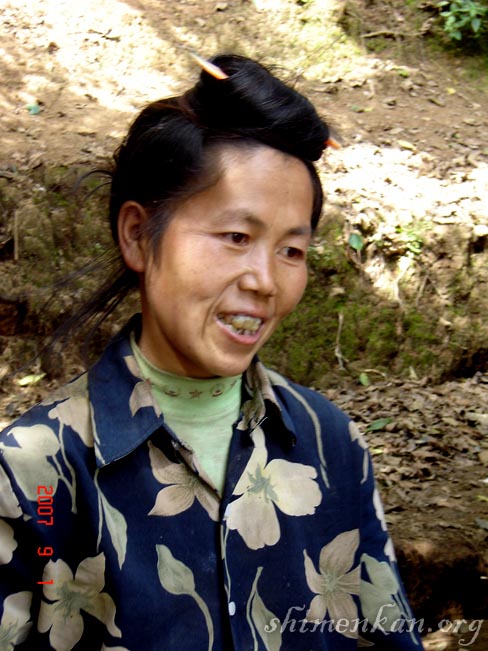 This is substitute teacher An Laoshi and his family.
An Laohi is a junior middle school graduate, and has studied in Guiyang Divinity School for two years. He has worked as substitute teacher in Ajigeng for 6 years.
His salary is about 200 Yuan per month, which is mainly from students' tuition.
In 2006, every grade1-3 student's tuition is 45 Yuan every semester, and grade 4-6, 55 Yuan.
Every semester there are about 1/10 students can't afford to pay their tuition in time, some even delayed the payment several semesters later.
In the past years, local township government gave him 20 Yuan every month as substitute teacher bonus. But this money in 2007 has not arrived yet.
An Laoshi keeps one ox and two pigs, and harvests 500Kg or more potatoes every year.
(Here most families keep ox to do plowing work, and raise pigs which are killed at the end of the year to be served as new year's meal and the next year's meat food. Average family will have several even to ten thousand potatoes from the land every year.)
An Laoshi has one daughter, who is now in grade two in a neighbor town Yangjie(literally mean: Goat Street) junior middle school. Most family would prefer to send their children to study in Yangjie if they could afford the cost studying there, because in Dajie education quality is too bad.
The girl's tuition is 160 Yuan a semester. Renting a room will cost 200 Yuan a semester. Her living cost is about 80 Yuan per month.
Church maintenance fund is from donation collected once a year before Christmas, mostly by goods as corn, which converted into money around one thousand Yuan, this is for the whole year church spending.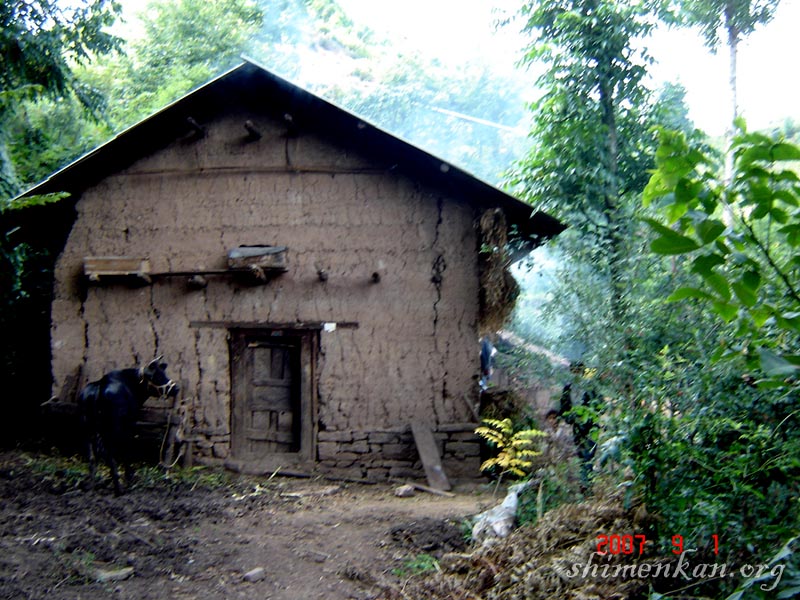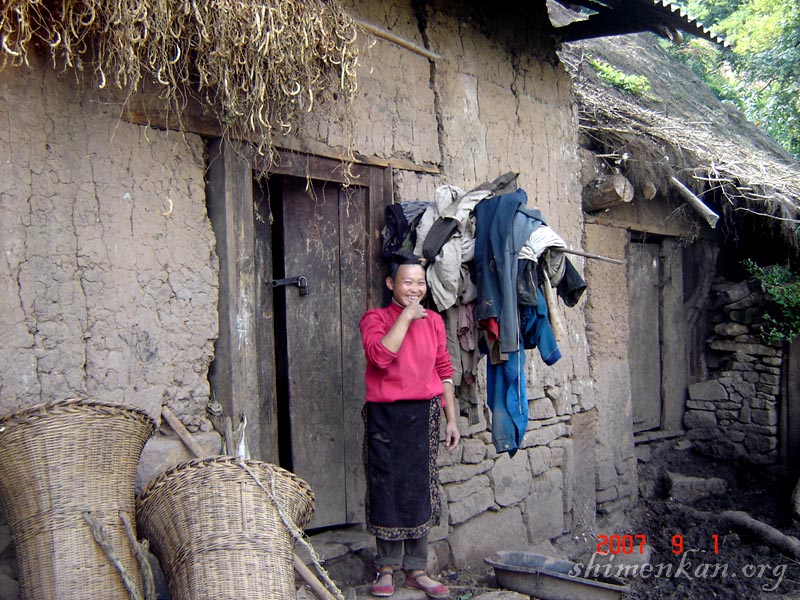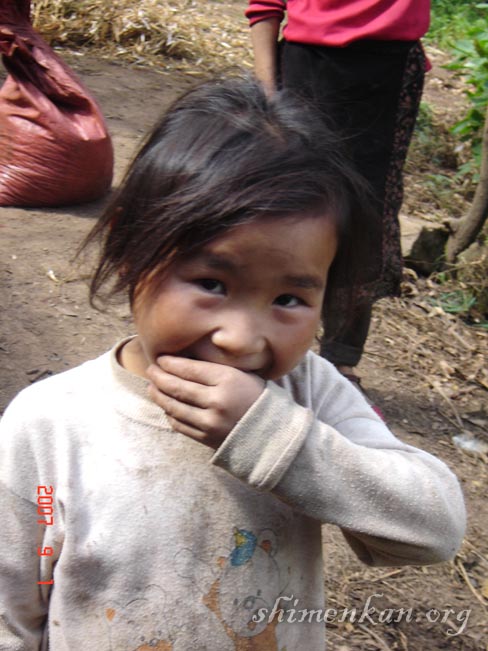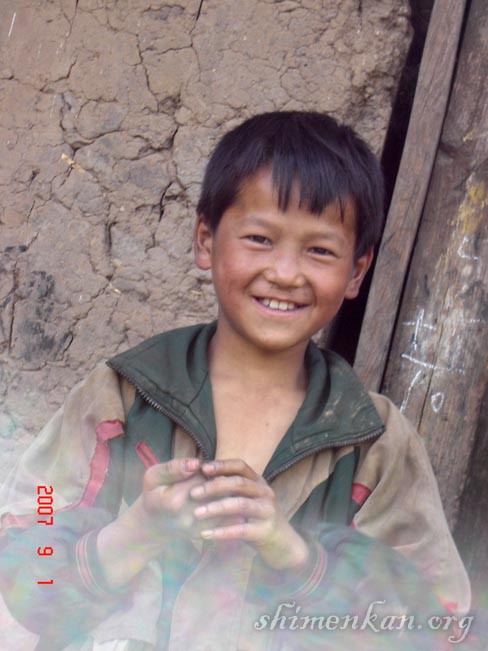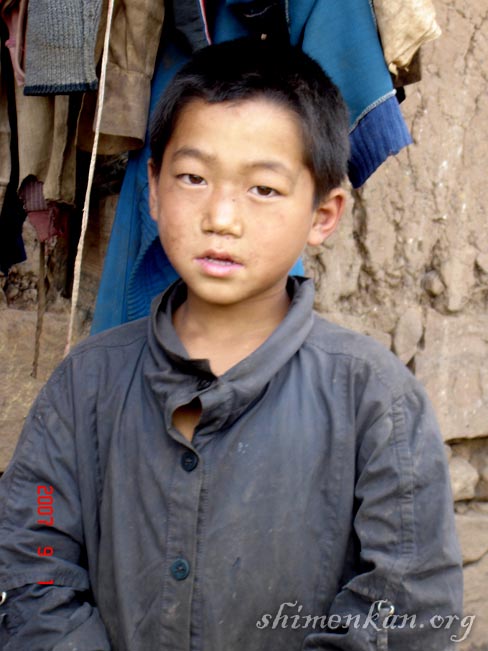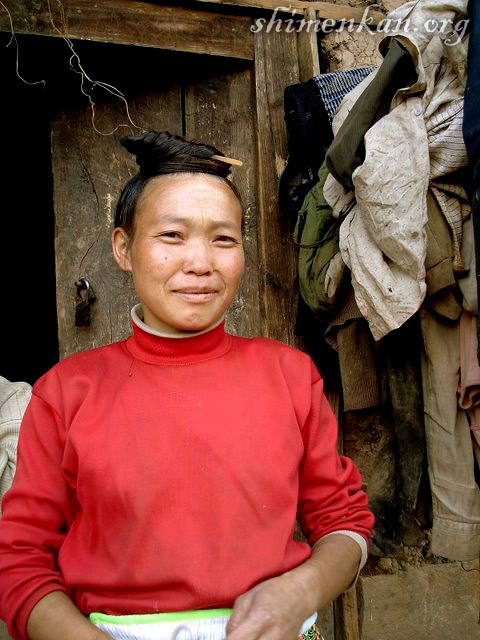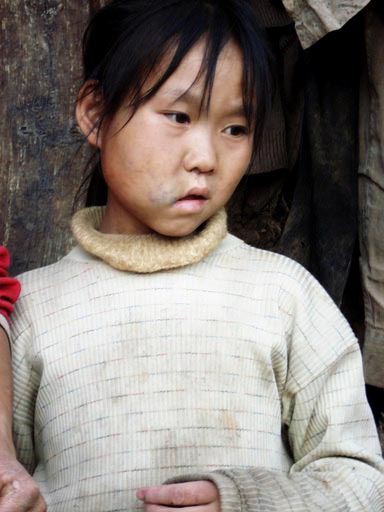 这个女孩叫马智兰,今年十一岁。生日1998年3月12日(农历)
The girl's name is Ma Zhilan, she is eleven. Her birth date was March 12, 1998.
Ma Zhilan is an average student in Ajigeng School grade three, school cost is 55 Yuan a semester.
Ma Zhilan has tumor in face for more than four years. Her parents said, she got this after she ate a walnut when she was small. Of course it's nonsense. Her family once brought her to the township hospital, doctor said she needed operation; the cost would be 3000 Yuan. Her family couldn't afford the sum so she had to wait at home expecting for the day when the family could have plenty of money to afford her operation.
(In May 2008, we collected some donation and supported the girl to Guiyang hospital and took a careful diagnosis, result comes to be Face-hemangioma. Doctor suggests operation early as possible. But the total operation cost is about 20,000 Yuan, which is an unimaginable huge money to afford by Ma Zhilan's family.
Here, we call help for Ma Zhilan!
Sincerely gratitude be given to whom are willing to help Ma Zhilan out. For more details, contact Sijia, shimenkan@gmail.com)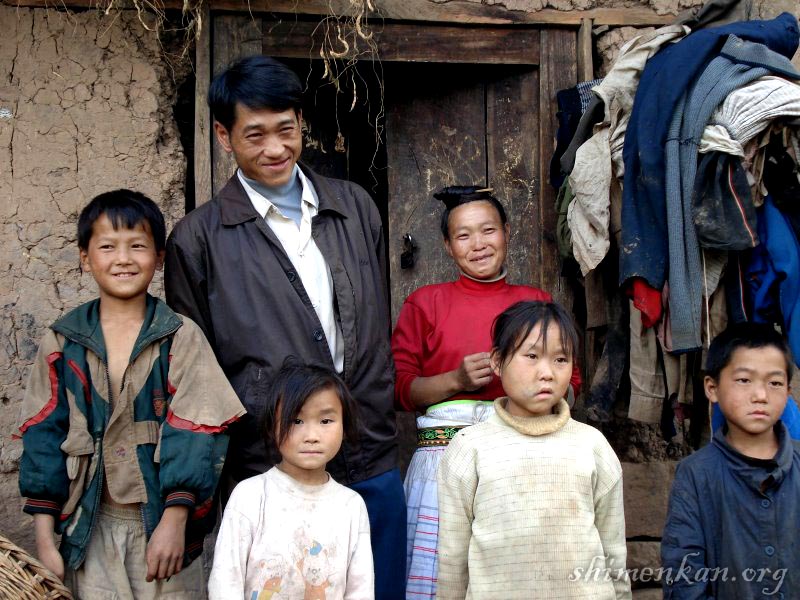 This is a rebuilt family after divorce. There are 6 people, 3 pigs and 7 chickens in the family; they also raise one cow for a neighbor family. Animals live with the family members under the same roof, a thirty square meter mud house. The family's cash income in 2006 is about 400 Yuan, and foodstuffs produced in 2006 were only enough for 4 month. So the host had to leave home to work in small coal mine to earn for family food.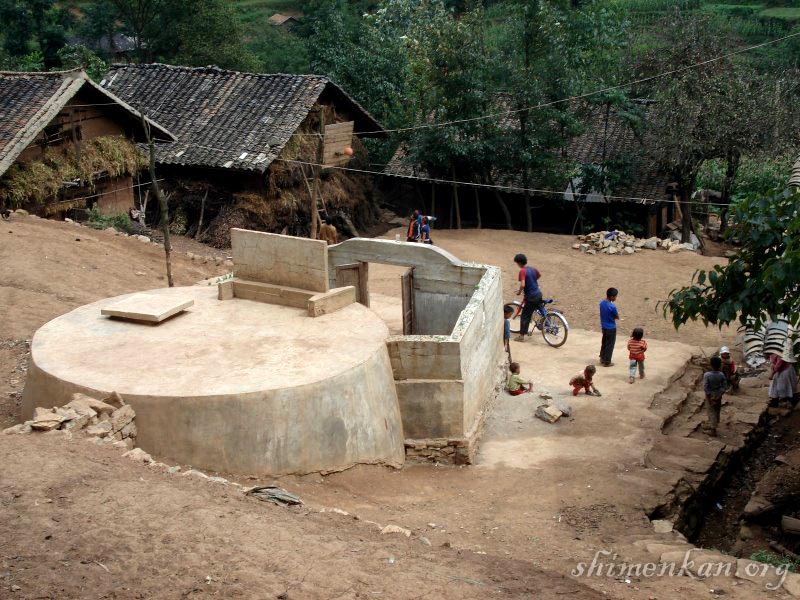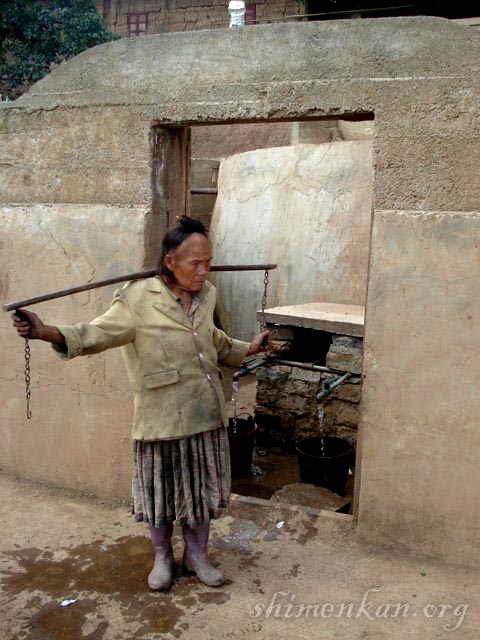 This is the water project done by ID- French Initial Development. Water in several kilometers away, piloted through plastic pipes, is saved in this pool for villager daily life use.
So women in Ajigeng will never need to bother hours struggling for life water.
But there are still many villages in the area, women have to trudge hours every day in the dangerous road, only for a yoke of water.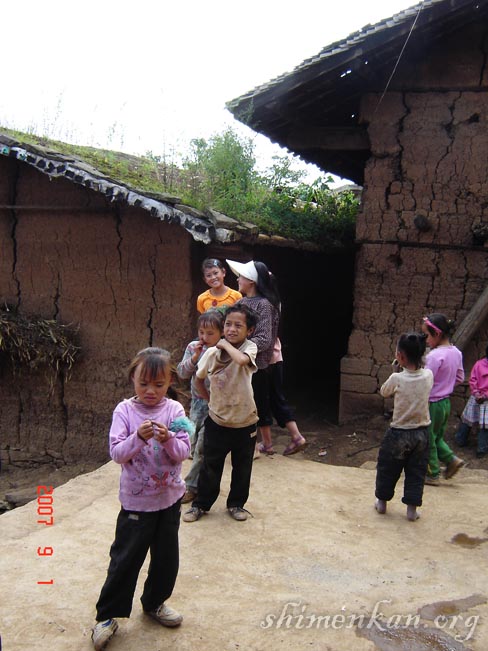 The pool side is the only concrete ground in Ajigeng, so is kids' best playground.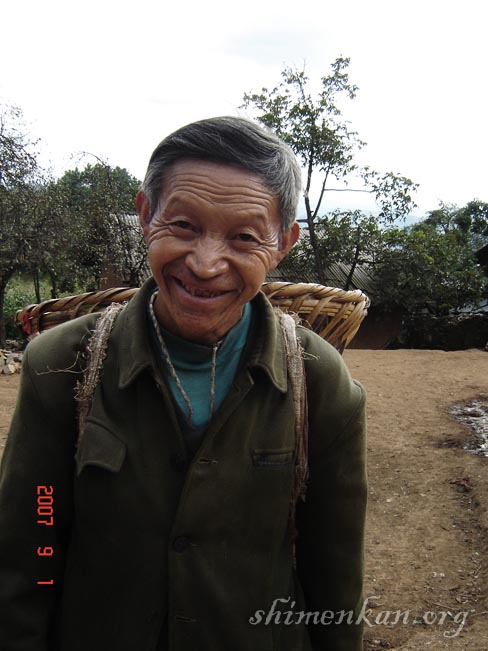 This Old An Laoshi is a retired teacher; he came back home in Ajigeng after retirement. His salary now is more than 2000 Yuan cause he is a retired official teacher, so he is the richest one in the village, and he believes in God now, he is the newest Christian of the village.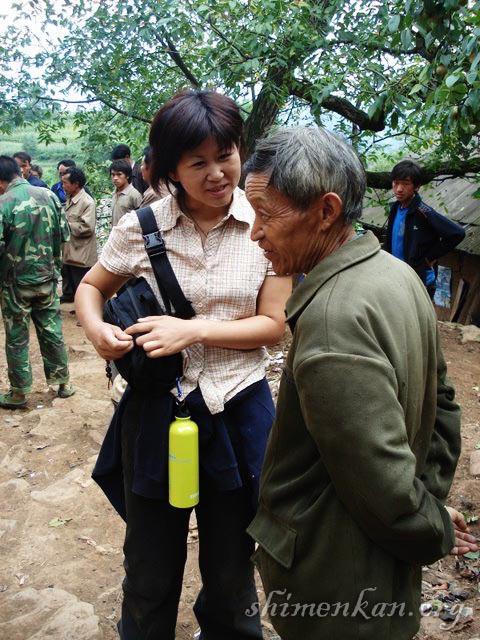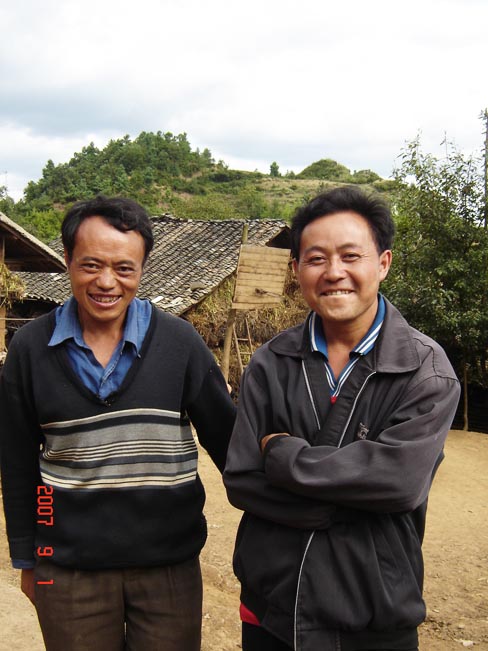 This is another substitute teacher with An Laoshi. There are three people in his family; his kid is in Dajie middle school grade one, whose tuition is 50 Yuan. His annual cash income is some more than 1000 Yuan.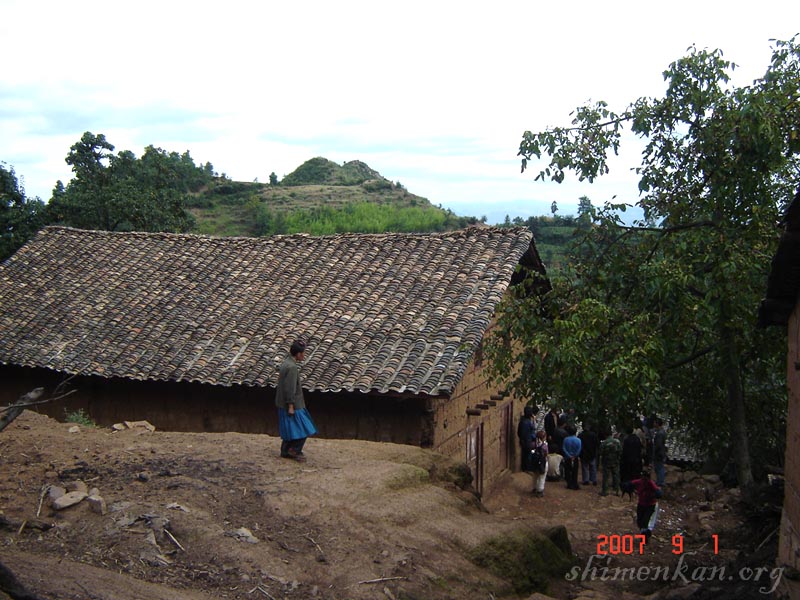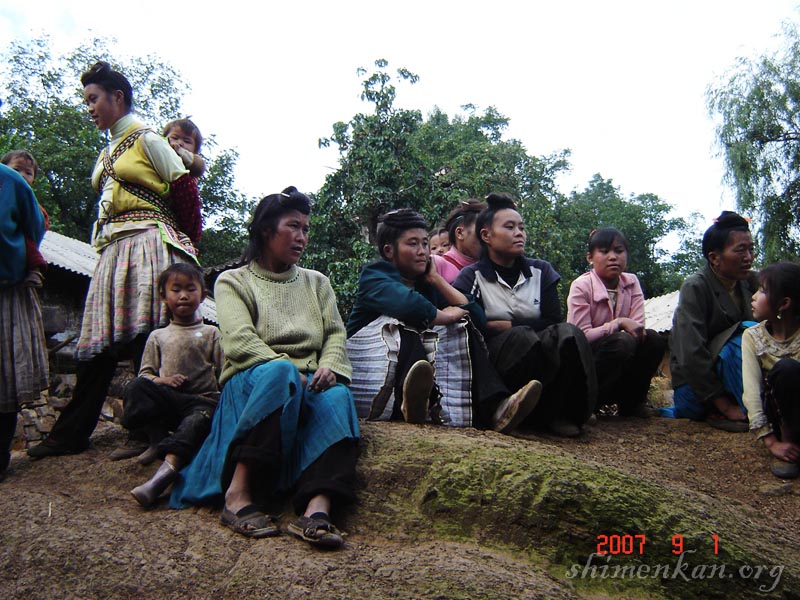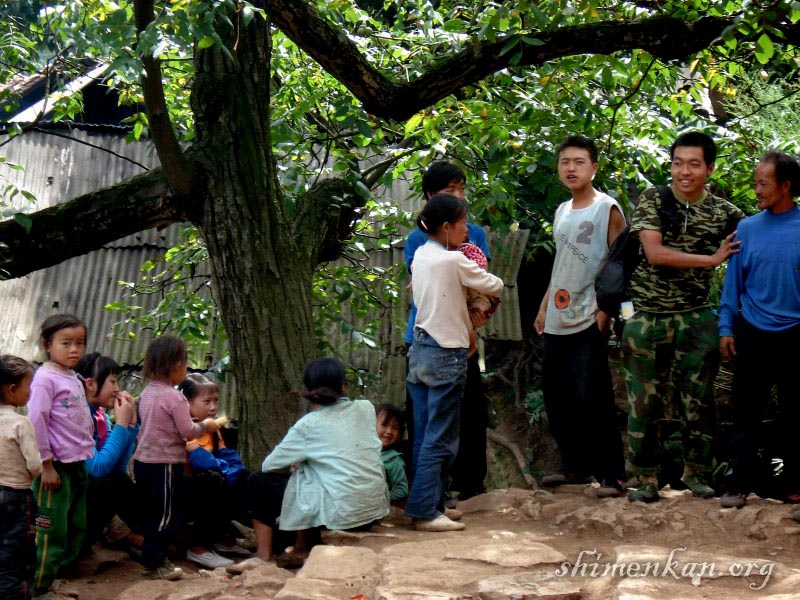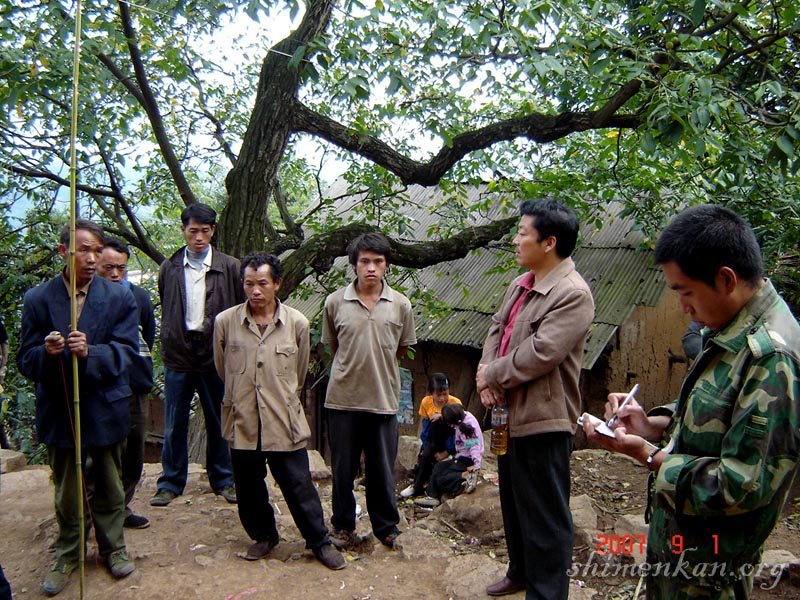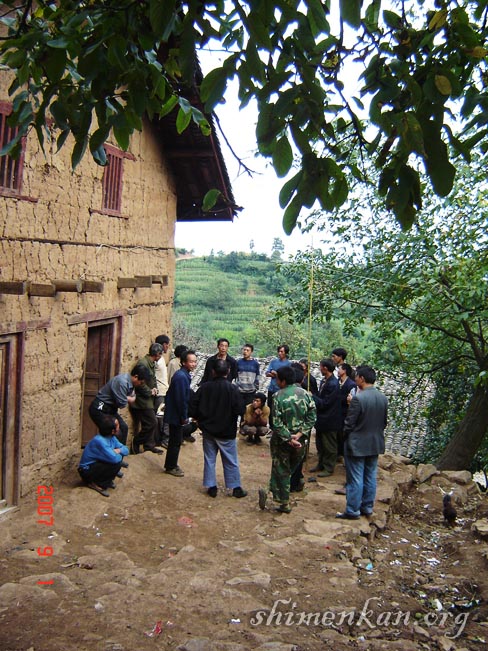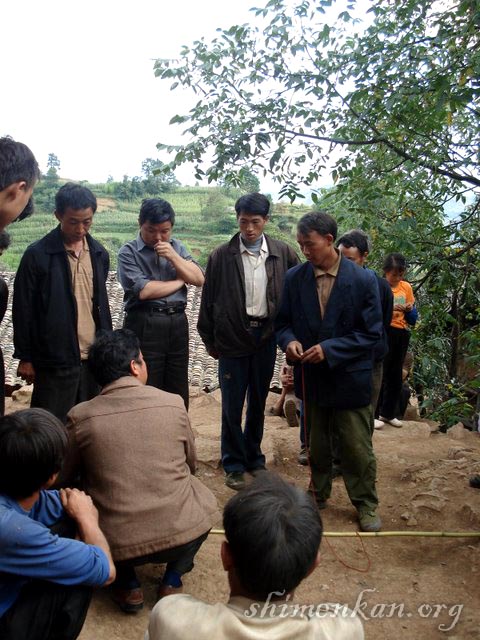 Villagers are discussing details about marsh gas tank projects. To Zhang Laoshi, the day is not a smooth day, villagers have many questions need to be discussed and made clear, like for each family, where to build the tank, how to dig the pool and its labor and total cost, etc.
In recent years, participatory approach is widely applied in Weining NGO rural development projects. Villagers can participate in the every step of local community development affairs, hence they will be able to let out their sound to let outside know their real want and to work for their best benefits.
This approach, though in some degree, sacrifices efficiency; it succeed in villagers' initiative and enthusiasm to involve in local community development affairs.
Basically speaking, rural community development, the host is each member of the community, it's the business of every villager. Rural development workers are no more than temporary outside push hands and assistants.
About marsh gas tank project:
In recent years government carrys on very strict regulations to small coal mines. In Guizhou, many small coal mines are closed, so villagers especially those who live in isolated areas, are hard to buy coal or hard to afford coal, they turn to forest to cut wood for heat and light. The rapid decrease and disappear of forest follows by the severe consequence of the worsened stony desertification.
The situation is of no optimistic at all!
Government and Non-profit organizations are working on great efforts to expand marsh gas tank project, which is to build for each household a cement tank to save human and cattle excretions and when they in certain technique decompounded, would generate marsh gas which can be used for cooking, heating and lighting.
This will not only solve the rural fuel problem, but will also improve sanitation condition in countryside.
The cost to build a marsh gas tank is about 3000 Yuan. We trial run in some villages and get very good experiences. Usually the cost is divided into three parts, one third to be covered by government bonus, one third by NGO financial aid, and the last one third by villager's free labor donation, generally 4-5 family as a unit to offer free labor to each other on tank construction.
This is one of the significant projects.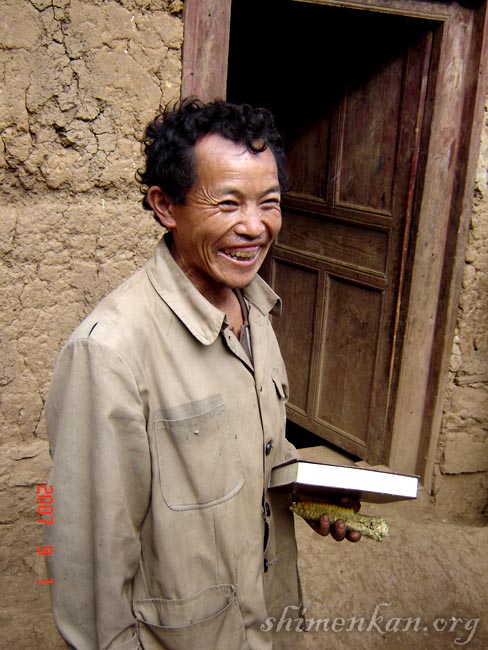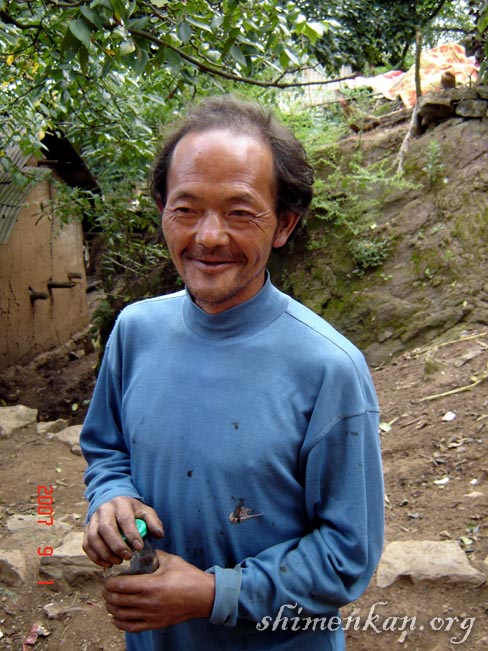 The two gentlemen are Ajigeng community collegium leaders; they are as well Ajigeng church leaders.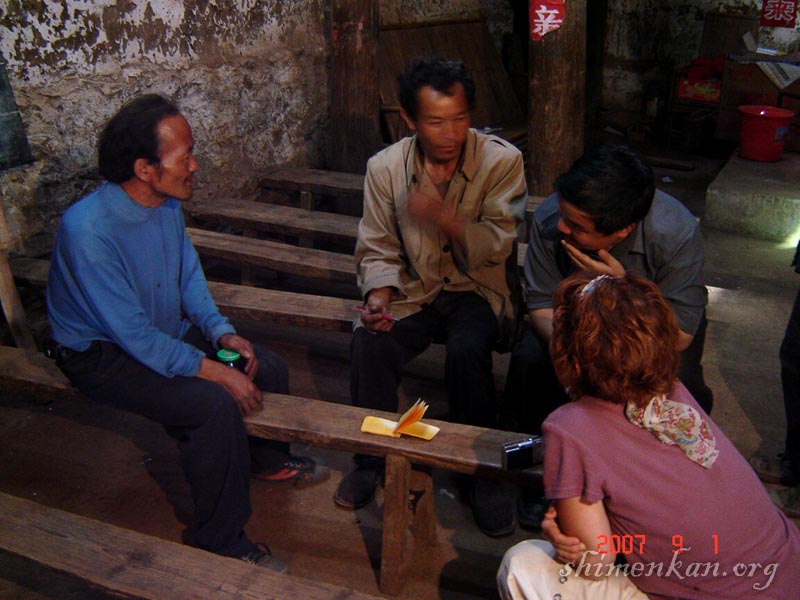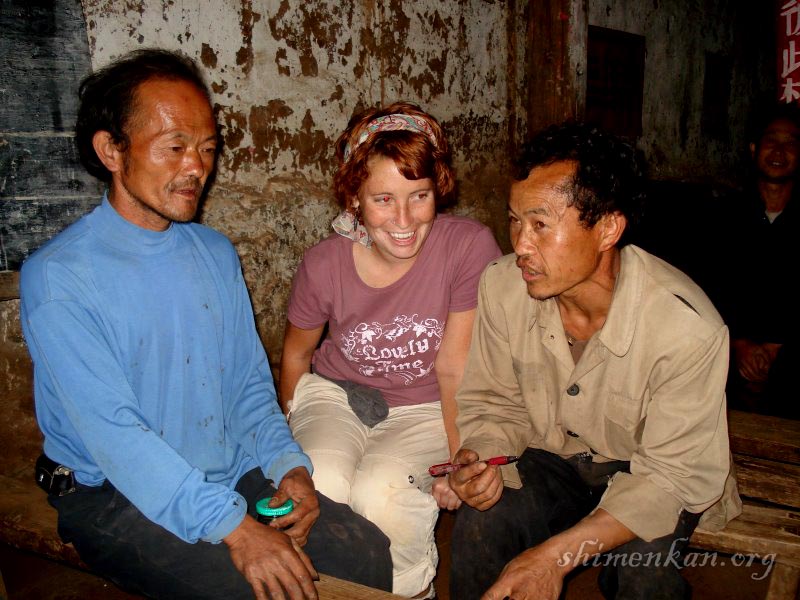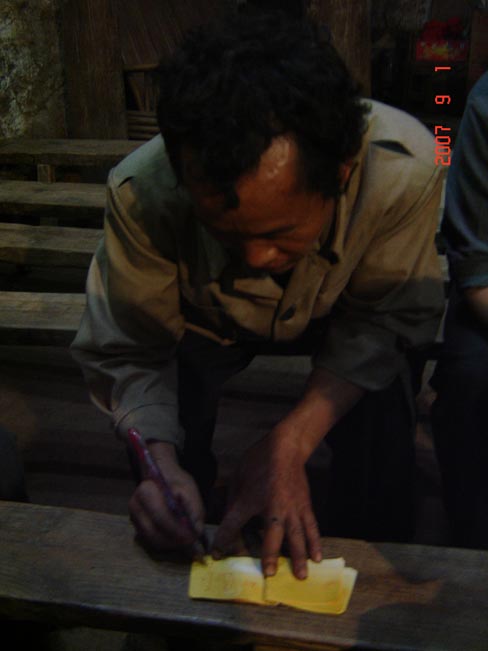 I was asking them how to write in Pollard Script (Old Miao Script) "love", "peace" and "mercy".
Bibles in Ajigeng is written in Pollard Script. Every Miao people in the village know Pollard Script. Ajigeng school also teaches Pollard Script.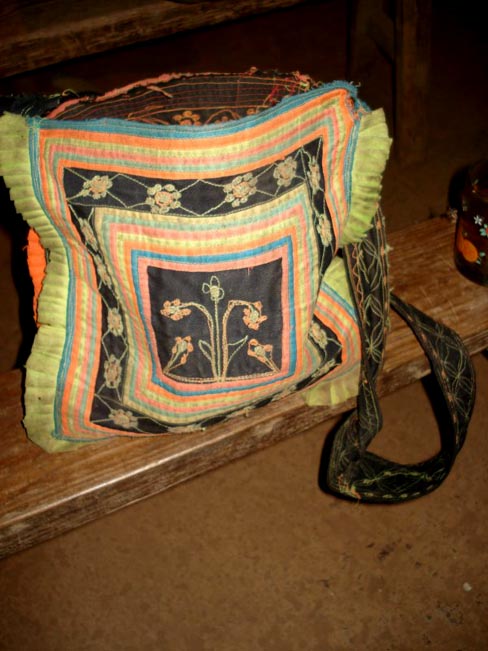 Beautiful handiwork.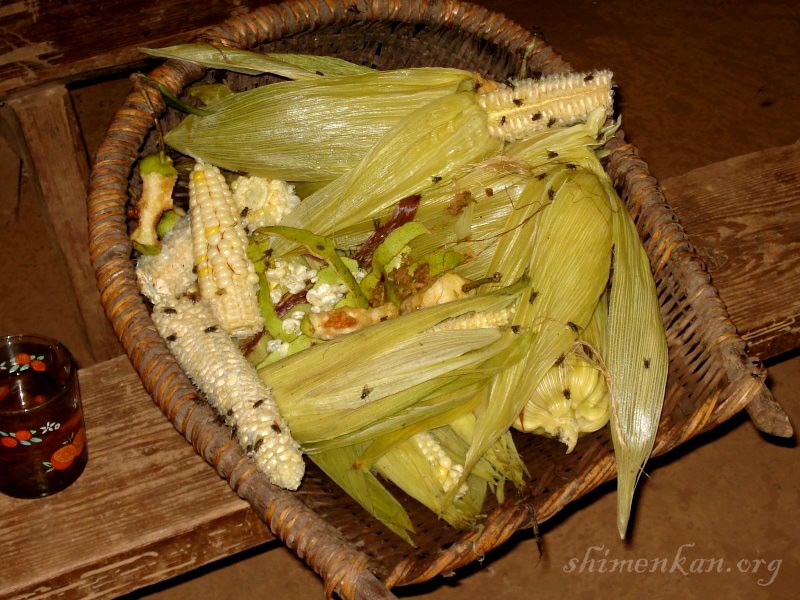 Corn is one of the main food here。
Rice is luxury food; not only because it has to be bought in cash, but also has to be packed back trekking through long distance.
We have to get alone well with this small life called fly, or we can walk nowhere.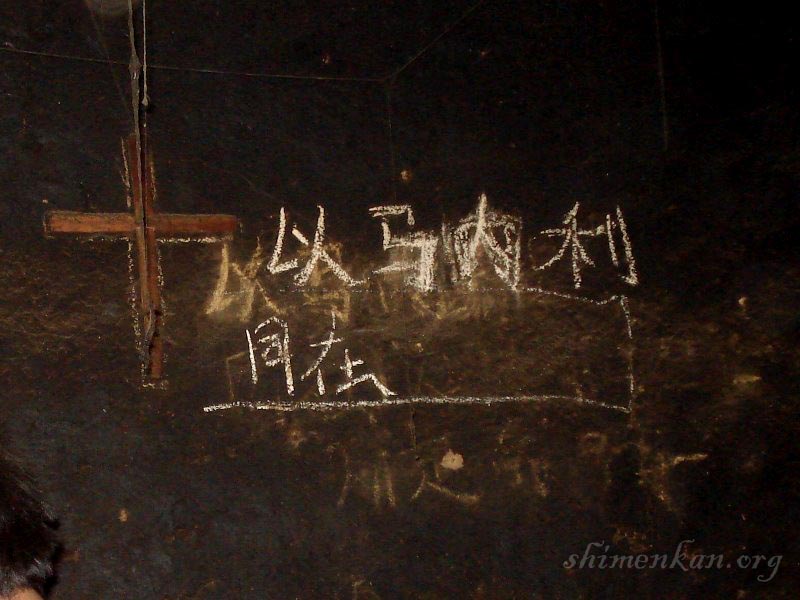 Emanuel ---- God be with you!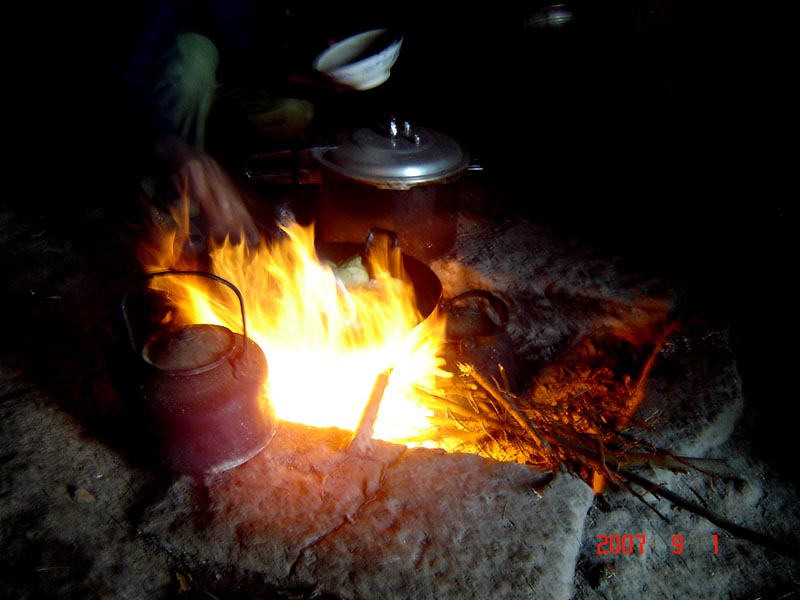 Typical family kitchen and food cooks in this way.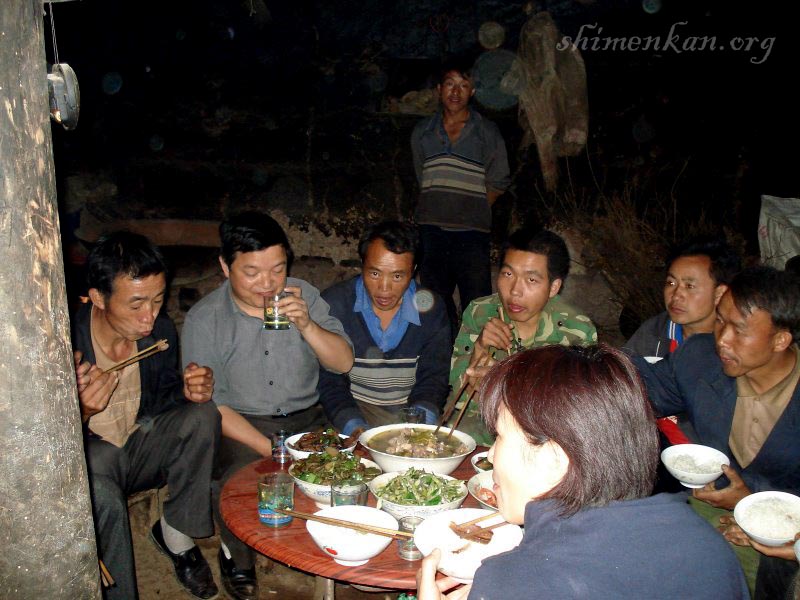 This is obviously a very big meal. They purposely killed a rooster for us.
Food were all done by men, I didn't see women and kids.
There were always two men standing besides us when we were eating, they didn't sit with us no matter how we urged them, they were the most gracious hosts, always big ladle in hands full of rice ready to pour in our bowls. Sensing the ladle coming to me, I had to hurry my hand cover the bowl. I was not of polite at all, I had really got too much!
What warm villagers!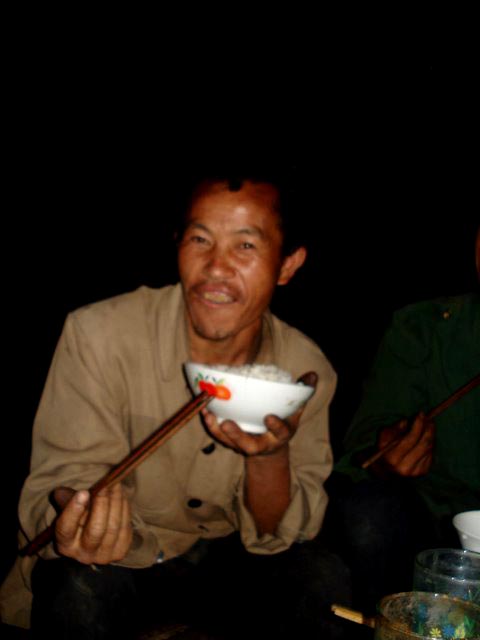 He is the Rice Man who keeps on adding rice in our bowl. He is the host of the family who is the last one to eat.
In memory of Ajigeng, he is always vividly there.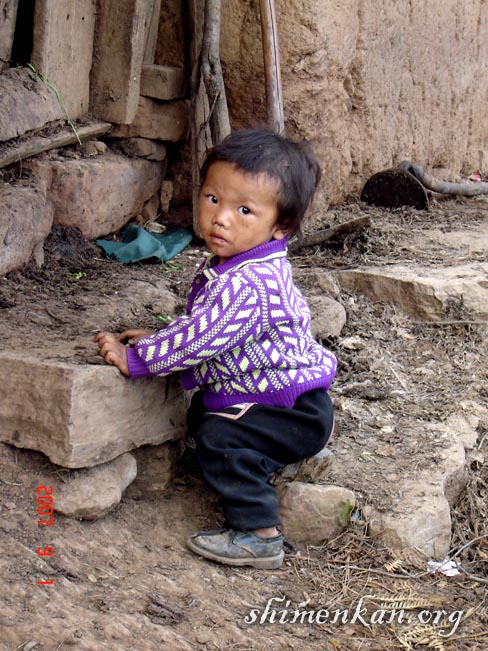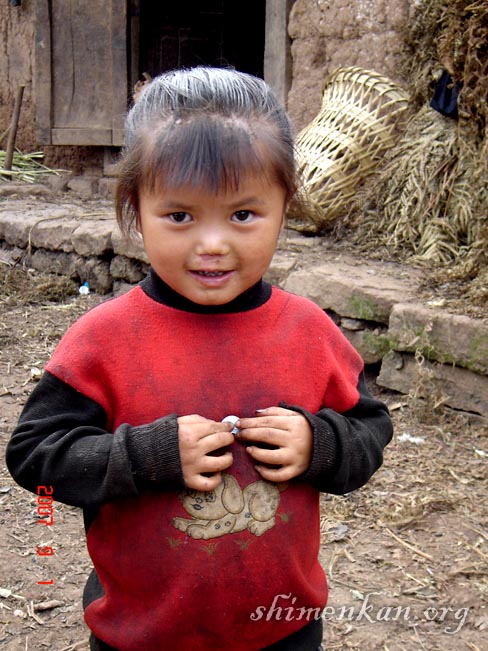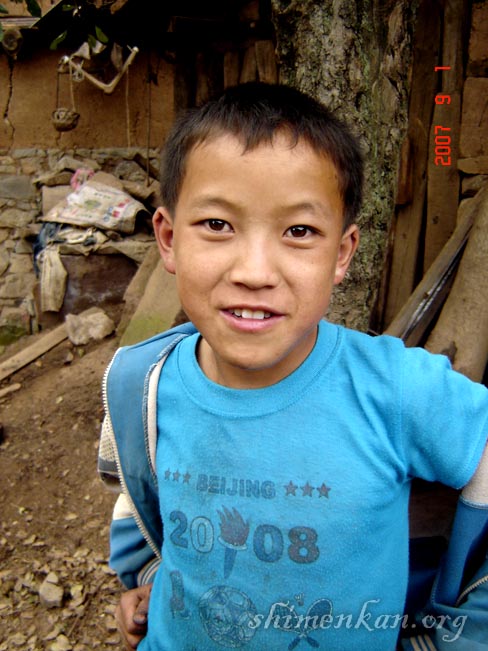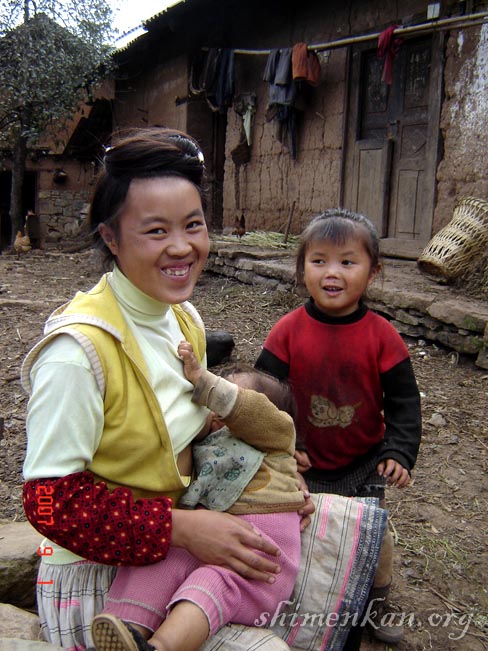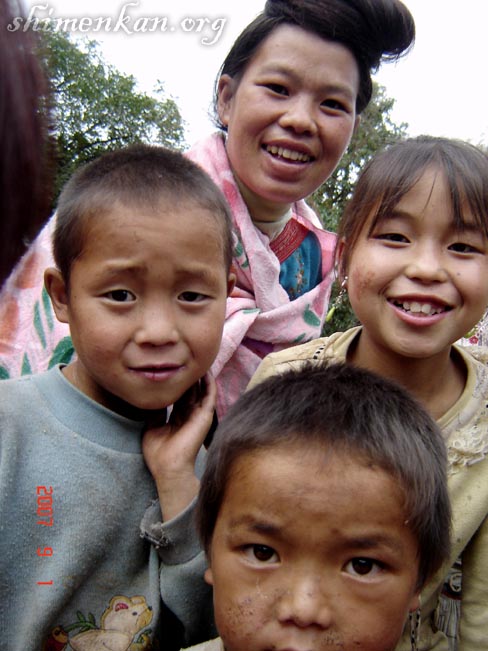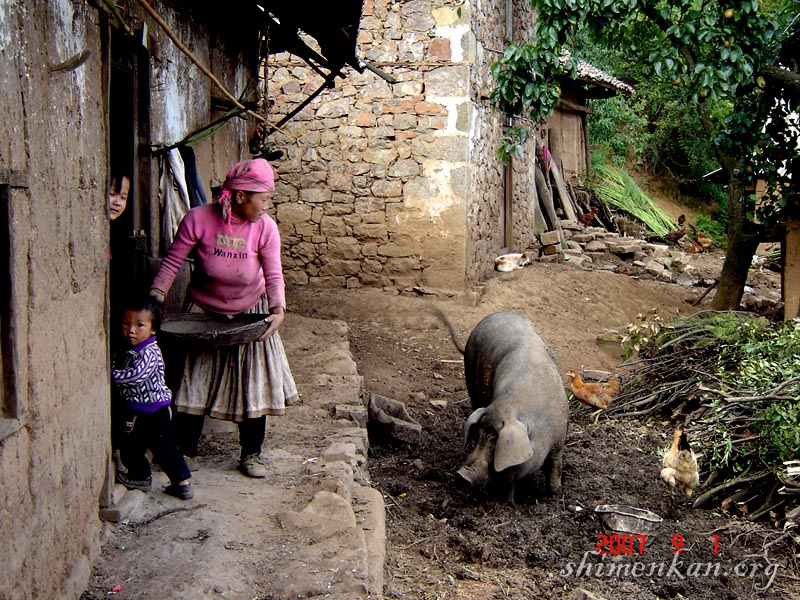 There are four people and two cows in the family. Cash income in 2006 is more than one thousand Yuan, their son working in Shanghai send back home.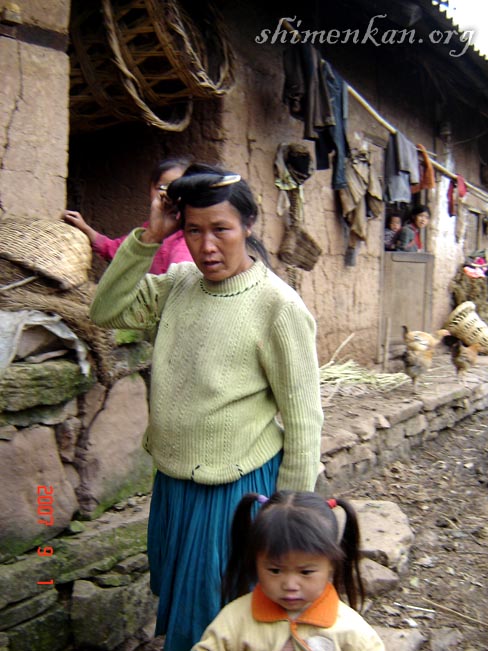 There's four people in this family. Cash income in 2006 is more than one thousand. One child is in middle school, tuition is 50Yuan, another one in primary school, tuition 60Yuan.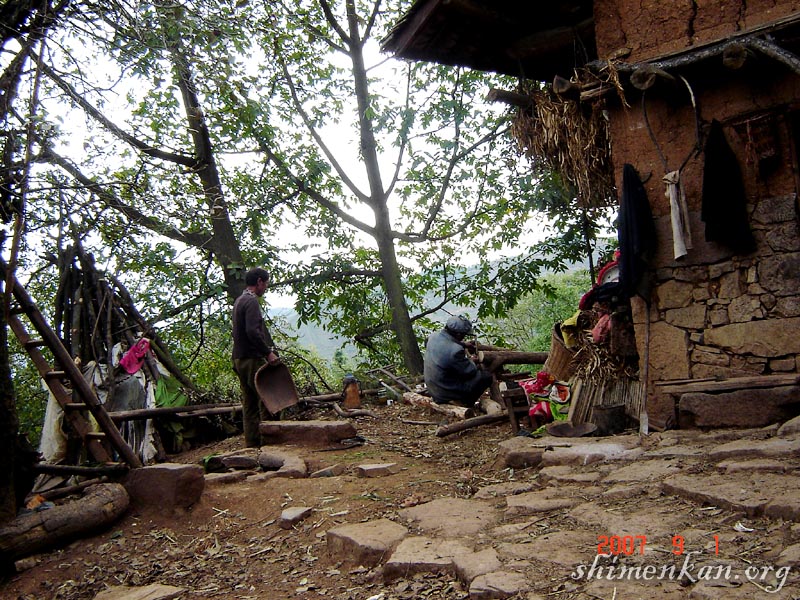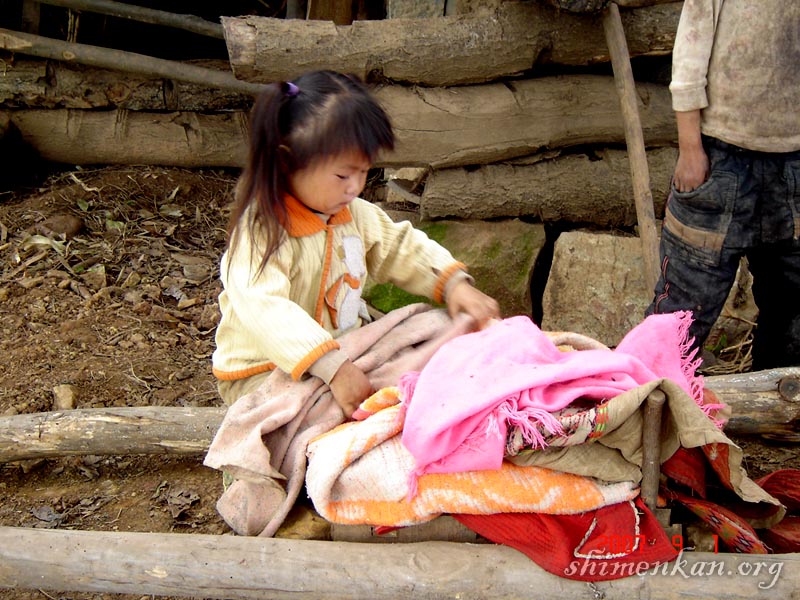 The girl is roaming in her world; hope we not disturbed her and her game baby.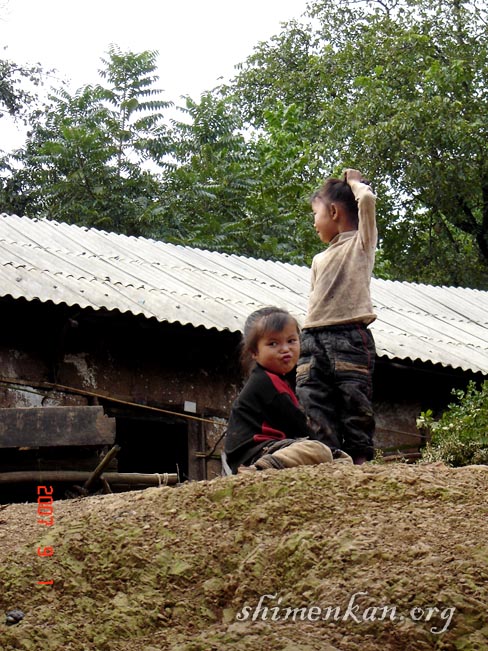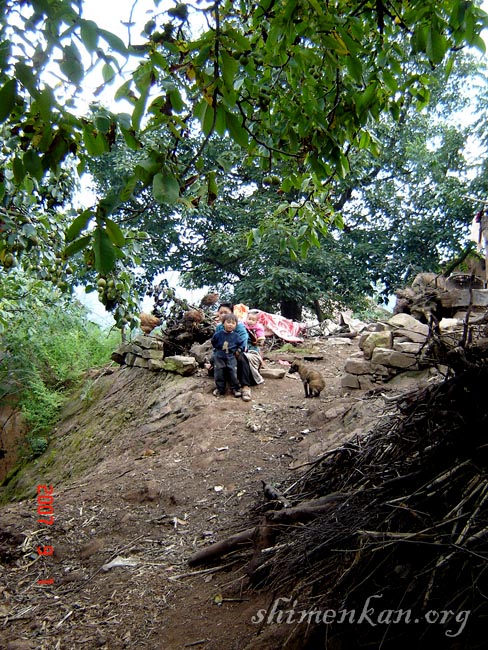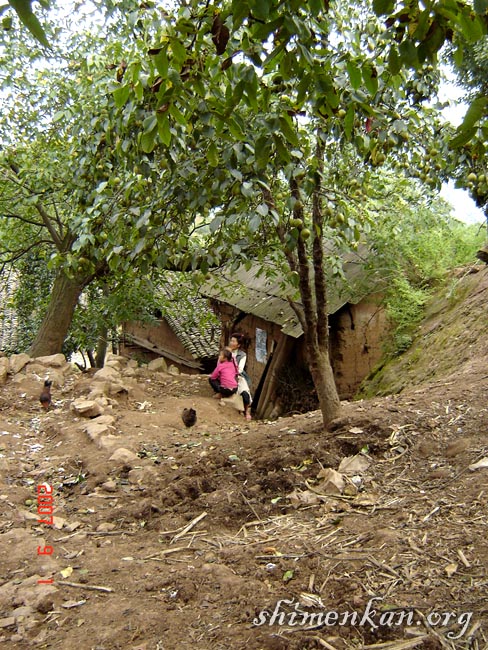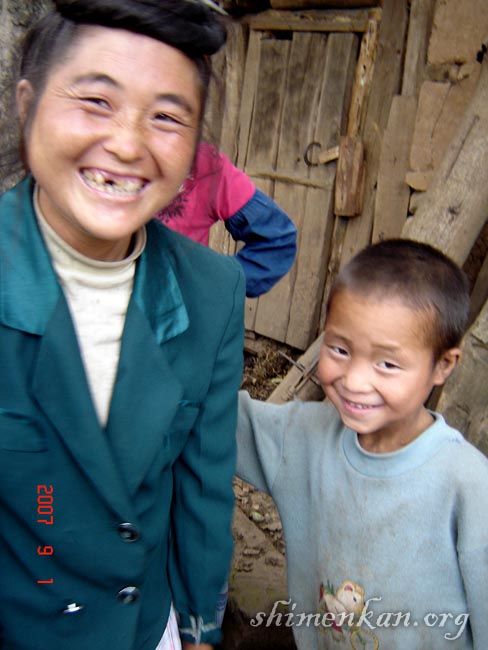 There are 3 people,3 cows and 4 pigs in this family. 2006 cash income is more than 2000Yuan.
The lady worked in Shanghai, 800 Yuan including food and room. She came back several months ago with her saving, about 2000 Yuan.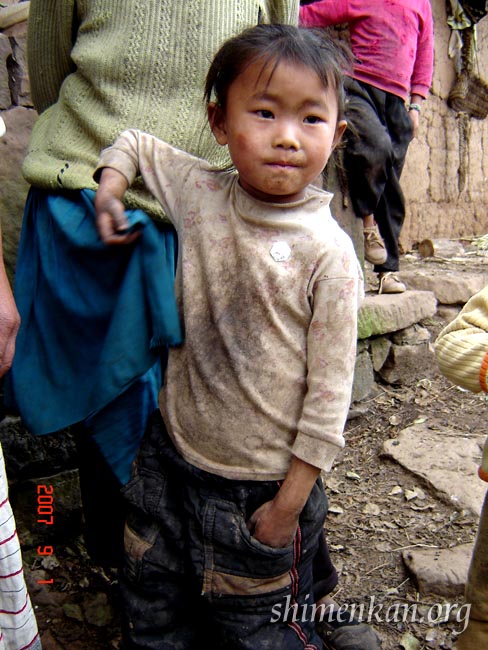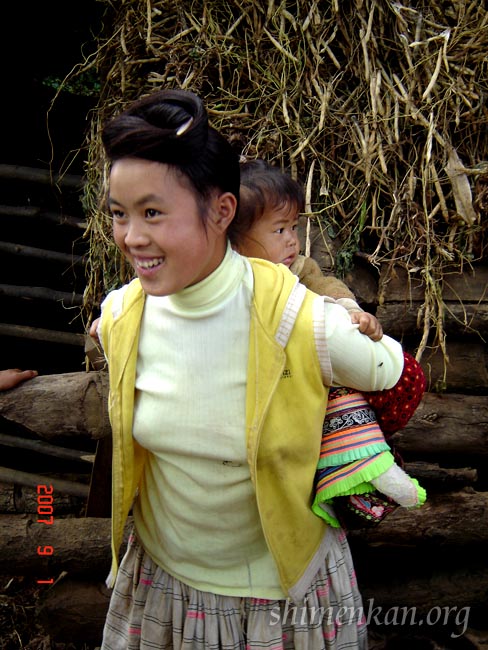 Her husband worked seven months in Shenzhen in 2006, and backed home with his saving more than 2000 Yuan cash.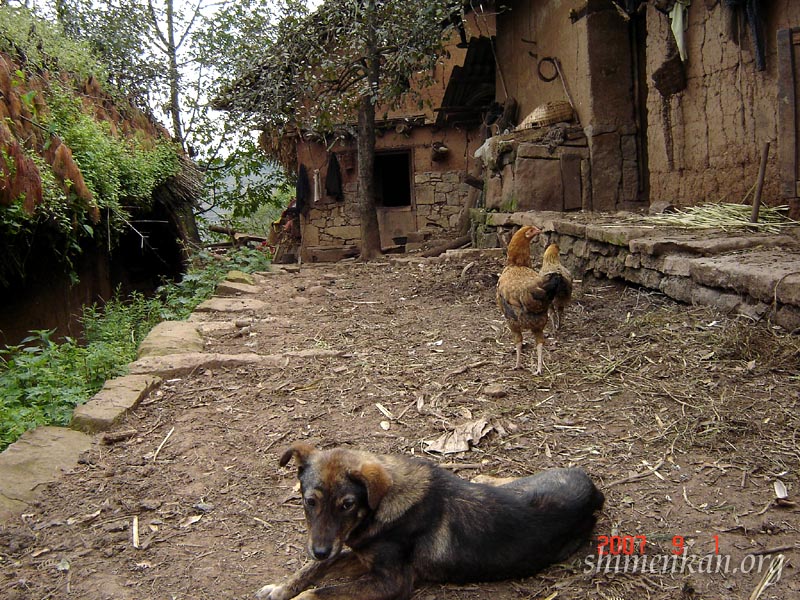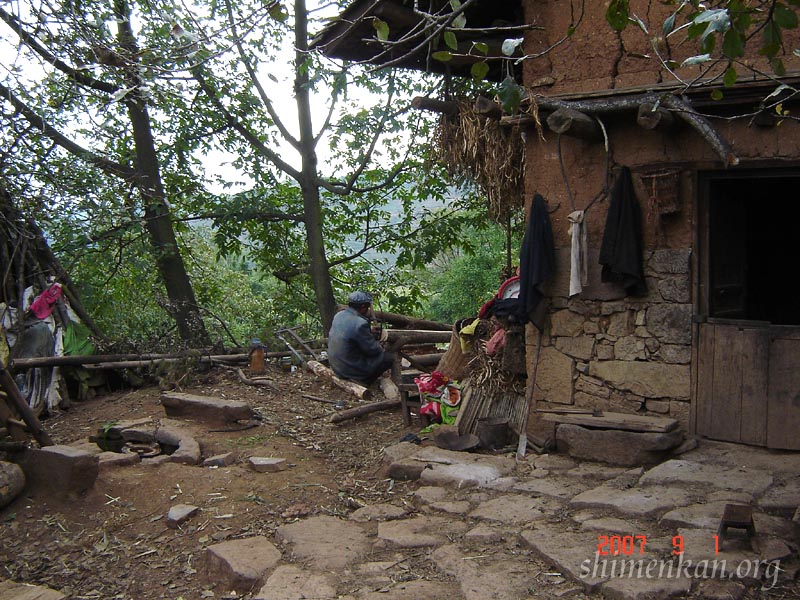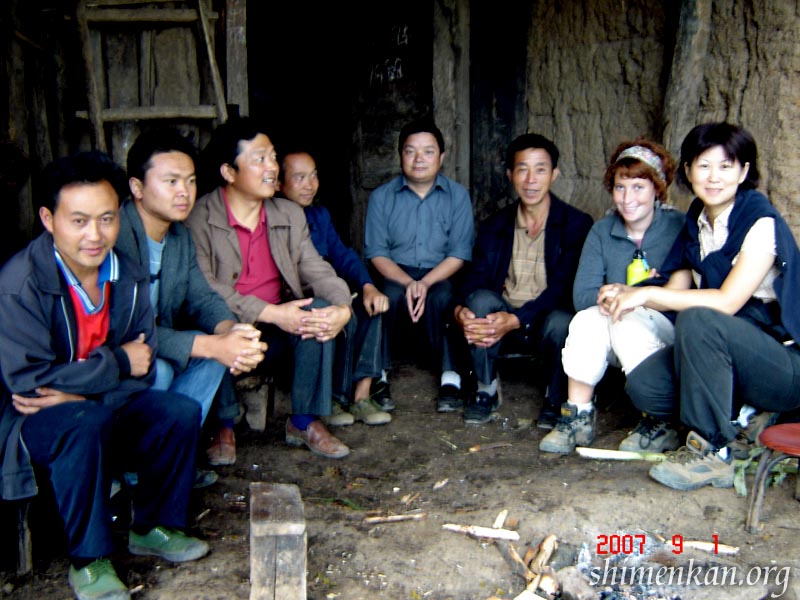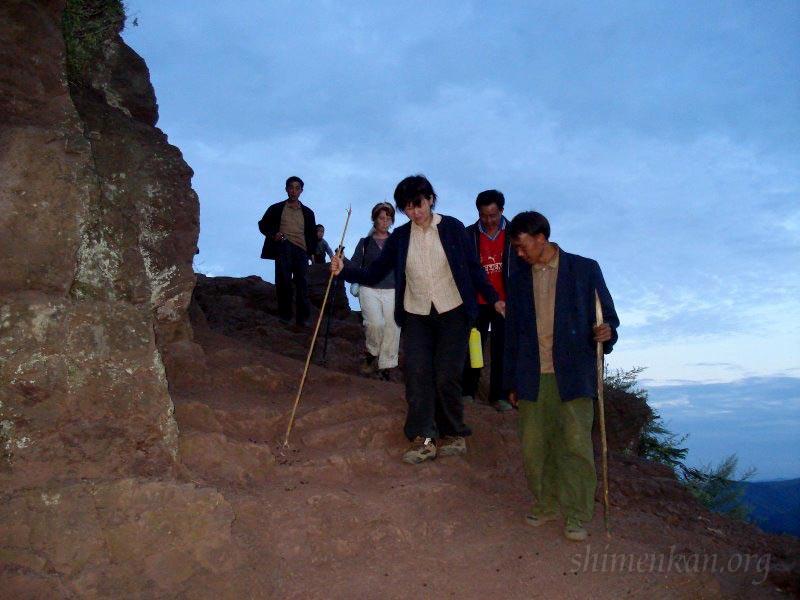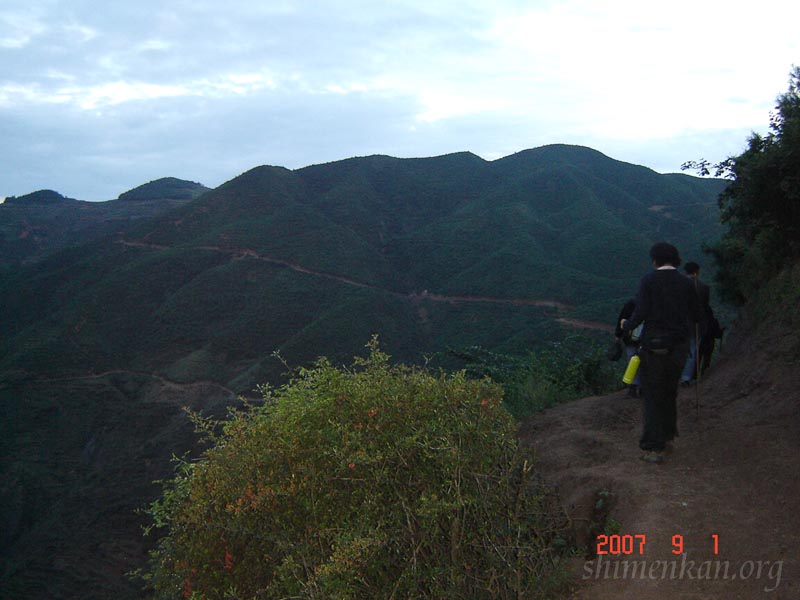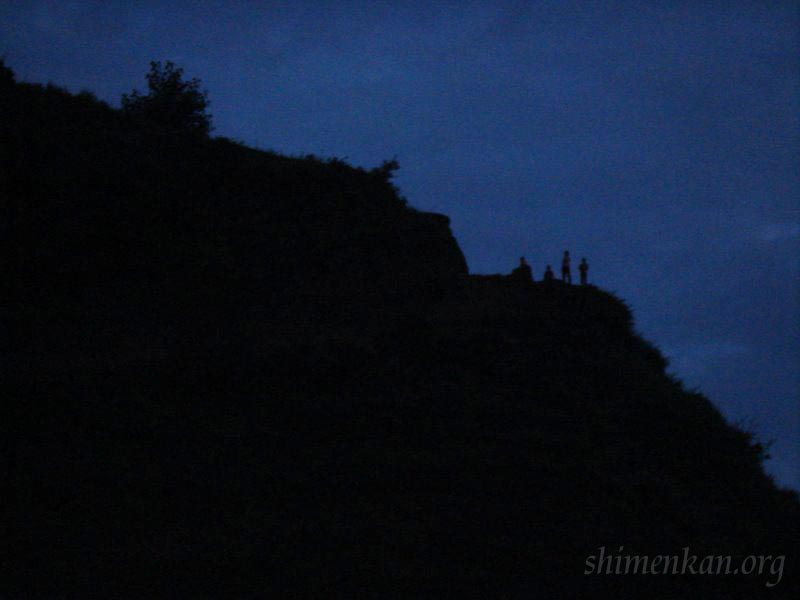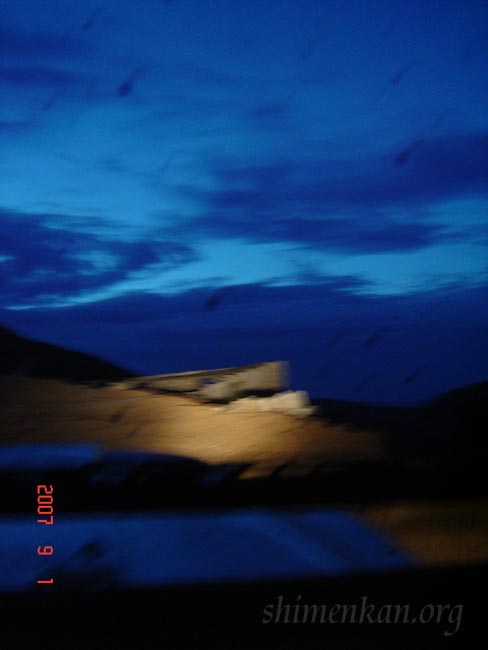 The route back rushing down hills is definitely a risk of dangers and challenges of driver's technique and passengers' courage.
It's already midnight when we arrived at Weining.
Undoubtedly, say in economic statistic figure, Ajigeng is in extreme poverty. But I didn't feel sorrow.
Contrarily, I see in Ajigeng the great power of self-sufficiency, enjoyment and harmonious balance.
Ajigeng, this isolated corner ignored by the world, lives in the everlasting glorious love of God, peace and joy.
Sijia
2008-12-31
---