Stone Gateway Village
Population: 15, 176
Families: 3, 630
Minority population: 4,056
Average income per family: 30-100 dollars a year
This spring, due to the winter storm disaster, Stone Gateway suffered great loss. Two volunteers sponsored by our sister-organization Shimenkan Connection, Mr. Zhou and Dennis Xu, both went to bring relief items, assess the damage, and research possible solutions for short and long-term relief as well as options for community rebuilding.
The following is a photo account of Mr. Zhou and Mr. Xu's trip to Stone Gate. To get to this remote village they went first to Guiyang, the capital of Guizhou province, then six hours by train to Zhaotang, and finally one hour by bus to Zhongshui to meet a truck, bus or SUV to Stone Gateway (a three to six hour drive, depending on the conditions.)
As of February 5th of this year, the snowstorm had already affected 352,000 people, causing architectural, agricultural and natural damages in excess of 2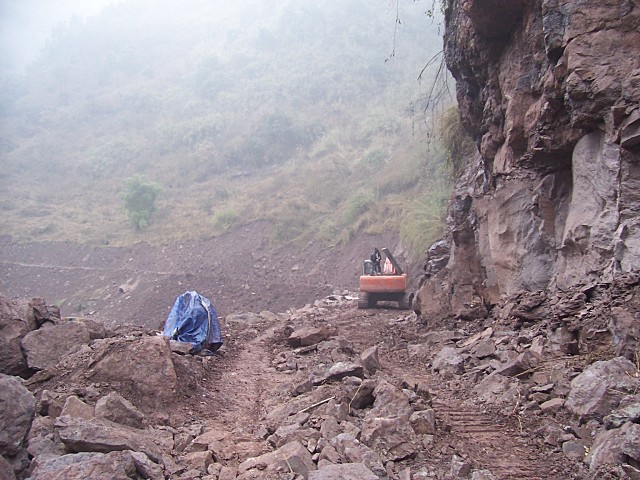 zzm003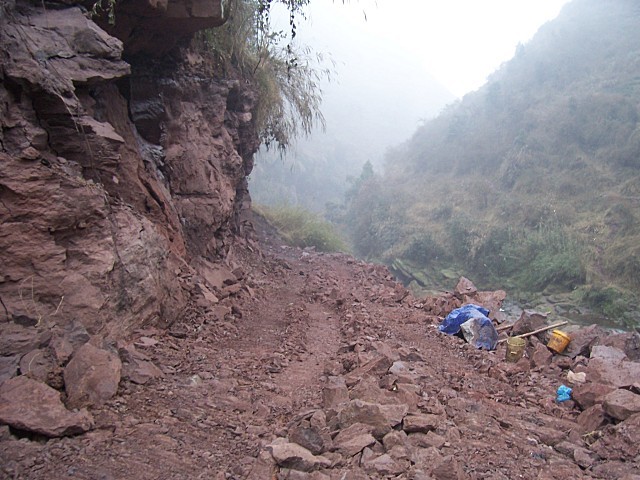 zzm004
zzm008
zzm014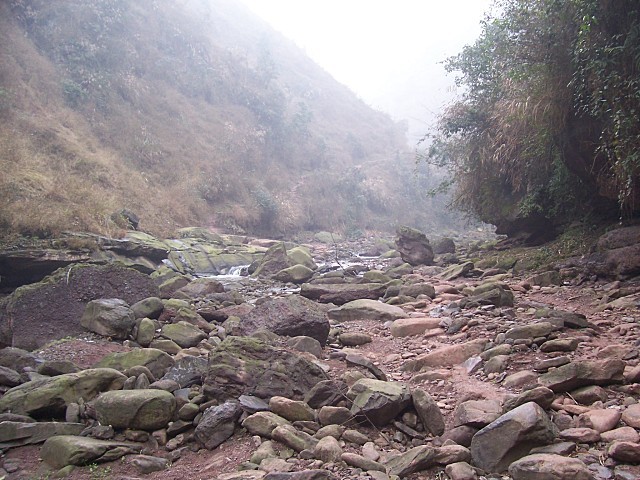 zzm007 Villagers walking back to Shimenkan with goods collected from Sichuan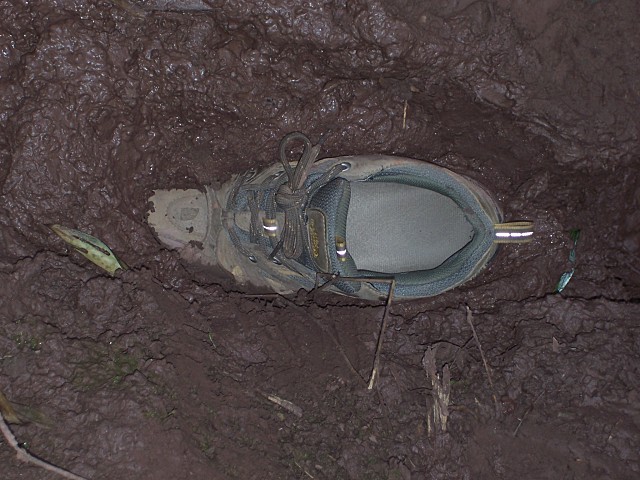 zzm001 Volunteer's shoe stuck in the mud due to the terrible road conditions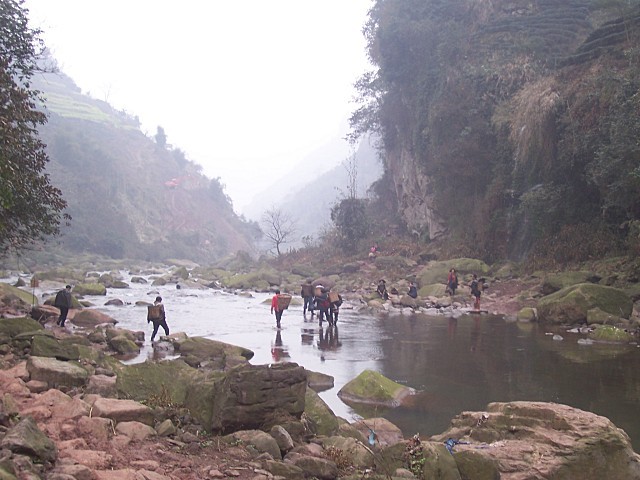 zzm015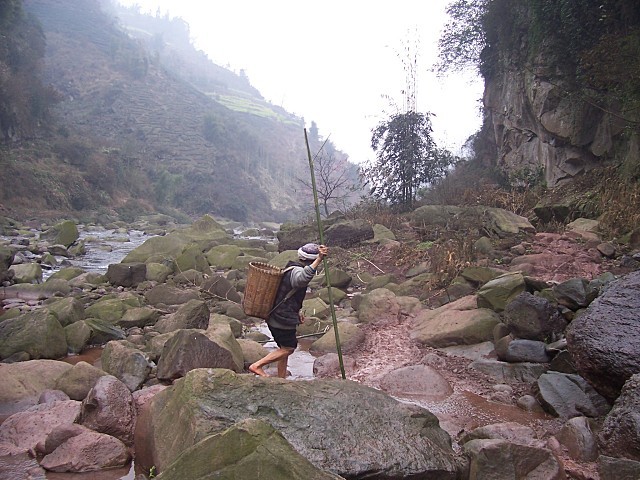 zzm020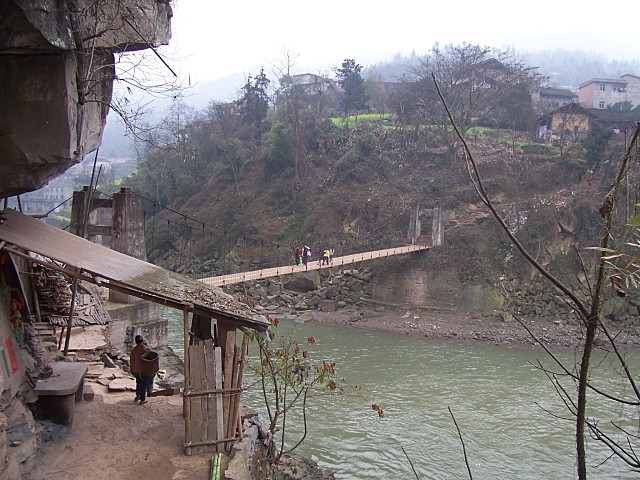 zzm022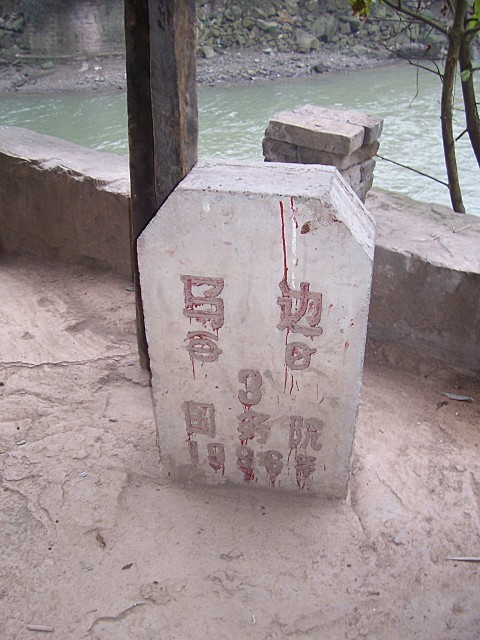 zzm023 Mr. Zhou and Mr. Xu arrive at a village between Guiyang and Zhaotang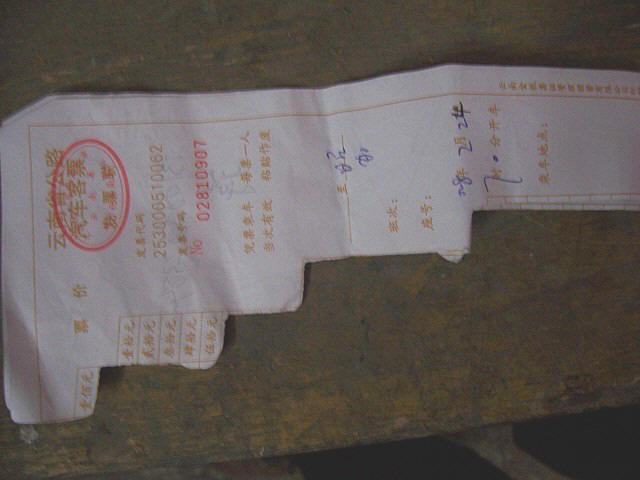 zzm025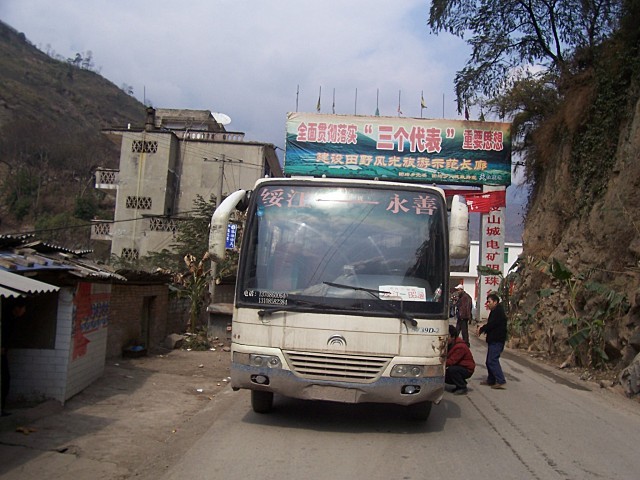 zzm032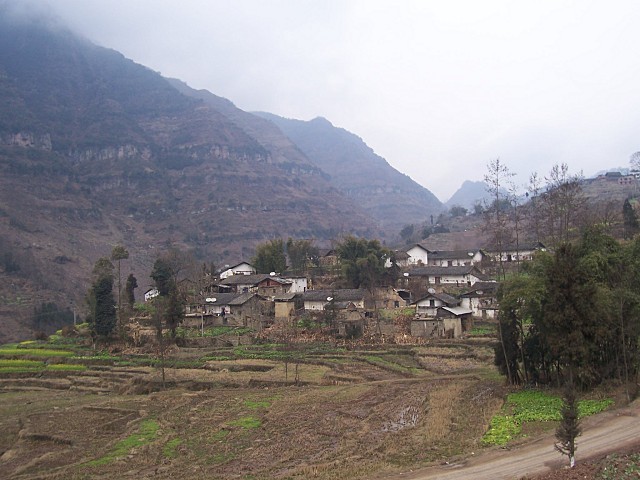 zzm026 Bus ticket and bus from Zhaotang to Zhangshui
zzm029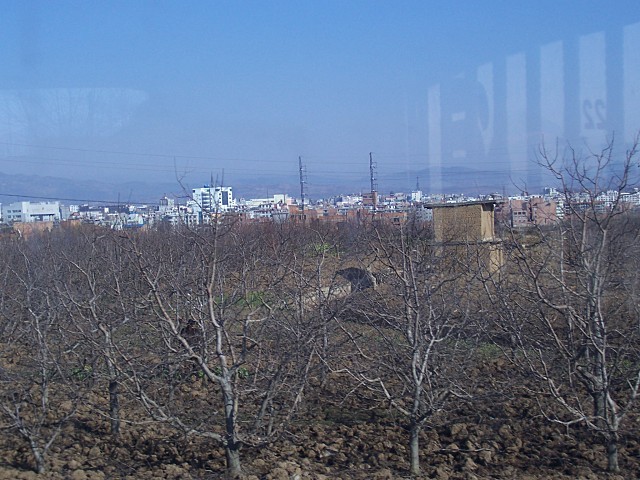 zzm033 City of Zhoutangi; at this altitude, the weather was relatively mild and there was little damage from the snow, though it is just hours from Stone Gate Village.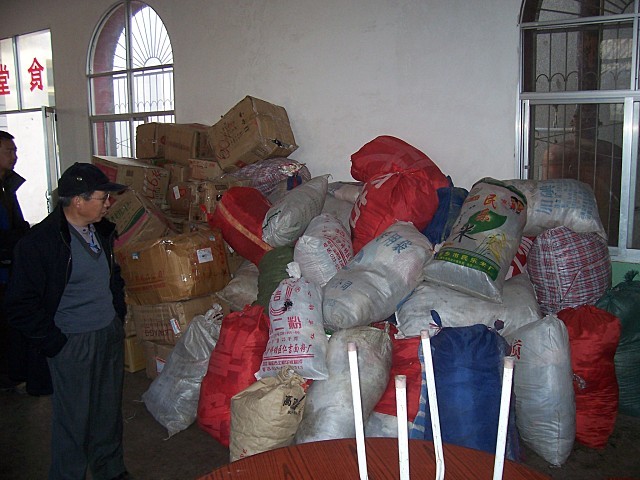 zzm034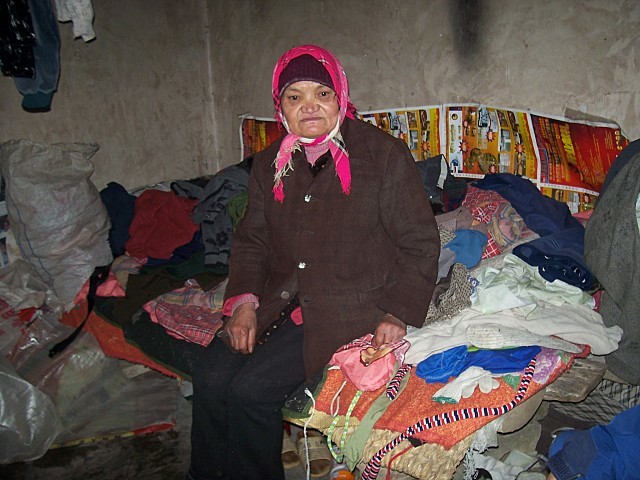 zzm046 A local volunteer waited in Zhaotang while Mr. Zhou and MR. Xu went directly to the community church to retrieve 6,660 pounds of winter clothes. These clothes, donated by Chinese citizens nationwide through the Shimenkan Connection clothes drive, were ready for delivery to Stone Gate.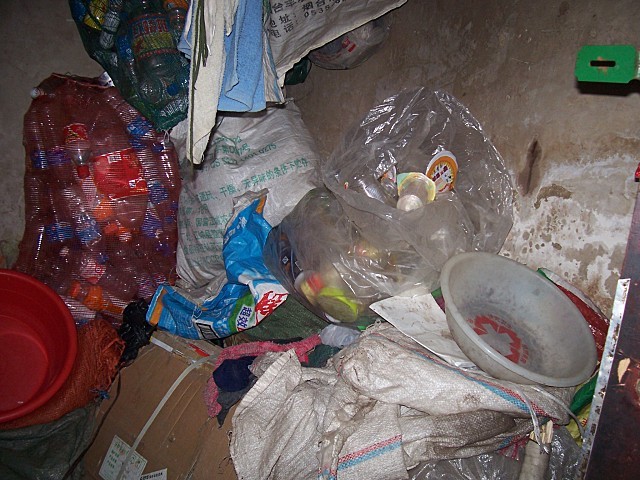 zzm045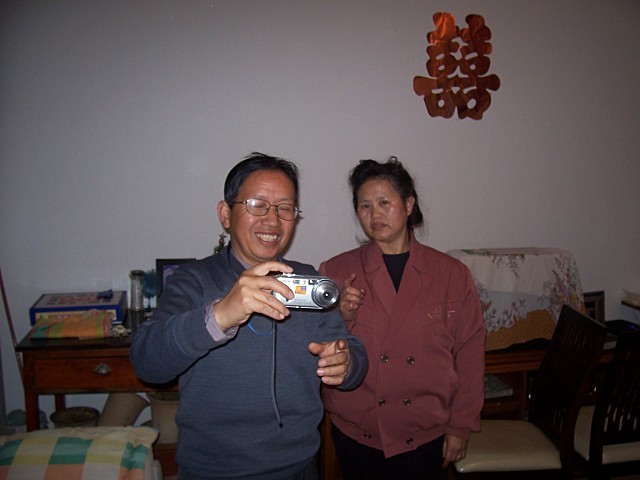 zzm049
The Shimenkan Connection volunteers visited an elderly woman, once a Stone Gate Village resident, who now lives in Zhaotang and collects garbage and recyclables in order to survive. Mr. Zhou paid half a year of her rent and gave her some of the donated warm clothing.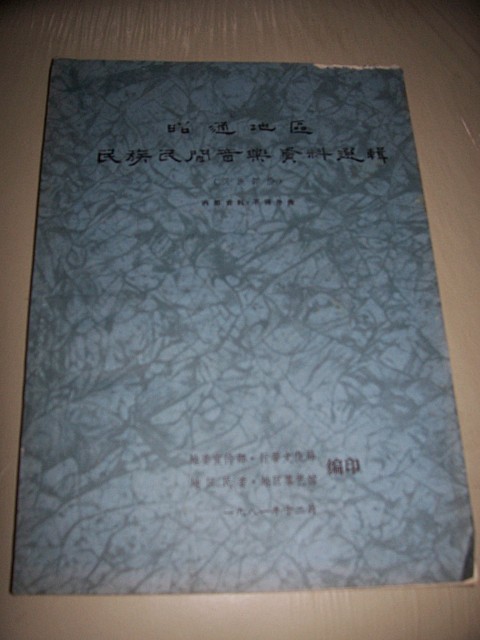 zzm050 Zhaotang local volunteer Mr. Yang, Miao minority, enjoys meeting with Shimenkan Connection volunteers Mr. Zhou and Mr. Xu. As a Miao script expert, Mr. Yang provides Shimenkan Connection and CNCP with invaluable information concerning Miao resources, such as the book of traditional Miao songs, writings and documents below.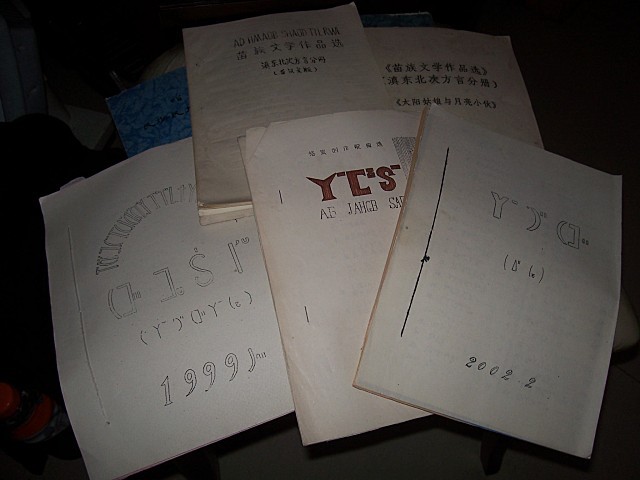 zzm051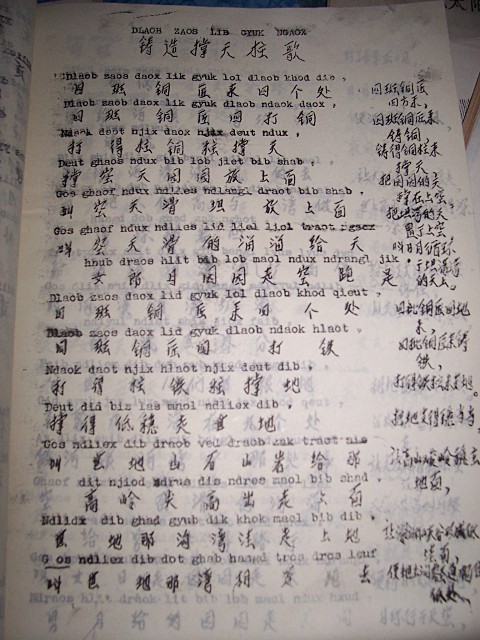 zzm052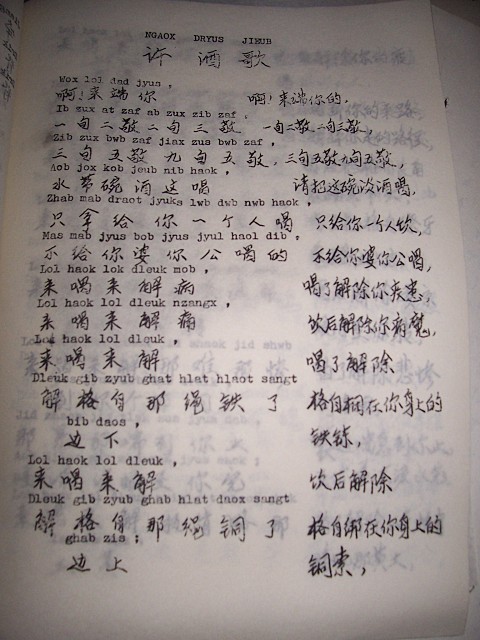 zzm053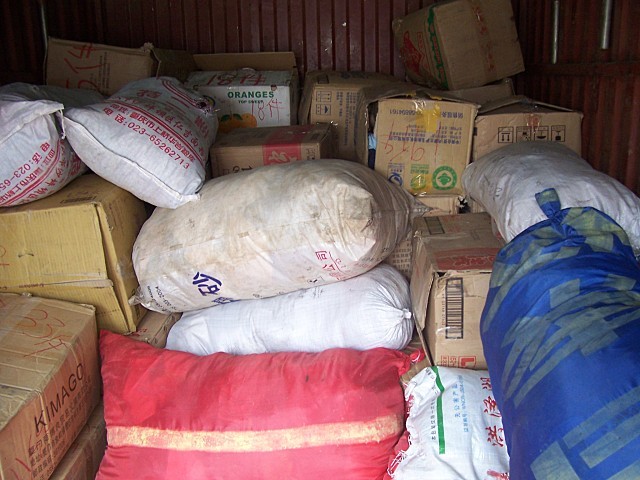 zzm067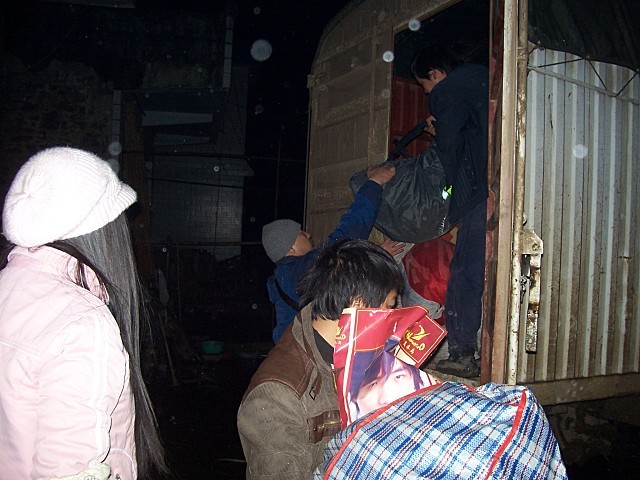 zzm064 6,660 pounds of winter clothes donated by citizens from all over China through the Shimenkan Connection clothes drive, waiting in Zhaotang for delivery to Stone Gate. Mr. Xu and Mr. Zhou arrive late from Zhongzhui with the load of donated clothing.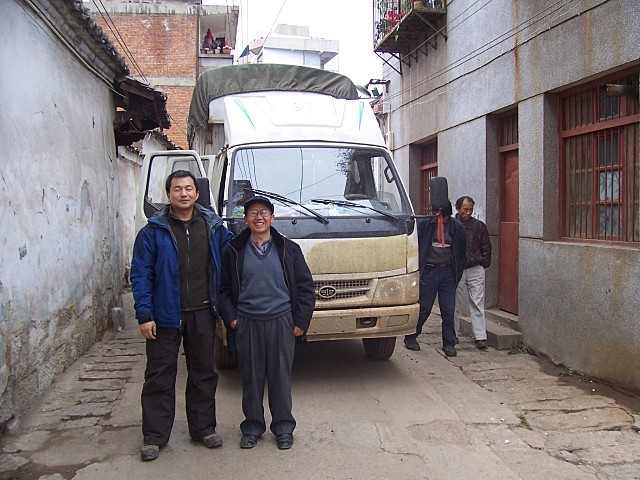 zzm069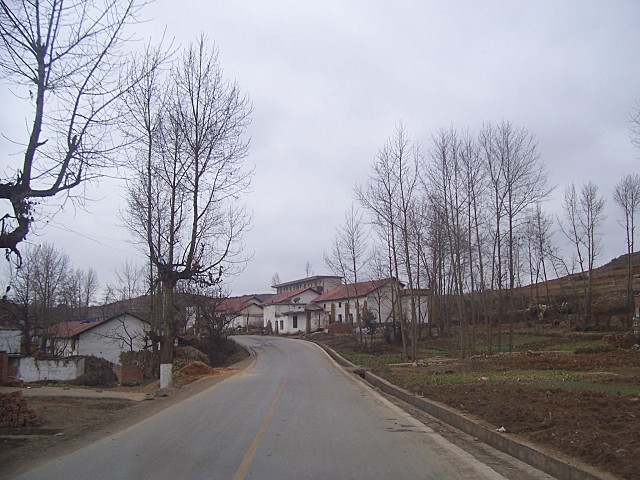 zzm070 The next morning, Mr. Xu and Mr. Zhou prepare the rented truck for the trip to Stone Gate Village.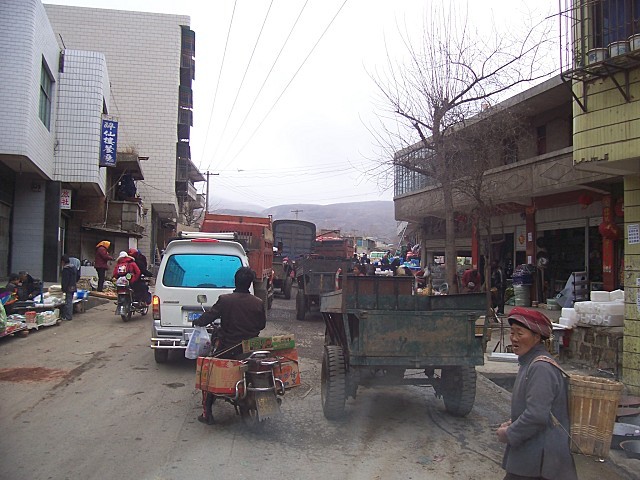 zzm071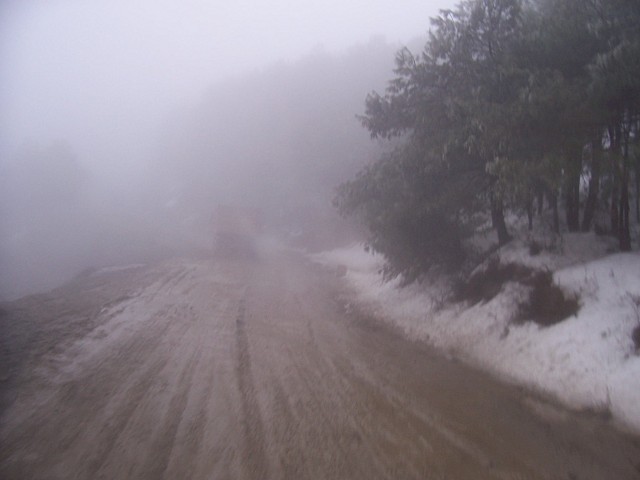 zzm076 Volunteers leave Zhongzhui, which was relatively undamaged from the snow storm, for the long trip to Stone Gate Village.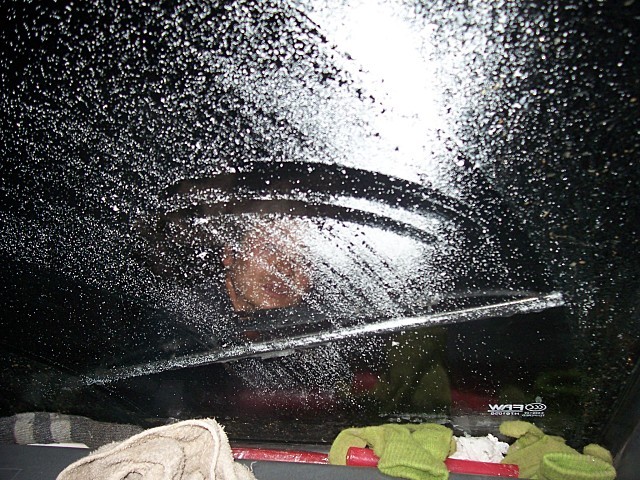 zzm085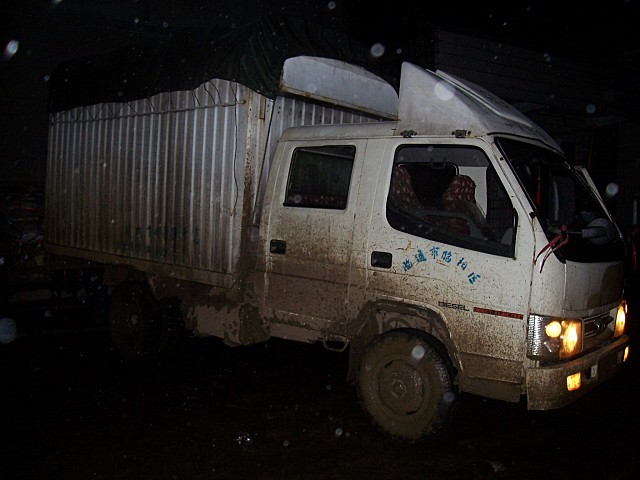 zzm086 En route to Stone Gate Village, the weather conditions continue to deteriorate as the elevation increases. It became necessary to stop several times to clear the road and salt the windshield.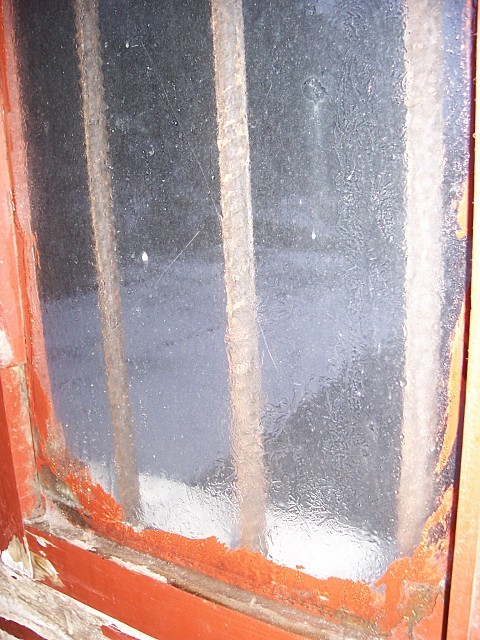 zzm091The volunteers finally arrive in Shimenkan around 9:00 pm after an arduous 6-hour trip; Mrs. Ma, a local leader in the community, is waiting for them. The weather is noticeably worse here with snow on the ground and ice on the windows of unheated homes.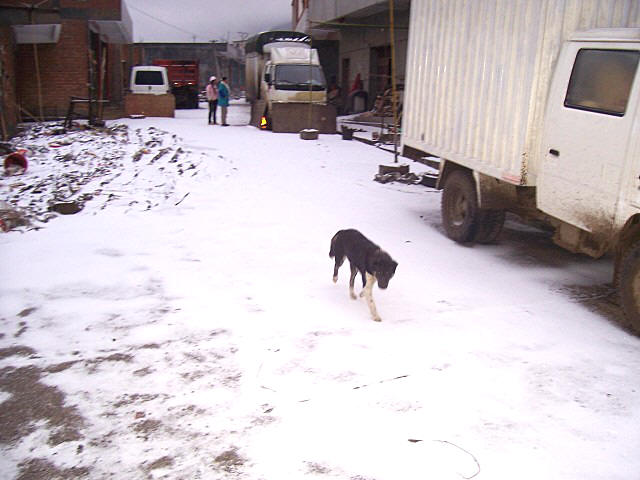 zzm095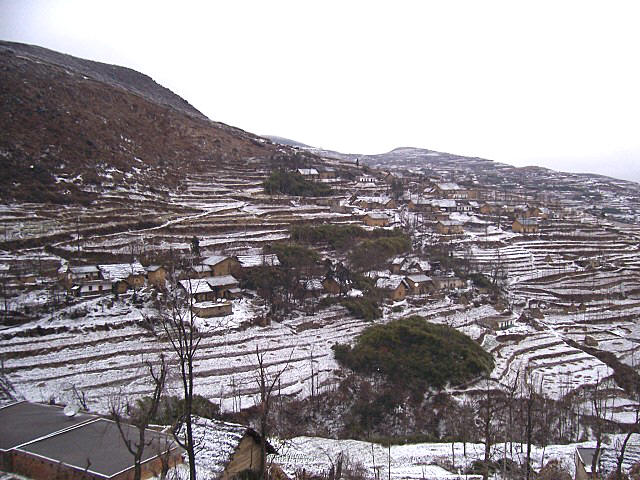 zzm097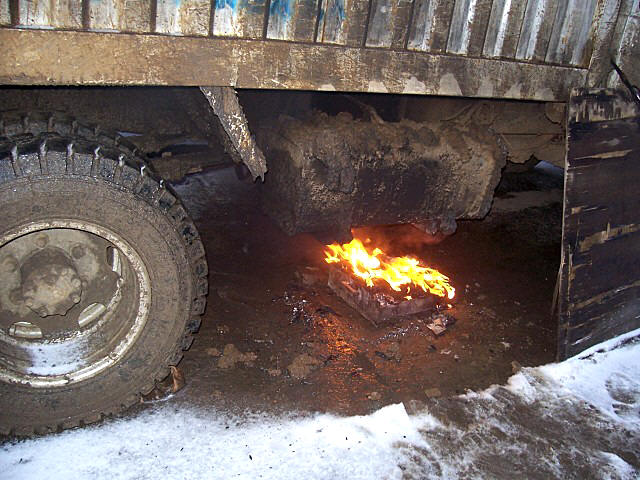 zzm094 The Village of Stone Gate as seen from the path to the leprosy colony.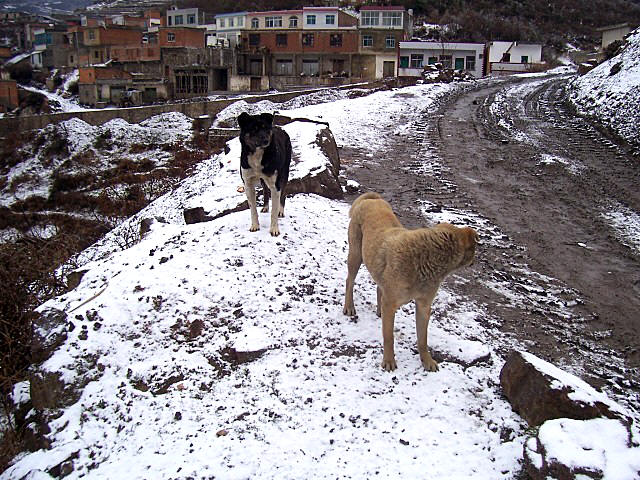 zzm105 Lighting a fire under this truck warmed it enough for the engine to start the next morning.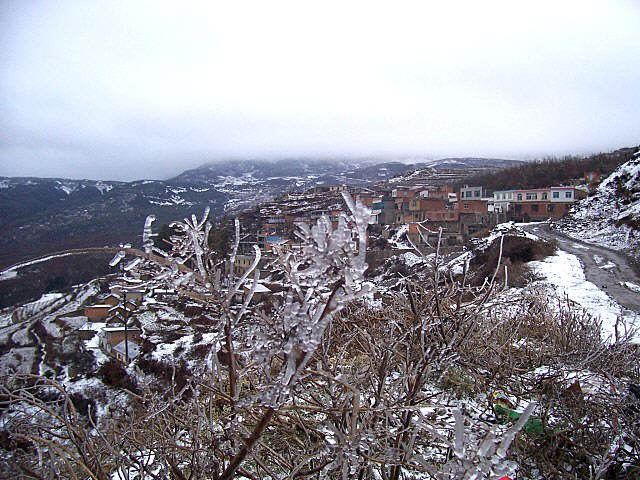 zzm106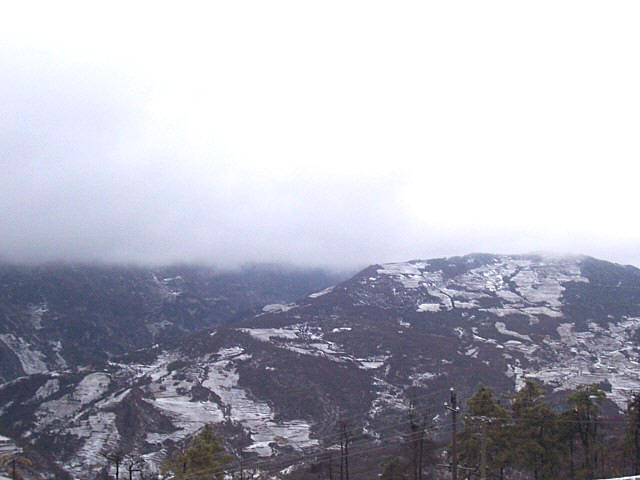 zzm092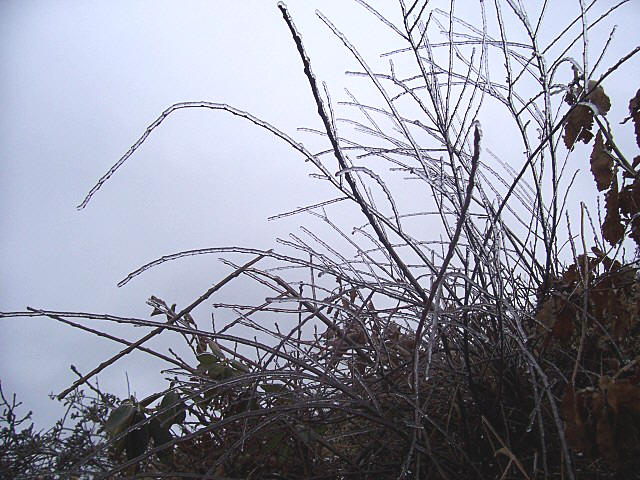 zzm100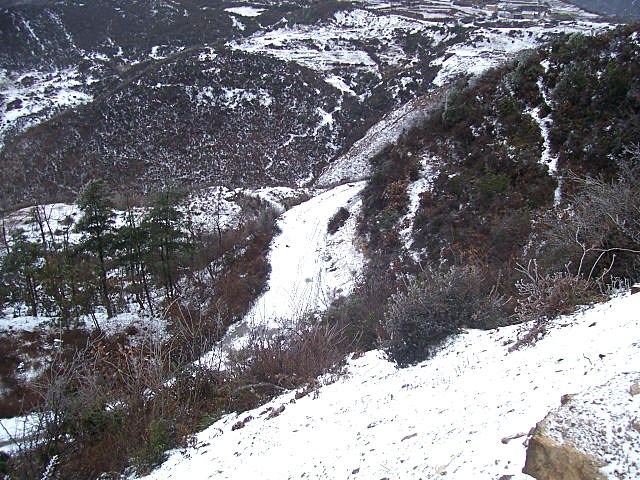 zzm109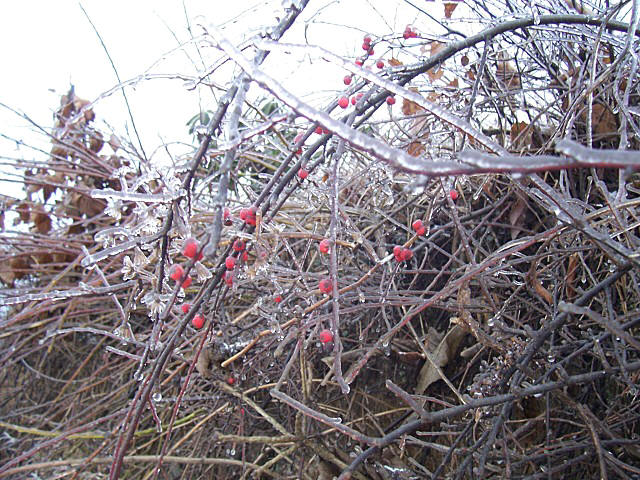 zzm099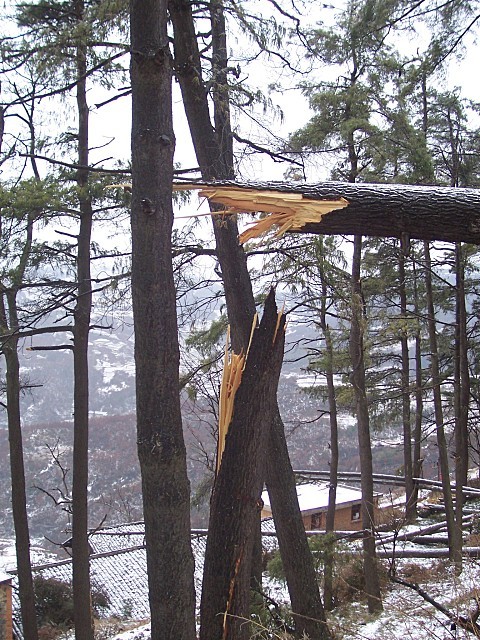 zzm110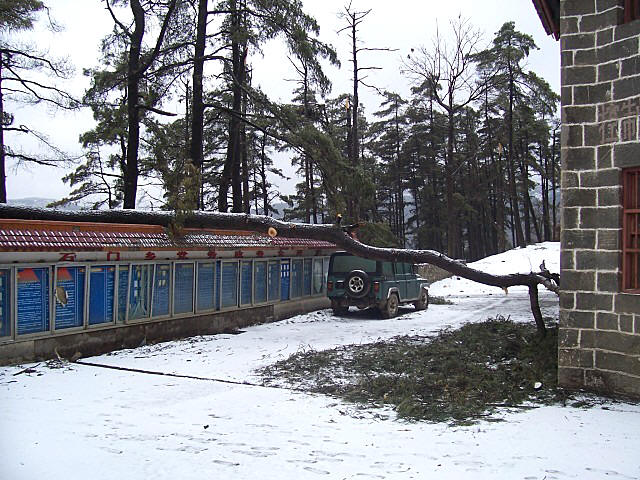 zzm111 The village lost 80% of their trees, causing three homes to collapse. In addition, a large portion of their walnut trees were lost, all but decimating next year's production of this valuable export crop.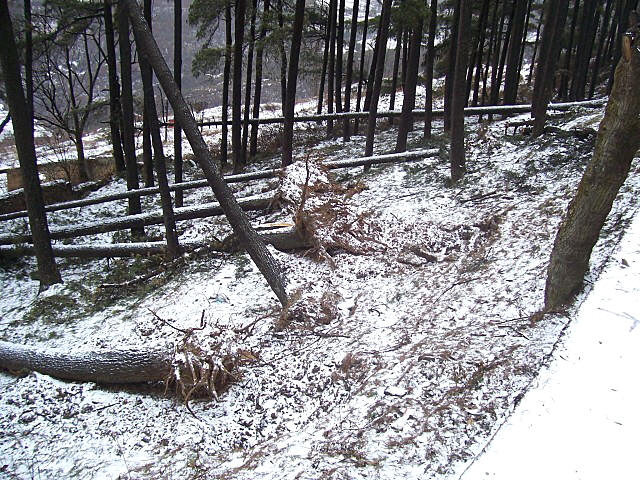 zzm116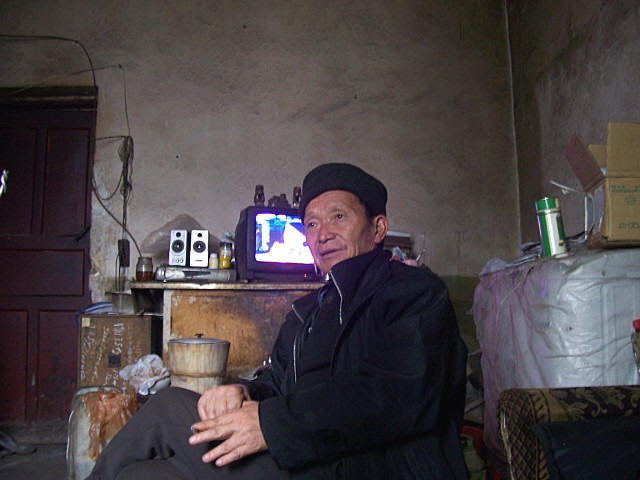 zzm123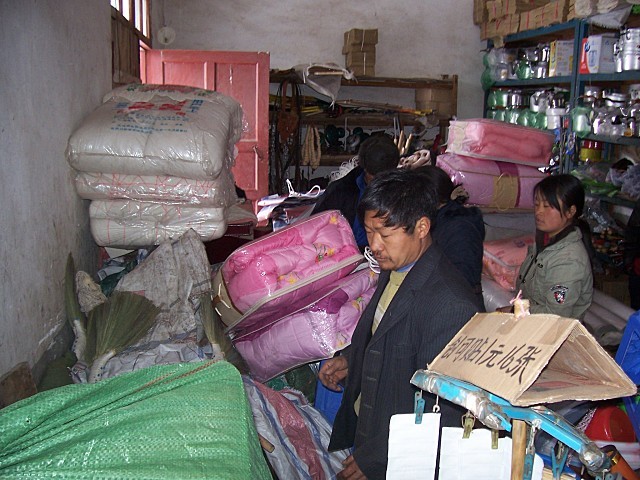 zzm128 The volunteers met with the governor of Stone Gate Village before they went shopping for 17 quilts with money donated from Shimenkan Connection. In order to find enough quilts, the two volunteers had to visit every shop in the village.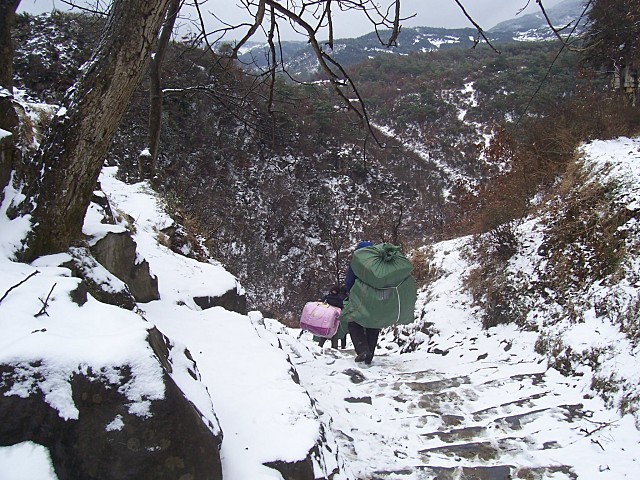 zzm120 Once the quilts had been bought and organized, Mr. Zhou and Mr. Xu, along with several Stone Gate volunteers, made the treacherous 3-hour climb to Stone Gate Village's leprosy colony.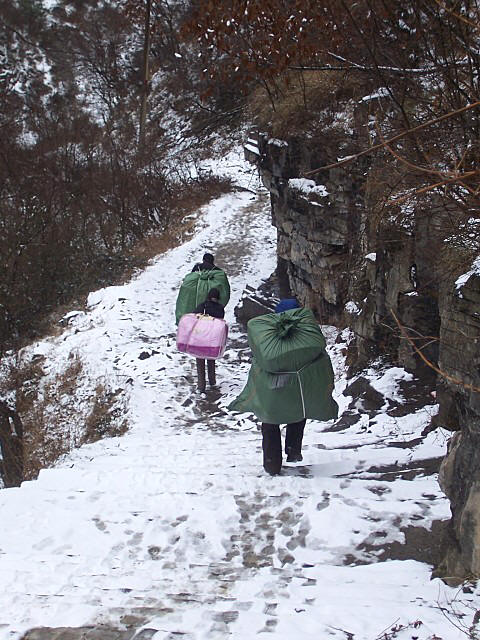 zzm130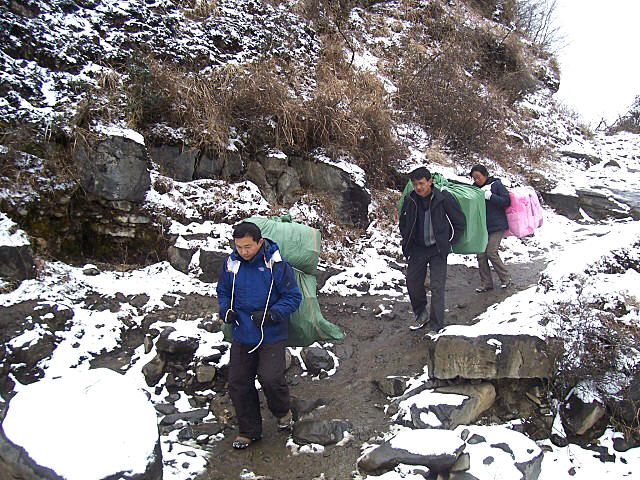 zzm131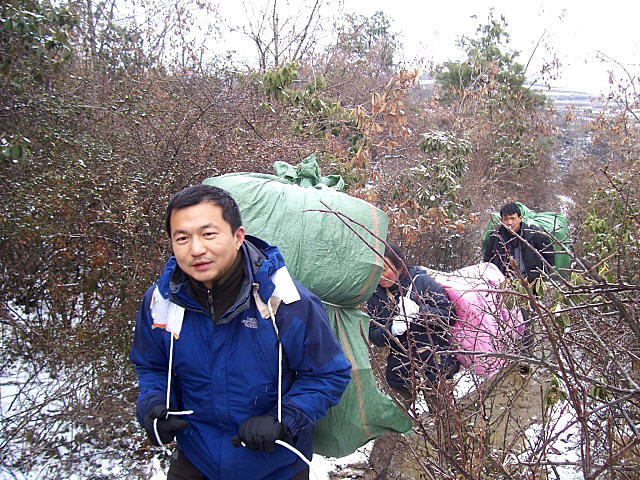 zzm132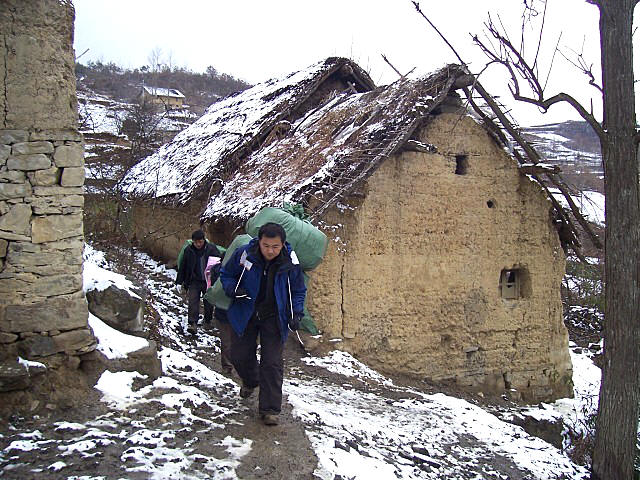 zzm133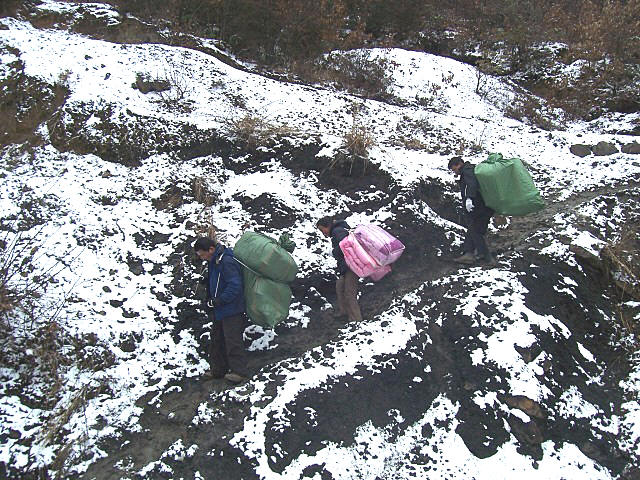 zzm134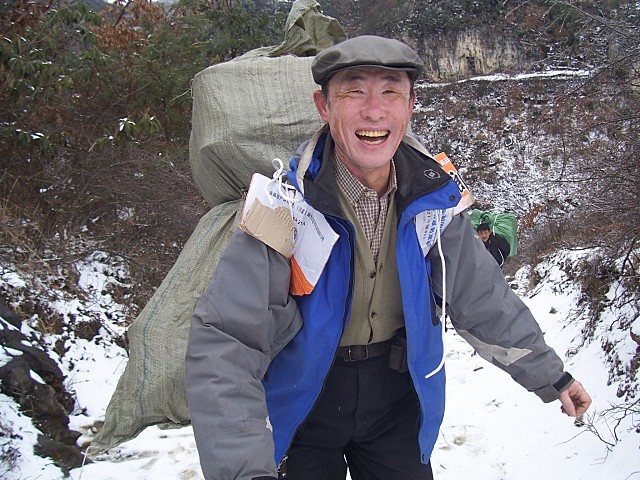 zzm087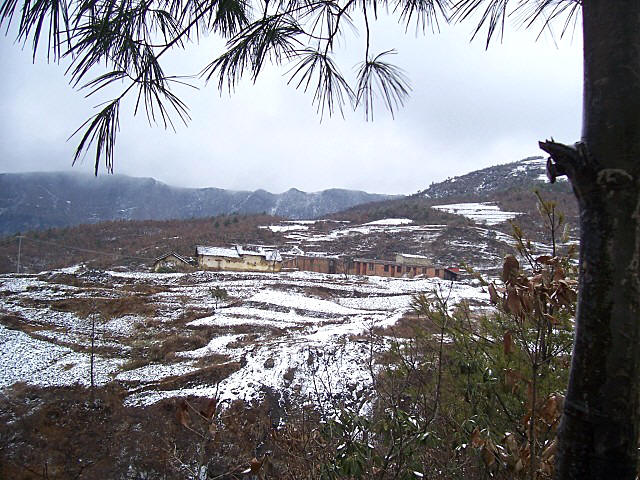 zzm135 Leprosy Colony as seen from afar.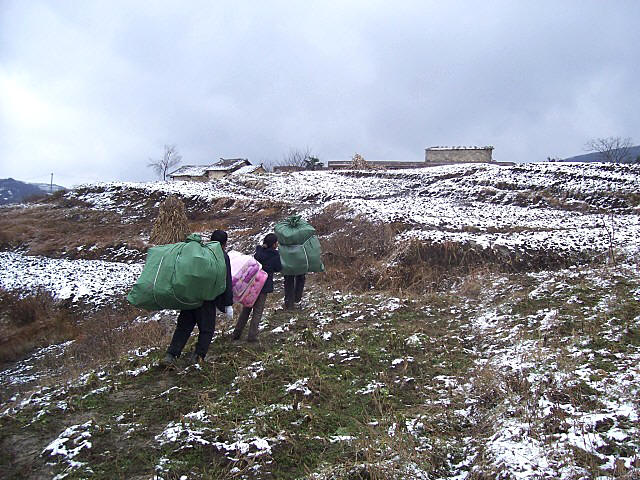 zzm136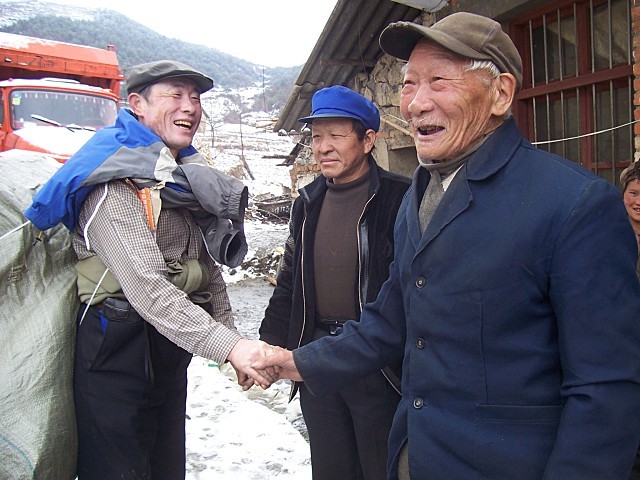 zzm137 Volunteers arrive at the Leprosy Colony and meet the local leaders and leprosy patients, as well as their families and fellow residents.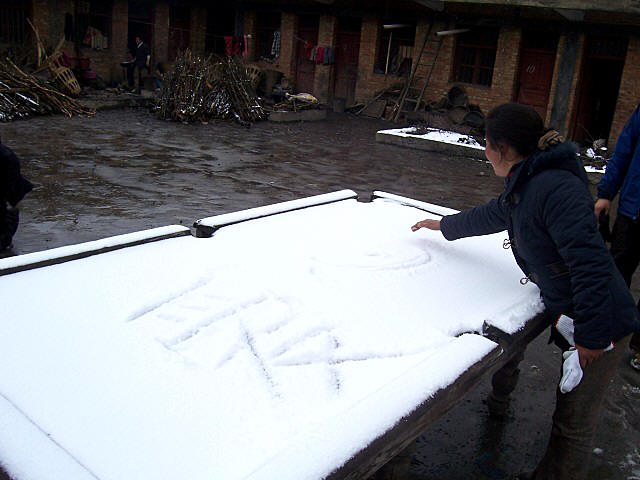 zzm138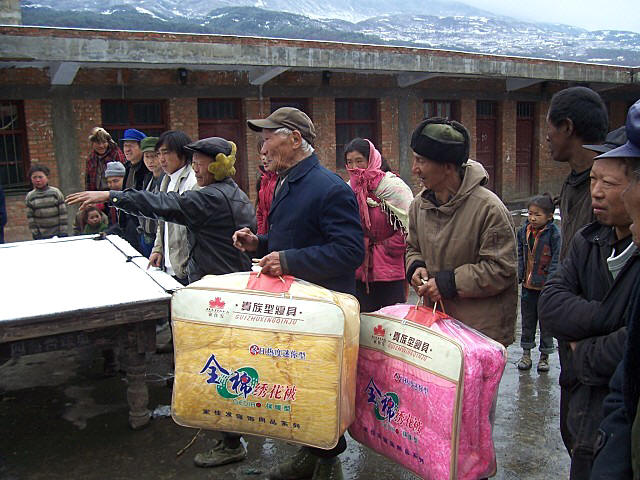 zzm139 Mrs. Ma arranges the quilts and residents for distribution.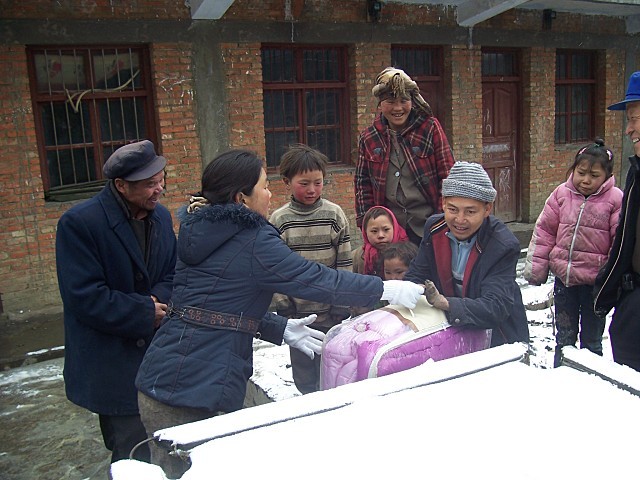 zzm140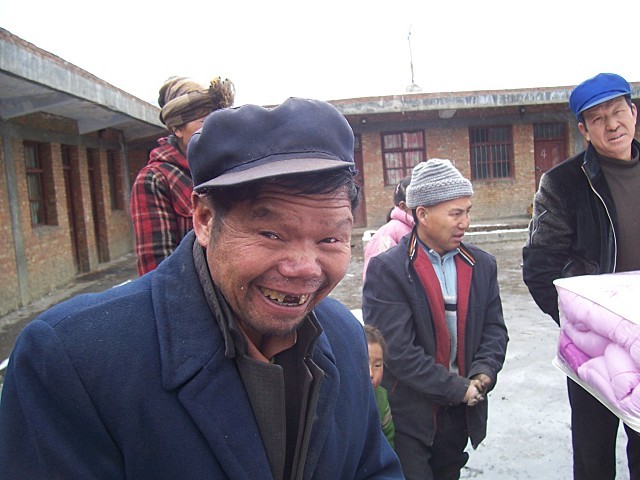 zzm141 Patients, families and residents receive their donated quilts.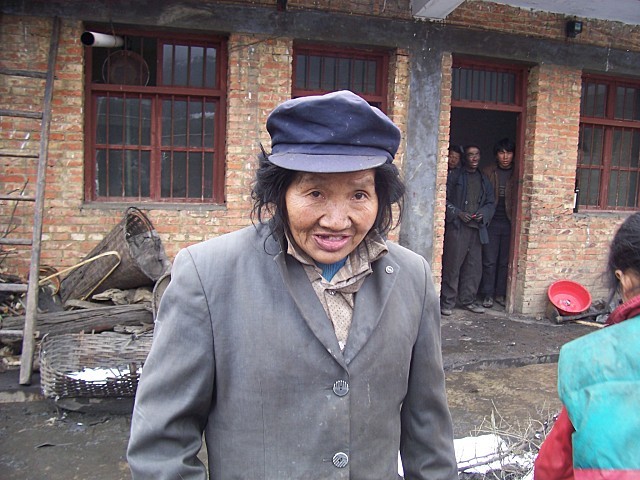 zzm142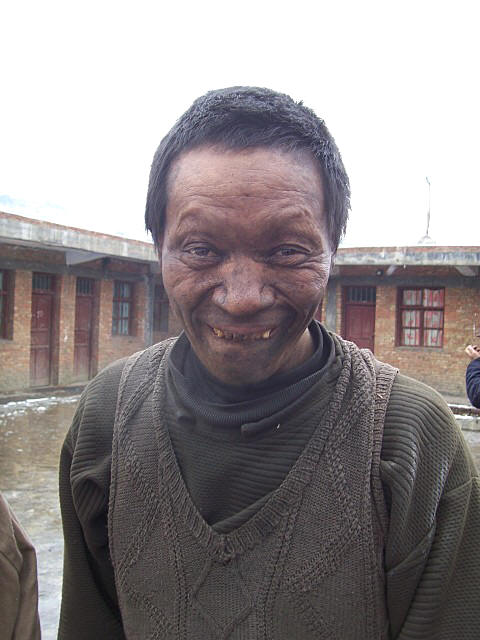 zzm143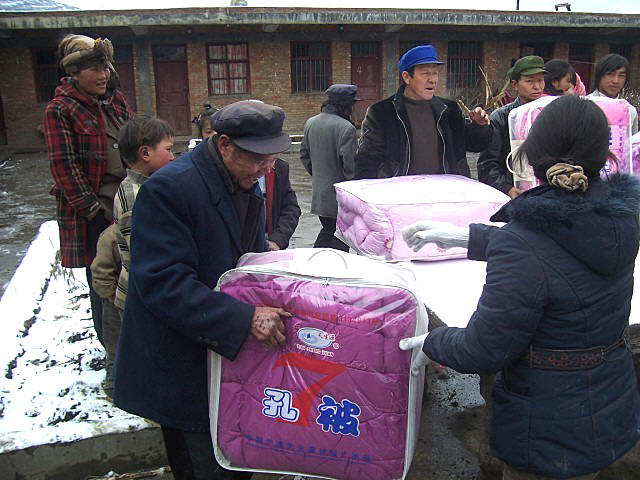 zzm144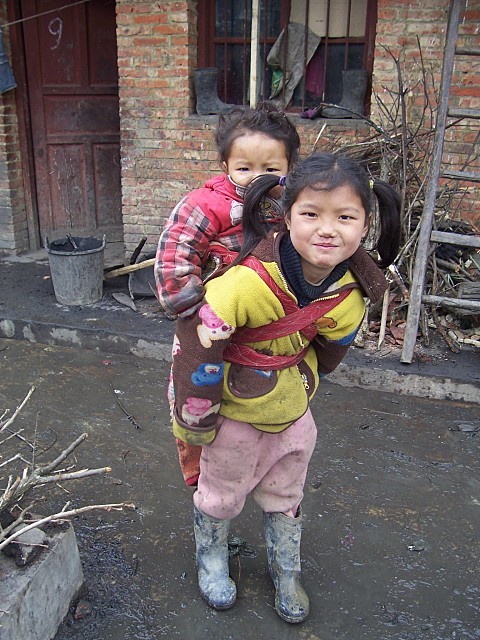 zzm145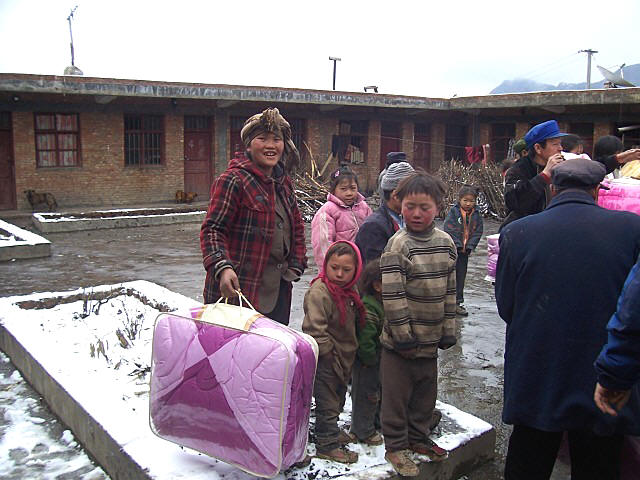 zzm146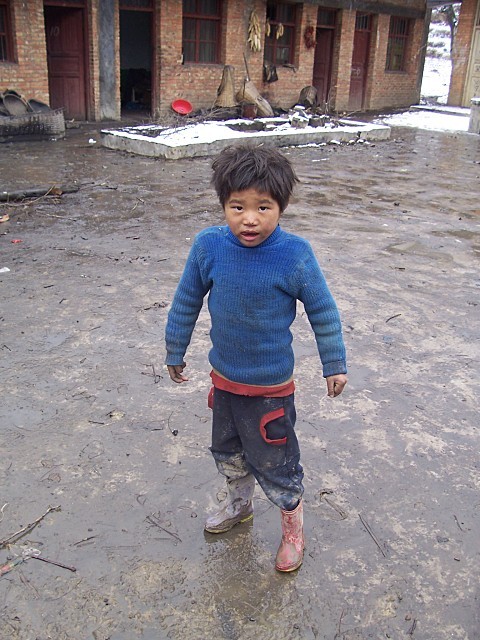 zzm147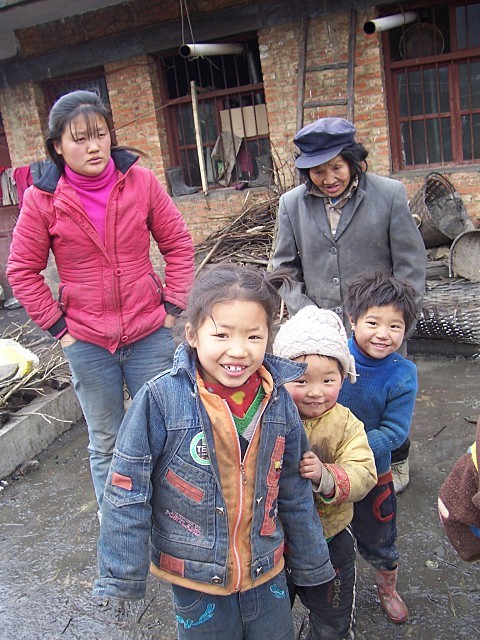 zzm148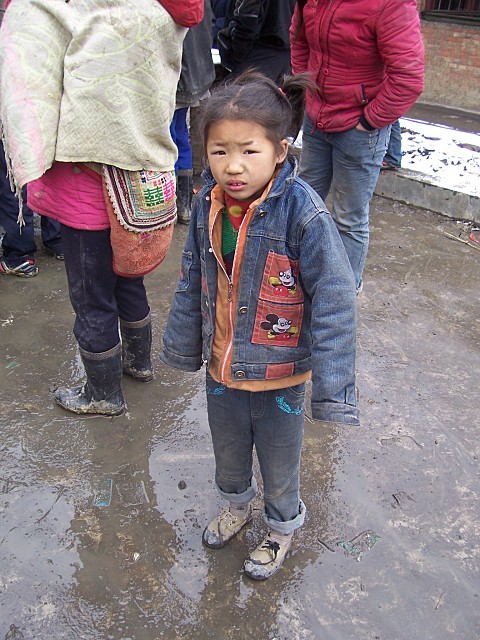 zzm149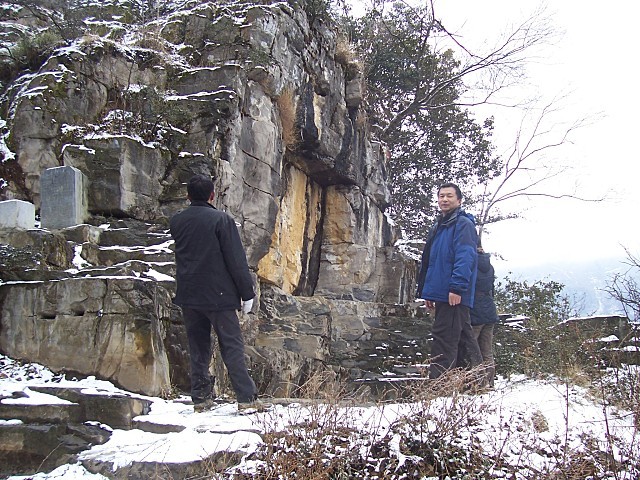 zzm150 Entrance to Stone Gate Village on the return path from the leprosy colony.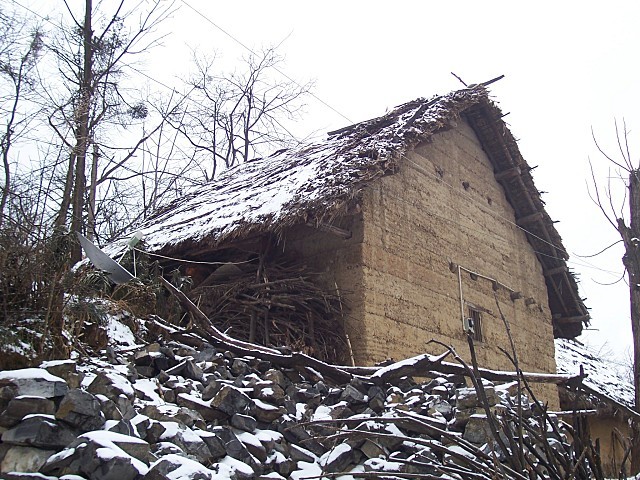 zzm152 Stone Gate Village homes.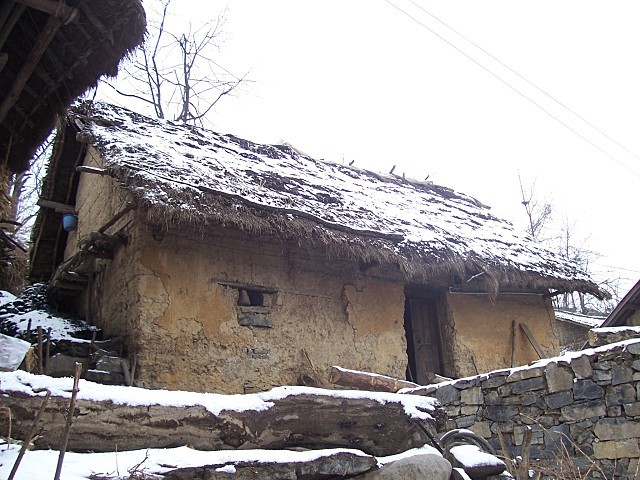 zzm153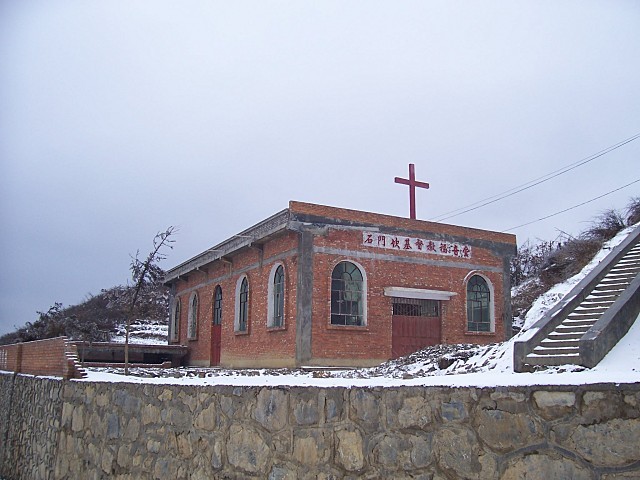 zzm154 Stone Gate Village church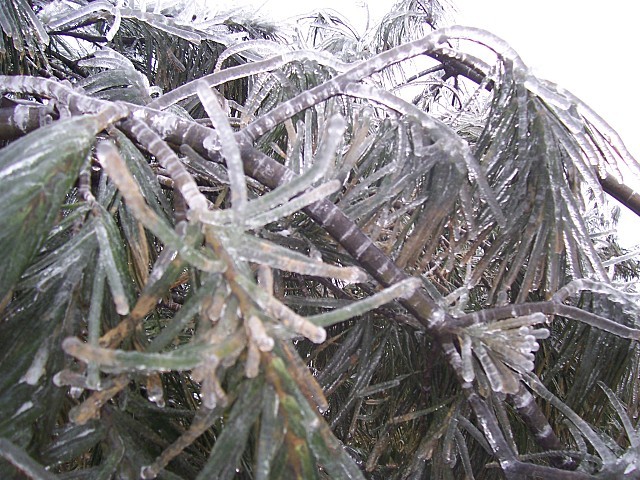 zzm159
zzm141 Volunteers take the path to Mrs. Ma's home village, Xinzai, a suburb of Stone Gate Village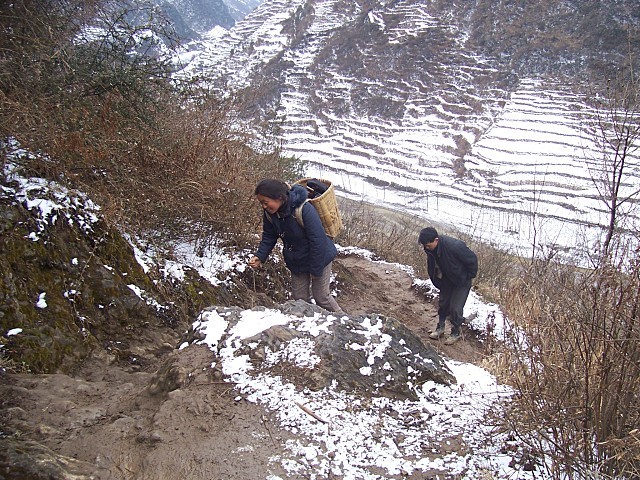 zzm144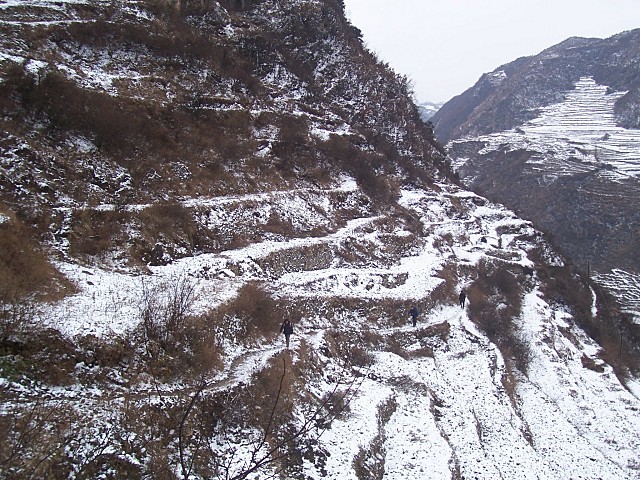 zzm146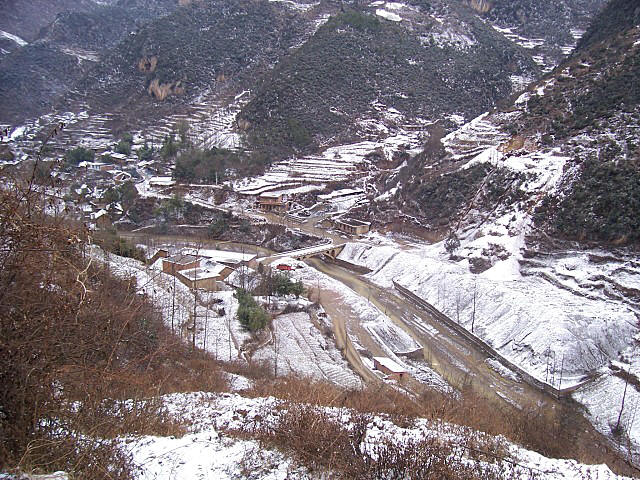 zzm139 要下到谷底再翻越对面的大山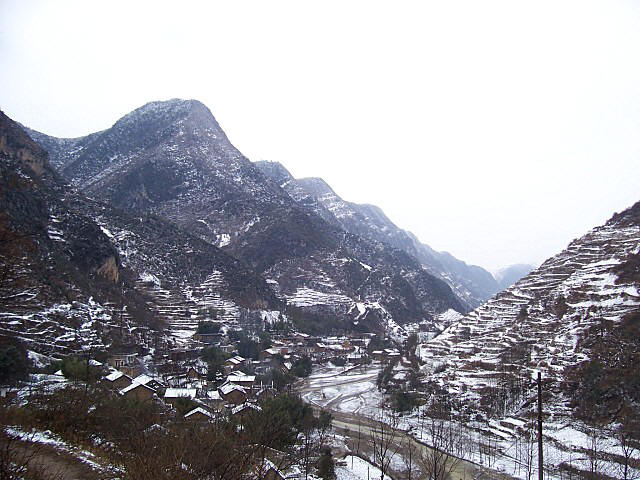 zzm142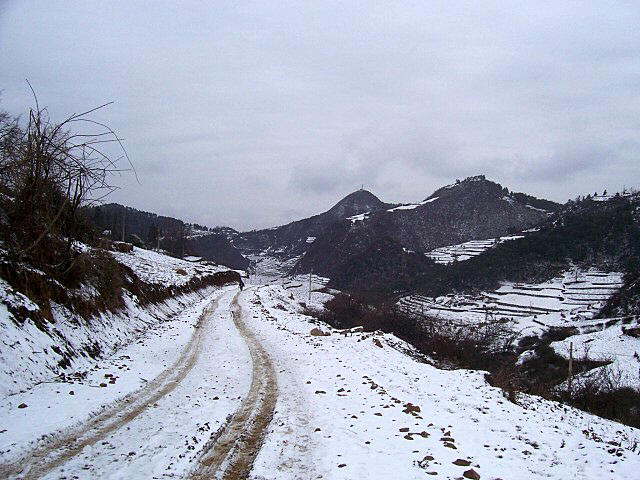 zzm149 大山终于被我们踩在脚下,新寨快到了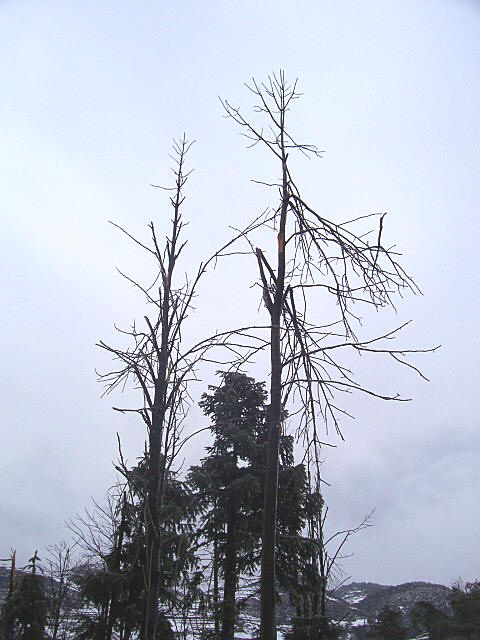 zzm154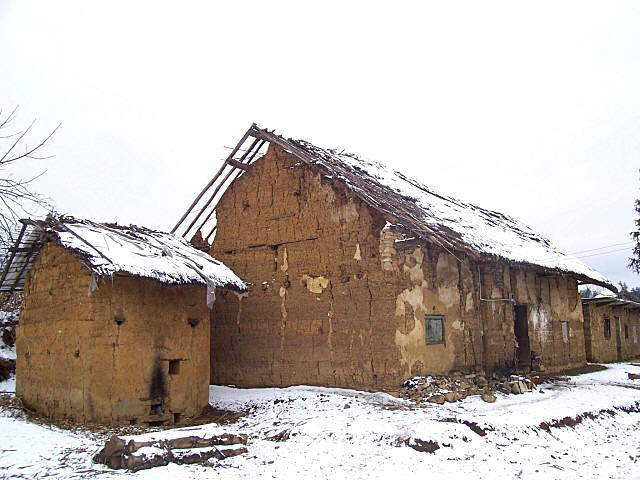 zzm155 Mrs. Ma's house in Xinzai (suburb of Stone Gate Village)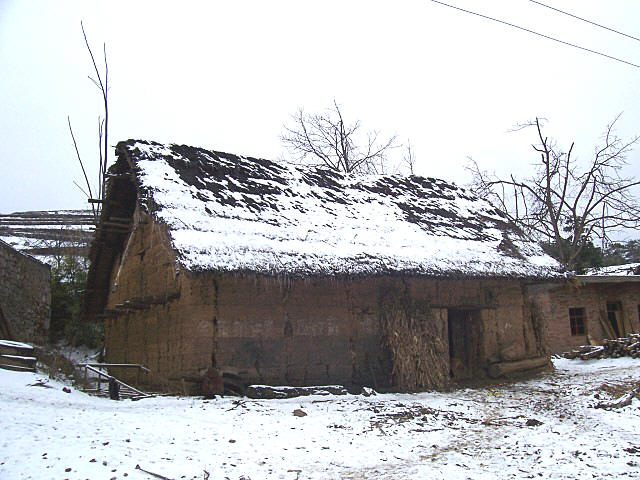 zzm156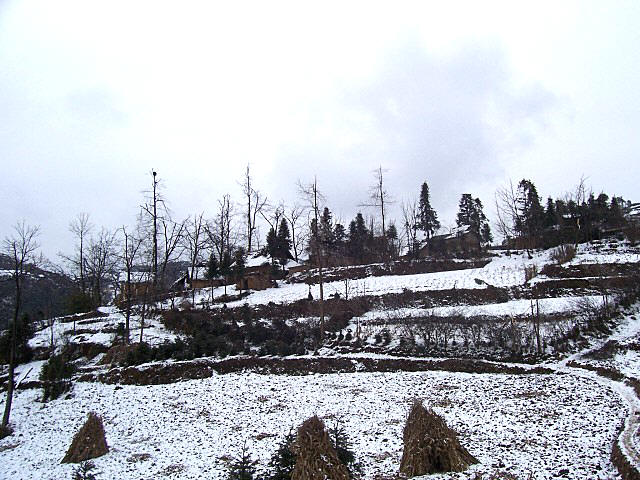 zzm157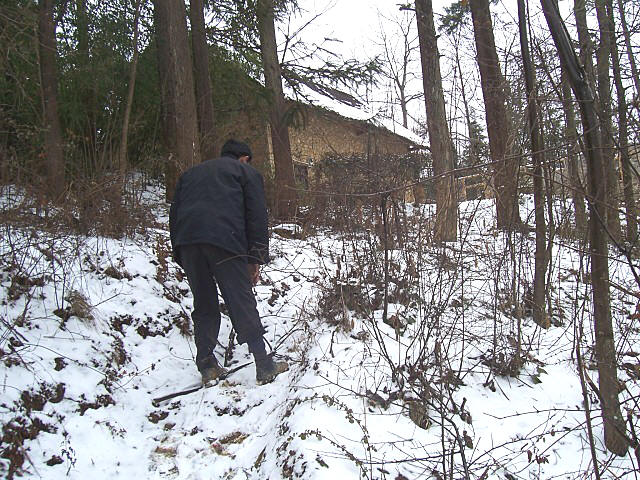 zzm135
Each family in Xinzai has approximately 2.5 mu, (1 mu=675 square meters, or less than half an acre) of land on which they grow walnuts and tobacco for export. The corn and potatoes grown on the remainder of the land serves as fodder for the animals, the seed crop for next year, and a year's supply of food for a family of four. If there is anything left the family can attempt to sell some to make a little profit.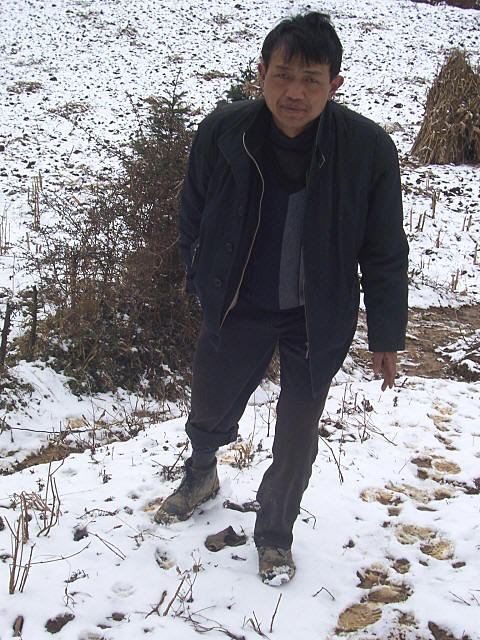 zzm134
Mrs. Ma's husband shows the volunteers around his village. Due to the extended cold weather and isolated location he has developed chronic rheumatism, which is now affecting his heart.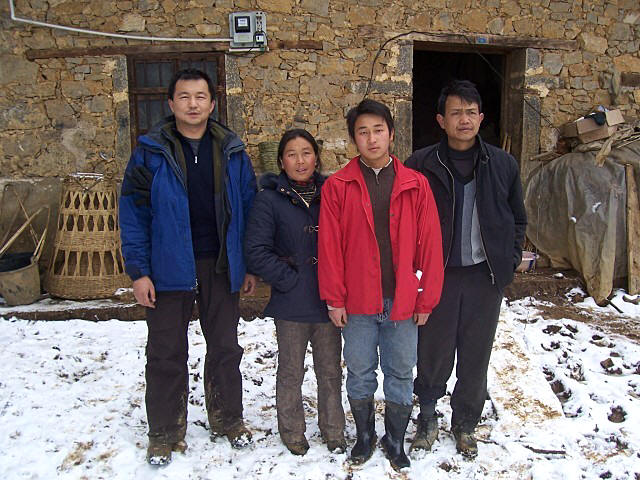 zzm130 Mrs. Ma's family in front of their family home with Mr. Xu and their oldest son.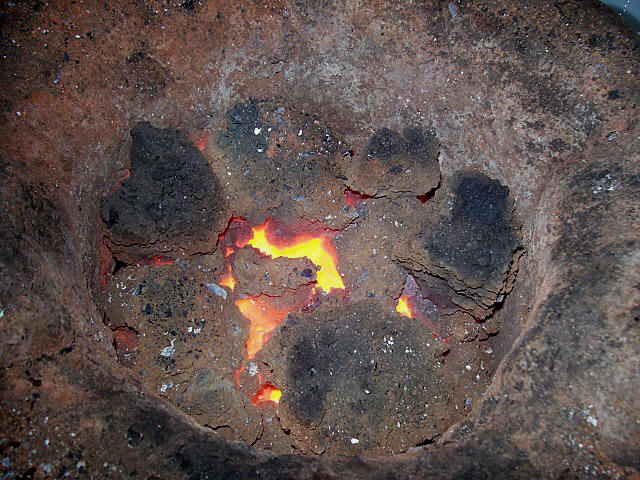 zzm132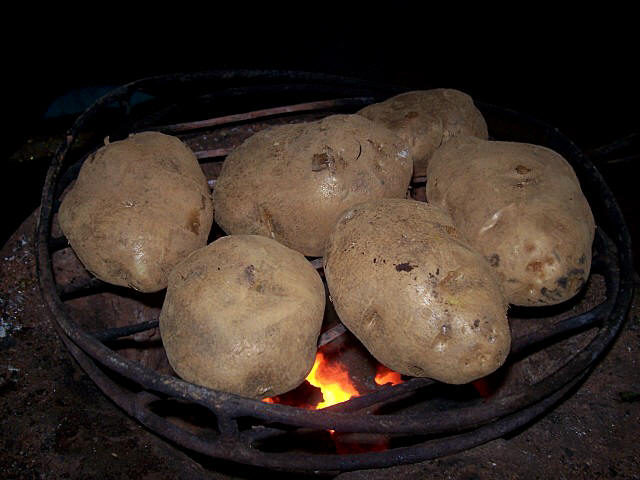 zzm133 Homes in the Stone Gate region have one coal-fueled stove used for heat, cooking , and preparing food for the livestock.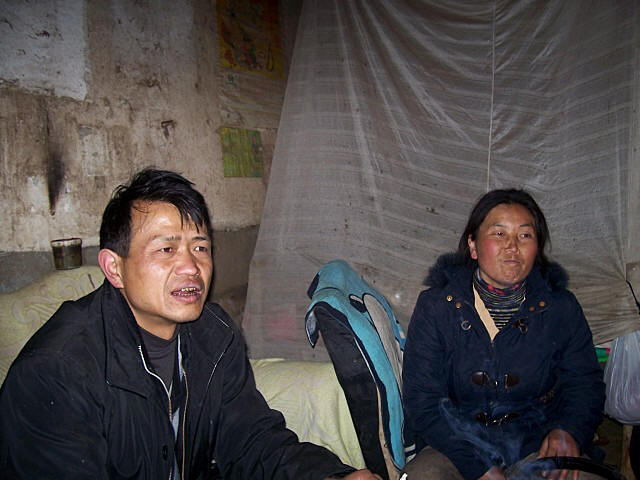 zzm131 Mrs. Ma and her husband discuss conditions with the Shimenkan Connection volunteers.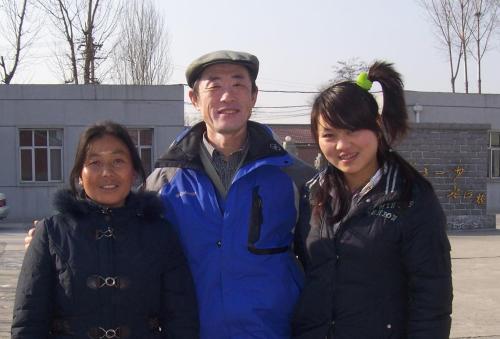 zzm215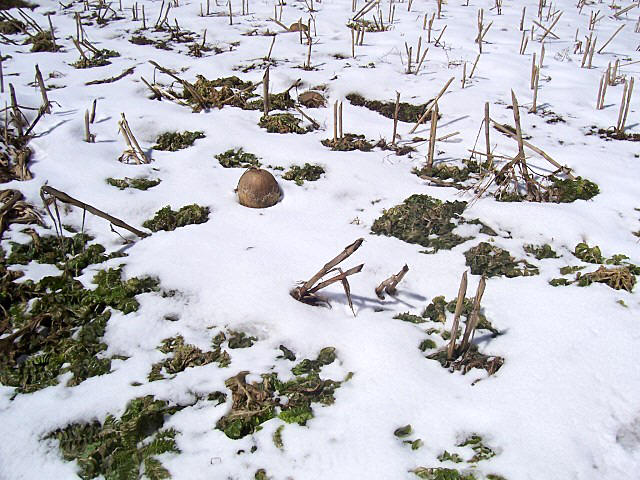 zzm174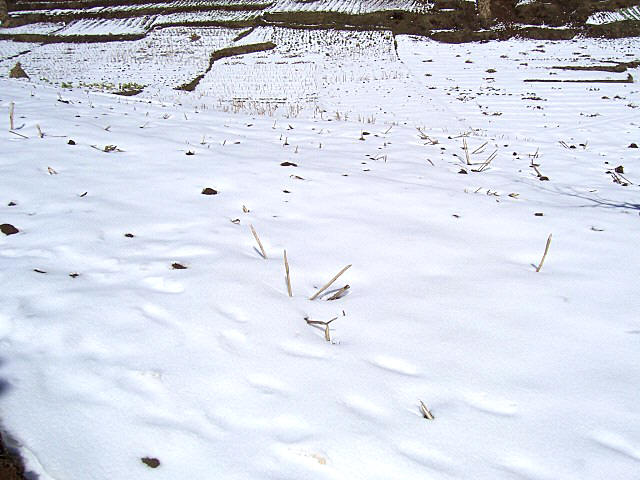 zzm175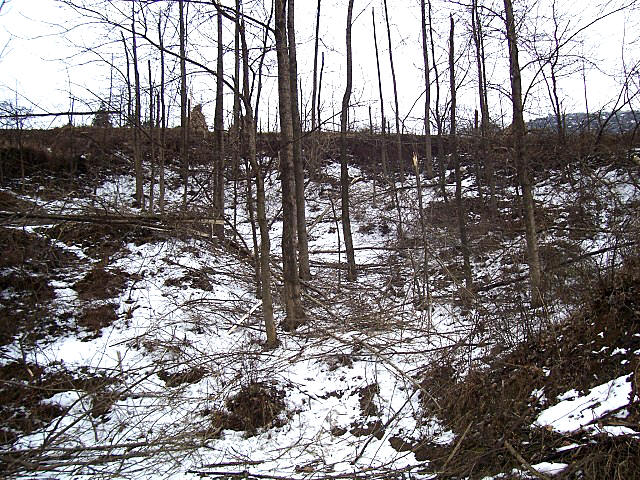 zzm196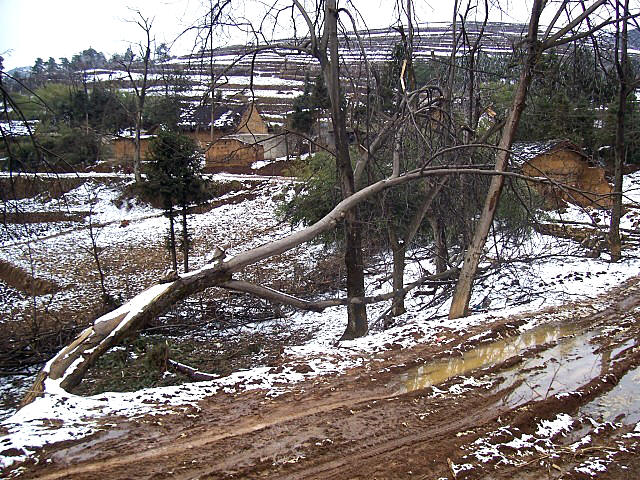 zzm167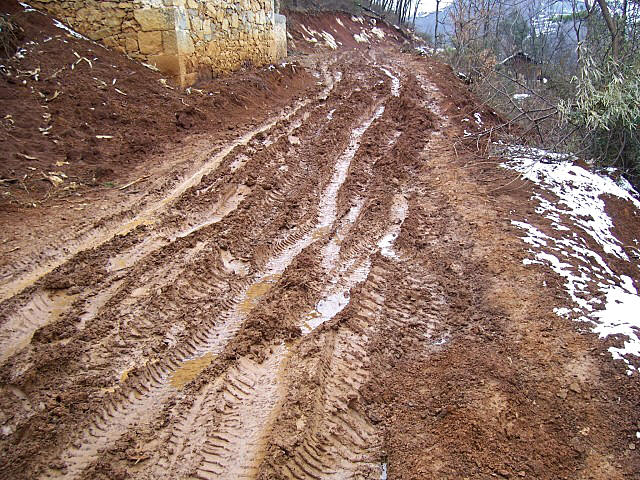 zzm164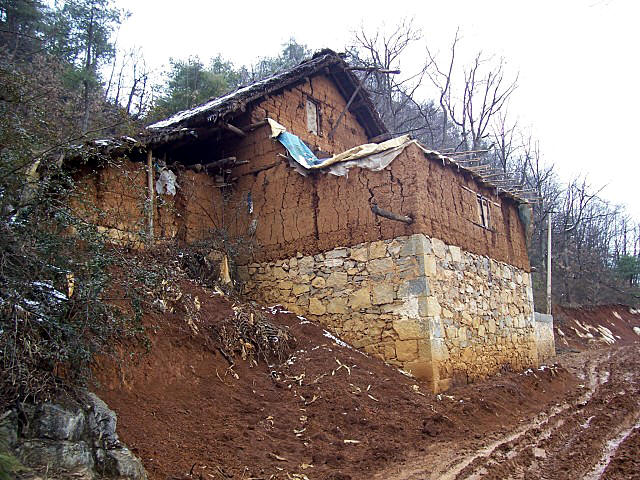 zzm163
zzm160 In the Stone Gate region 80% of last year's potato crop has frozen due to the storm. This leaves only 20% for food, fodder for the animals, and spring time planting. By this time (March) the tobacco crop should already be harvested and the potato seeds should be in the ground. Due to the weather conditions neither of these have been accomplished. While the villagers have enough to eat for the time being, the late planting season will cause a drastic shortage of food and money in the coming months. The bus that shuttles villagers from the suburbs to Stone Gate Village on market day is still able to run, due to chain-snow tires, but there is little other transportation that can transverse the muddy and deteriorating roads. Consequently in the village inflation has sky-rocketed; the cost of meat, rice, vegetables and coal has more than doubled since January, leaving many villagers hungry and destitute.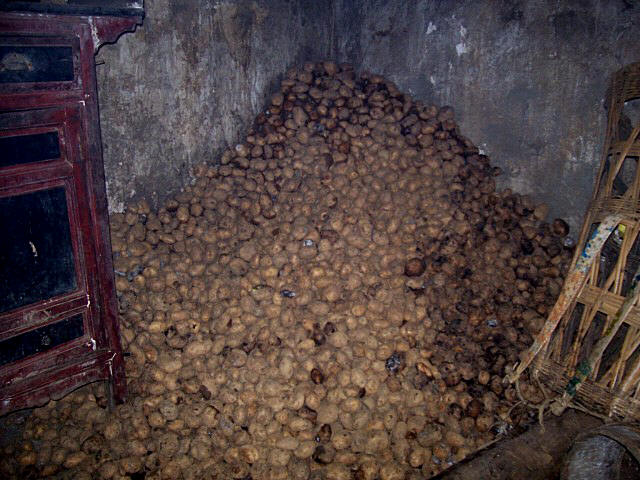 zzm161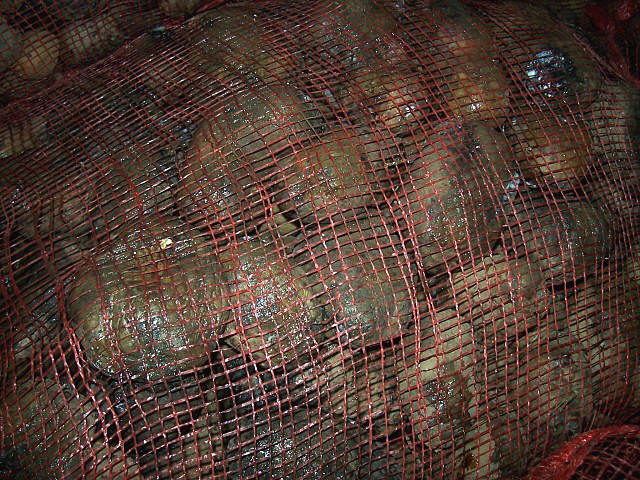 zzm162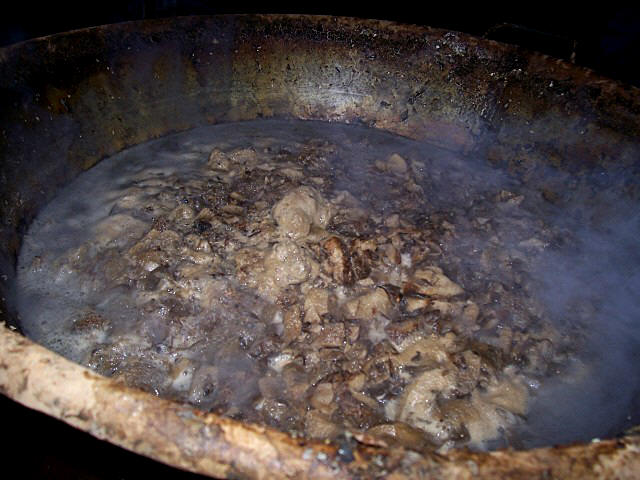 zzm198 These rotten potatoes cooked into fodder for the livestock is inedible even for the pigs and oxen. Between Xinzai's eighty families, eight oxen and 70-80 pigs have already died due to weather conditions and malnutrition. Each family only raises one to two pigs for slaughter and meat each year. The oxen are used to farm the land. With livestock dying and the price of meat continuing to double, villagers are facing a serious meat shortage, not just for the time being but in the coming years.
---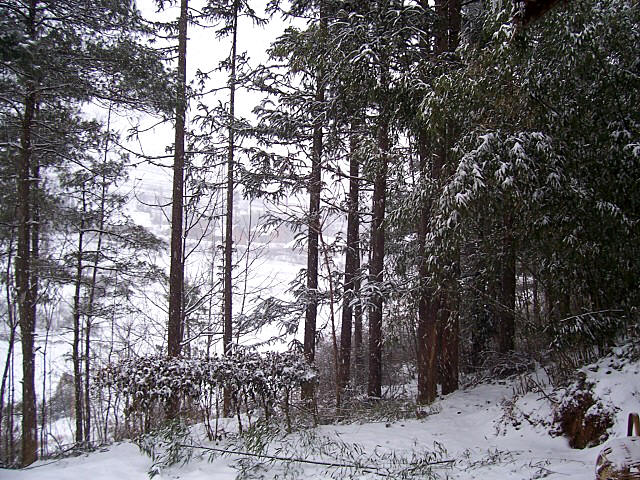 zzm400 Frigid weather and snow continue to plague the residents and volunteers in the Stone Gate region.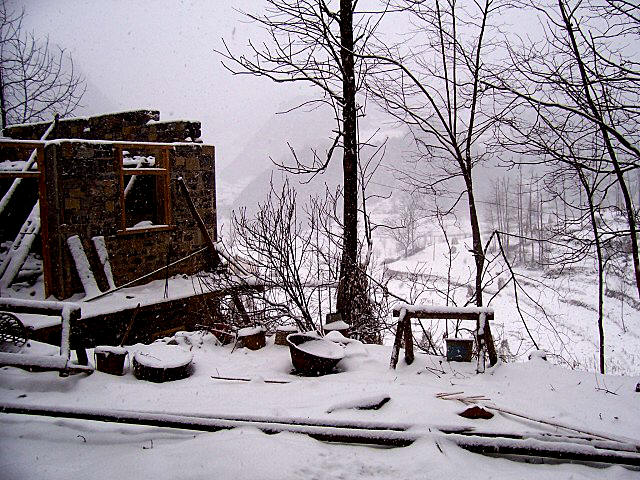 zzm401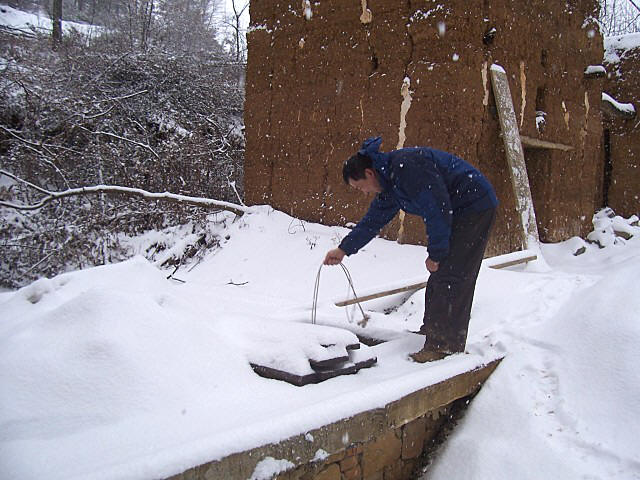 zzm401 Mr. Xu collects water from the Ma family's well, which was built by Oxfam in 1996.
 
zzm403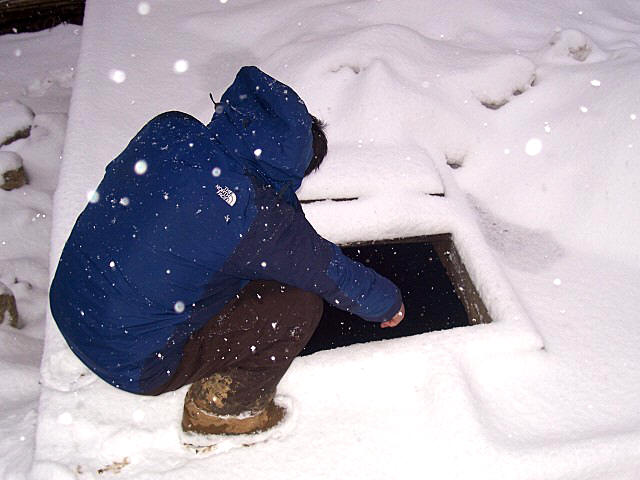 zzm404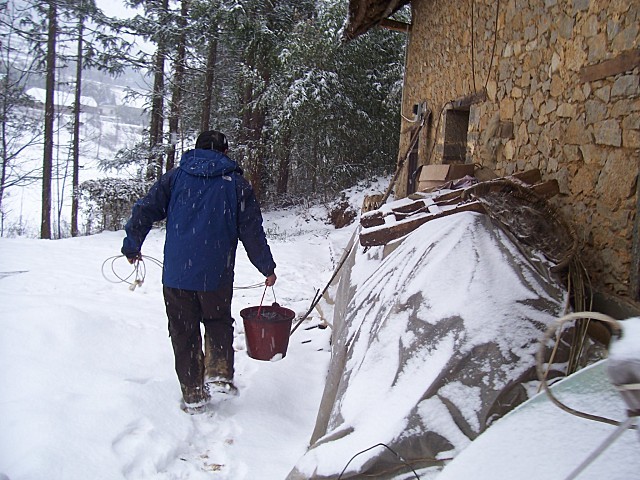 zzm405 他终于把水打上来、提回去了——他这次到国内来确实经历了很多他一生中的第一次……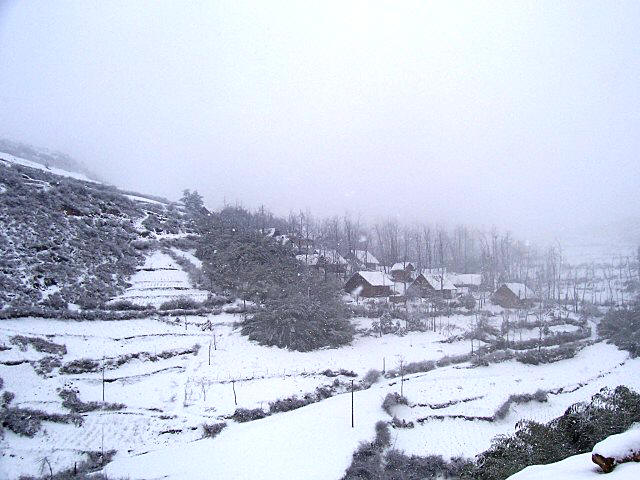 zzm485 Despite the poor weather conditions, Mr. Xu and Mr. Zhou, along with Mrs. Ma, decide to visit an extremely isolated suburb of Xinzai called Tongjie to assess the damage and deliver relief supplies. Tongjie is one of the poorest villages in the region and one that even Mrs. Ma has never visited.
zzm537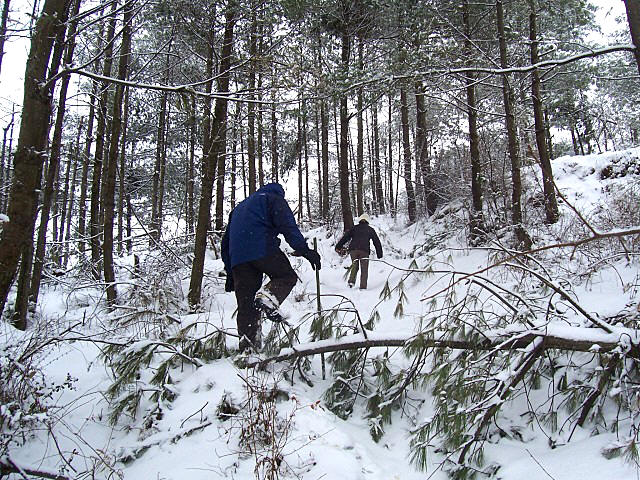 zzm539 Mrs. Ma leads the volunteers through forest and mountain paths to reach nearby villages. The path is nearly impassable due to the downed tress, poor road conditions and adverse weather.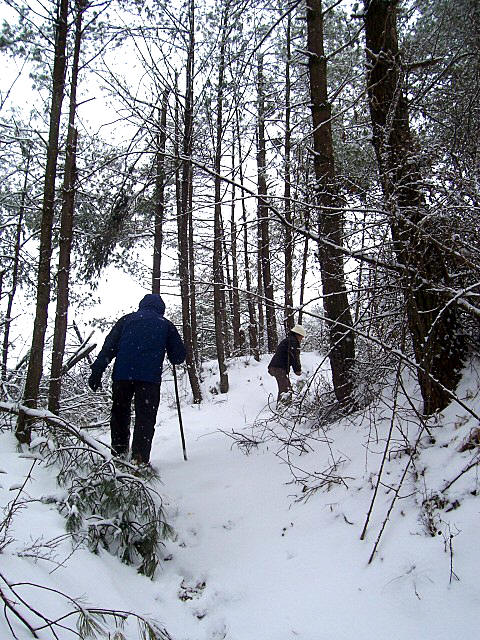 zzm540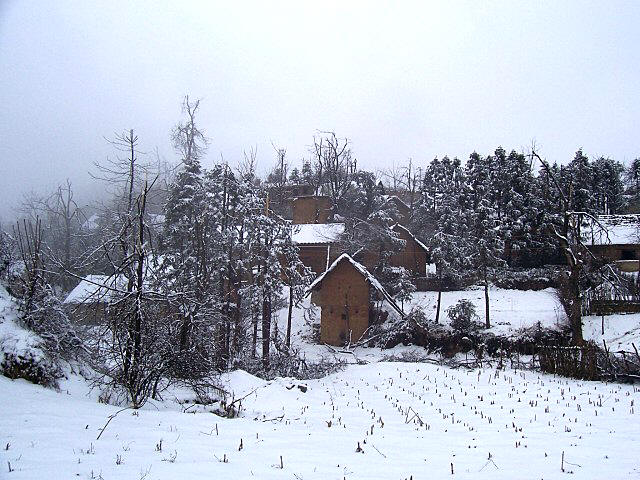 zzm545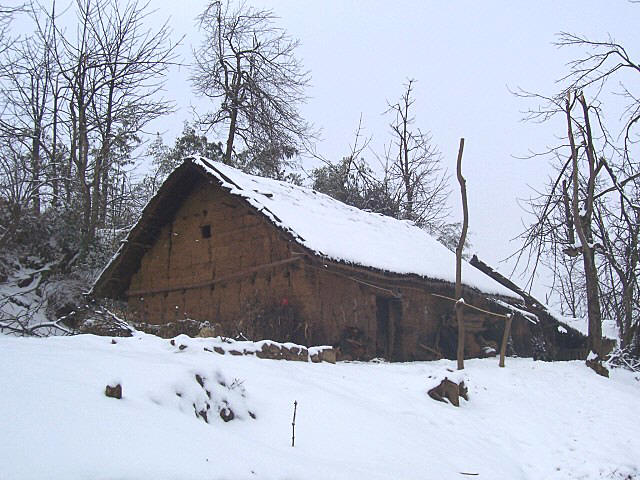 zzm546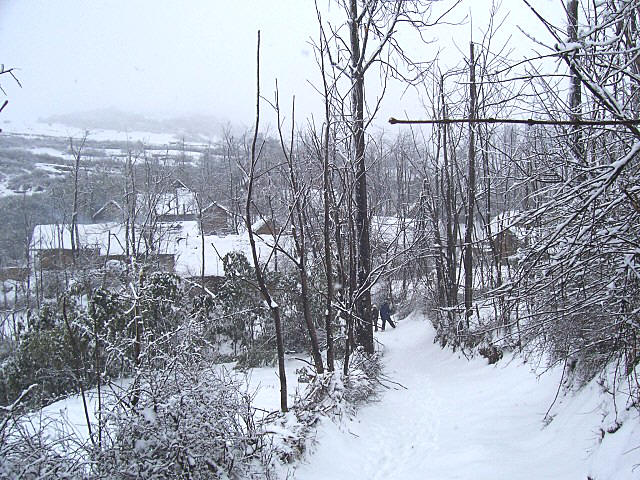 zzm486 新合五组到了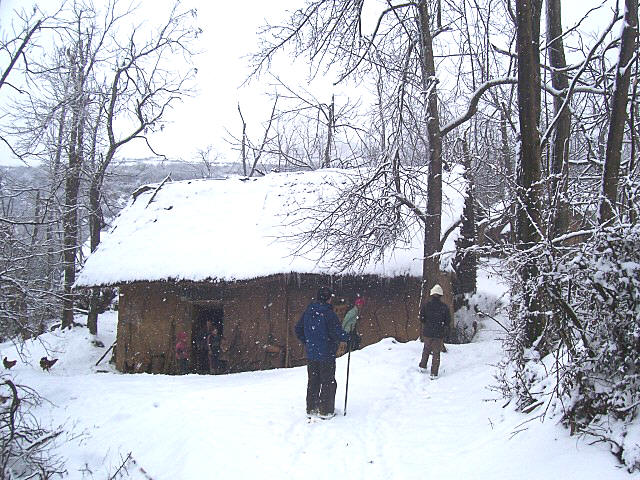 zzm487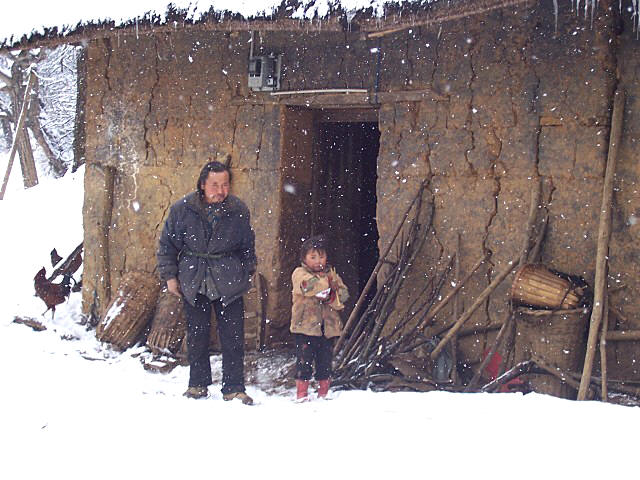 zzm488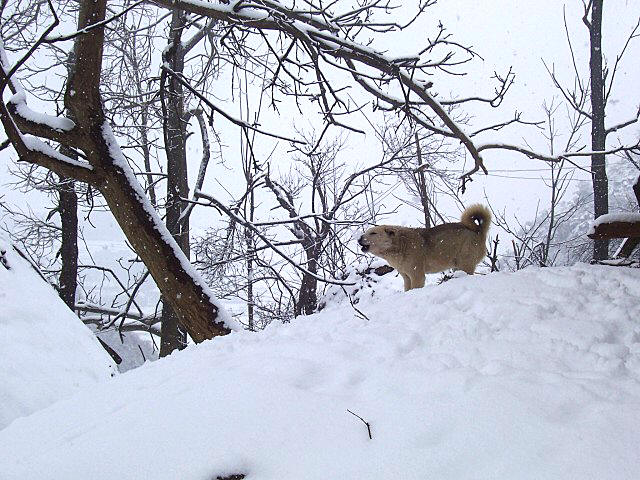 zzm489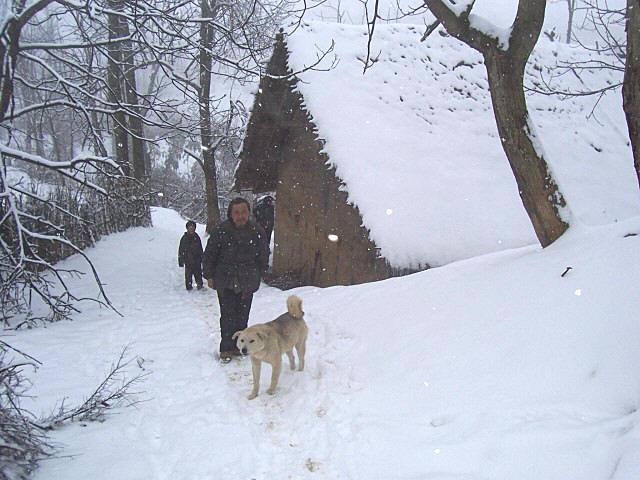 zzm491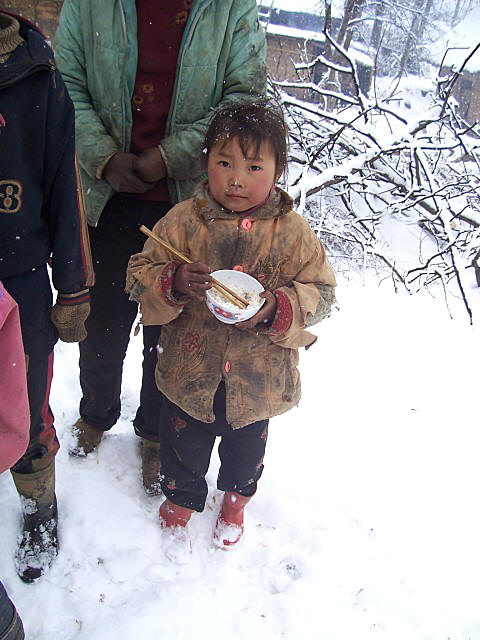 zzm492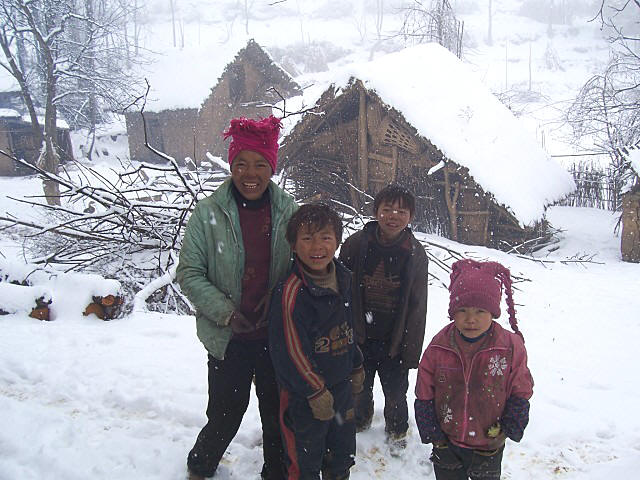 zzm493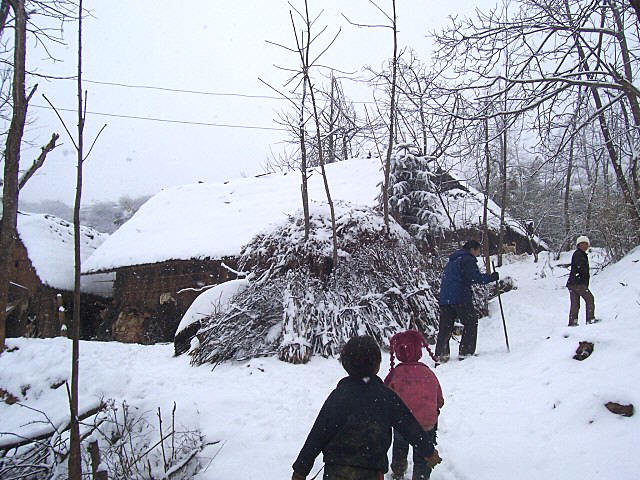 zzm494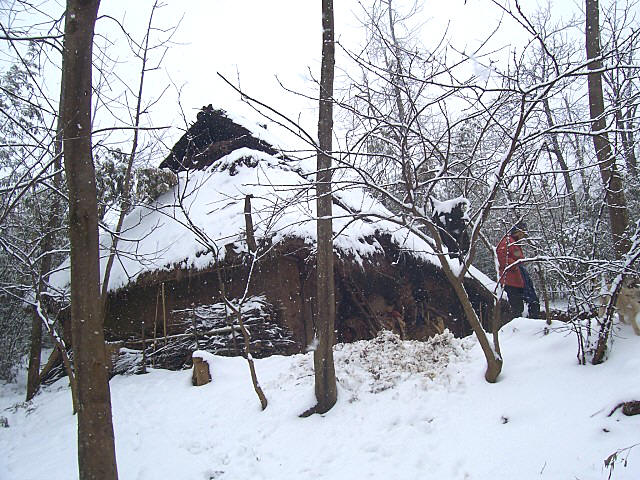 zzm
zzm496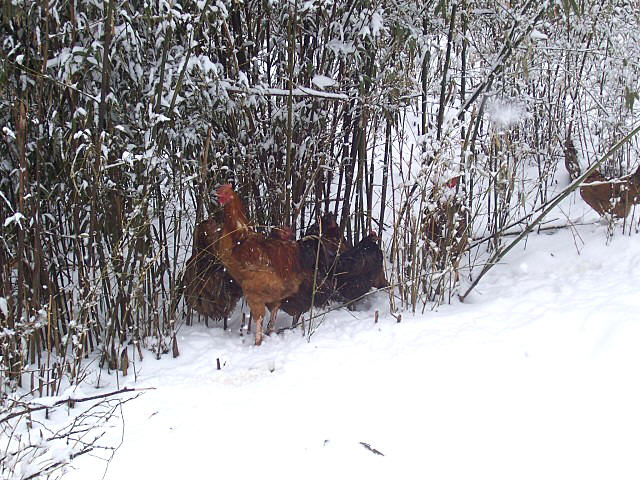 zzm497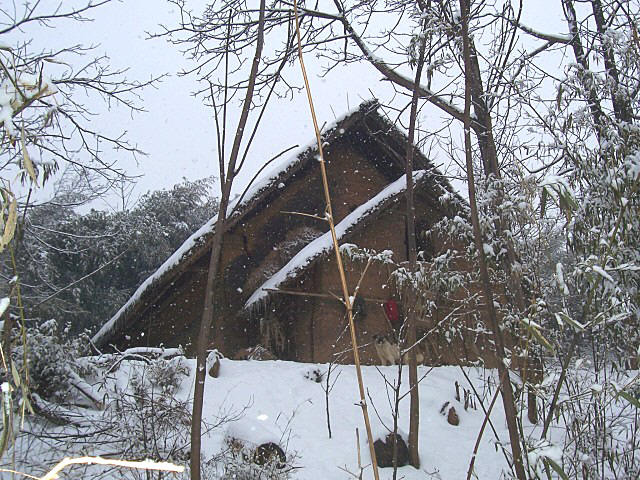 zzm498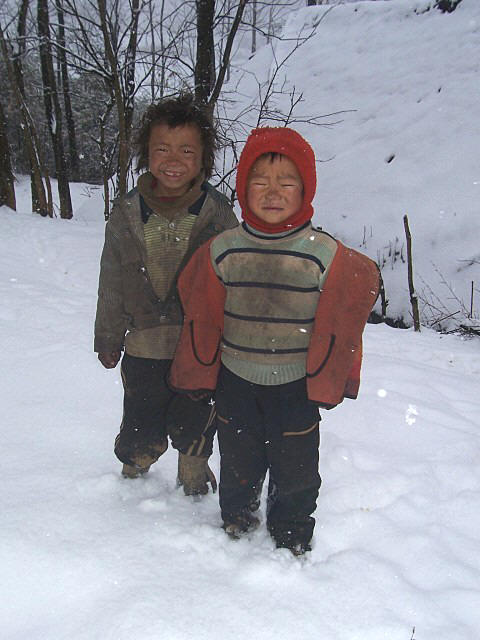 zzm499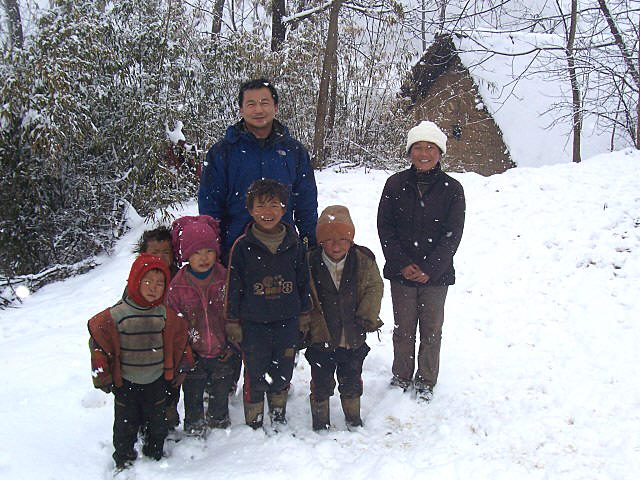 zzm500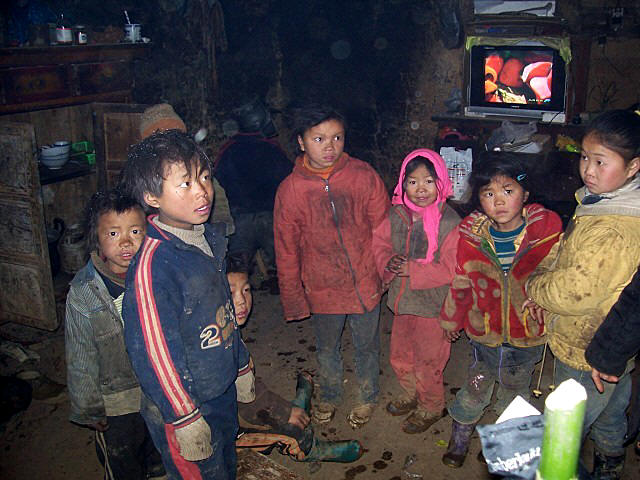 zzm502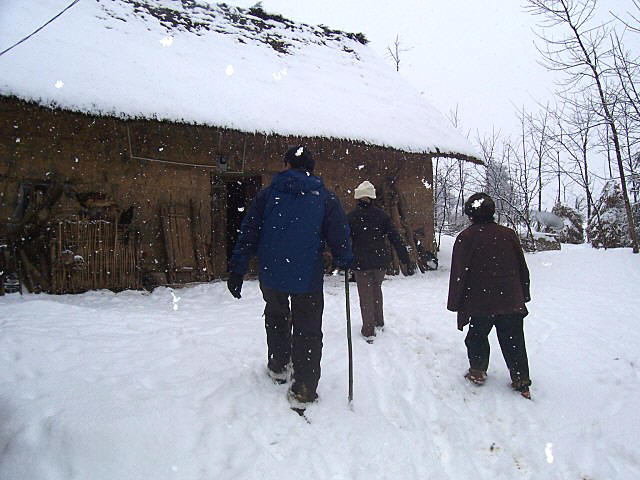 zzm508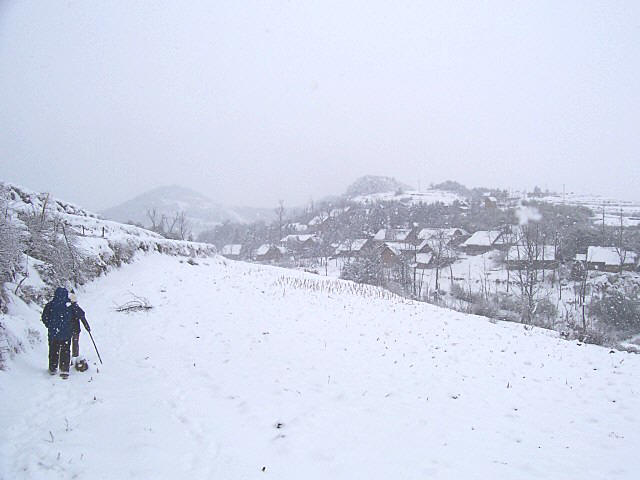 zzm522 随后,我们又到了新合四组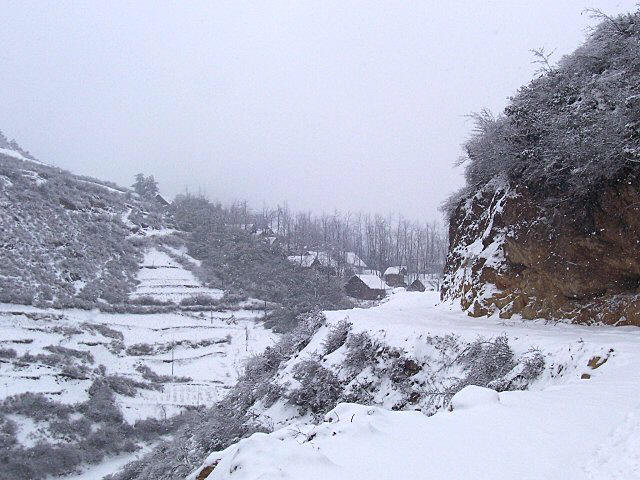 zzm512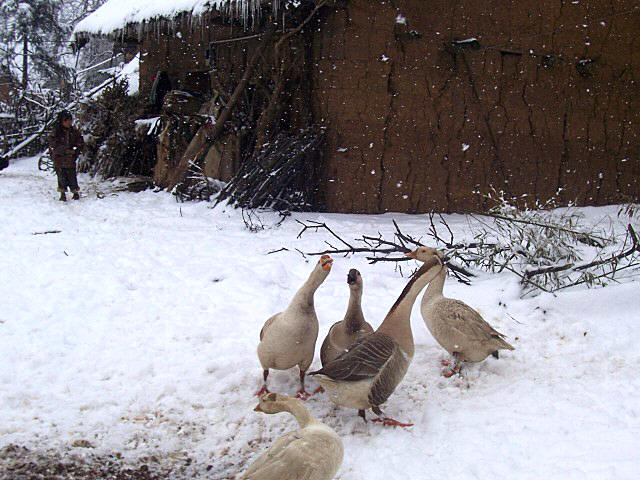 zzm513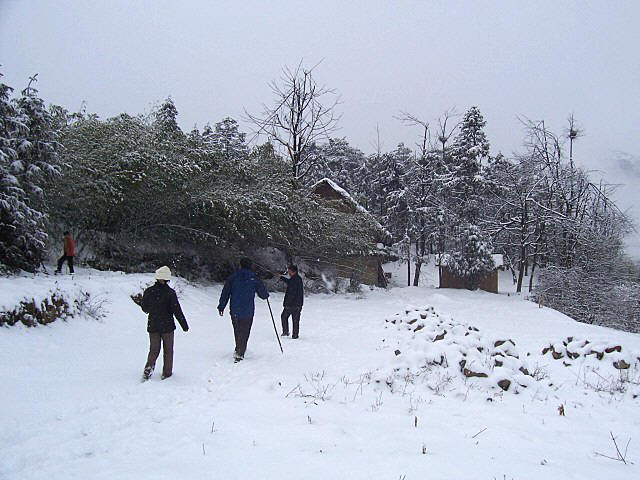 zzm518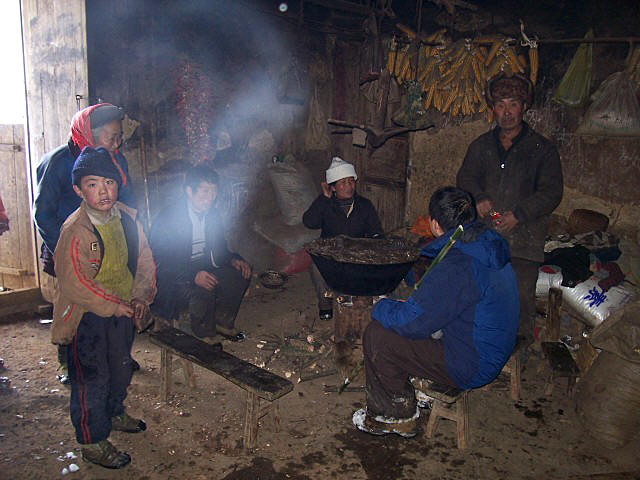 zzm523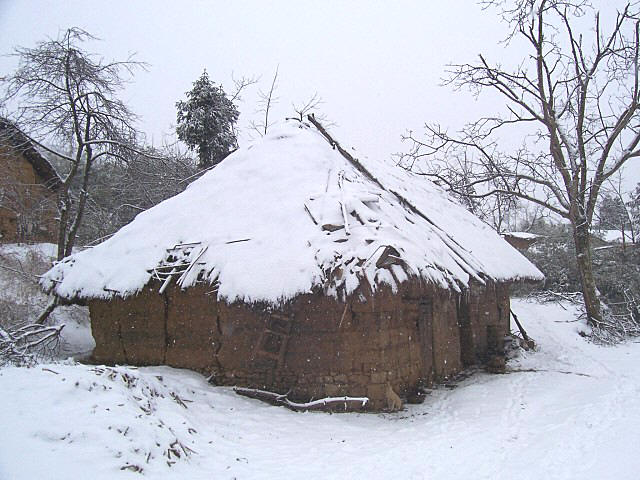 zzm536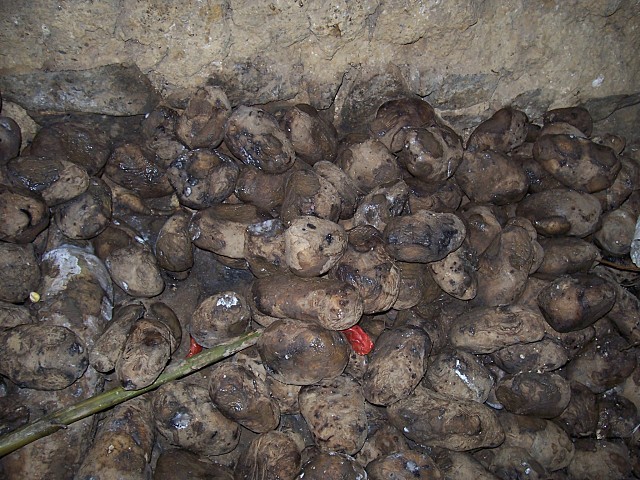 zzm554 All potatoes in the household are frozen.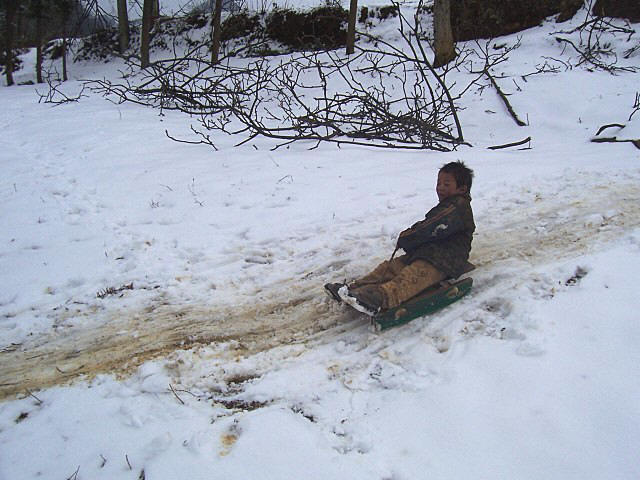 zzm456 Children playing in the snow.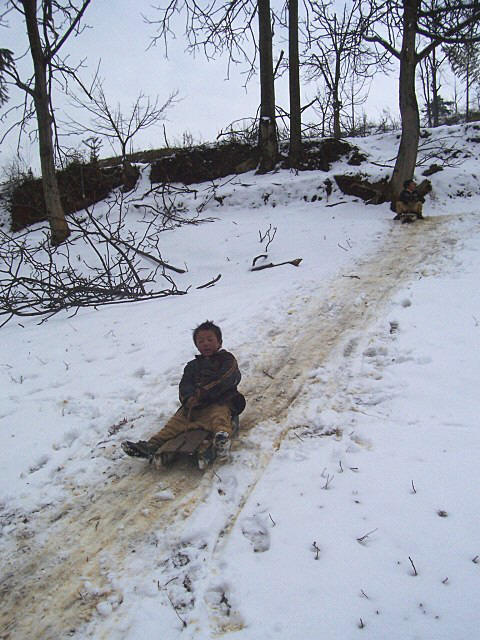 zzm457
zzm458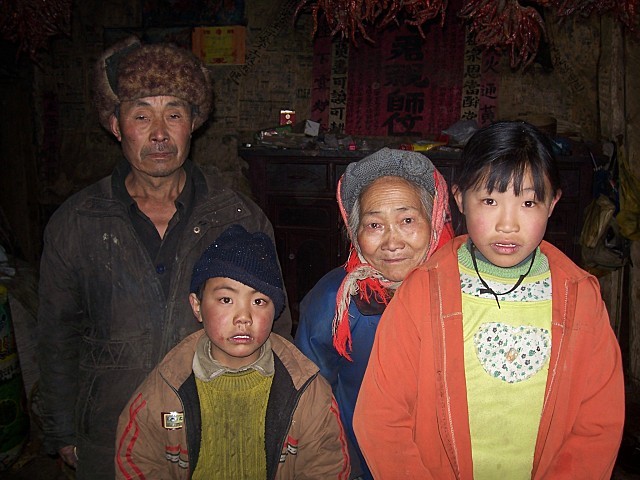 zzm525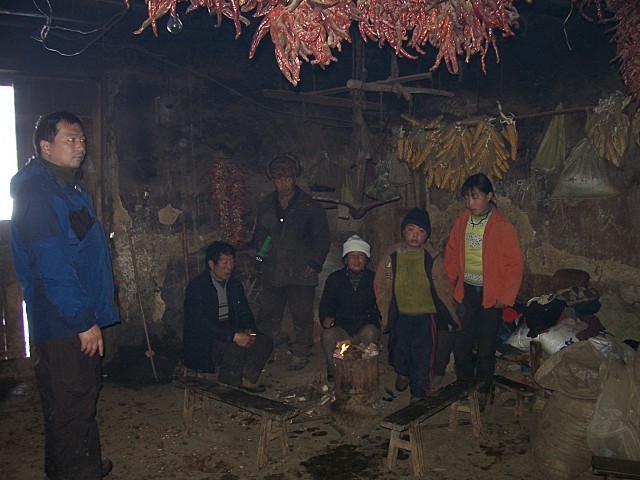 zzm532 This family consists of two children whose parents have both died and their elderly grandparents. Last year they sold 10,000 potatoes for 20 dollars to buy farm chemicals for this year's crop. Now 90% of their potatoes have frozen, leaving no food, fodder or seeds for this year's planting season.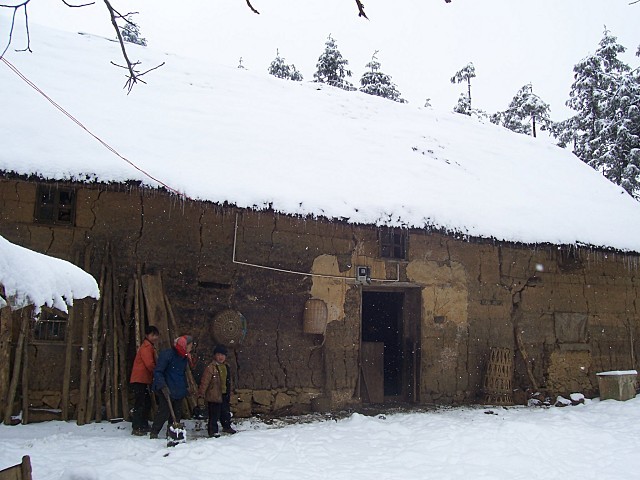 zzm520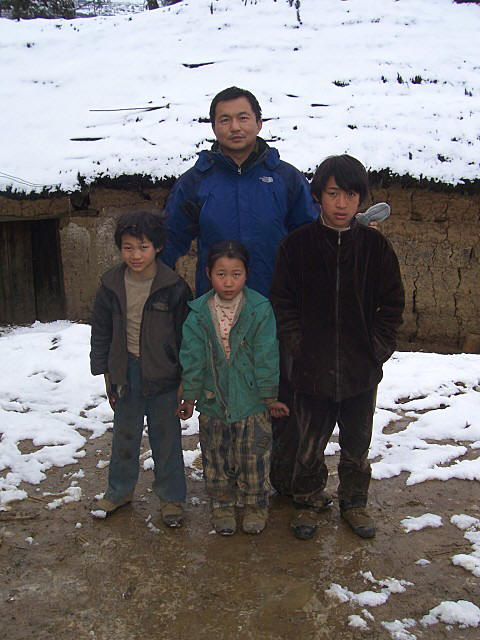 zzm472 Mrs. Ma and the volunteers continue to visit other neighboring villages and give them rice.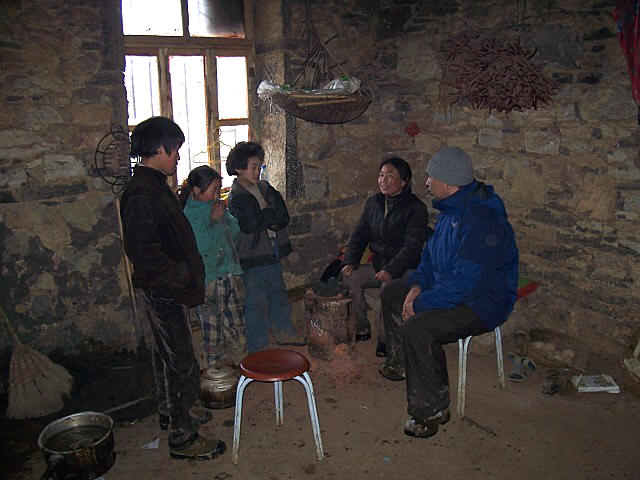 zzm481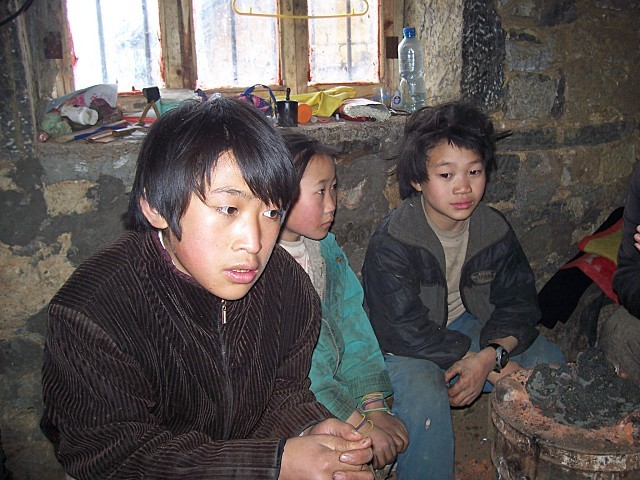 zzm482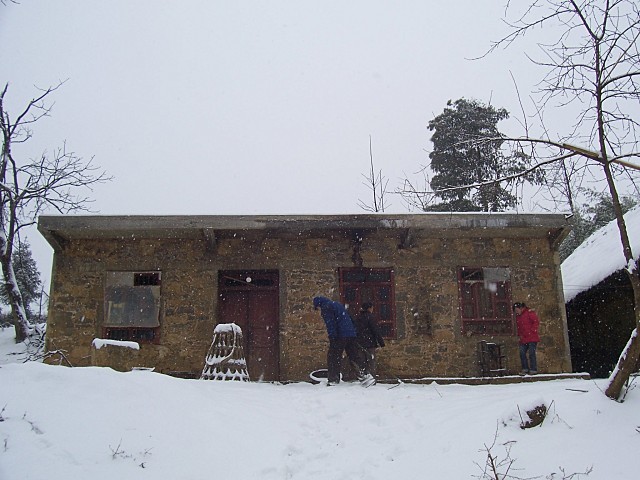 zzm460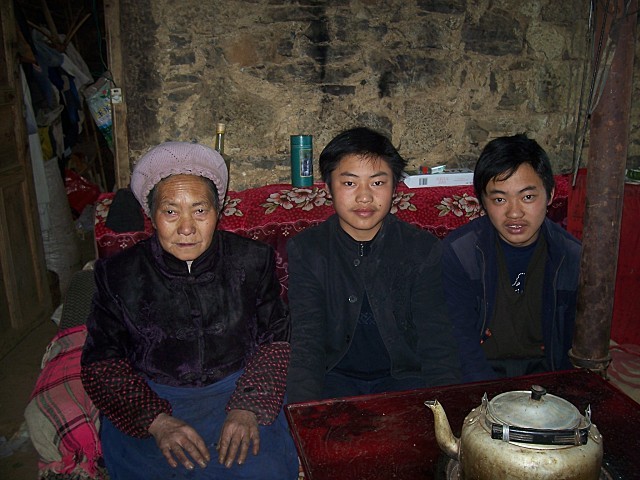 zzm465 Mrs. Ma and the volunteers continue to visit other homes and give them rice.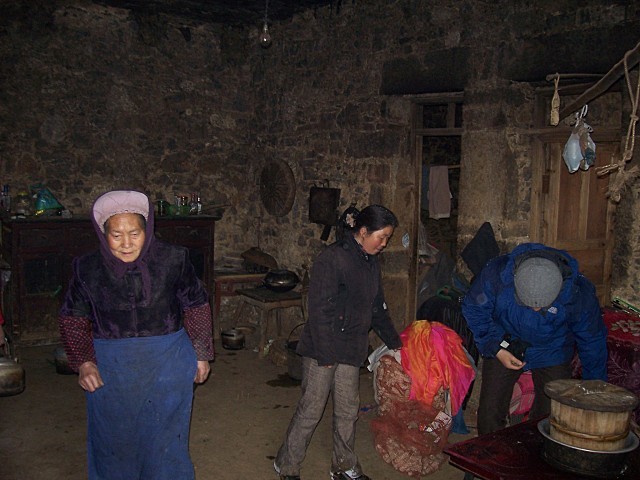 zzm461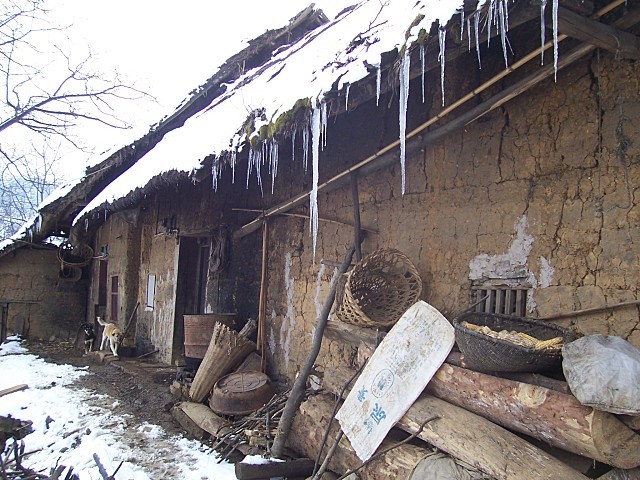 zzm455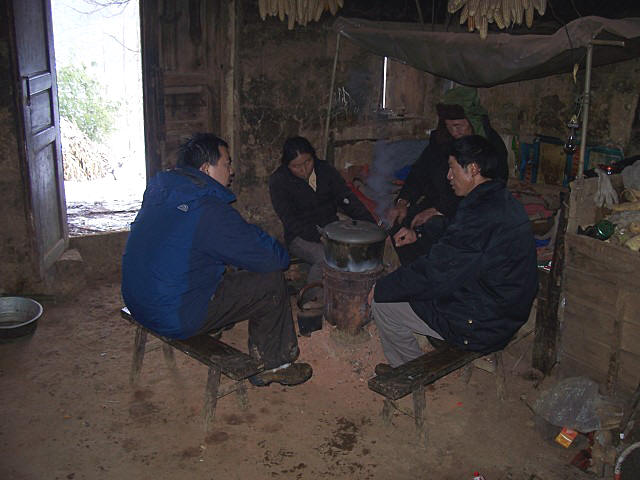 zzm454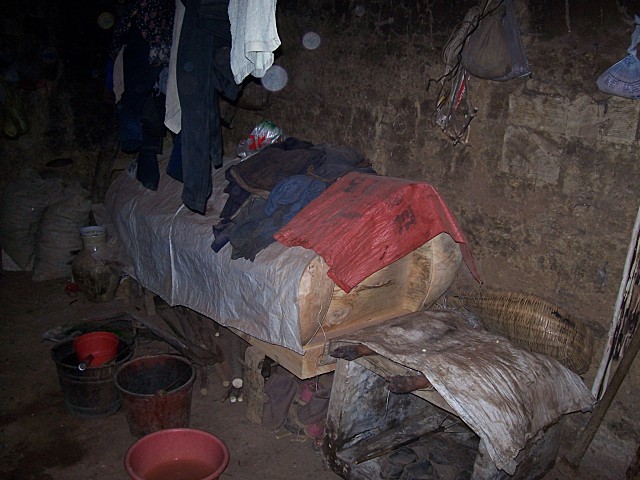 zzm469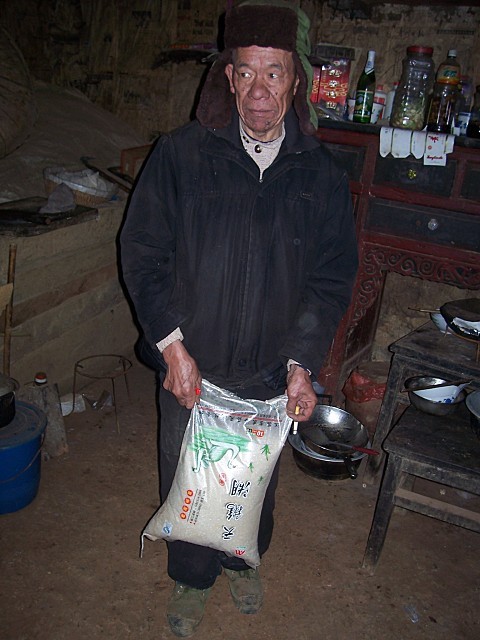 zzm467
---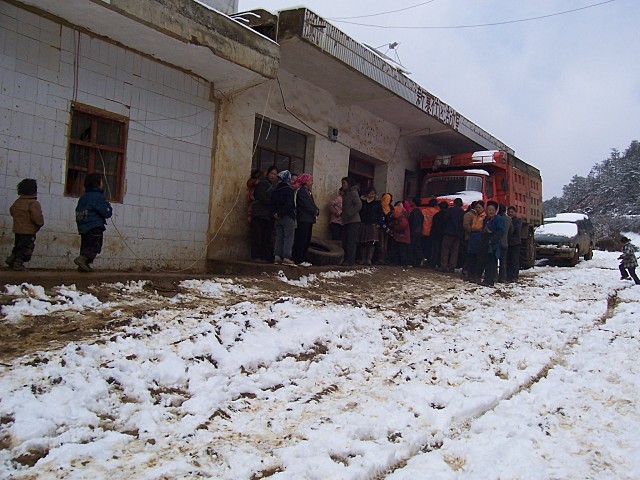 zzm407
Mrs. Ma and the volunteers prepare to distribute donated warm clothing to Xinzai and other villagers. Some people walked 3-4 hours in order to receive the donation.
zzm409 Mrs. Ma and the volunteers arranged the clothing into piles; villagers picked lottery numbers and could pick one pile of clothes. Exchanging them for the right size was up to the villagers.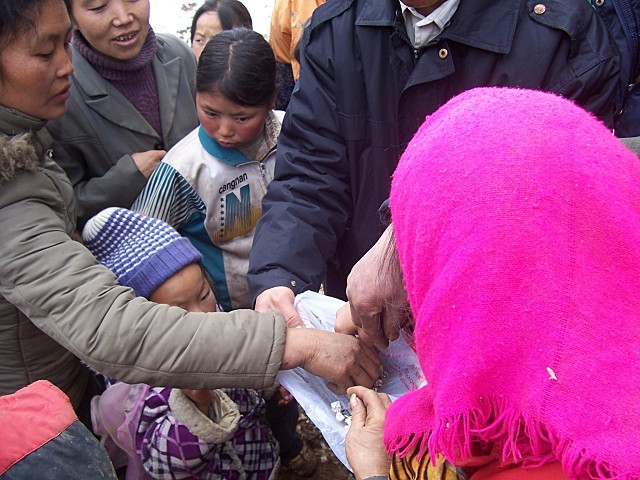 zzm415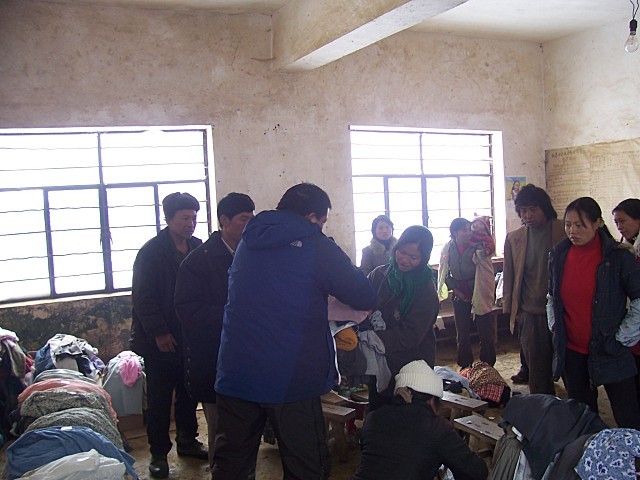 zzm440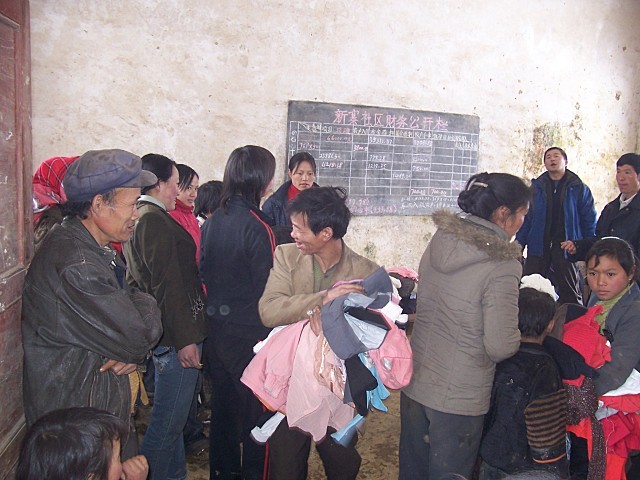 zzm444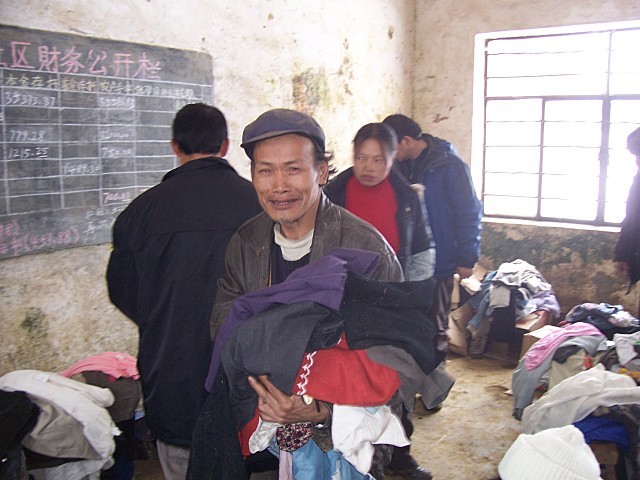 zzm447
zzm448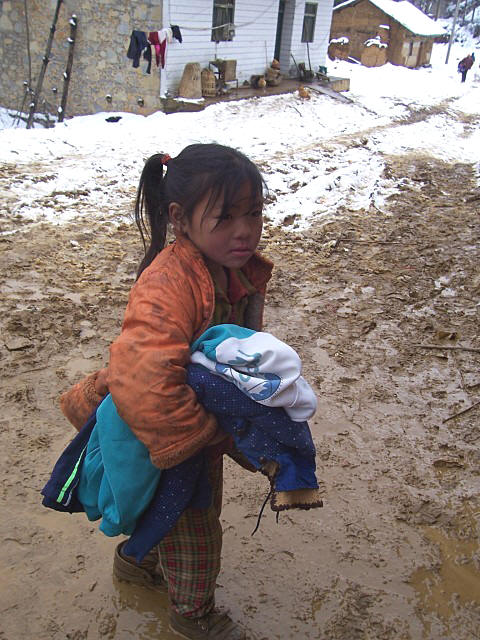 zzm450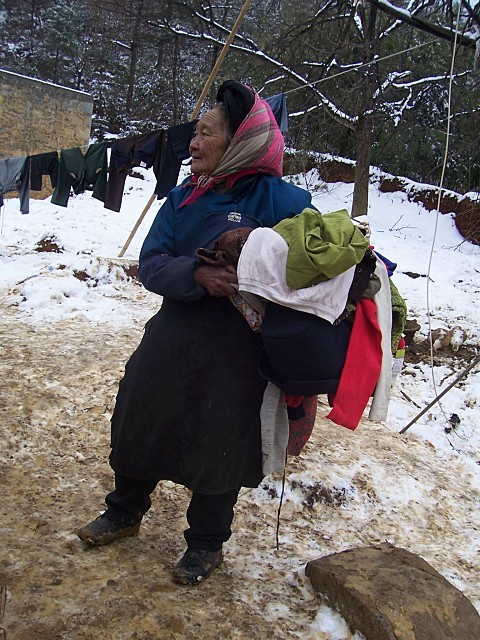 zzm451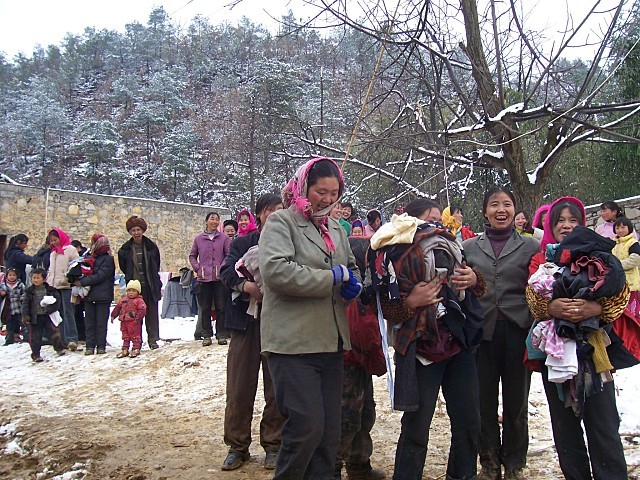 zzm438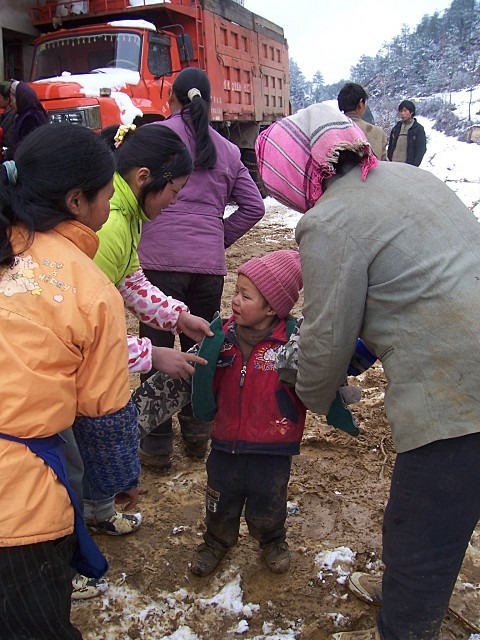 zzm436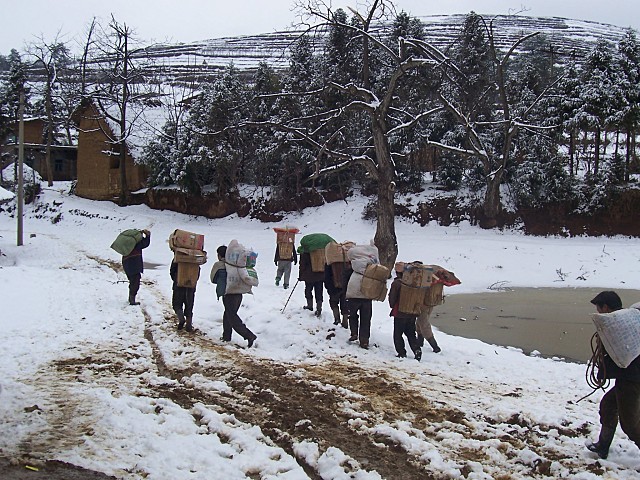 zzm437 Villagers trek back home with the donated clothing.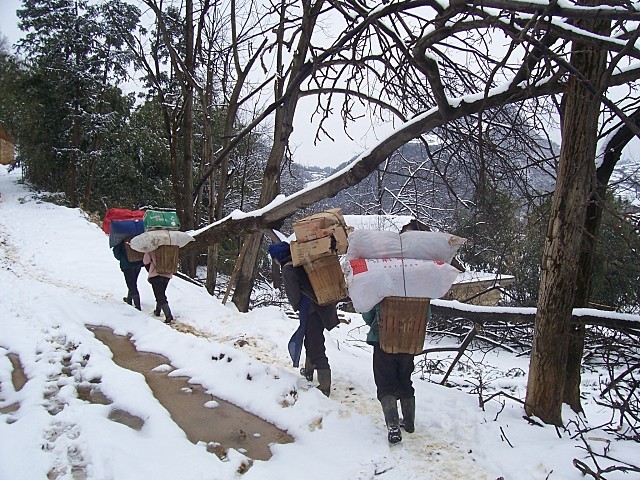 zzm420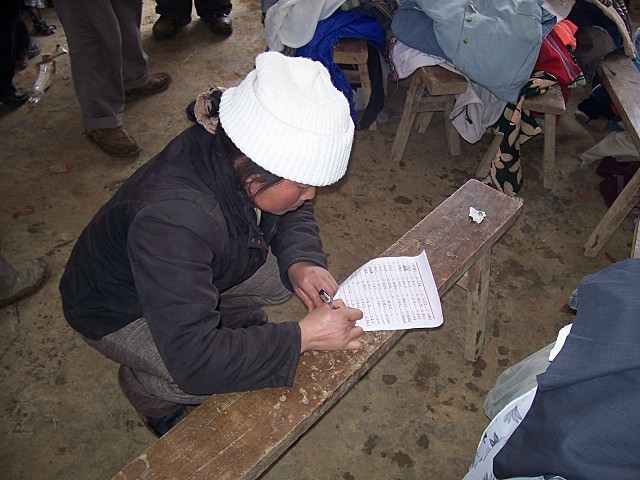 zzm445 Mrs. Ma records the data of the donated clothing and catalogs the villagers who received assistance.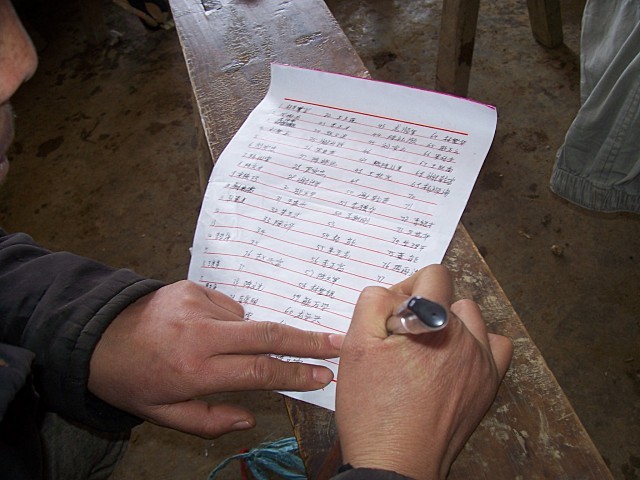 zzm446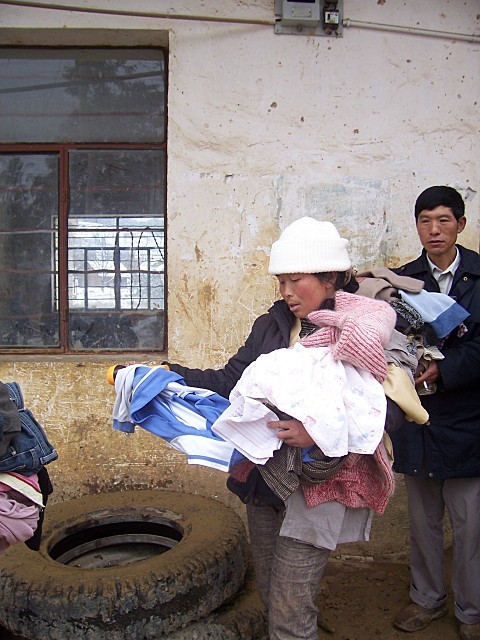 zzm452 Mrs. Ma collects her own share of the donated clothing, though the volunteers noted she gave the three best sweaters to fellow villagers.
---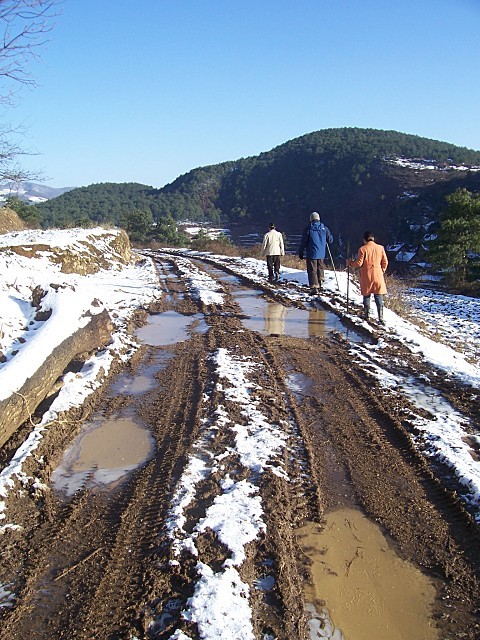 zzm301 Mrs. Ma leads the Shimenkan Connection volunteers to the poorest village in the Stone Gate Village, Tongjie, a village she herself hasn't yet visited due to it remoteness.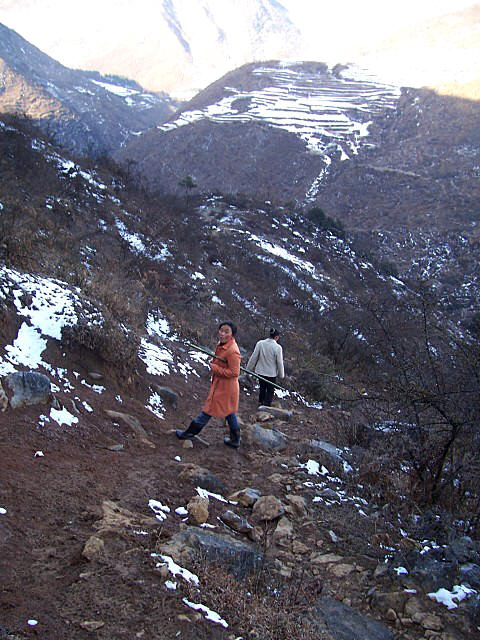 zzm302 下第一道深谷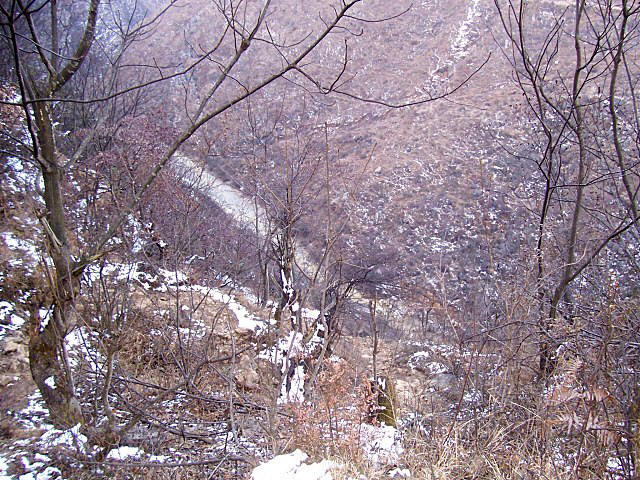 zzm304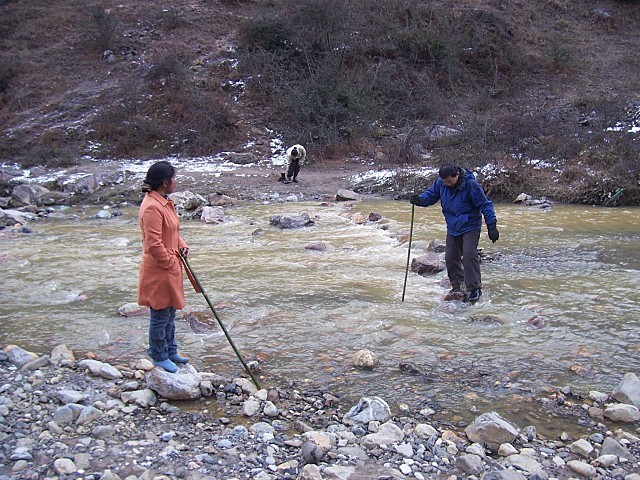 zzm305
zzm306 A Tongjie villager met them halfway, but she had no galoshes or socks. Mrs. Ma lent the villager her boots so they could cross the icy stream.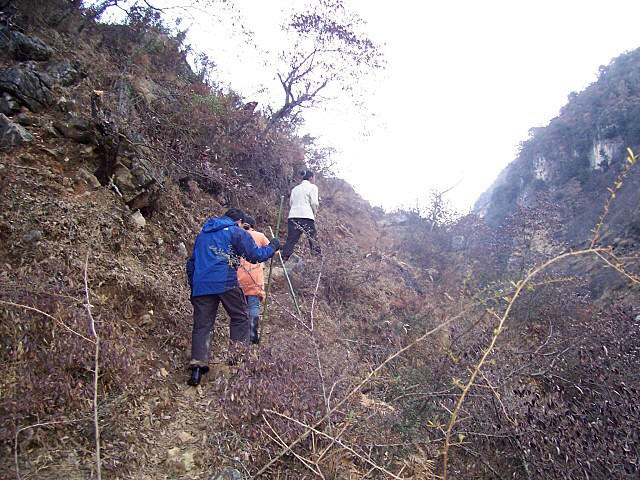 zzm307 过河后开始爬山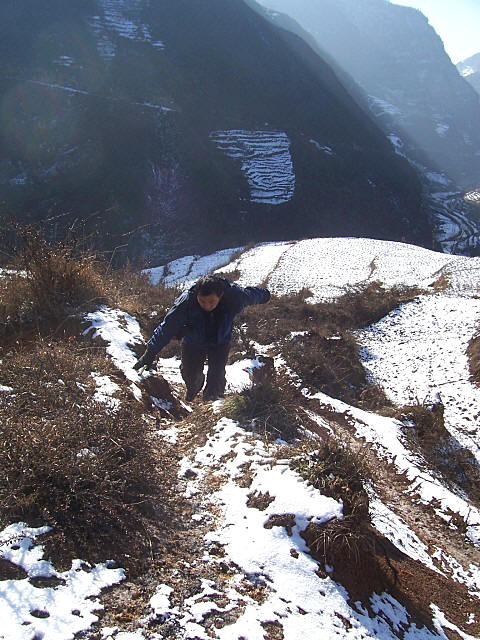 zzm310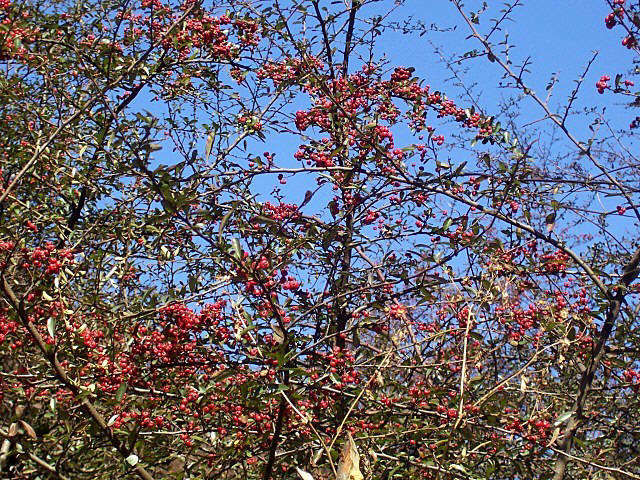 zzm313 Path to Tongjie.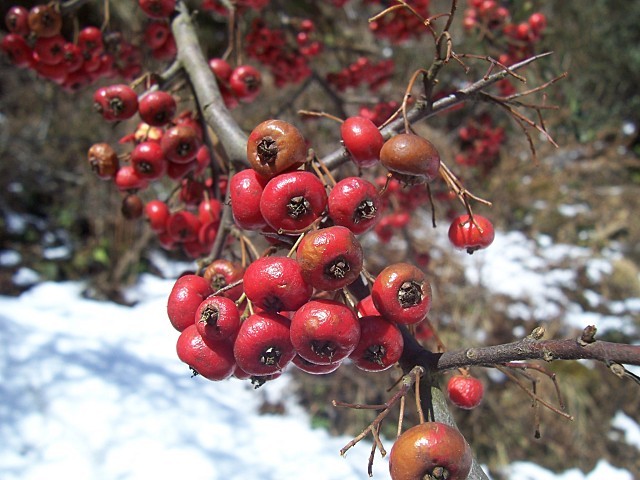 zzm321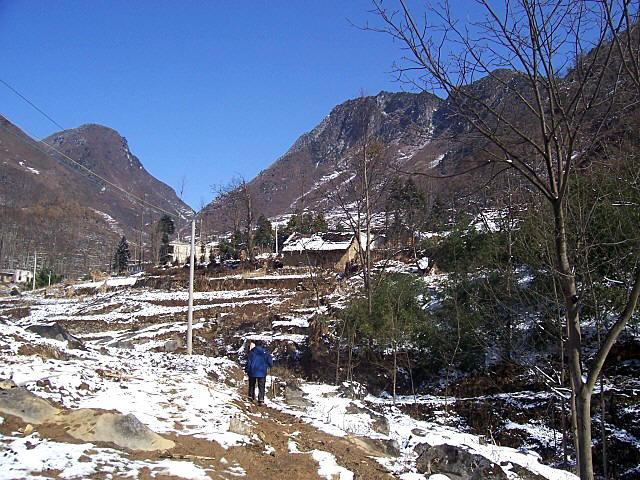 zzm315 团结村一组到了,正好遇到二组的村民组长,他愿意带我们去在更高山上的二组。我们没有停留,继续向更远处的二组前进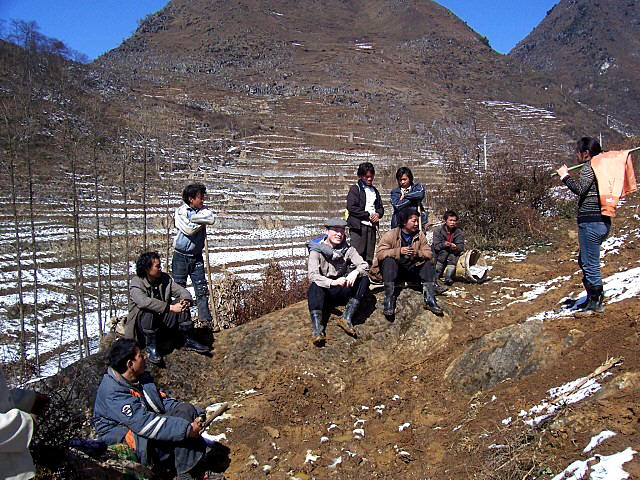 zzm318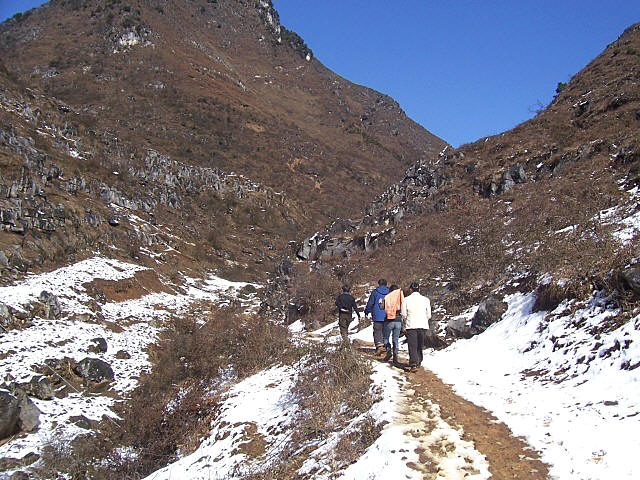 zzm319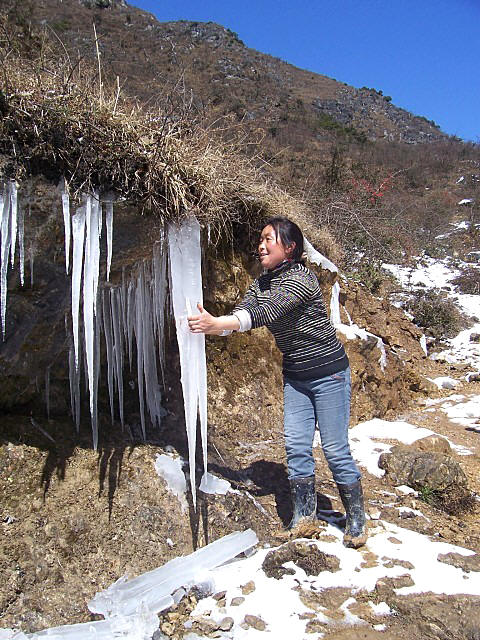 zzm320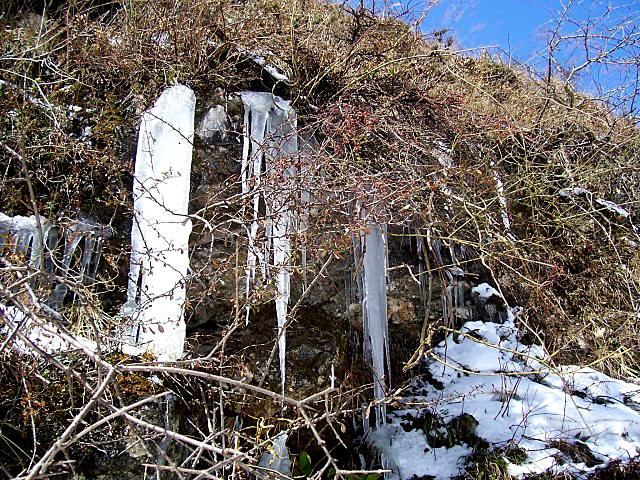 zzm325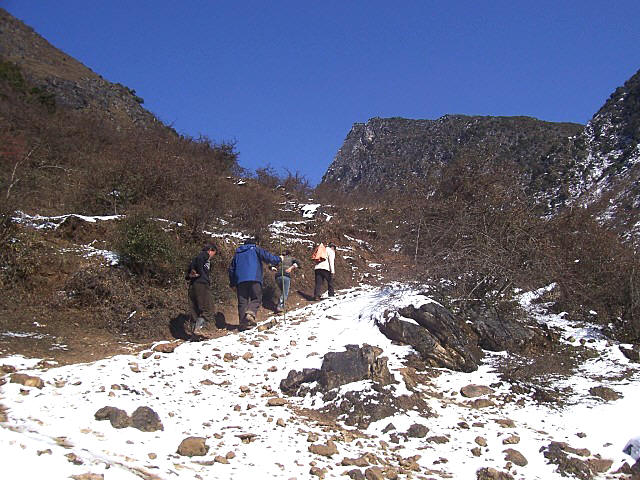 zzm322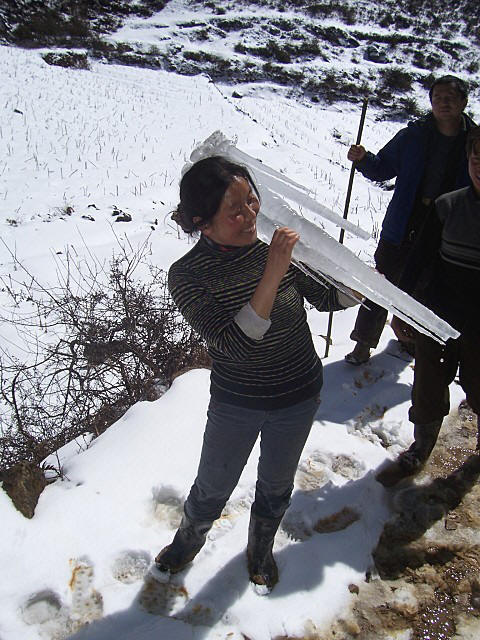 zzm326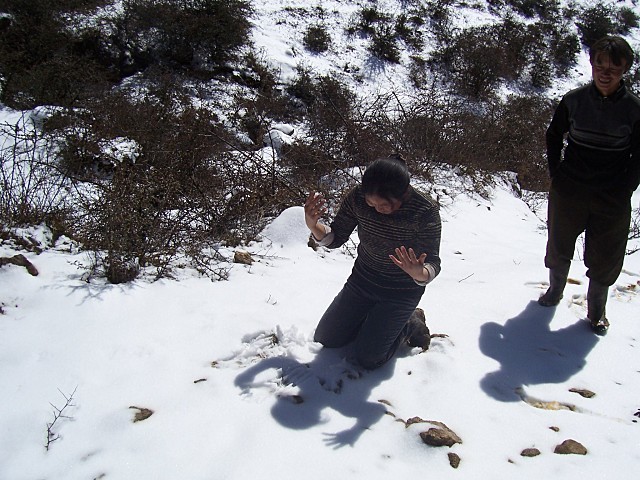 zzm323 The altitude and stress of the hike often drove Mrs. Ma to her knees to take a rest.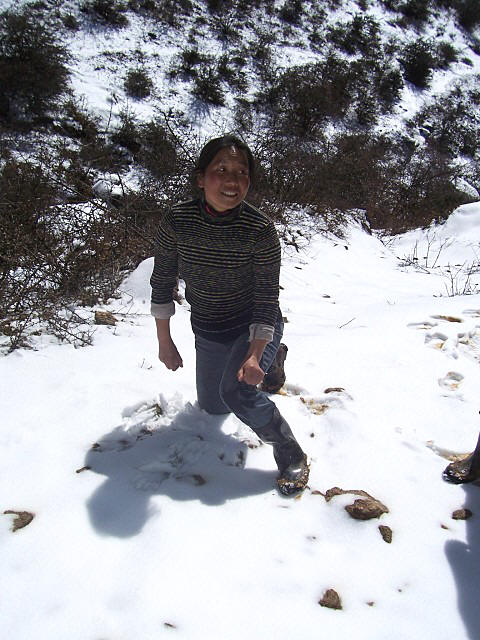 zzm324 休息一下后爬起来继续向上攀爬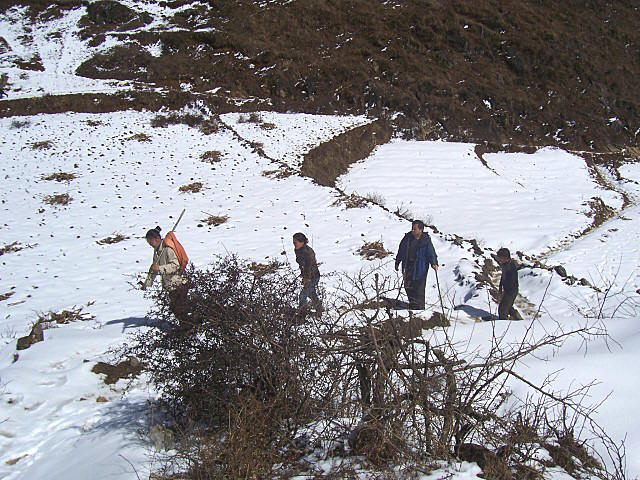 zzm329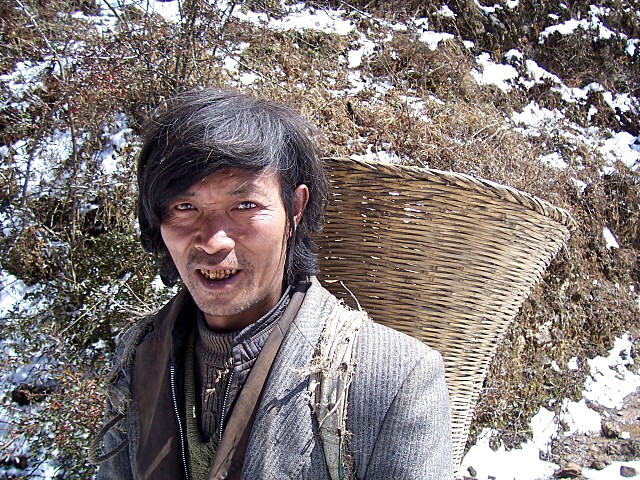 zzm327 路上遇到的当地汉子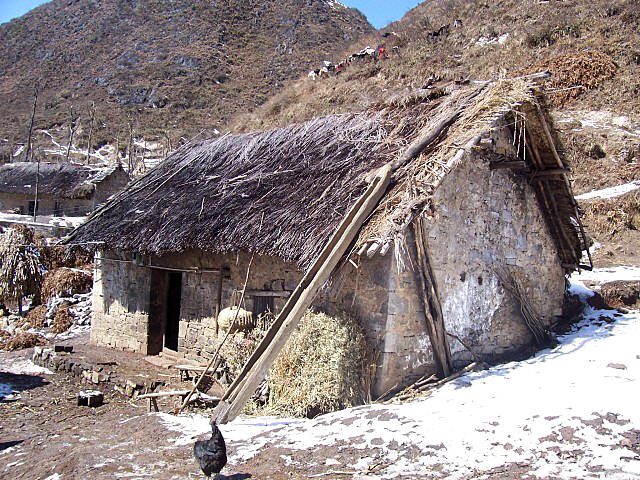 zzm333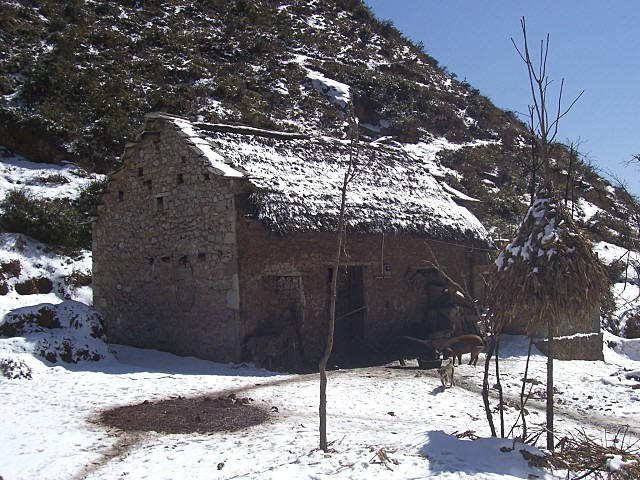 zzm332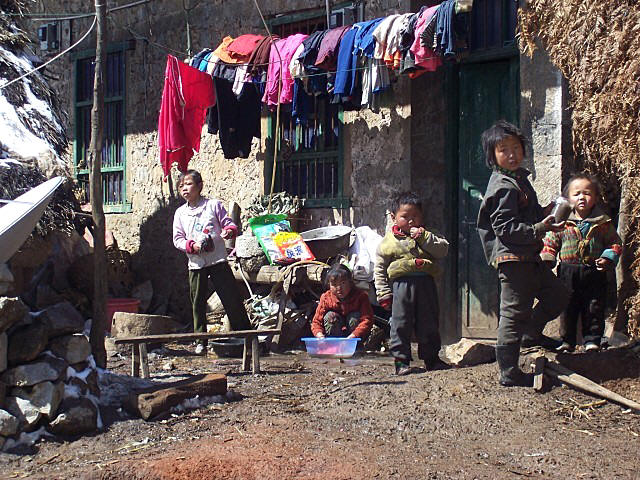 zzm334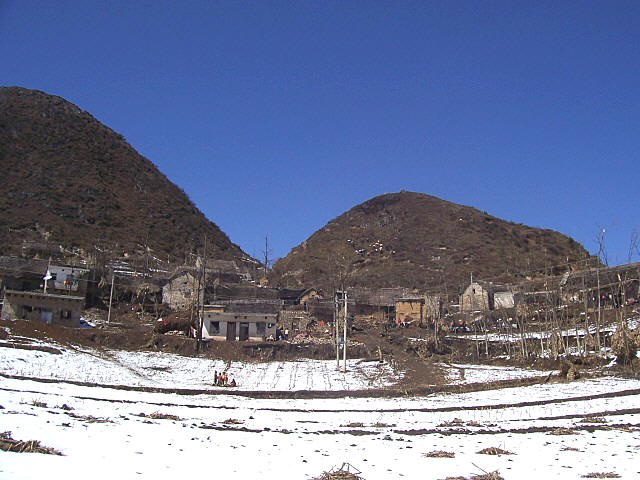 zzm344
zzm338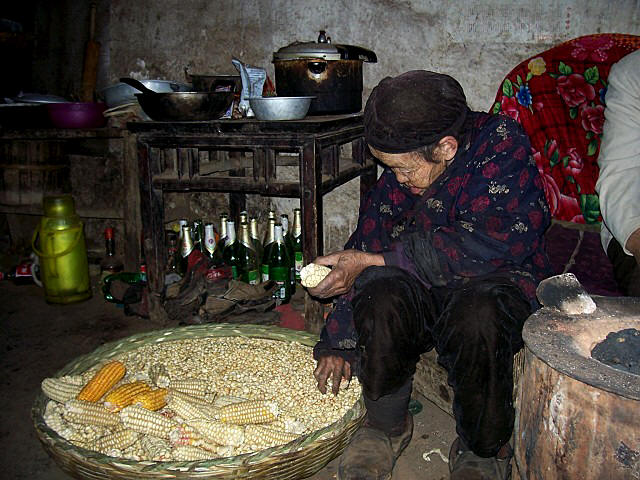 zzm337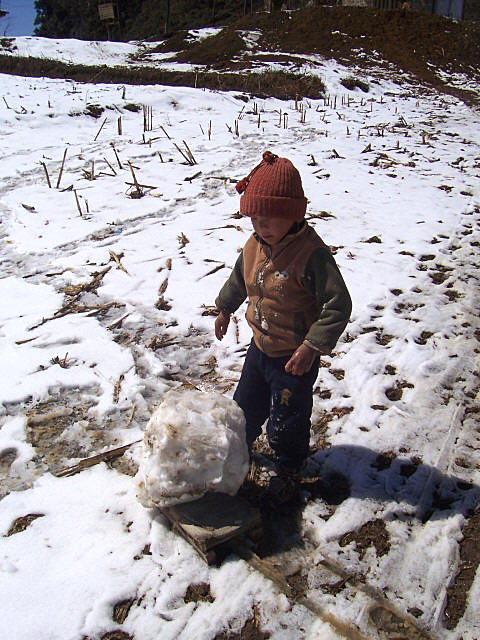 zzm339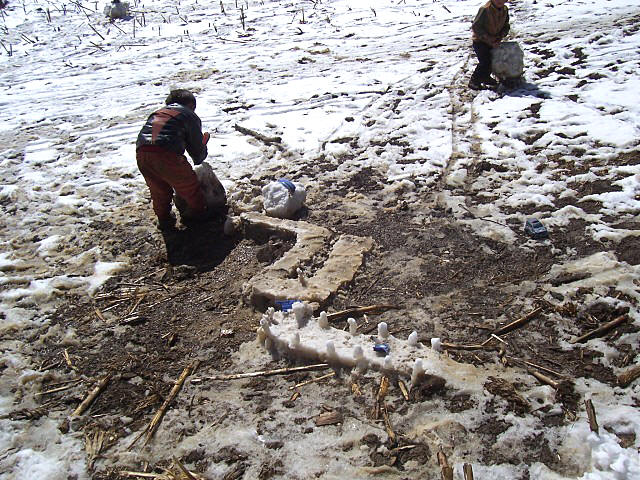 zzm341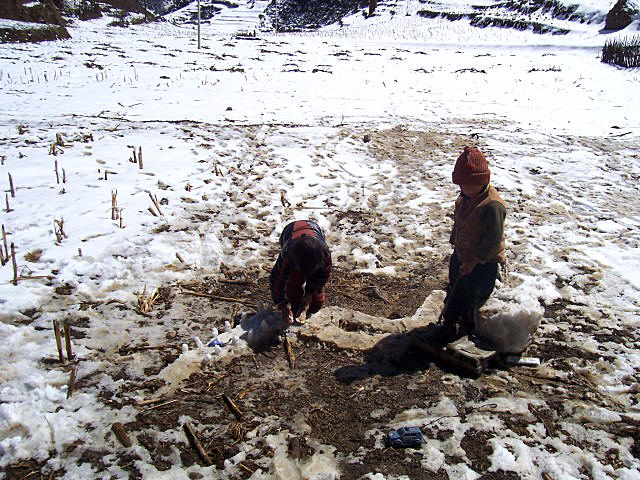 zzm343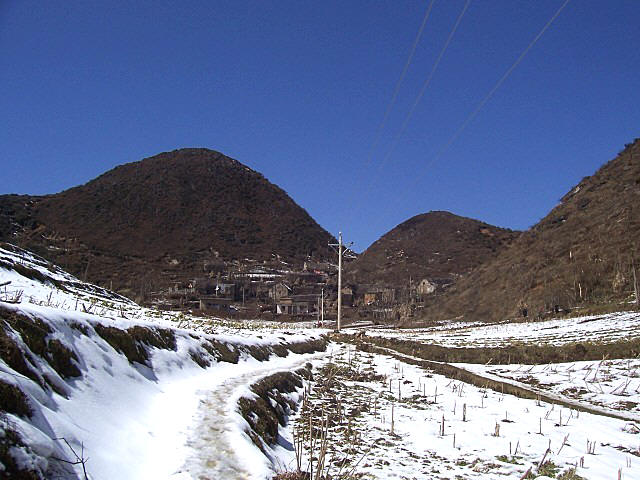 zzm347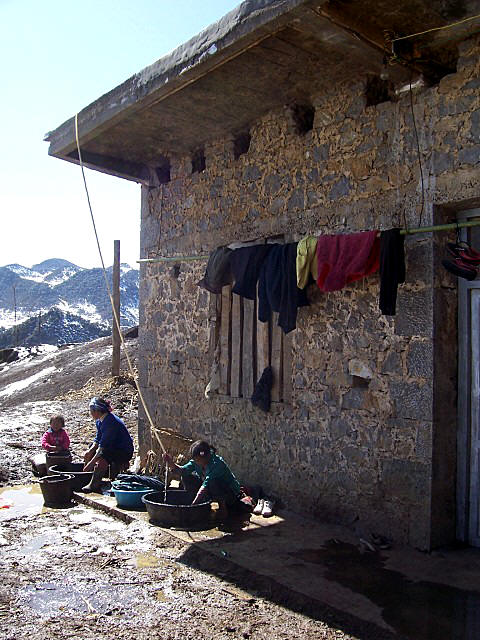 zzm349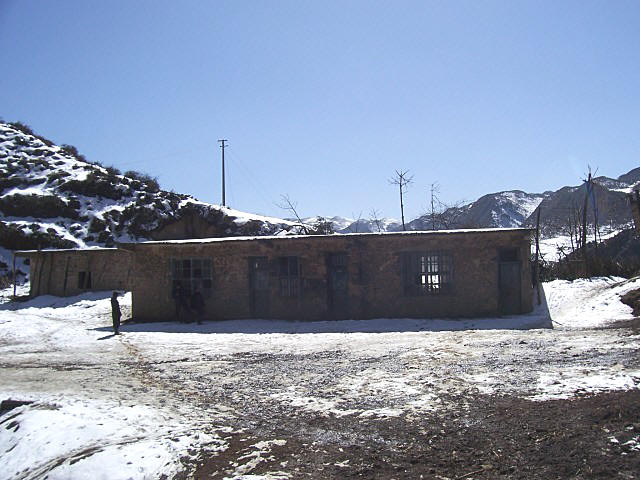 zzm350
The Tongjie primary school suffers from serious deterioration. The teacher that scores lowest on the certification exam is sent to remote Tongjie to teach.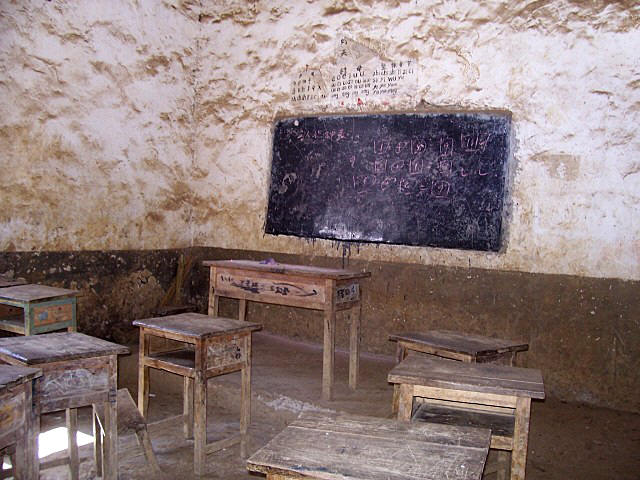 zzm352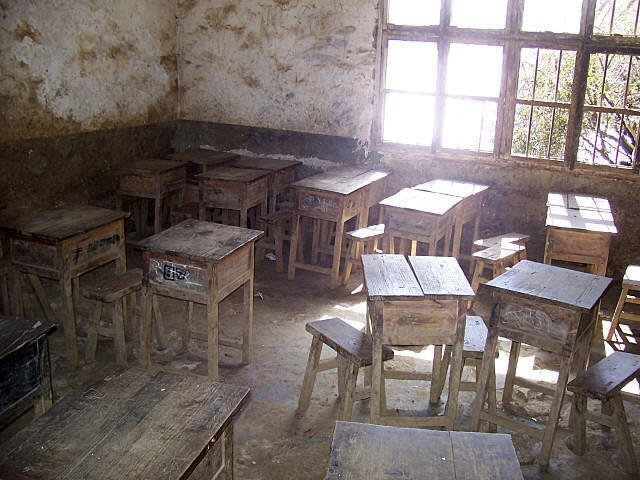 zzm353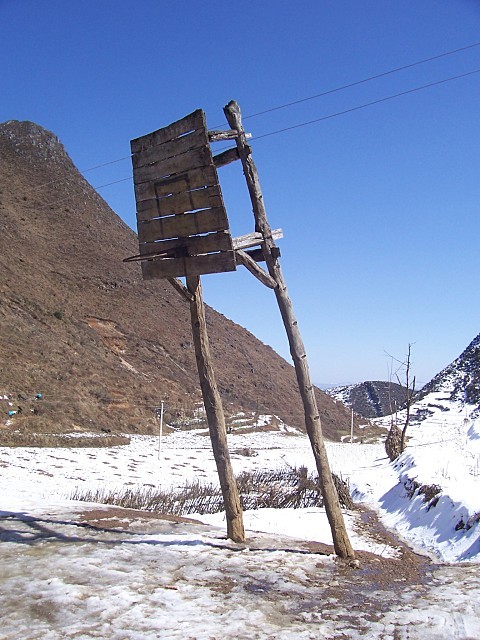 zzm354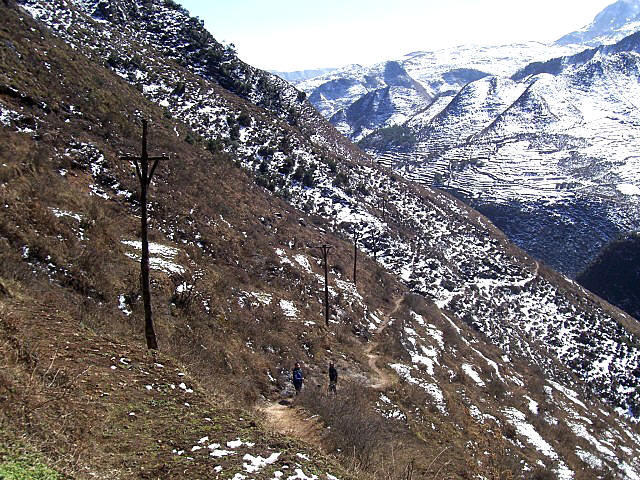 zzm359 The villagers themselves created the working electricity network by siphoning power from Stone Gate Village. To get water, however, villagers have to walk 2 miles to get water for cooking, drinking, and watering livestock.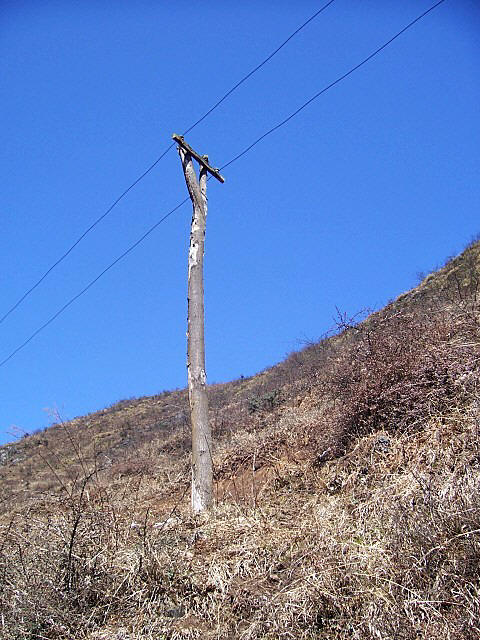 zzm363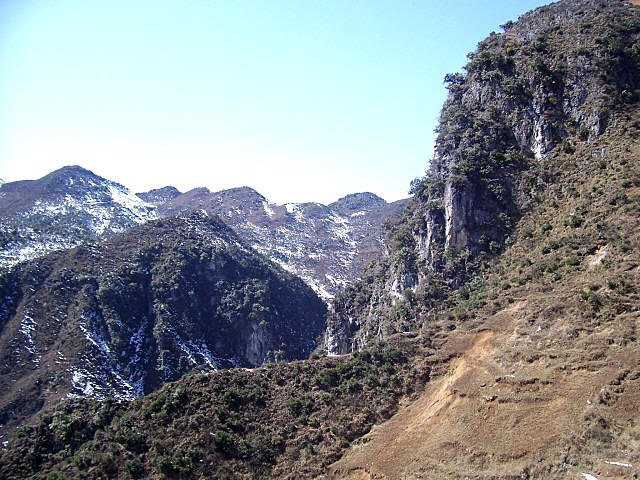 zzm362
zzm3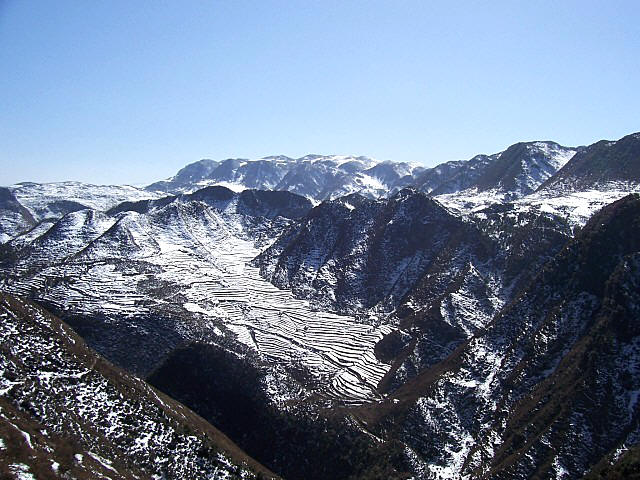 zzm365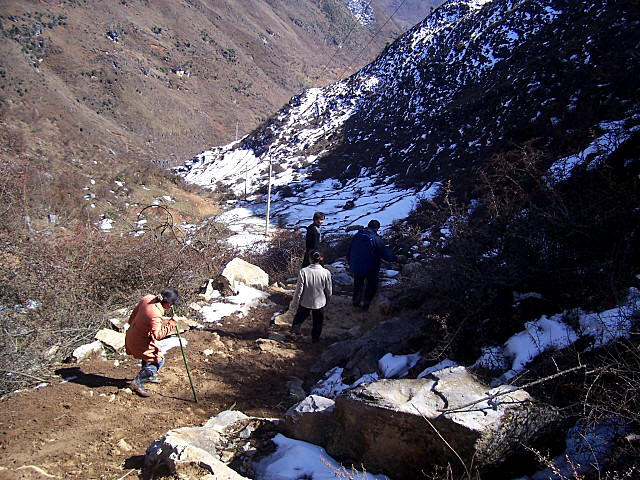 zzm368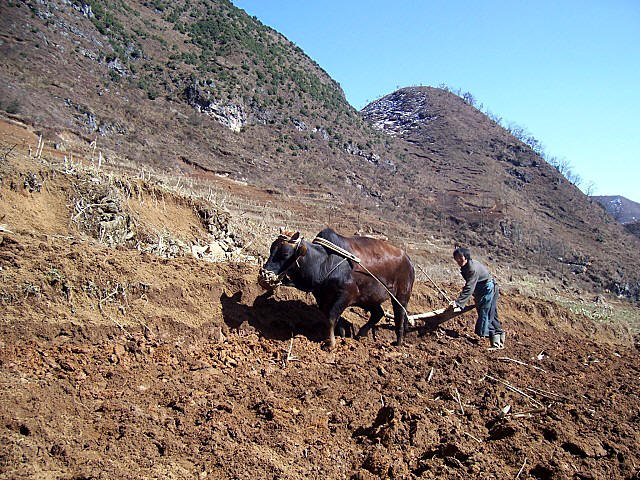 zzm369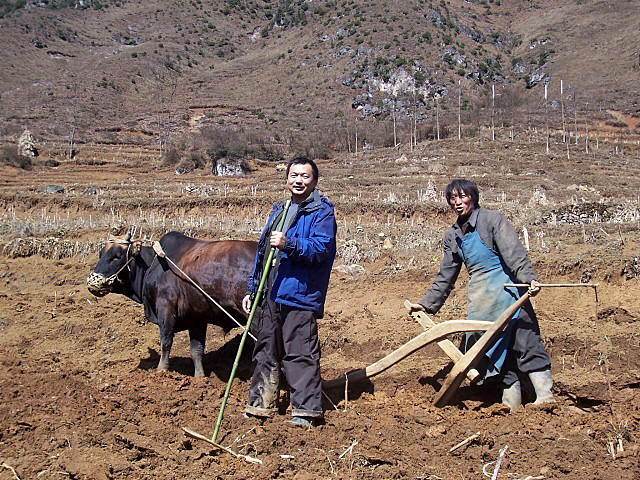 zzm370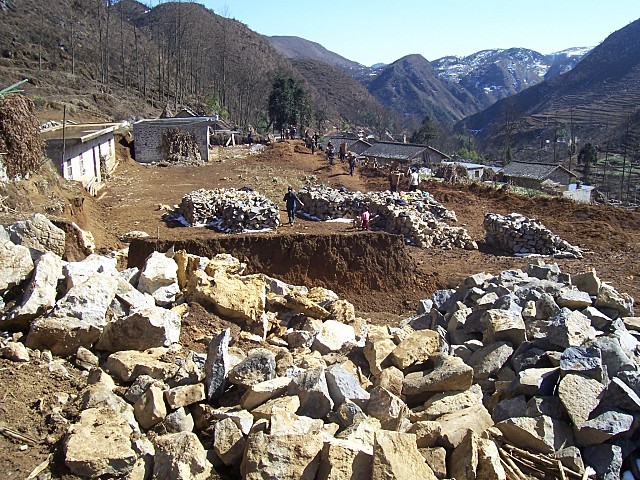 zzm371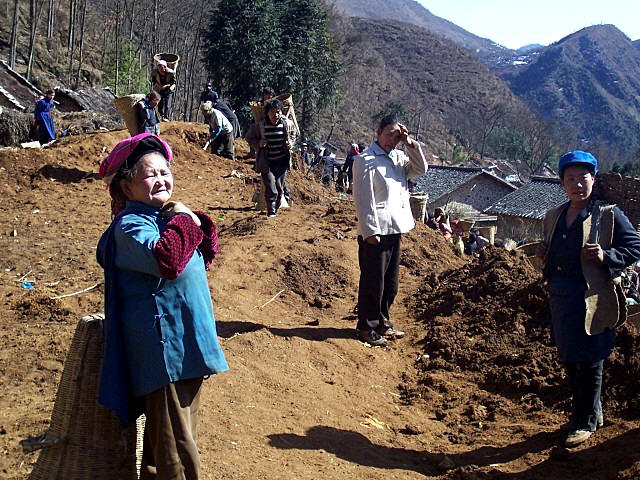 zzm372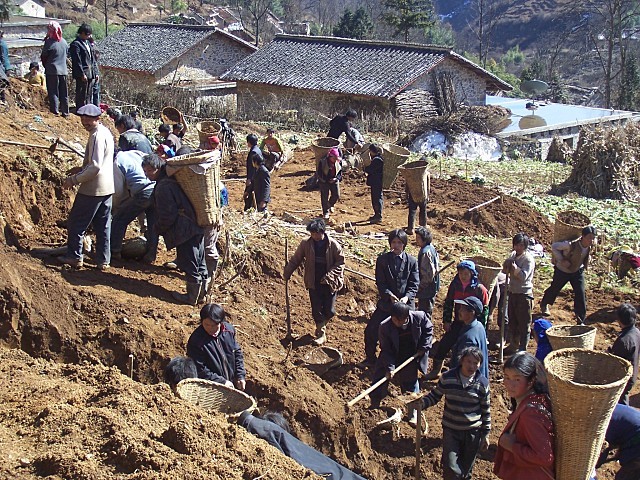 zzm373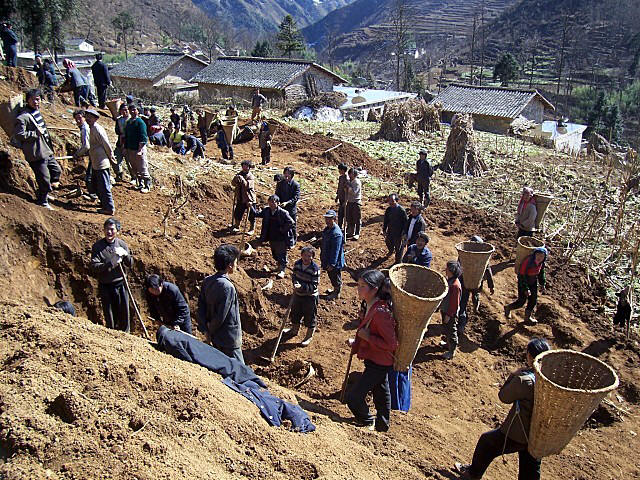 zzm374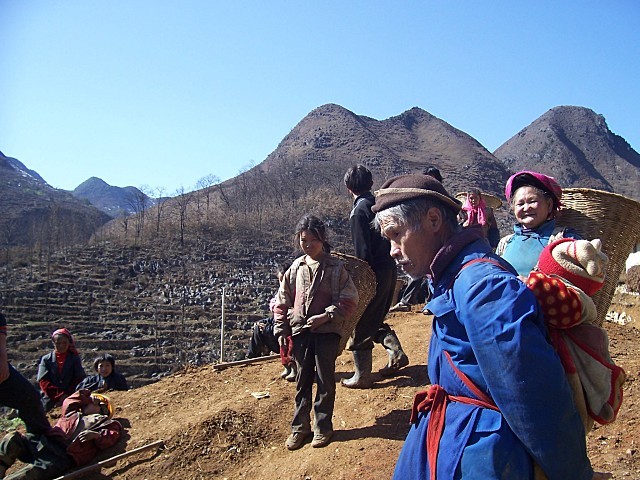 zzm375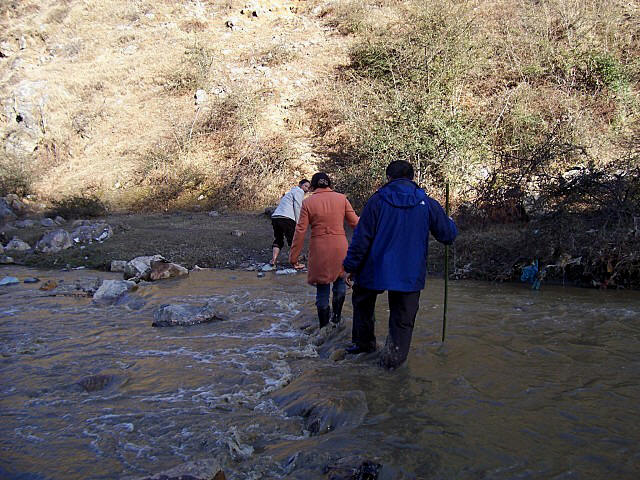 zzm380 Mrs. Ma and the volunteers head back to Xinzai.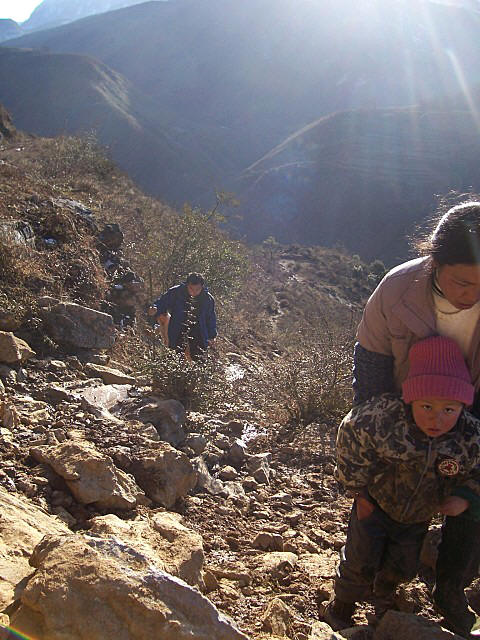 zzm385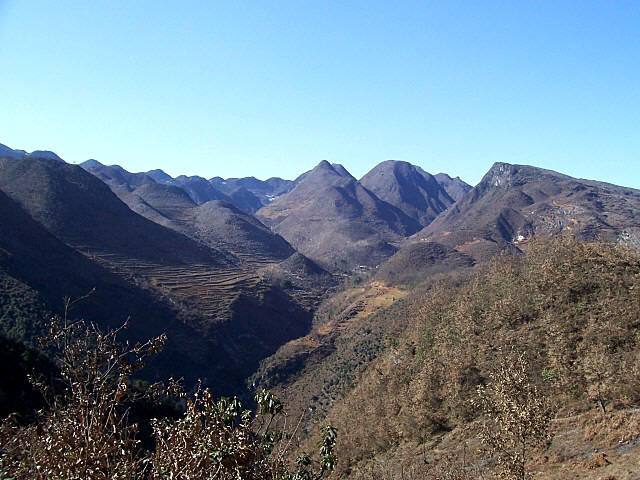 zzm378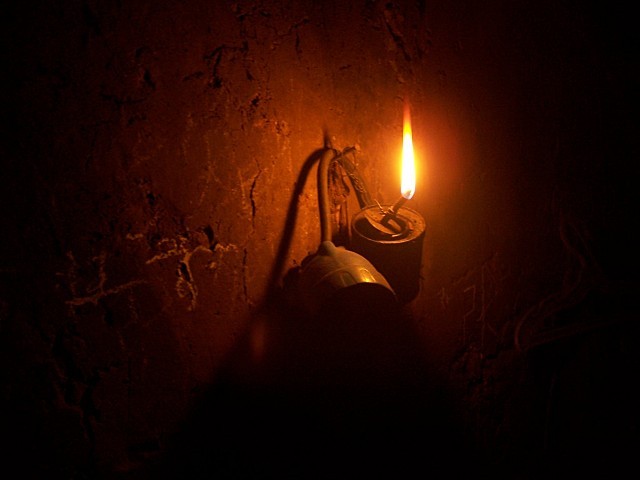 zzm340